Worcester Bosch Greenstar 8000 Life Combi Boiler Review
Table of Contents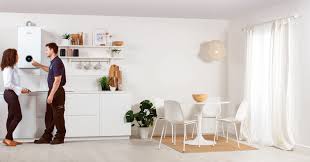 Worcester Bosch Greenstar 8000 Life Combi Boiler Review
The Worcester Bosch Greenstar 8000 Life boiler is available in both combi boiler and system boiler types. Today we will take a look at the combi boiler option and what it can offer anyone who is looking for a boiler for a new home or wants to replace an existing boiler.
Worcester Bosch is the most well-known and trusted boiler brand available. Along with a couple of competitors, they are one of the go-to options for new boilers. The company has decades of experience making boilers, and offers a solid option in the Greenstar 8000 Life.
This boiler is intended to be a direct replacement for the Greenstar CDi Classic, with many of the same features and some additions too. In this Worcester Bosch Greenstar 8000 life combi boiler review, we will take a look at how it measures up and what it can deliver.
Here is our review of the Worcester Bosch Greenstar 8000 Life Combi Boiler 
Worcester Bosch Greenstar 8000 Life Performance
The Worcester Greenstar 8000 Life is the most powerful combi boiler currently available from Worcester Bosch. It's available from 30kW up to 50kW, with a 35kW central heating output across all models, apart from the 30kW option.
The hot water flow rate ranges from 10.7 litres per minute up to 17.9, offering an excellent pressure and capacity for any households that have a significant hot water demand, especially on the higher energy models. In addition to offering plenty of power, this boiler is also very quiet. In fact, it's one of the quietest options on the market.
This boiler includes features such as an increased modulation ratio of 1:10 and the prevention of on/off cycling to help extend its life. It has more power than any previous Worcester Bosch boiler and it connects to smart technology, as well as the first Greenstar intelligent filling system.
The filling system means that the boiler maintains optimum pressure without having to operate the filling link. The top and side panels of this boiler can easily be removed, which makes it easy to access any internal components that might need to be repaired or maintained. It also has an improved push button lcd display.
Energy Efficiency of the Worcester Bosch Greenstar 8000 Life
The Worcester Bosch Greenstar 8000 Life offers an A-rating for energy efficiency, with 94% energy efficiency available. This is even better than the Greenstar CDi, which this combi boiler has been designed to replace. It is also 2% higher than the minimum required by the 2018 Boiler Plus regulations, so you can ensure your boiler complies with the law.
Newly installed combi boilers are also required to have at least one additional energy-saving feature. This boiler makes it easy to install smart controls to help you make it compliant with the rules. It is compatible with smart controls, making it easy to connect to your phone so that you can monitor and adjust your heating. Bosch EasyControl can be used for this, just like the Greenstar CDi allows you to do.
Size and Installation 
This powerful boiler is on the large size, measuring 780 x 440 x 365. This means it's likely too big to fit into many kitchen cupboards or other places where you might want to hide it away. However, one of the differences between this boiler and the model it replaces is the care that has been taken in designing its look. This boiler has a modern style, which is great for showing off instead of hiding away. It's a stylish boiler with curved corners and a smart-looking control panel, so it can look like another kitchen appliance and not something you want to cover up. It's available in both black and white, so you can choose whichever option blends in the most. Another advantage of this boiler is its lighter weight. The lightweight design makes it easy to install, so you can save time on installation.
Boiler Controls
The Worcester Bosch Greenstar 8000 Life has a neat control panel that has been designed to be intuitive and easy to use. The push button LCD display makes it easy to unlock advanced features to give you more control over the boiler. It has a full colour display and text descriptions, so you don't need to be an engineer to be able to navigate the options on offer.
You also have the advantage of being able to control the Worcester Bosch Greenstar 8000 Life using smart controls. Simply use one of the available smart thermostat systems or connect to your phone or tablet using the Bosch EasyControl app. You can adjust the heating in your home when you're out of the house, meaning you can maintain full control even if you're spending the day elsewhere or even on holiday. An eco mode option is available to help you save money and energy so that you can use the boiler in the way that suits your needs.
Warranty on the Worcester Bosch Greenstar 8000 Life
The Worcester Bosch Greenstar 8000 Life has a standard warranty for five years, similarly to other boilers from the brand. The warranty can be extended to ten years if the boiler is installed by an approved engineer, so you can feel reassured that the boiler will remain reliable for years to come.
Conclusion
The Worcester Bosch Greenstar 8000 Life is a stylish replacement for the Greenstar CDi boiler. It offers many of the same features as the previous model but improves upon them and provides even more functions.
With better energy-efficiency, an intelligent filling system and easy to use controls, it is a more up-to-date option that still offers an excellent level of performance. The contemporary design includes the possibility of connecting to digital and wireless controls, plus it has been designed with aesthetics in mind, so it looks good too.
Although this boiler is on the larger size, it will still save space compared to conventional and system boilers. It offers a high level of performance and it's available in a few different options, helping you to save energy and even choose a boiler that look good in your home.
The Life range is perfect to us with smart home devices such as Hive heating of which you can control with your phone. We use accredited installers to install all of our combi boilers so you can be sure your heating and hot water is well looked after.
Get a fixed online price now using our online quotation and online purchasing system. You can pay via card or spread the cost with boiler finance.