How Does a Combi Boiler Work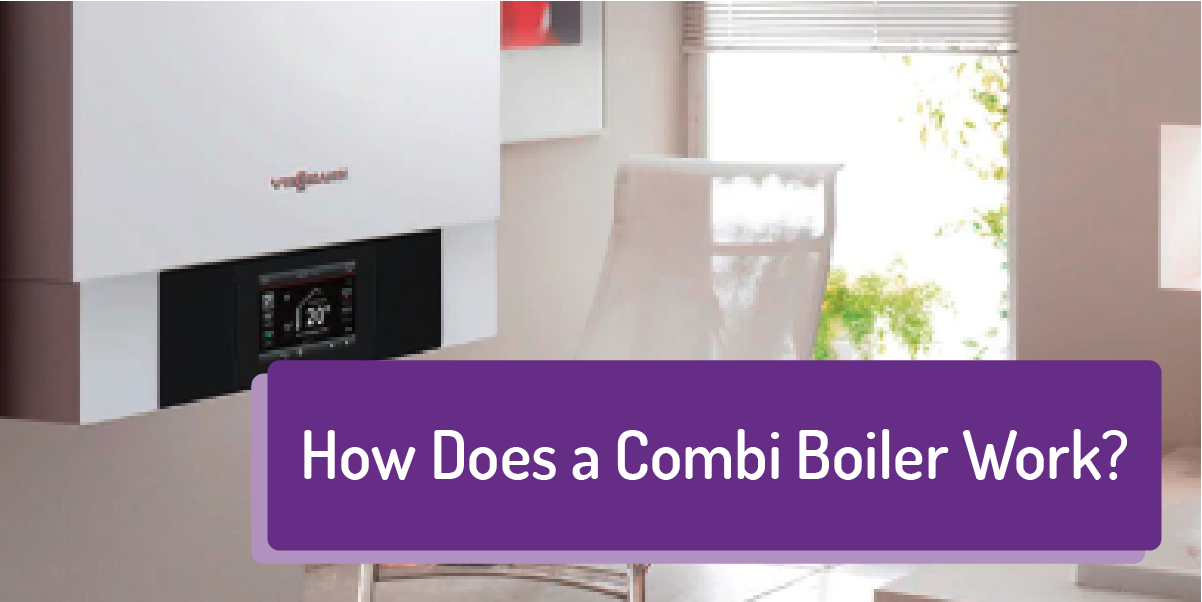 How Does a Combi Boiler Work 🧐🧐
A Combi boiler is the most compact, well facilitated, handy, cost effective and used central heating boiler in the UK.
Families with a low land area, apartment or room shortage had there Combi boiler installed on their wall to get there heating and hot water without delay.
Combi boiler is the short form of 'combination boiler'.
What is a Combi boiler 🤷‍♀️ 🤷‍♂️
One of the most modern and used boilers, Combi boiler, has taken its own distinctive place in the UK. It needs a wall to be hung, no cylinder or tank. It works simply, energy efficiently and saves money. Ensure you have your boiler fitted by a gas safe registered engineer.
Combi boiler is the combination of what? ♨ 🚰
Combination boiler has shortly been named "Combi boiler".
Actually, what combination does a Combi boiler do?
Here combination means, this boiler is the combination of two things:
1. Central heat producer
2. Water heater producer
It does the job of room heating and water heating through its single system.
Combi boiler is suitable for who 🙍‍♀️🙎‍♂️
More and more people are changing their old and conventional boilers at present.
Single families, having a need for a single output source, best suits the Combi boiler.
Families who need a hot water tap for multiple output units should choose other boilers like a system boiler or more of a domestic boiler.
How a Combi boiler works 🚰 ♨
A Combi boiler works in a very easy way.
It doesn't need a cold-water storage tank and a hot water tank.
It uses radiators to supply hot water.
When the tap is on, the boiler starts to work.
It takes water from the mains, starts to burn the gas, produces heat, makes water hot and kicks the water to the output.
There are valves to direct water flow to the central heating system and to the water output way.
Types of Combi boiler ⬇⬇⬇⬇
You need a boiler, choose a Combi boiler, then a lot of options are available for you.
On the basis of energy source, size and your need, you can choose one from a wide range.
Four types of Combi boiler are available depending on fuel type:
1. Gas combi boiler
2. Oil combi boiler
3. LPG combi boiler
4. Electric combi boiler
1. Gas combi boiler: This is the most used Combi boiler, uses natural gas as fuel source. Considering cost minimisation and natural gas burning this can be the best option for anyone.
2. Oil combi boiler: Oil is used here as the energy source. People who have scarcity of gas, best to choose this type. Need a tank to store oil and a connection to it.
3. LPG Combi boiler: LPG, Liquified Petroleum Gas, is also used by some Combi boilers as fuel source. LPG combi, demand for storage tanks to store LPG and connection from the tank.
4. Electric Combi boiler: Electric Combi boilers are slightly different from others, and can increase your monthly bill. Not a good choice for large households.
Cost of best Combi boiler 💷💷💷
Here are some best Combi boilers descriptions according to cost (without installation), brand, and efficiency.
| | | | |
| --- | --- | --- | --- |
| Company Name | Model | Price | Warranty |
| Vaillant | ecoTec Plus | £1000 – £1400 | Up to 10 years, (condition on installation) |
| Worcester Bosch | Greenstar i | £800 – £950 | Up to 7 years (condition on installation) |
| Baxi | EcoBlue Advance | £1000 – £1300 | Up to 10 years, (condition on installation) |
| Ideal | Logic+ | £700 – £900 | 7- 10 years (Condition on heat exchanger) |
| Viessmann | Vitodens 100-W | £900 – £1000 | Up to 10 years, (conditional on installation |
Advantages of Combi boiler ✅
Some lucrative advantages have made a combi boiler very common in the households of the UK. These are:
Hot water on demand: Day by day people are getting their days busier. They have not a single moment to waste. So, getting hot water just on demand is attracting them a lot.
Convenient to single family: Verily, single families are so common. They need not a huge amount of water, but a small amount for a single output. It seems that producers focused on the need of single families before making combi boilers.
Less energy needed: Combi boiler consumes lower energy.
Less space occupation: Requirement of no water tank (for both hot and cold water), made combi boiler comfortable to have a seat in almost all types of families.
Higher water pressure: Although the combi boiler doesn't need an extra water tank, it is surprisingly capable of supplying water with great pressure.