What Is a Heat Exchanger in a Boiler and How Do They Work?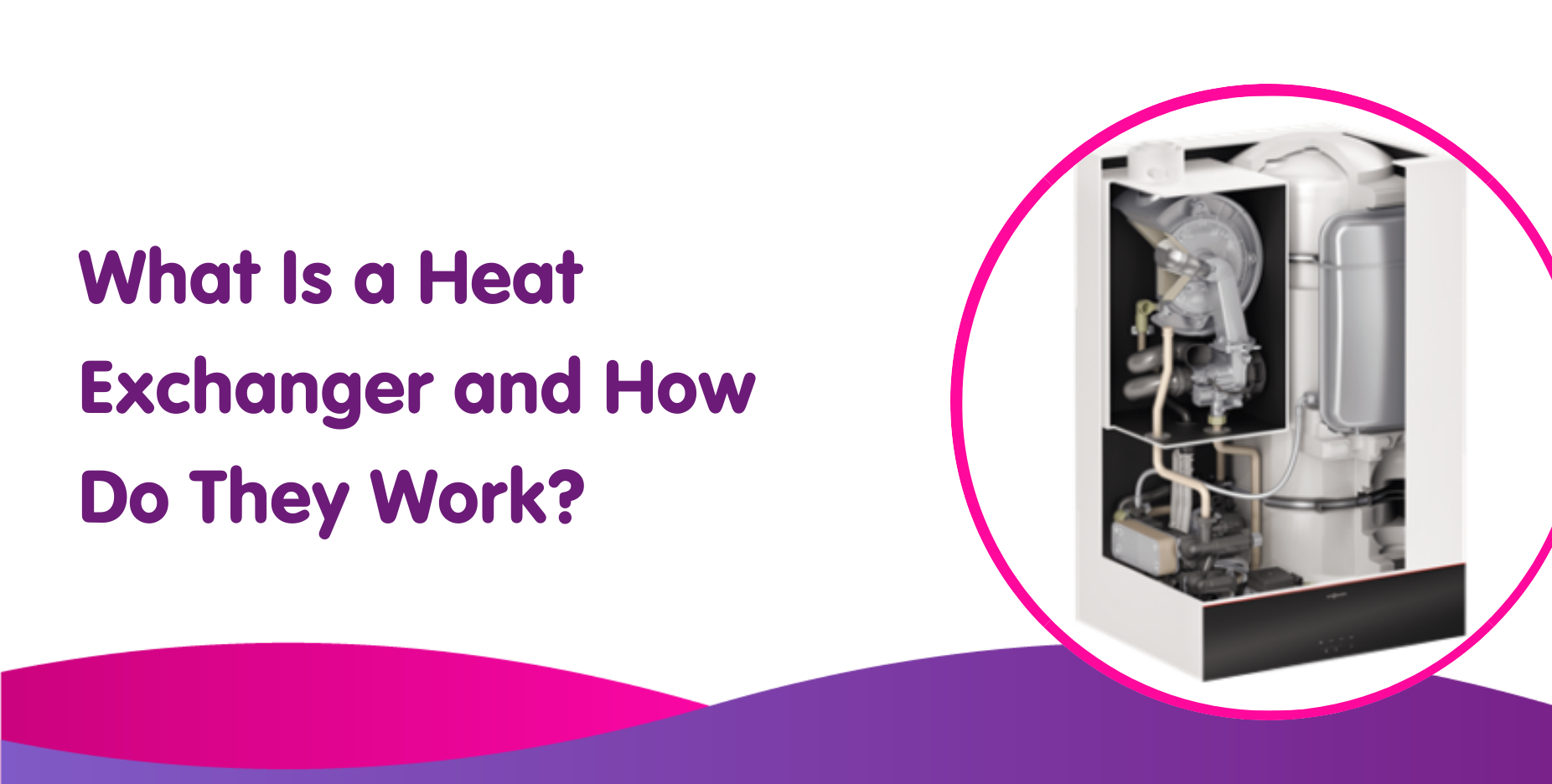 The vast majority of us rely on a boiler and central heating system to heat our homes and water. However, not many people understand the components that make boilers work.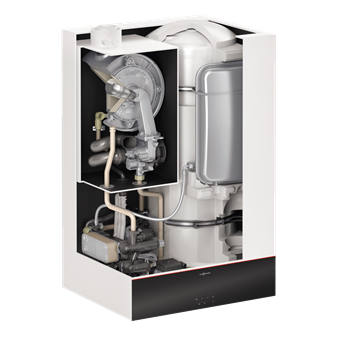 A better understanding of what different parts do in a boiler can improve care and minimise the risk of issues occurring.
This article will explain what a heat exchanger is, what it does in a gas boiler, and provide other useful information you might need.
As you will discover, heat exchangers are a vital part of modern boilers and are essential to heat your home and water efficiently.
Get an online fixed price in 20 seconds:
What kind of fuel does your boiler use?
What Do Heat Exchangers Do?
The main purpose of a heat exchanger is to transfer heat between mediums, typically liquid and gas. The heat exchanger does this without the mediums mixing.
In the case of home boilers, water will typically be heated by the exchanger and be moved around your central heating system to heat the house. Hot water is also diverted to your hot water tank for bathrooms and kitchens.
Heat exchangers offer an efficient way for people to heat their homes, which is essential for cutting central heating running costs.
UK Government regulations state that all new boilers must have an "A" rating. This rating requires a factory-tested efficiency level of 90% or above.
This will also help people to reduce their carbon footprint, as this kind of boiler is more environmentally friendly.
How Do Heat Exchangers Work in a Boiler?
A gas combi boiler burns gas to produce heat. This heat is captured by the heat exchanger, and it transfers to cold water that passes through it. The hot water then moves through the central heating system or is stored in your hot water tank.
In the case of how a combi boiler works, when you turn on the demand for heating with your thermostat or turn on your hot water tap, this will tell the boiler heat exchanger to heat up and start the process.
Types Of Heat Exchangers
Now that you know a bit more about the purpose and workings of a heat exchanger, you may be interested to learn about the different types available.
Knowing more about boilers and heat exchangers can make it far easier to select a new boiler when you need one. You will be able to determine the most efficient heating system or best combi boiler for your home
Shell & tube heat exchanger
Shell and tube heat exchangers are typically found in industrial settings, such as oil refineries. They are best suited to high-pressure applications.
Their design consists of an outer shell and a collection of inner tubes. A shell and tube exchanger can be used to heat or cool the mediums that pass through them.
Plate heat exchanger
Plate heat exchangers are used in modern combi boilers. They use metal plates to transfer thermal energy between two mediums, without them coming into contact with one another. Using plate heat exchangers is the most efficient way to transfer heat and there are often a primary heat exchanger and scondary heat exchanger to ensure clean water to your hot water tap.
Stainless steel
Stainless steel heat exchanger plates are a popular option because of their durability. The material's high corrosion resistance is a big selling point, as it will ensure a longer lifespan than alternatives. This type of heat exchanger is used in the Viessmann Vitodens 050 combi boiler.
Aluminium
An aluminium heat exchanger plate can be a cost-effective alternative to stainless steel. The material is cheaper and lighter, making it easier to use. Aluminium also has good thermal conductivity and is designed for better corrosion resistance.
Condensing Boilers vs Non-Condensing Boilers
You will typically find one of two types of boiler systems in UK homes: condensing and non-condensing boilers.
Condensing boilers are by far the more efficient of the two. Non-condensing boilers have been outlawed in the UK, in fact, because of government regulations aiming to reduce carbon emissions.
While some homes may have old non-condensing boilers such as back boilers, it is illegal for new ones to be fitted, as they don't meet the permitted efficiency levels.
Condensing boiler
Condensing boilers are more efficient because they use two heat exchangers or one larger one. They also use a Flue Gas Heat Recovery System, designed to recycle heat from the waste flue gases that are generated.
This can be done using a secondary heat exchanger near the flue's exit. Alternatively, the main exchanger's flow and return temperature can be optimised. This allows the flue gases to come into contact with cooler pipework to transfer heat.
Anyone worrying about choosing between a condensing boiler and a combi boiler can breathe a sigh of relief. These days all modern boilers are condensing, whether they are combi, regular, or system.
Non-condensing boiler
As we mentioned, non-condensing boilers are now illegal to install. This regulation has been enforced since 2005, meaning that any existing non-condensing boilers in homes will soon be nearing the end of their life.
Non-condensing boilers use a single heat exchanger. Combustion gases escape through the flue with no system in place to harness the lost energy. This means that 30% of the heat generated by non-condensing boilers is lost through the flue.
The maximum energy efficiency of a non-condensing boiler is 78%. Condensing boilers, on the other hand, offer efficiency ratings up to 99%.
Combi Boiler Heat Exchangers
Combi boilers are compact systems that are best for small homes. They don't require cold water tanks or hot water cylinders, which makes them great space savers.
They provide instant hot water straight from the mains, rather than relying on the previously mentioned storage systems.
Flue Gas Heat Recovery Systems make them condensing combi boilers. This guarantees their efficiency in conjunction with regulations.
Condensing combi boilers offer easy installation and instant hot water. They also help people lower their energy bills and reduce their carbon footprint.
Cleaning a combi boiler heat exchanger
It is essential that boilers are well maintained to ensure they run efficiently and last as long as possible. Keeping your heat exchanger clean will also maximise performance.
The cleaning of a boiler or heat exchanger should always be carried out by a Gas Safe engineer. It is not safe for unregistered people to remove the heat exchanger for repairs or cleaning. Removing a heat exchanger can cause damage to the system and will be expensive to repair.
Heating systems should be flushed approximately every five years. This minimises the risk of build-up and helps to remove central heating sludge from the pipes.
As water passes around the central heating system, contaminants can be drawn back into the boiler and impact the heat exchanger.
Installing a filter will minimise the risk of it affecting the boiler heat exchanger and improve performance.
Minimising the risk of limescale in a heat exchanger
Installing a limescale reducer to your boiler system can be a great preventative measure. If limescale is already at an advanced stage, a limescale silencer can be installed.
It is important that you do not try to clean or remove the heat exchanger yourself. Only qualified experts should be entrusted with these jobs.
Potential Heat Exchanger Problems
As with all boiler components, heat exchangers can potentially break or fail. Understanding the most common problems that can affect heat exchangers will allow for a quicker diagnosis and resolution.
The most common heat exchanger problems include:
Leaking
If you have an older boiler that has begun dripping, this could be caused by a leaking heat exchanger.
Leaking or cracked heat exchangers on modern models can be difficult to identify. A leaking heat exchanger will typically be the result of a damaged internal component. Pump seals can wear out, while pressure valves can suffer under high pressure.
Regular inspections will ensure your boiler is in good working order. They will identify potential issues that can be resolved quickly.
Kettling
A build-up of limescale or sludge in your heat exchanger can restrict the water flow and decrease efficiency. This can create a noise that sounds similar to a kettle boiling and is referred to as 'kettling.'
Hiring a professional to clean the system should restore it back to good working order.
The Symptoms Of A Faulty Heat Exchanger
Identifying problems with a heat exchanger will help you resolve the issue before it gets out of control. Catching things early can save on repairs and improve the system's efficiency. Some of the most common symptoms of a faulty heat exchanger include:
Leaks
If you notice dripping coming from your boiler casing, it could be the heat exchanger. Dripping is never a good sign and should always be investigated by a professional.
Noises
You will become used to the noises your boiler makes when it is in operation. If this alters, you should monitor the situation.
Central heating sludge can cause a tapping noise, while kettling results in a high-pitched whistle.
Dirty radiator water
Always check the colour of the water that comes out when bleeding radiators. Black or discoloured water is a sign that there is a build-up of central heating sludge, rust, or other debris that needs to be flushed.
Replacing A Heat Exchanger
Should your heat exchanger need to be replaced, the work must be carried out by a gas-safe registered worker.
Getting quotes from a range of local, qualified engineers will help you to determine a fair price for the work, as this can vary. The cost of a replacement heat exchanger will depend on the make and model. On average, you can expect to pay between £300 and £500 for a replacement.
FAQs
Is it worth replacing a broken heat exchanger?
The cost of replacing a broken heat exchanger can be relatively close to the cost of replacing the boiler. If you have a faulty heat exchanger, depending on the age of your existing boiler, installing a new boiler replacement could be a more cost-effective alternative.
How regularly should I get my heat exchanger cleaned?
Flushing your boiler system every four to five years should minimise potential contaminants that could damage a heat exchanger. An annual boiler service will help to identify whether it needs to be cleaned or repaired.
How long do boiler heat exchangers last?
Boiler heat exchangers will typically last between 15 and 20 years. This should be enough to last for the boiler's lifespan.
If the heat exchanger fails before the boiler, it can be replaced. It is relatively expensive to replace a broken heat exchanger. How long your boiler should last after a replacement is fitted should be a consideration.
Final Thoughts
Your boiler's heat exchanger is essential to transferring heat to a cold water supply. This will then be used in your central heating system as the hot fluid flows through your pipes. It can also be stored for hot water use.
All modern boilers have a condenser heat exchange system in place. This improves efficiency and performance and can also help to reduce energy bills.
Heat exchangers can be expensive components, so taking good care of them is essential. Any maintenance must be carried out by a registered professional.