Viessmann Boiler Prices, Reviews, Guide & More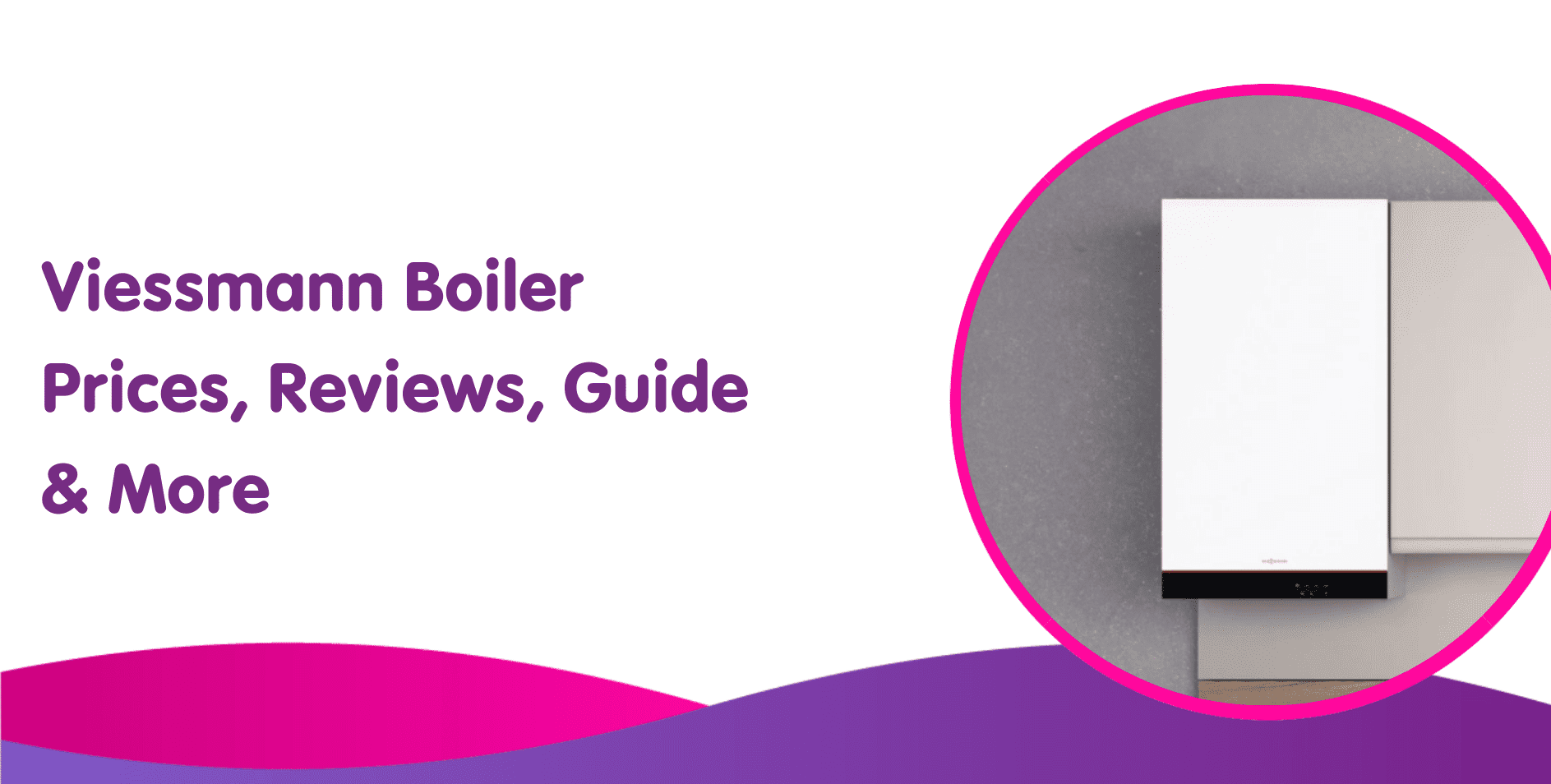 Viessmann boiler prices, reviews, costs & installation guide for 2023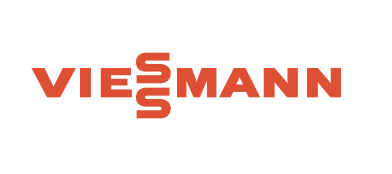 Viessman boilers are widely considered reliable, efficient, and long-lasting which for homeowners is good to know as there are a lot of choices to make when selecting a boiler – And that's why many choose a respected brand such as Viessmann, and by choosing a renowned name, you can be sure of getting a quality product.
Get 12 years warranty for the price of 10 on the Vitodens 050-w – Lock in your fixed price here
New boilers are a serious investment, so you need to know more than just the brand name and a few adjectives the new Viessmann hydrogen-ready (20%), energy-saving boilers are unrivalled value for money, so here is our comprehensive guide to the largest in Europe, super reliable German boiler brand including the all-important price list.
Get an online fixed price in 20 seconds:
What kind of fuel does your boiler use?
Viessmann boiler prices and reviews: Why choose to spend your money on a Viessmann?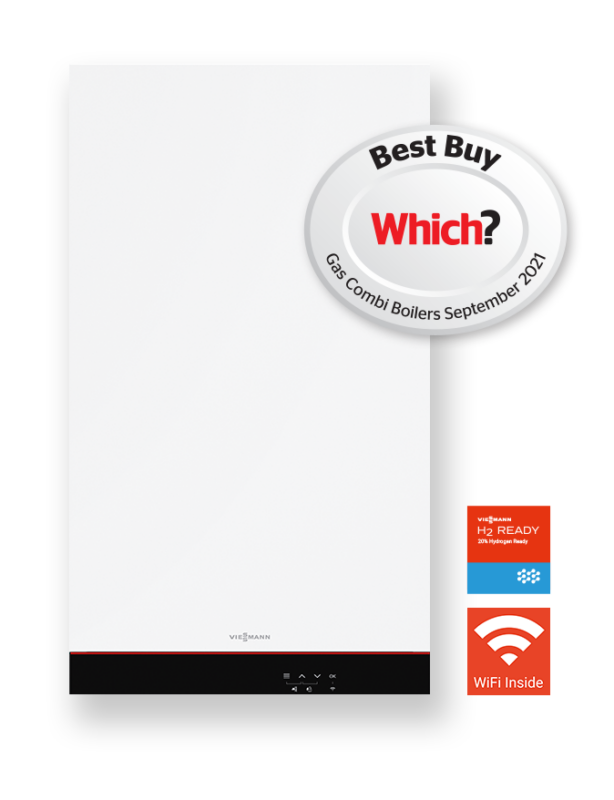 A new boiler can last for up to 15 years, so you'll want to get it right the first time! Viessmann boilers are renowned for their reliability and longevity, so if you want a boiler that can last that long, then check out the Viessmann Vitodens range of boilers and find out how much they cost.
Boiler Central is one of the leading suppliers of Viessmann boilers so we offer a selection of these and other brands of boilers and that's why we're committed to helping homeowners to find the perfect boiler from the Viessmann range, so, at Boiler Central we've put together a guide that offers you a one-stop-shop for everything you need to know about Viessmann boilers.
Get an online fixed price in 20 seconds:
What kind of fuel does your boiler use?
Who Are Viessmann?
A family-owned and run company, Viessmann prides itself on quality. The brand began in 1917. Since then, it has grown from a small heating system provider to an internationally renowned household boiler name.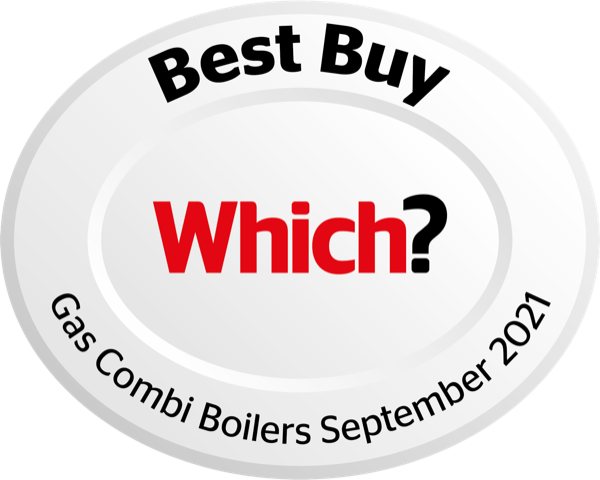 Viessmann now boasts a wide range of accolades for its boilers. For example, they have a 4.5-star rating on Trustpilot and are also respected by Which?. The renowned review website has named many of the brand's boilers as its Best Buys and unsurprisingly the Viessmann Vitodens 100-w is regarded as one of the best combi boilers around.
The respected European boiler brand offers a wide range of boilers and accessories, and as such, every homeowner can find the boiler to suit them when they buy from Viessmann. Here, we explore all you need to know about Viessmann boilers.
Viessmann combi boilers prices
A Viessmann Vitodens 050-w 25kw combi boiler will cost you from £750 just for the boiler and this is the lowest-priced boiler that they sell as Viessmann offers a wide range of boilers and their combi boiler are some of the best on the market.
Many of these products are part of the Vitodens range and the best bit is this selection of boilers is the brand's leading range in terms of reliability, performance and value for money.
That's because these products are economical and efficient, and also, mains gas is the most popular type of fuel in UK homes so they accommodate for as many people as possible.
Viessmann Vitodens Hydrogen Ready combi boilers to 20%
The UK Government is slowly phasing out gas boilers, to introduce more energy-efficient options. However, there are still many years to go until gas boilers become completely extinct. This is because there is intent to use hydrogen as fuel instead.
The best thing about a Viessmann Vitodens combi boiler, or any Viessmann boiler for that matter is that they are hydrogen-ready boilers to 20% and can run on a blend or hydrogen and natural gas.
Until then, gas is a popular and convenient fuel. As such, the Viessmann Vitodens range is popular because they are all gas condensing boilers.
Viessmann system boiler prices
Viessmann system boiler prices start at around £950 for the Vitodens 100-w. The Vitodens range includes both combination boilers and system boilers as combi boilers suit smaller homes with fewer bathrooms.
This means that they cover a wider market and are able to provide more homes in the UK with their fantastic boilers.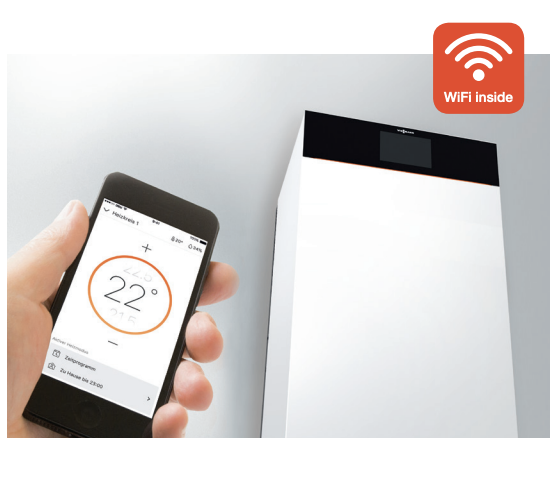 System boilers work well for larger properties with a higher demand for hot water and a larger central heating system.
Whichever type of boiler you need, there's a Viessmann boiler to suit your home. Many of the Viessmann Vitodens range come in both combi and system options, so you can choose the perfect model.
Below is a list of some of the most popular Viessmann boilers on the market today.
Get an online fixed price in 20 seconds:
What kind of fuel does your boiler use?
Best Viessmann boilers including combi, system & regular boilers
Viessmann Vitodens 050-W combi boiler
Cost: £800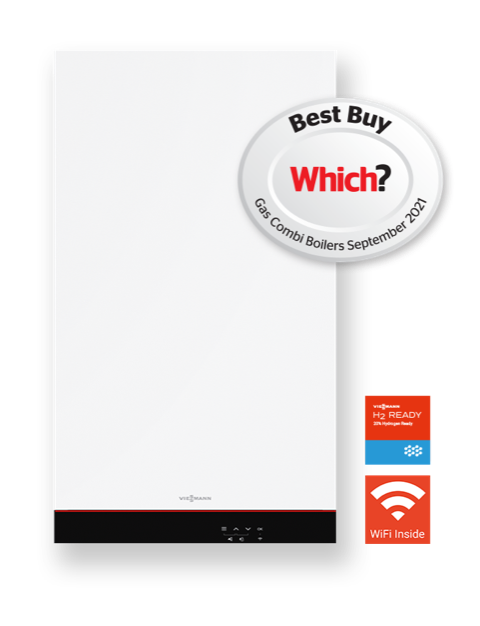 This model is available as a combi boiler with either 29kW and 35kW output flow rate, or as a system boiler. The combi boiler options are ideal for homes with up to 3 bedrooms.
The system boiler might suit a larger home with more bathrooms, particularly if you might have more than one hot tap running at once.
As a German brand, Viessmann is committed to high-quality boiler design and engineering.
That's why it offers quality components in its boilers. For example, the Viessmann Vitodens 050-W features a stainless steel heat exchanger.
This quality component will help this boiler to last longer than boilers of the same price from competing brands.
For more info on this boiler model, check out our Viessmann Vitodens 050 review HERE.
Viessmann Vitodens 100-W combi boiler
Cost: £950
The Viessmann Vitodens 100-W comes under a number of different names, however, the model is the same whether it's called the Vitodens 100 or the Viessmann Vitodens 100 combi boiler.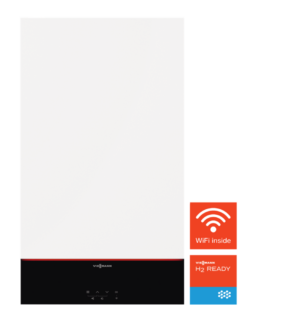 Viessmann calls this its best selling gas condensing boiler, and it's easy to see why as both the system and combi version of the boiler offer an affordable and super-quiet option.
The boiler was designed to be reliable and long-lasting, making it a cost-effective solution. It's popular with UK homeowners as the boiler is eco-friendly.
Also, it has easy to use features, such as a clear backlit LCD display and a touchscreen control panel. This model is wall-mounted, so you won't need much space to keep it in.
Tidy house, tidy mind, as the saying goes. With the Viessmann Vitodens 100-W you can have both!
You'll also get the peace of mind that your new Viessmann boiler will give you faithful service for a decade or more.
For more info on this boiler model, check out our Viessmann Vitodens 100-w review HERE.
Viessmann Vitodens 200-W
Cost: £1,500
A combination boiler, the Viessmann Vitodens 200-W combines energy-efficient tech with a reliable water heater.
The product is a condensing boiler that is available with a capacity of 19kW, 26KW, 30kW, and 35kW.
It has been given an 'A' rating, the highest possible, by both the UK Energy Information Authority (EIA) and the British Gas Association (BGA).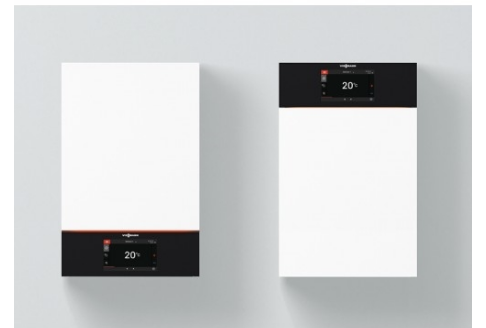 Therefore, the Vitodens 200-w could help you to reduce your home energy bills. This model is at the more expensive part of the Viessmann Vitodens range.
With savings on your energy bills and high-tech features, it's worth the extra cost.
The boiler has a stainless steel Inox-Radial heat exchanger that reduces breakdowns and keeps maintenance costs low.
For more info on this boiler model, check out our review HERE.
Get an online fixed price in 20 seconds:
What kind of fuel does your boiler use?
Viessmann Vitodens 111-W
Cost: £1,750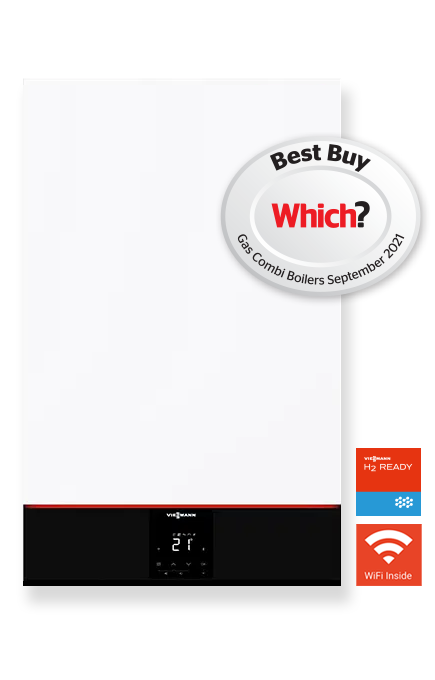 As a high-capacity, powerful wall-mounted combi boiler, the Viessmann Vitodens 111-W is ideal for slightly larger properties.
It also works well for homes with less space but more bathrooms. The boiler can fill a standard bathtub in less than 10 minutes — impressive!
So, next time you want a soak, you could be in the tub quicker with the Viessmann Vitodens 111-W.
The model also comes with a user-friendly touchscreen. It provides fast hot water, making this perfect for heating your home quickly.
With the latest Viessmann boiler controls, there's also the option to control the boiler remotely via Wi-Fi. As such, the Viessmann Vitodens 111-W is a high-tech option for modern homes.
For more info on this boiler model, check out our review HERE.
Viessmann Vitodens 222-f
Cost: £3,200
For homes that don't need a regular or system boiler, but are slightly too large for a typical combi boiler, the Viessmann Vitodens 222-f could be perfect.
It's a cutting edge model with all the latest mod-cons. By connecting to the ViCare or Vitotrol Plus app, your boiler engineer will be notified of an issue before it causes disruption to your home.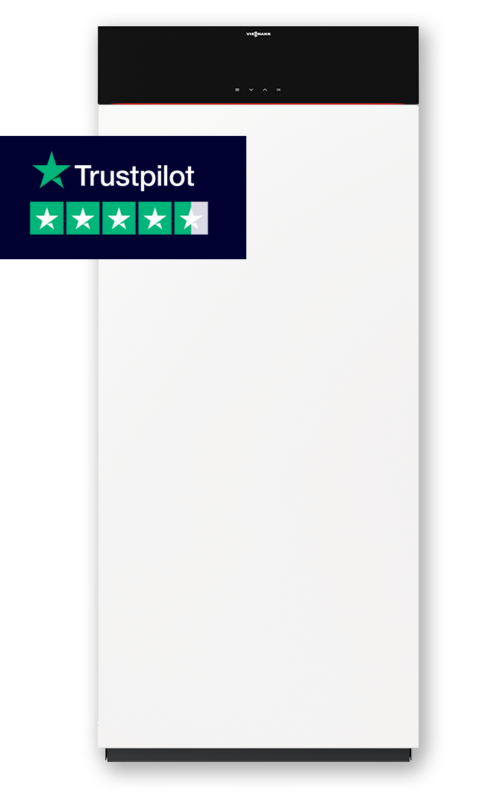 The E3 platform with a 7-inch colour touchscreen allows you and your engineer to easily check the boiler temperature and more.
With a MatriX-Plus burner and stainless steel Inox-Radial heat exchanger, the boiler is a space-saving, long-lasting solution.
It's a more powerful solution than many other combination boilers. Thanks to these innovative features, it is able to meet higher demands for hot water.
The boiler is also ideal for larger heating systems and bigger homes. Therefore, while it is one of the priciest boilers in the range, it's definitely worth the cost.
For more info on Viessmann Vitodens 222-F boiler model, check out our review HERE.
Get an online fixed price in 20 seconds:
What kind of fuel does your boiler use?
Viessman Vitodens 35kW or Viessmann Vitodens 20kW: Which Boiler is Best for You?
Many of these models come in several wattages. As such, it might be difficult for you to choose the best one.
Two of the most common power outputs from Viessmann are 20kW and 35kW. The difference between these two outputs is how much power they have.
The power of a boiler is measured in kilowatts (kW). It tells you how much power the boiler has to use to meet your heating and hot water needs.
Therefore, the more heating and hot water you need, the more power you need from your new boiler. Modern boilers are energy-efficient. As such, you don't need to get an oversized one to meet your needs.
Instead, the kW output given by the manufacturer is accurate. So, the larger your home, the bigger the boiler you need. The higher the kW, the bigger, or more powerful, the boiler will be.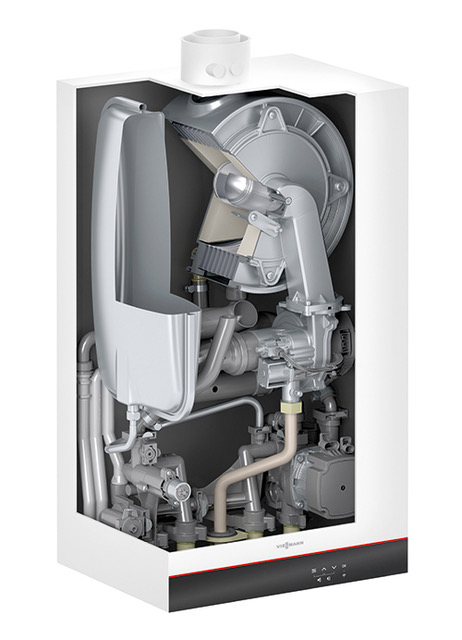 If you have a smaller home, then a 20kW boiler could be perfect. A 20kW boiler is usually cheaper than a larger model, so if your home has two bathrooms and fewer than 10 radiators, then this could be ideal.
Check out our guide to 20kW Viessmann boilers to see the benefits of this type of boiler.
For larger properties with more bathrooms and radiators, a more powerful boiler is required. If your boiler isn't powerful enough, it will not heat your water to the right temperature.
So, if you have a slightly larger home with more radiators or bathrooms, then a 35kW boiler might be better.
To find out more about whether a 35kW Viessmann boiler is right for your property, read our 35kW boiler buying guide.
Viessmann offers these boilers as a combination, system, or, in some cases, a regular boiler. Each of these solutions would suit a different-sized property.
Before you commit to buying a new boiler you should research the options available. This guide should help.
For more info on boiler types and power outputs, you can read our boiler advice. Our boiler experts share their expertise, so you can make an informed choice.
Viessmann Boiler Prices: What can you expect?
Price isn't the only factor when it comes to choosing a boiler. However, it is important. After all, high boiler cost doesn't necessarily mean that you'll get a reliable boiler.
Below is a table of average prices for many of the most popular Viessmann boiler models.
| | | | |
| --- | --- | --- | --- |
| Boiler Model | Sizes Available | Size Of Home | Price |
| Viessmann Vitodens 050-W | 29kW and 35kW | Small Homes With 1–2 Bathrooms and Few Radiators | £1899 |
| Viessmann Vitodens 100-W | 35kW, 30kW and 26kW | Medium Homes With 1–2 Bathrooms | £950–£2,000 |
| Viessmann Vitodens 200-W | 19kW, 26KW, 30kW, and 35kW | Medium Homes With 1–2 Bathrooms | £1200–£1300 |
| Viessmann Vitodens 111-W | from 4.7 to 35.0 kW | Larger Homes With 3 or More Bathrooms | £1,199.99–£1,925.99 |
| Viessmann Vitodens 222-f | 19kW, 25kW and 35kW | Larger Homes With 3 or More Bathrooms | £1782–£3,084 |
These prices don't include boiler cover, extended warranties or installation costs. All of these costs need to be factored in when you're buying a new boiler.
If you want a complete quote for your new Viessmann boiler, then Boiler Central can help. We offer a fixed price boiler quote that meets your exact needs.
With just a few questions, we can establish exactly what you need and create a bespoke boiler quote. So, you'll know exactly how much your new Viessmann boiler will cost.
Get an online fixed price in 20 seconds:
What kind of fuel does your boiler use?
The benefits of using a Viessmann boiler
There are many benefits of buying a Viessmann boiler. Here are some of the key reasons why this brand is so popular with UK homeowners.
Efficient Boilers That Save Energy And Money
Heating buildings is one of the biggest uses of energy in the home. It's also one of the most significant parts of your domestic budget.
That means that you need to search for a boiler that uses cutting-edge technologies to reduce its fuel consumption.
Viessmann is one of the leading boiler manufacturers that offers a range of ways to improve the efficiency of your heating system.
As well as its standard gas boilers, Viessmann also provides a range of solar thermal products. These solutions allow users to heat their home and water using solar energy.
Despite being energy efficient, Viessmann's products still offer incredible service. They will keep your home warm and snug for many years to come.
Reliable Boilers From A Trusted Brand
Buying a new boiler is a significant undertaking. A new boiler can last as long as 15 years if it is well-cared for.
New boilers cost a lot of money. It also requires effort to have one installed and find a Gas Safe Registered engineer.

The longevity of your new boiler depends on many factors. One of them is the quality of materials used to make the boiler and we very rarely hear of many Viessmann boiler problems or errors.
Viessmann aims to use long-lasting materials, such as stainless steel and brass, in its boilers. It uses innovative technology to ensure that every Viessmann boiler lasts as long as possible.
Get an online fixed price in 20 seconds:
What kind of fuel does your boiler use?
Amazing Customer Service
While Viessmann is a German brand, it aims to offer exemplary customer service to clients around the world.
In the UK, the brand has several bases and aims to offer quick service and support. Spare parts for its boilers are available across the UK.
So, if something goes wrong with your boiler, you can quickly get the parts to fix it.
When dealing directly with Viessmann, homeowners receive personal support. The company's website offers users a selection of ways to contact its UK-based customer service team.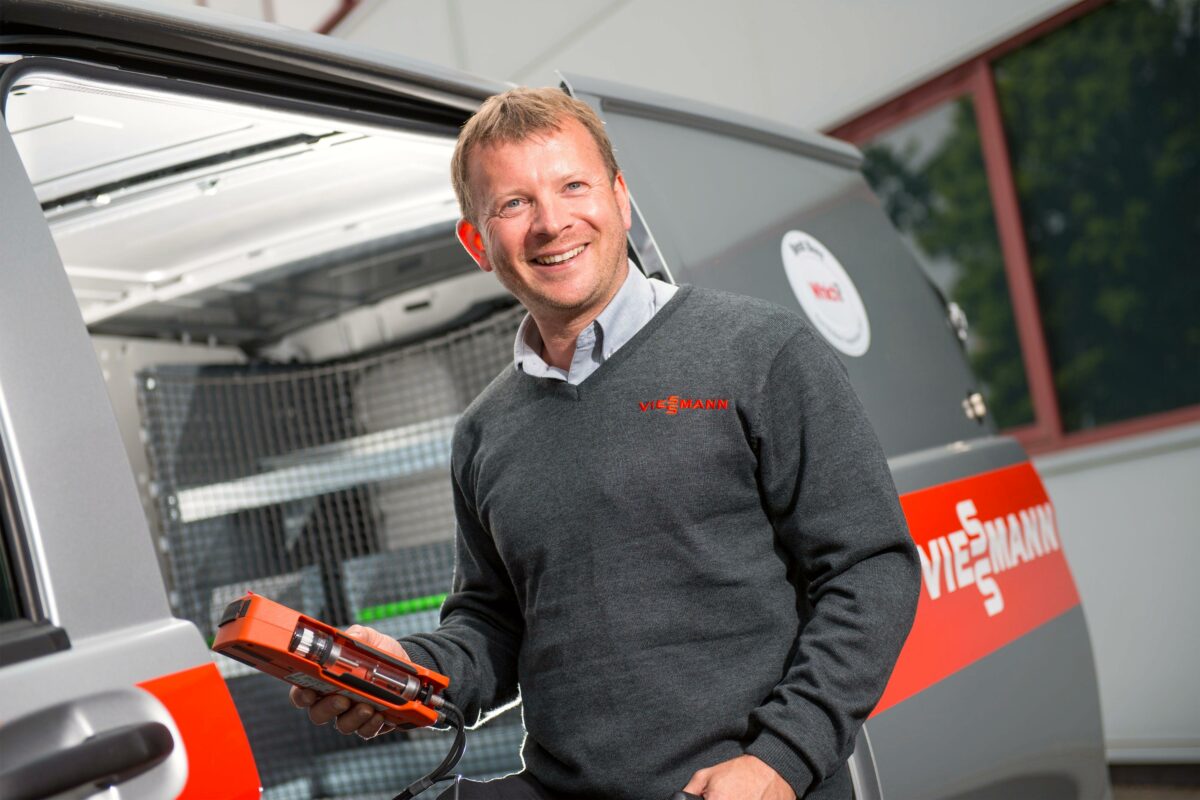 You can also book a Viessmann engineer online. They can visit your property and check your boiler. Boiler codes for Viessmann boilers are available on the website.
Therefore, you can quickly and easily get everything you need to get your boiler fixed. As such, you can rest assured that you'll get incredible support if you choose a Viessmann boiler.
Whether you buy direct from Viessmann or from Boiler Central, you'll get industry-leading support.
Viessmann boiler warranties: The best in the business
When it comes to Viessmann boiler warranty, Viessmann is one of the best brands on the market. The brand's standard terms are that it will fix or replace any parts that go wrong, for free, within two years from the date of delivery.

Many of the brand's boilers come with a 5-year parts and labour warranty. Alongside this, Viessmann also offers extended warranties on most of its boiler models.
These warranties apply if you buy your boiler directly from Viessmann. If you purchase your boiler from Boiler Central, then you can get an extended warranty, as well as boiler cover. As such, you can get peace of mind when you buy your Viessmann boiler from us.
Get an online fixed price in 20 seconds:
What kind of fuel does your boiler use?
Viessmann Boiler Problems and Errors
Even high-quality boilers break down occasionally. Viessmann offers reliable boilers, but they still go wrong.
When they do, it's important that you don't panic. Usually, your Viessmann boiler will show an error code. You can use this code to identify the issue.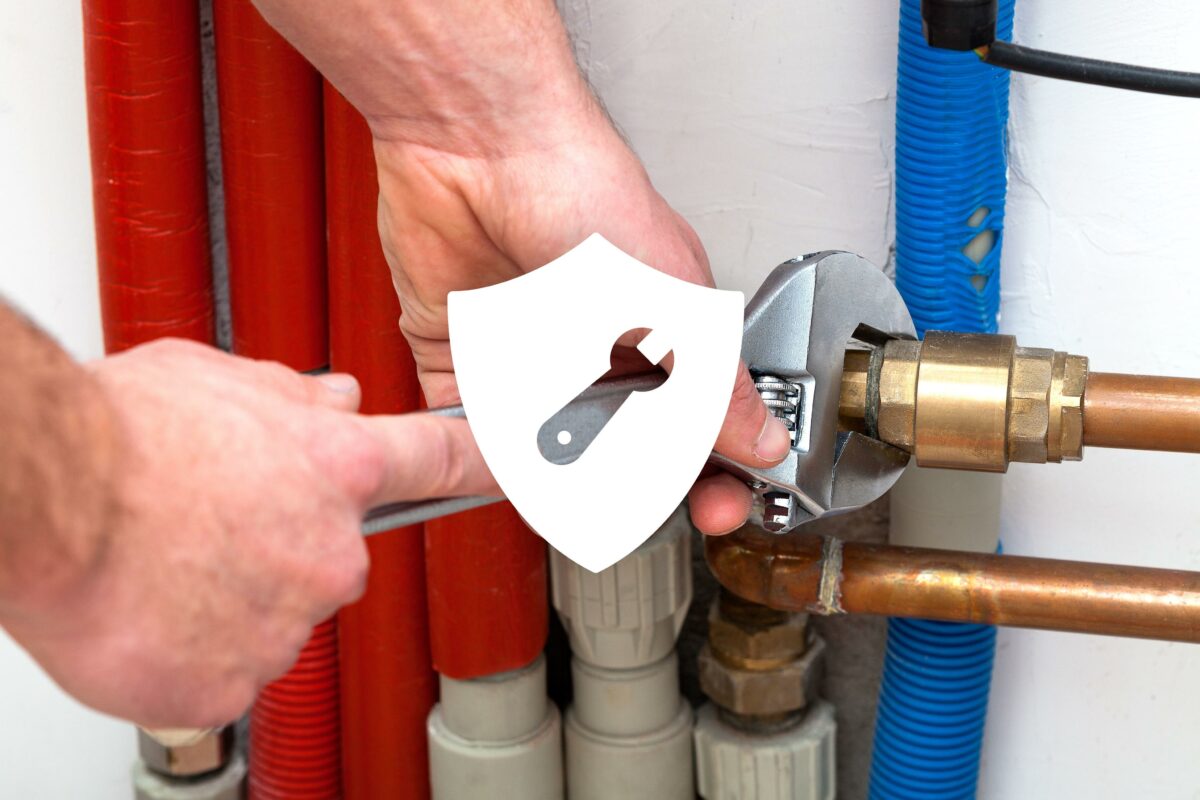 One of the most common errors with any boiler is that the pressure drops. Thankfully, you can repressurise your Viessmann boiler yourself.
There are other common Viessmann boiler issues that you can fix yourself.
Still, if you're unsure about the error, or just want an expert opinion, then you should contact your boiler engineer.
If the boiler is within warranty and the issue is covered, then you could get it fixed for free. However, if the issue is not covered then you'll need to pay for it yourself.
Hiring an expert boiler engineer can be expensive. That's because it's a skilled profession. Also, if your boiler needs parts replacing then the cost will rise further.
All of this can be very costly. Often, standard home insurance policies don't cover boilers. However, you should check with your provider.
If your boiler isn't covered then the bill to fix it could be expensive. That's why here at Boiler Central we offer boiler cover. With our policies, you can save on your boiler repair bills.
Depending on the plan you choose, you could save on everything from call-out fees to boiler replacement.
For some of our policies, we also offer free boiler servicing. A Viessmann boiler should be serviced every year. If you get your service for free with our boiler cover then you could save a lot of money.
You will also ensure that your Viessmann boiler works perfectly. It will last longer if it's well-maintained.
Get an online fixed price in 20 seconds:
What kind of fuel does your boiler use?
How does Viessmann shape up against the competition?
This article covers Viessmann boilers, but they're not the only brand on the market. There are many boiler brands available in the UK.
Boilers are an integral part of your home. They're also an expensive investment that can last up to 15 years.
So, you need to do your research before you buy one. That means checking out all of the boiler brands out there.
As this article shows, Viessmann is a reliable boiler brand. However, if you want to make an informed choice then you should check out every option.
That means comparing Viessmann's offering to the competition. Below is an overview of how Viessmann compares to some of the biggest boiler brands in the UK today.
Viessmann vs Vaillant Boilers
Both of these German brands have gained international reputations for excellence in boiler design and creation.

Viessmann boilers are often slightly cheaper than Vaillant models. Also, Viessmann's products are often slightly more energy-efficient. They have slightly better warranty options for both boilers and their components.
On the other hand, Vaillant boilers also have many positive points. Their boilers rate slightly higher on Trustpilot and come with a slightly more user-friendly control app.
So, each of these boiler brands has its pros and cons. That means that you should check out specific models to find your ideal solution.
Check out our overview of Viessmann vs Vaillant boilers to find the best boiler brand for you.
Viessmann vs Worcester Bosch Boilers
Worcester Bosch is a respected UK boiler brand. Established in 1962, the brand has been perfecting its boiler and heating system products ever since.
We've compared the best two selling boilers from each brand in our Worcester 4000 vs Viessmann Vitodens 050-w comparison page.
As such, it is a newer entrant to the boiler market than Viessmann. Viessmann has been creating its quality boiler products for more than 100 years.
Therefore, consumers can rest assured that Viessmann's products are high-quality. Worcester Bosch also has a reputation for reliability.
Additionally, Worcester Bosch is well-known for its innovation. Its products have a 4.6-star rating on Trustpilot, which is just slightly higher than Viessmann's 4.5-star rating.
Both brands offer combi boilers, system boilers, and regular boilers. They also provide a selection of accessories and heating system solutions.
Worcester Bosch also offers more cutting-edge heating solutions. These include smart thermostats and digital controls. Many of its renowned Greenstar and Lifestyle ranges are controlled by the Bosch EasyControl app.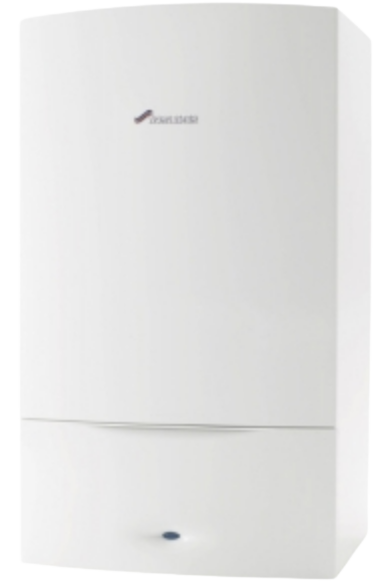 Worcester Bosch offers a 12-year warranty as standard with most of its boilers. Viessman's extended warranty is, for many of its range, 10 years, although it does offer a 12-year option for some of its boilers. As such, both options offer similar warranty options.
All of this could be the reason behind Worcester Bosch's higher prices. The brand's average prices are more than Viessmans, but the quality and innovation are similar.
If you're considering a Worcester Bosch boiler vs a Viessmann one you should explore the specifications and prices.
Both brands offer quality boilers. The main difference is the price and the technological features. Compare the two and you could find your dream boiler.
Get an online fixed price in 20 seconds:
What kind of fuel does your boiler use?
Viessmann vs Alpha Boilers
Alpha is the UK arm of European boiler titan Immergas. As such, the company has a global reach and a vast product offering.
Much like Viessmann, Alpha offers a selection of domestic and commercial boilers for both residential and industrial clients.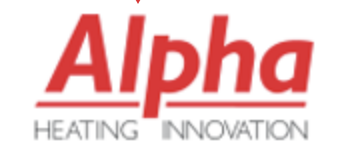 With a 4.7-star review on Trustpilot, Alpha is another boiler manufacturer that is just slightly higher ranking on the site than Viessmann.
While both brands offer sustainable boilers, Alpha takes this one step further with its Gassaver boxes. These small boxes sit on top of the gas boiler and extract heat from the gas that leaves it.
It takes the heat from the gas leaving the boiler flue and uses it to preheat the cold mains water before it enters the boiler. As such, it can make any gas boiler more sustainable.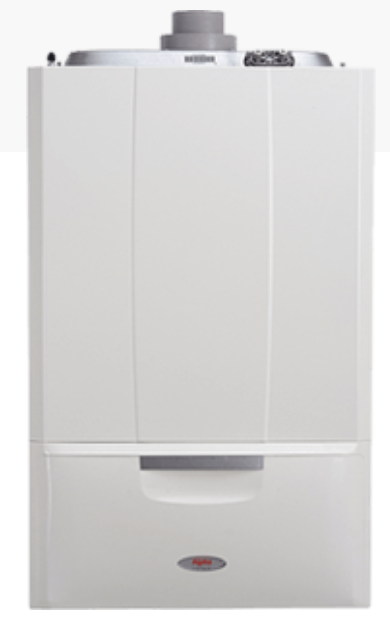 Alpha's longest warranty is 13-years. However, most of its boilers have a standard warranty of just five years.
Therefore, Alpha slightly edges out Viessmann when it comes to the maximum length of its warranty. Alpha's boilers and products are also slightly cheaper than Viessmann's.
Price isn't always an indicator of quality. In this case, both brands aim for reliability and quality. With different technology, features and models, each brand could be a great choice for your home.
Again, Alpha is very similar to Viessmann, and both have their pros and cons. So, before you choose one over the other, you need to check out all the models and options available.
Viessmann vs Ideal Boilers
Established in 1906 under the name National Radiator Company, Ideal Heating is now an industry-leading boiler provider with clients around the world.
It was a pioneer in the boiler industry. In the 1920s it made the Ideal Cookanheat. This product combined a cooker, boiler, hot space for drying clothes and an open fire into one handy unit.
Today, Ideal Heating provides a wide range of boilers and heating solutions. Like Viessmann, the manufacturer offers its products to domestic and commercial clients.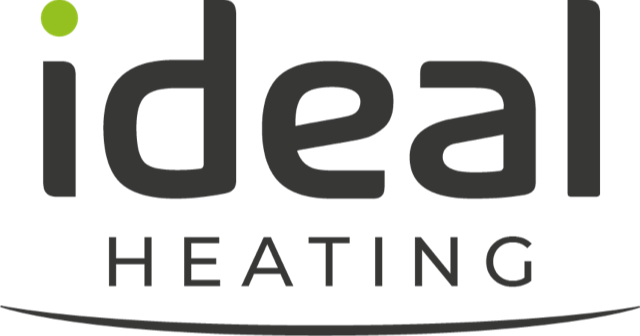 Ideal Heating has a 4.7-star rating on Trustpilot. This puts the manufacturer slightly above Viessmann's 4.5-star rating.
When it comes to the quality of parts, Ideal is slightly behind Viessmann. That's because Ideal outsources the manufacturer of some of its parts, however, Ideal boiler prices are slightly lower.
That means that the quality might not be what you expect. Viessmann produces all of its boiler parts in its German manufacturing plant. Therefore, Viessmann is able to improve its quality control.
Also, while Ideal does use a stainless steel heat exchanger and bronze fixtures for some of its boilers, they're not available on all models.
However, Viessmann does not use as much plastic in any of its boilers. Instead, it uses robust brass parts. All boilers come with the brand's stainless steel Inox-Radial heat exchanger.
These quality components are part of Viessmann's focus on innovation. Ideal might have started as a pioneer, but today the brand is slightly behind with their gas condensing boilers.
Viessmann has a well-regarded app that offers cutting-edge features. Users rate it highly, and it has a 4.2-star rating on the Apple App Store.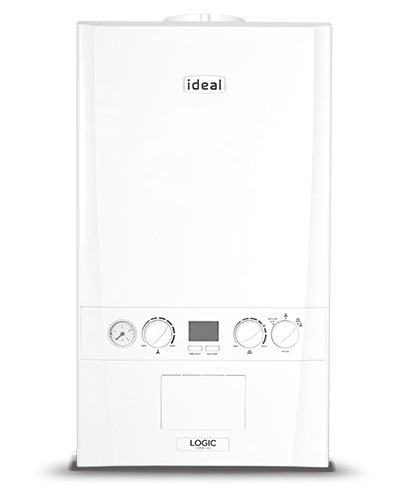 Ideal also has an app, but it has just 1.7-stars on the same app store. It is not well thought of by users and isn't user-friendly.
In this case, Viessmann could be the best choice for your new boiler. The brand can deliver quality products and fantastic customer service in case anything goes wrong.
With innovative technology and an intuitive app, Viessmann is a great choice for modern homeowners. Ideal Boilers might become out of date in the future and the components are not as lasting as Viessmann's.
Before you make up your mind, you should do your own research. Find out everything you need to know about the options available from both brands.
By reading reviews and marketing materials, you can ensure that you make the best choice of boiler.
Viessmann vs Glow Worm Boilers
Part of the Valliant Boiler Group, Glow Worm is the affordable arm of the company. As such, it aims to provide a cost-effective product with the same reliability.

We've already mentioned the quality and innovation of Valliant, and how they stack up against Viessman.
Glow Worm is similar to its parent brand. Many of Glow Worm's gas boilers are cheaper than Valliant's. That's because they are slightly less energy-efficient.
Both brands are respected by clients around the world. Glow Worm has the backing of its renowned parent company. Meanwhile, Viessmann has an international reputation and award-winning boiler tech.
When choosing a boiler, you should do your research. Think about more than just the brand and its reputation.
Also, look at the boilers each manufacturer offers and the features they provide. Take the time to find the right boiler and you will be happy and warm for many years.
Closing thoughts on Viessmann boilers
Viessmann boilers are an ideal option for many customers. The brand is respected by homeowners and boiler engineers alike.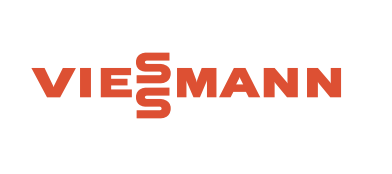 If you're looking to buy your dream boiler, then there's a lot to consider. One of the main focuses is to find your ideal boiler at the right price.
You also need to find a Gas Safe registered engineer to install your new gas boiler. Paying for an experienced engineer to install your new boiler can increase the overall cost of buying it.
Thankfully, Boiler Central offers a complete boiler quote online. In just a few minutes, you can get the best price for your new boiler and its installation.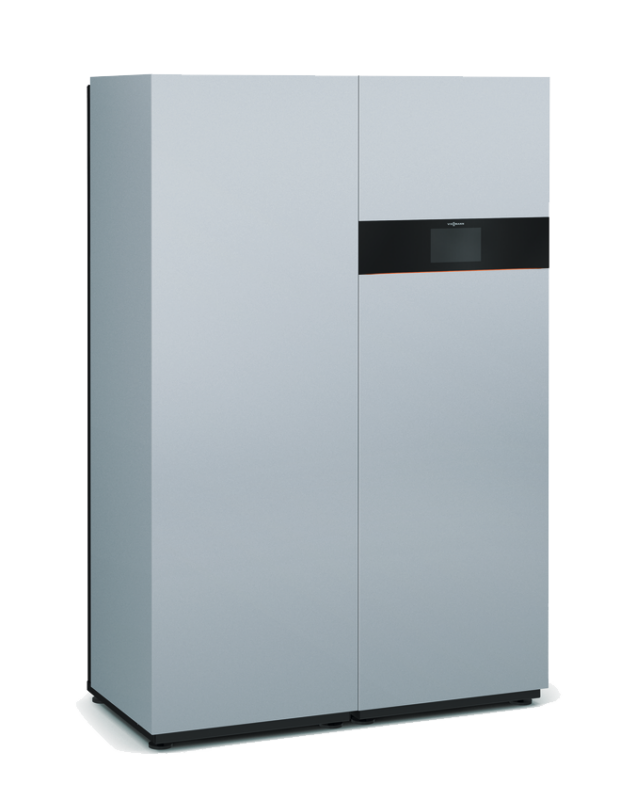 When you get a quote from us, you know that you're getting a quality boiler and exceptional service. We offer a comprehensive warranty as standard. We also have Gas Safe Registered boiler experts who can help with your gas boiler installation and maintenance.
Viessmann boilers are at the expensive end of the market. Thanks to their quality and efficiency, the boilers from this brand start at around £1000 or more.
Boiler Central understands that's a lot of money to spend in one go. That's why we offer boilers on finance, so you can spread the cost.
Contact us to find out more. We can discuss your needs and help you to find the Viessmann system or combi boiler to suit your needs.
Get an online fixed price in 20 seconds:
What kind of fuel does your boiler use?