Worcester 4000 Vs Viessmann Vitodens 050: Which is the best?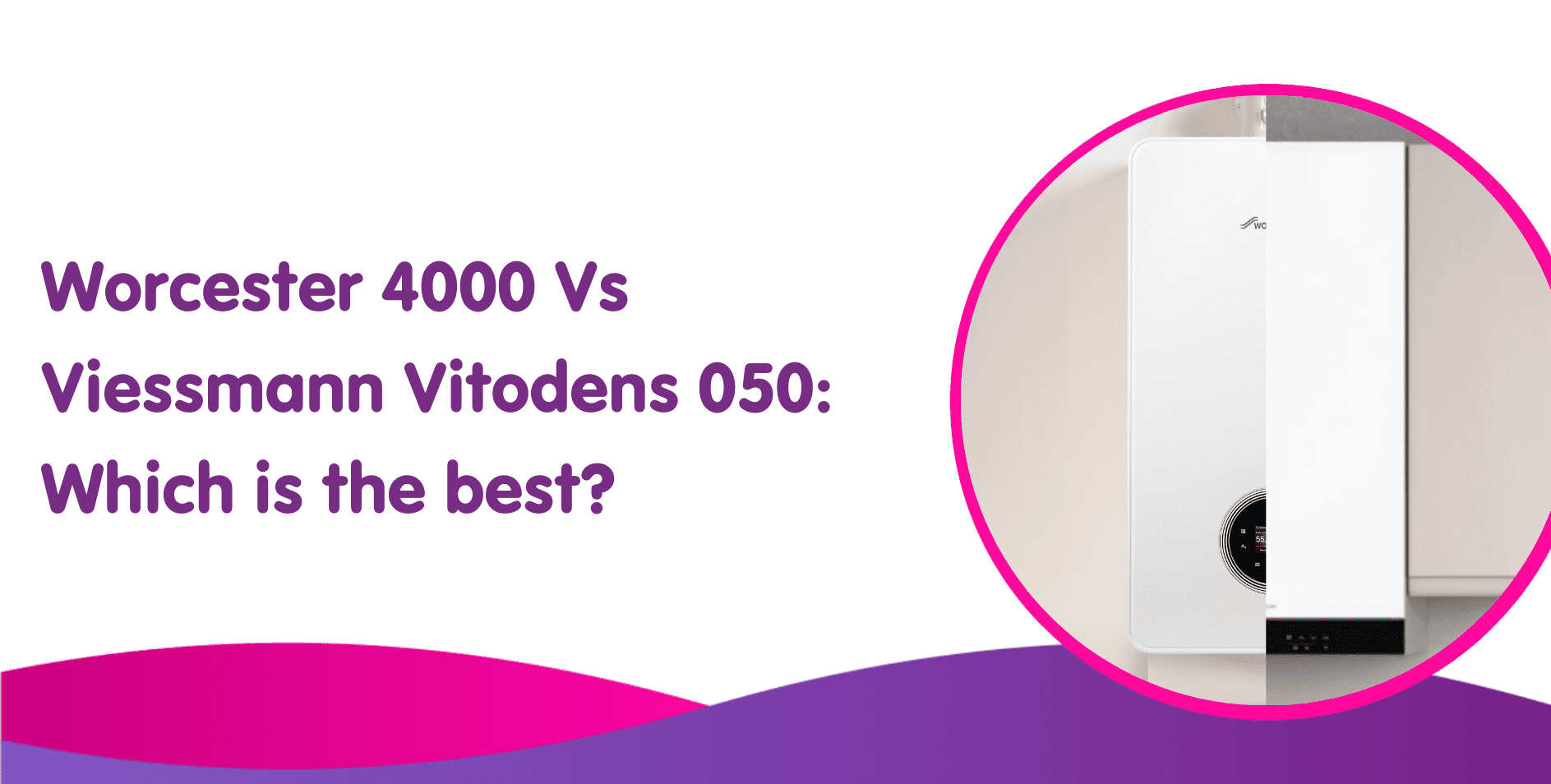 Worcester 4000 vs Viessmann Vitodens 050: Which is the best?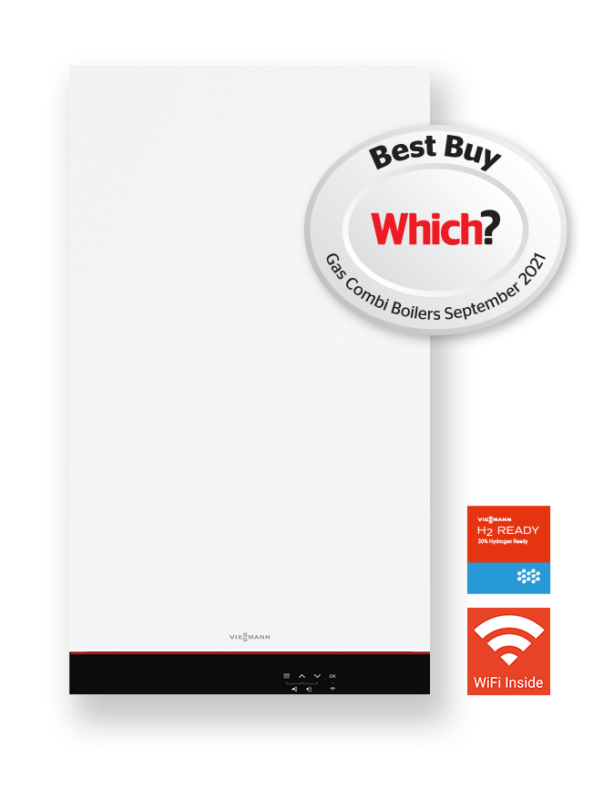 Here at Boiler Central we currently have two boilers that are streets ahead of the rest in terms of sales and value.
The main thing about these boilers is that they are also in direct competition with each other in terms of size, price, outputs, warranties & performance – But which is best?
Here is our guide to these boilers and an overview of exactly what you are getting with each boiler are unfortunately the decision will have to be yours and which boiler suits your home the best in terms of size & shape and what features matter to your the most.
Get an online fixed price in 20 seconds:
What kind of fuel does your boiler use?
Which is better, Worcester Bosch or Viessmann boilers?
We would recommend Viessmann as the best boiler manufacturer since they are professionals in the boiler sector, provide excellent customer service, superior components, a superior stainless steel heat exchanger, and much more.
Both boiler brands are rightfully regarded as market leaders and innovators.
Both boilers are hydrogen ready boilers to 20% and are competitively priced for the quality of the boiler, provide outstanding aftercare and customer support, and have received multiple accolades for their boiler lines.
What is good about the Worcester 4000?
The Worcester 4000 is one of the latest boilers from Worcester Bosch, which is one of the top beating systems manufacturers in the UK. The 4000 replaces the stellar Worcester Bosch Greenstar i range, building on its wonderful foundation, but the Worcester 4000 combi boiler has more features than the previous iteration.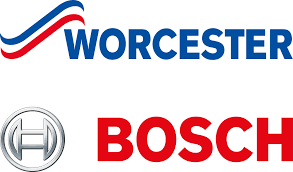 The hydrogen blend-ready Worcester 4000, by design, has the quick tap feature, which means that the moment you turn the tap on, you get hot water.
The days of having to turn the tap on and then wait impatiently for the lukewarm water to become hot are over. Furthermore, due to the quick tap function, you no longer have to waste water, damaging the environment.
The Quick Tap feature lets you immediately turn the hot water tap on and off without any wait time. The feature lets the boiler know when you need hot water, so you get it just right when you need it.
Video:
Worcester 4000 Boiler Review
Available in just 2 outputs of 25kw and 30kw, the Worcester 4000 combi boiler is perfect for small to medium-sized homes, but find out more here:
What else is good about the new Worcester 4000 over the Vitodens 050-w?
Furthermore, you also get increased levels of efficiency. The Worcester 4000 is known to be the most environmentally friendly boiler made by Worcester Bosch. The 4000 can seamlessly modulate at 1:10, meaning it can reduce its power output to just 10% of its maximum output.
So a 30kW Worcester boiler can drop down to 3kW when there isn't much demand for heating or hot water. Besides that, the Worcester 4000 is extremely efficient, meaning that using it can help reduce your energy costs whilst causing less wear and tear.
You also get greater control of your heating requirements, thanks to Bosch EasyControl. This feature enables you to control the Worcester 4000 from anywhere using your smartphone. It can also let you keep track of how much energy you use. Reduce the temperature by just 1 degree and view its impact on your energy bill.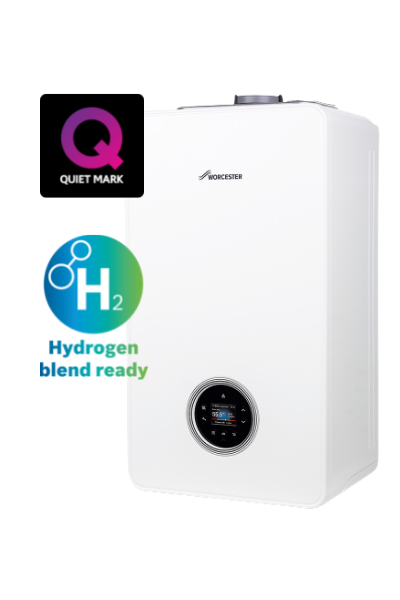 Another standard feature of the Worcester 4000 is the full-colour text display. This LCD comes with push-button controls making the Worcester 4000 seamless to program. Finding information, such as boiler status, is easy thanks to the LCD panel.
While this might seem like an unimportant detail, it can be quite useful when your boiler isn't working as effectively as it should. This can help you whittle down any confusing and unnecessary information.
The Worcester 4000 can also be used with thermostatic radiator valves. These are installed on every radiator enabling you to set each room's temperature. With this feature, you can keep the bedroom cooler while the living room is warm.
All of this is possible thanks to the Bosch EasyControl. You can also access your boiler using voice commands via Google Home Assistant and Alexa.
The intelligent filling system is a new addition to the 4000 over the previous Greenstar I range. It is a software program that ensures the boiler's pressure is always at the most efficient level. This means that if the pressure goes lower than it needs to be, the internal filling valve opens and automatically fills the heating system to the correct level before switching off again.
The software will alert you to the issue if the pressure is too low, perhaps due to a leak. You should note that you can only get the intelligent filling system on the Worcester 4000 combi boiler. It is not available on the system version.
Worcester Bosch boilers are known for being quiet. The Greenstar i was quiet during operation, and since the Worcester 4000 is built on its platform, it makes sense that it makes even less noise.
The Worcester 4000 combi boiler has been recorded operating at just 45dB. Consider that a normal conversation is recorded at about 65dB and a hoover at 75dB; this shows how quiet the Worcester 4000 is.
How much does the Worcester 4000 cost compare to the 050-w?
It is important to know that Worcester boilers are premium boilers, so the price might be higher than what you would get from another boiler brand. The prices simply underpin the high quality and reliability you get from every Worcester Bosch boiler, and the 4000 is no different.
The Worcester 4000 is a mid-range boiler, so it isn't in the top tier range and is slightly cheaper. Nevertheless, you can expect to spend £2,100 for a 25kW Worcester 4000. This price also includes the boiler installation fee.
Get an online fixed price in 20 seconds:
What kind of fuel does your boiler use?
What is good about the Viessmann Vitodens 050-w?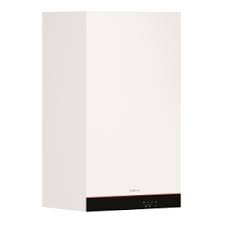 Boilers from Viessmann are long-lasting, efficient and reliable. When selecting a Viessmann boiler, there are several choices that homeowners could pick.
Viessmann is one of the most popular brands because every boiler is bound to be a high-quality product. Considering a new boiler cost a lot of money, you must make the right choice. One such choice is the Viessmann Vitodens 050.
The hydrogen blend-ready Vitodens 050 is one of the most efficient boilers out there. It saves you money and energy. Heating is one of the largest energy uses in a home, making it a significant portion of your budget. As a leading boiler manufacturer, Viessmann has taken this into account to create a boiler that improves the efficiency of your home's heating system.
Watch our excellent Viessmann Vitodens 050-w review to see if it better than the Worcester 4000
Vitodens 050-w combi boiler Vs Worcester 4000
Aside from its energy efficiency, the Viessmann Vitodens 050 is backed by high-quality service, ensuring that your home remains snug and warm for years to come. Getting a new boiler is a significant investment, and if you want to enjoy that investment, you need something that can last as long as 10 years.
The Vitodens 050 does one better, lasting as long as 15 years when it is properly taken care of. Nevertheless, how long your VItodens 050 boiler will depend on how well you can care for it.
Viessmann has done its part by utilising long-lasting materials like brass and stainless steel in its boilers. It also uses innovative technology in the Vitodens 050 as with other boilers in its range to ensure they last as long as possible.

As a German boiler brand, Viessmann is known to provide stellar customer service to every one of its clients. In the UK, for instance, it has various bases spread out to offer quick support and service.
If something goes wrong with your Vitodens 050 boiler, finding replacement parts should be no problem. Furthermore, if you deal with Viessmann directly, you can direct customer support, a tool that any homeowner will be pleased to have.
Viessmann even lets you hire one of their certified engineers online. The Viessmann heating engineer can come to your property to investigate your boiler. You can also find boiler codes for every Viessmann boiler on their website.
One standard feature the Vitodens 050 has is Viessmann's patented Inox-Radial heat exchanger. The heat exchanger is made from stainless steel and is key to establishing the Vitodens 0505 efficiency. A stainless steel heat exchanger makes this boiler stand out from others that use an aluminium one.
While aluminium heat exchangers are great for excellent initial performance and providing high heat transfer, they can become prone to corrosion. Any chemicals added to the heating system will corrode the heat exchanger. For this reason, these boilers cannot be used with softened water.
However, a stainless steel heat exchanger, like the one in the Vitodens 050, can withstand corrosion at a vast array of pH levels. This heat exchanger also doesn't need additional maintenance fluids since it can last longer. You also get a 10-year warranty that backs up this claim.
Another feature the Vitodens 050 has is the weather compensation feature. It works by using a tiny temperature sensor located outside your home. This sensor, facing north, is then wired to the boiler's internal controls. The sensor sends information concerning the temperature outside to the boiler, ensuring that if the temperature outside changes, the boiler also responds to it, decreasing or increasing the radiator temperature.
Water hammers can be a problem for boilers at a particular price range; however, the Vitodens 050 remedies this by having an inbuilt shock arrestor. This feature eliminates the loud rattling associated with water pipes every time a tap is on. Apart from getting rid of the annoying noise, it also reduces the risk of pipe collapse.
Operating the Vitodens 050 is quite easy thanks to the simple LCD and touch buttons at the boiler's front. You should also note that you can control this boiler remotely and increase its efficiency with a Nest and Tado smart thermostat. All of this means that your heating system can seamlessly program itself and learn from your behaviour and routines.
Controlling your boiler remotely is easy since all you need to do is have the appropriate Nest or Tado app on your tablet or smartphone. Easy control doesn't stop there for the Vitodens 050, as you can control your boiler using an Amazon Alexa-enabled device.
Get an online fixed price in 20 seconds:
What kind of fuel does your boiler use?
How much does the Viessmann Vitodens 050 cost compare to the Worcester 4000?
Boilers from Viessmann are more on the budget range, with the Vitodens 050 embodying that. You can get a Vitodens 050 25kW combi boiler for about £750. This is the cheapest boiler you can get from Viessmann.
Don't make the mistake of thinking the price means these cheaper boilers aren't high quality, as Viessmann ensures that all its boilers are up to standard and are made with high-quality components.
Worcester 4000 vs Viessmann Vitodens 050 Conclusion
The Viessmann Vitodens 050-w is better than the Worcester Bosch Greenstar 4000 because it is the best combi boiler around. Not only that but the Vitodens 050-w has:
Better parts
Better heat exchanger
An amazing built-in shock arrestor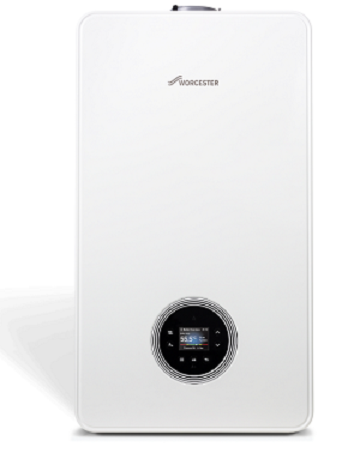 Worcester Bosch is a reputable brand known for making high-quality boilers, and the Worcester 4000 is no different. Since its establishment in 1962, the brand has been known for perfecting its heating system and boiler products.
Viessmann is an older brand. It has grown from a small boiler provider to an internationally renowned household heating system brand. Since its creation in 1917, it has created high-quality, efficient boilers.
Both brands offer system boilers, regular boilers and combi boilers. They also offer a range of heating system solutions and accessories. When comparing technology, Worcester 4000 offers many more innovative heating solutions, while the Viessmann Vitodens 050 concentrates on quality and efficiency.
In terms of warranty, the Worcester 4000 gets a 12-year warranty while the Viessmann Vitodens 050 only gets 10 years. If you are thinking about which to pick in this Worcester 4000 vs Viessmann Vitodens 050 battle, you might want to look closer at the prices and specifications.
In conclusion for our boiler review, both brands have quality boilers; the difference is that one has more technologically advanced features. If you want to dig even further into similar combi boilers why not check out our Worcester 4000 Vs Ideal Logic comparison review.
Get an online fixed price in 20 seconds:
What kind of fuel does your boiler use?