Baxi Boilers Prices UK, Reviews and Complete Guide 2023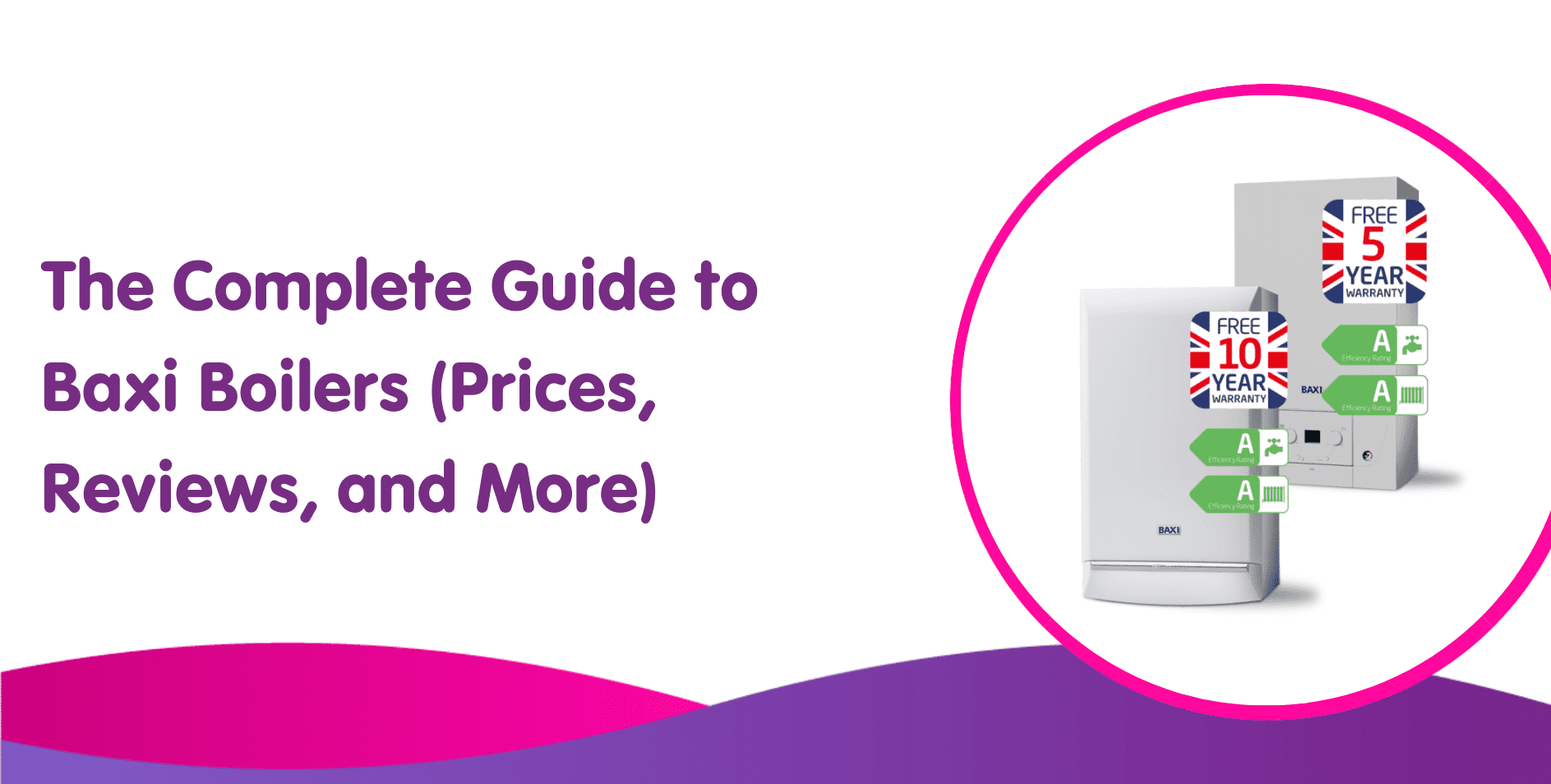 Baxi boilers review including prices for 2023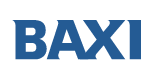 Baxi boilers are a popular choice for homeowners looking for a reliable source of hot water and heating. The company has been around since the 1800s, and they're still going strong today!
This guide will help you to uncover everything that you need to know about the Baxi boiler: from the new boiler cost to reviews of the different models. We can tell you that these boilers are trustworthy, economical, and reliable–and so much more!
Get an online fixed price in 20 seconds:
What kind of fuel does your boiler use?
Get a Baxi boiler quote here:
Who are Baxi?
Baxi is a brand that has been around since the 1800s. They produce boilers and heating products for homes, with a focus on sustainability–ensuring they are as environmentally friendly as possible.
Baxi offers everything from simple boilers to whole system packages in order to give their customers what they need at an affordable price.
The group can trace its beginnings back to Richard Baxendale and his son, who set up a manufacturing plant in Lancashire. The company now employs over 1,400 staff in the UK, with manufacturing plants located in Preston, Norwich and Milton Keynes.
Baxi are also the owners of Main Heating, affordable boilers at a great price. Find out more here.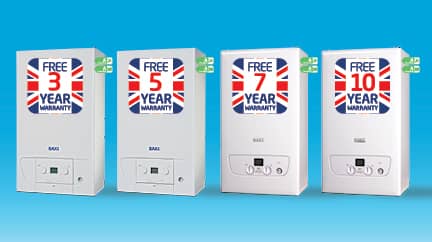 Why choose Baxi new boiler?
The company is now part of BDR Thermea Group, which was founded in 2009.
BDR Thermea Group is one of the leading manufacturers in heating, cooling and renewable energy products with an annual turnover in excess of 1.8 billion euros.
In terms of their green credentials, with a great range of Baxi boiler controls and thermostats too to help keep heating bills down, Baxi has a solid commitment to sustainability and is proud to have been a member of the International Sustainability & Carbon Initiative since 2006.
They aim to be carbon neutral throughout their operation by 2030. In fact, their company mission statement is to be the market leader in providing smart low carbon heating solutions.
With a great range of Baxi boiler controls too to help keep heating bills down.
Baxi combi boiler reviews: Are they any good?
As with all boiler manufacturers, Baxi has a wide range of products to suit the needs of their diverse customer range. Whether it's a small combi boiler for apartment living or a system boiler for a multi bathroom large family setting, they have a suitable product. So, we're going to dive in to take a look at four of the most popular new boilers across their offering.
Baxi 200 Combi
Cost: £710
Combi boilers are a perfect space-saving option because there's no need to hot water cylinders or a water tank up in the loft. They heat water on demand, meaning that the moment you turn on your tap or switch on the heating, the combi springs into action to supply you with hot water. With the availability of two different heating outputs, 24 kW and 28 kW, the Baxi 200 is a good option for smaller homes with one bathroom.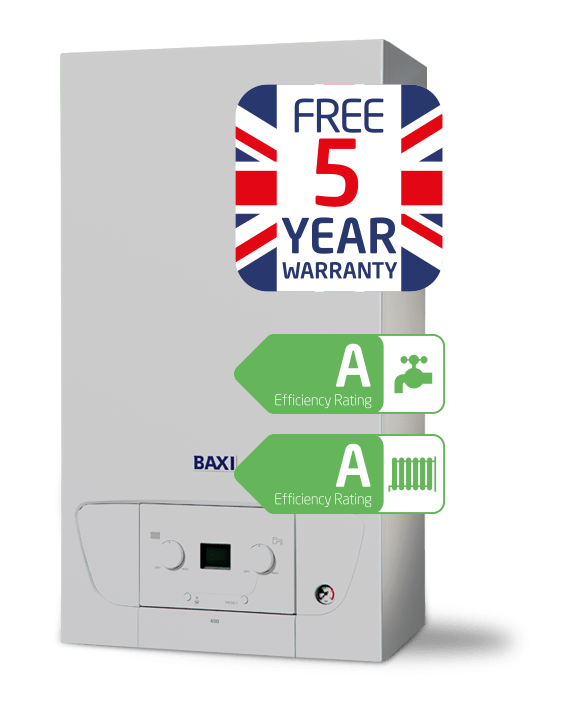 The Baxi 200 Combi has reported efficiency levels of 89%; this is considered to be a highly efficient boiler. This then means that it uses less energy to heat your water, resulting in lower bills for the homeowner.
The integral frost thermostat ensures that you're never going to come home to frozen pipes and the LCD unit allows you to quickly see the boiler temperature, status and any fault diagnosis. Baxi has also enabled the 200 to be compatible with their uSense smart thermostat.
This means that you can get complete control of your heating system through an app. With the ability to monitor your energy use and control when your heating turns on and off, you're in complete control of your boiler no matter where you are.
Baxi 800 Combi
Cost: £1,050
The Baxi 800 is small enough to fit into a standard 290mm kitchen cupboard. This then makes it easy to fit into homes such as apartments where space is often at a premium.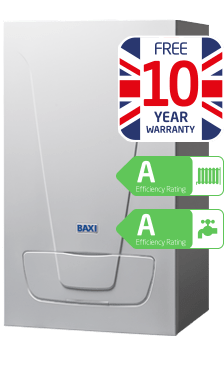 The Baxi 800 combi is available in three different power outputs, 25kw, 30kW and 35kW, while the maximum domestic hot water output is 30kW and the maximum central heating output is 20kW. Weighing only 29kg and attached with a simple hanging bracket, this a model which is a favourite with boiler installers!
The Baxi 800 is built in the UK with long lasting brass fitments. It shouldn't then come as a surprise that Baxi feels comfortable enough to offer a ten-year Baxi warranty on this model. Another reason for Baxi's confidence in the longevity of the 800 is that it's fitted with the Adey Micro2 magnetic system filter.
This technology protects the heating system and boiler against the damage that can be caused by black iron oxide sludge. As well as prolonging the life of the boiler, it can also offer up to 6% annual saving on your heating bills, and it reduces carbon emissions.
Get an online fixed price in 20 seconds:
What kind of fuel does your boiler use?
Baxi Duo-tec Combi 28
Cost: £870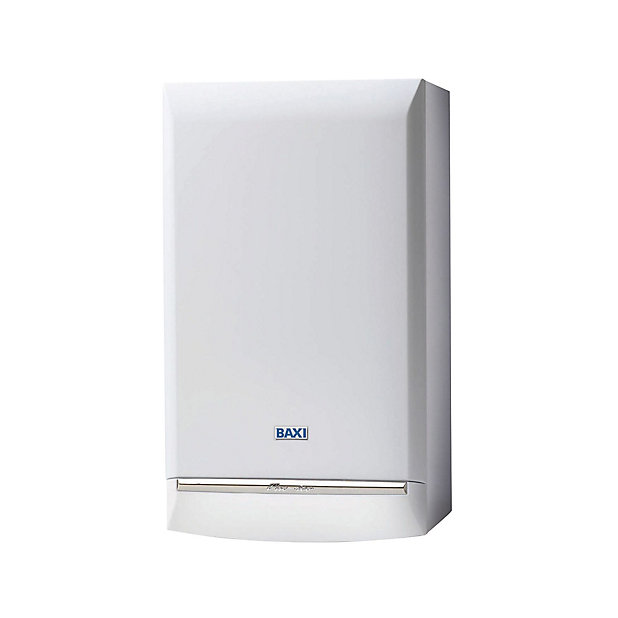 If you need a combi for a larger home, then the Duo-tec 28 could be a great option. This particular boiler from the Duo-tec range has a 28kW hot water output and a 25.9kW central heating output.
This means that it can comfortably heat a home with between 10 and 15 radiators and one where there is a single bathroom.
If your home has additional bathrooms or more radiators, there are also 33 kW and 40 kW options; the 40kW can provide 16.4 litres of hot water every minute, which is more than enough for your power shower!
The Duo-tec also benefits from being manufactured in the UK with brass components and comes with a seven-year part and labour warranty as standard.
This range also comes with a handy built-in water filling loop. This means that adjusting the boiler pressure by topping up with water becomes a quick and easy job to complete without needing to call out an engineer.
Baxi system boiler reviews
Baxi Platinum+ System
If your home has more than one bathroom or you have a busy household that has high hot water needs, then you may mind that a combi boiler isn't able to cope with the demand. In this situation, a system boiler is likely to be a better option.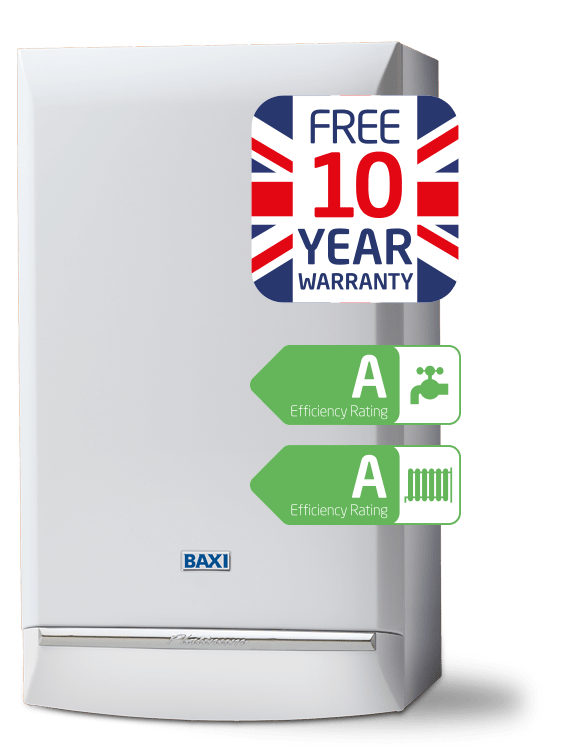 The system boiler system has a sealed hot water cylinder that stores the hot water so that it's immediately available when your turn on the taps or switch on the heating. With their built-in pump, you can shower and while the rest of the family can still get hot water in the kitchen or second bathroom.
The Baxi Platinum+ System boiler has a 32kW output and is perfect for homes with high hot water demands. The system also has the Adey Micro2 magnetic system filter. This ensures that your heating and boiler systems are protected against damaging magnetite and other debris.
And with this protection in place, Baxi offer a 10-year part and labour warranty. The Platinum+ is compatible with the Megaflo Eco hot water cylinder, a market-leading product, well known for its high levels of performance combined with exceptional heat retention and energy efficiency due to the built in electric immersion heater
Baxi Boiler Prices: What can you Expect?
With the wide range of Baxi boilers to meet all kinds of homes and requirements, you can also expect there to a wide range of price points. The best combi boilers, for example, have pricing that begins at around £620 and goes up to approximately £1,250.
Flow rates and the varying outputs are what causes the variation in the price of the boiler. System boilers, meanwhile, tend to go from around £640 up to £1,130, again depending on the output that you need for your home.
Baxi has several boilers within each of their ranges, so we've broken those down for you in the tables below so that you can quickly see their approximate price range. Don't forget that these prices are just for the boiler and don't include installation. For a complete quote, including installation, take a look at our fixed price service.
Baxi Combi Boiler Prices
| | | | |
| --- | --- | --- | --- |
| Model | Output | Suitability | Price Range |
| 200 Combi | 24 – 28 kW | Small to medium sized homes | £630 – £700 |
| 400 Combi | 24 – 28 kW | Small to medium sized homes | £620 – £690 |
| 600 Combi | 24 – 36kW | Small to large sized homes | £710 – £1,060 |
| 800 Combi | 25 – 36 kW | Small to large sized homes | £950 – £1,200 |
| Platinum + Combi | 40 kW | Larger homes with more than one bathroom | £1,300- £1,500 |
Baxi System Boiler Prices
| | | | |
| --- | --- | --- | --- |
| Model | Output | Suitability | Price Range |
| 600 System | 15 – 24 kW | Larger homes with several bathrooms | £900 – £1,050 |
| 800 System | 18 – 24kW | Larger homes with several bathrooms | £1,000 – £1,150 |
| Platinum + System | 32 kW | Larger homes with several bathrooms | £1,100 |
| Megaflo System | 15 – 32 kW | Larger homes with several bathrooms | £800 – £950 |
Baxi Heat Only Boiler Prices
| | | | |
| --- | --- | --- | --- |
| Model | Output | Suitability | Price Range |
| Baxi Solo HE | 12 – 30kW | Suitable for all sizes of homes with more than one bathroom | £570 – £750 |
| Baxi 200 Heat | 12 – 30kW | Suitable for all sizes of homes with more than one bathroom | £640 – £780 |
| Baxi 400 Heat | 12 – 30kW | Suitable for all sizes of homes with more than one bathroom | £680 – £850 |
| Baxi EcoBlue Heat | 12 – 24kW | Suitable for all sizes of homes with more than one bathroom | £750 – £920 |
Get an online fixed price in 20 seconds:
What kind of fuel does your boiler use?
The Benefits of Using a Baxi Boiler For Central Heating
There are several reasons why Baxi has been such a successful manufacturer of all types of boilers and why they are still going strong in a highly competitive marketplace.
Value for Money
Baxi has a strong reputation for offering great value for money. This means that their entry level boilers are accessible to first-time homeowners who may be on a tight budget. With Baxi's strong focus on their product range being straightforward to install, maintain and service while also being easy to use, it's not surprising they are so popular.
Exceptional Customer Service
Sometimes the measure of a company comes not from when everything is going well, but instead, it's how they manage a situation when there are issues. Baxi has a fantastic reputation for its customer service team.
They were award finalists in the 2020 Top companies for Customer Support, and in 2019 they won Customer Service Person of The Year. With this knowledge, it can give real peace of mind knowing that this a business that is passionate about achieving customer satisfaction.
Commitment to the Reduction of Greenhouse Gases
In 2020 Baxi won the Net Zero Hero Category at the HRV awards. The judges decided that Baxi's development of hydrogen powered boilers was leading the way in a commitment to achieving net-zero carbon by 2050.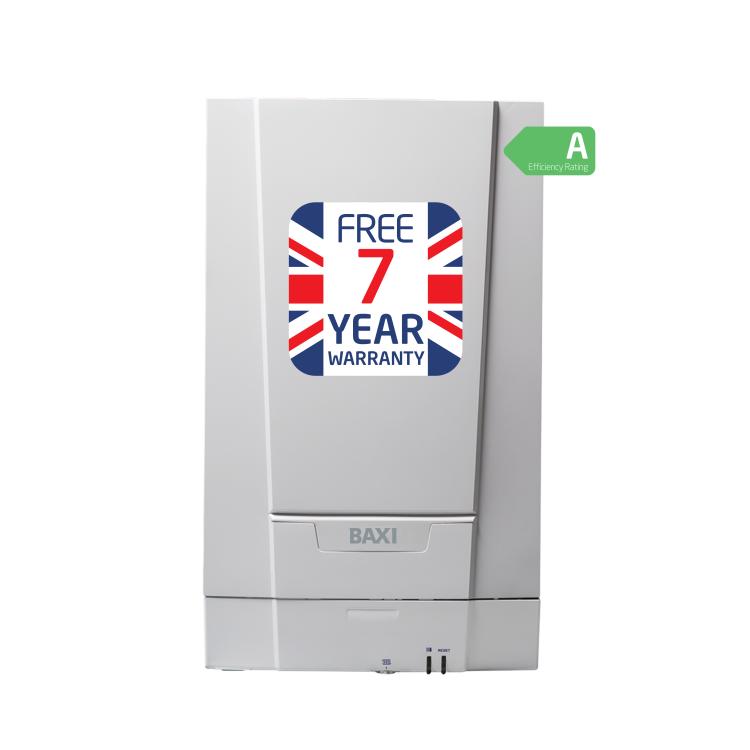 Trusted Engineers
If your boiler isn't working as it should, then you want the reassurance the engineer who turns up is knowledgeable and professional in providing help and advice. Baxi's engineers are Which? Trusted Trader endorsed.
That means that they have passed a stringent assessment process which includes treating their customers fairly and providing excellent levels of customer service. All this while ensuring that all that they do meets government guidelines and relevant legislation.
Baxi Boiler Warranties: The Best in the Business
A new boiler is a major outgoing for any homeowner. So having a warranty in place means that there is protection against expensive bills for repairs. The terms of the Baxi warranty does vary between models, with up to 10-year parts and labour being available.
To ensure the validity of the warranty the following conditions must be met: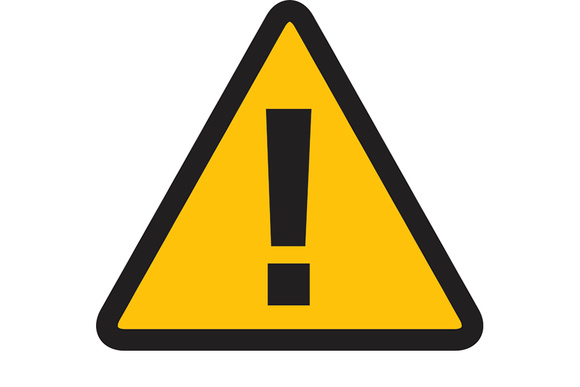 The warranty for the boiler must be registered with Baxi and that needs to happen within 30 days of the installation taking place.
The boiler must be fitted by a Gas Safe registered installer, and they must complete in full the Benchmark commissioning checklist when the boiler is installed. It's essential to keep this safe as Baxi may ask to see the document if they send out an engineer to carry out a repair while under warranty.
The boiler must be serviced every year, which is in line with Baxi's instruction, and a Gas Safe registered engineer must carry it out.
If you don't follow these requirements, then Baxi can reduce the length of the warranty right down to 12 months. If you find yourself in that situation, or perhaps you've moved into a home where the boiler isn't under warranty, then boiler cover can be a great solution.
The cover will let you keep expenses down should there be problems with your system and may even include an annual Baxi boiler service.
Get an online fixed price in 20 seconds:
What kind of fuel does your boiler use?
Baxi Boiler Problems and Errors
All boilers have problems from time to time. However, some issues can be quickly resolved without needing to call on the services of an engineer. The first step in working out what's going on is to check the control panel to see if there's a Baxi boiler error code displayed. We have a handy guide on all of the Baxi error codes, which will quickly tell you if you need the help of a professional engineer.
Some of the more common problems and faults that we see Baxi boiler owners report include:
Frozen condensate pipe
When the weather gets cold, there's a chance that wastewater in the condensate pipe can freeze. That's because the pipe runs from the boiler to an outside drain, and so that's why it runs the risk of becoming frozen. Although common in winter, it's easy to fix by just pouring warm water over the pipe to melt the ice, and you can see how to thaw a frozen condensate pipe here.
Low Boiler Pressure
For your boiler to run effectively, it needs a careful balance of water and air within the system. If the Baxi boiler pressure is too low, then the boiler will struggle to push hot water to the taps or around the central heating system. When a Baxi boiler develops a low-pressure problem, then that means that it measures below one bar. Increasing the pressure can be as simple as adding more water to the system.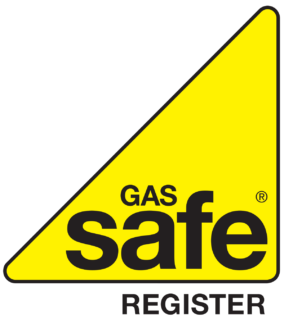 Baxi Boiler Not Firing Up
A Baxi boiler not firing up is pretty frustrating when the house needs heating, or you want to take a shower. Unfortunately, there can be a whole range of faults that can cause the issue.
So, that means checking the obvious things like there being a working gas supply, and then it's going to need an engineer to visit to carry out diagnostic checks.
It's important, though, to recognise that a boiler not firing up and the other problems are all common issues that can affect all boilers no matter who the manufacturer is. A good measure of how reliable a boiler is can be taken from the reviews of homeowners who already have one installed.
Well, Baxi is currently awarded a very respectful 4.5/5 on Trustpilot, which places them into the 'Excellent' category.
How Does Baxi Compare Against the Competition?
When you need a new boiler, comparing one manufacturer with the next can seem like a nightmare. There are now many excellent companies in the marketplace, so it's essential to carry out some research to establish which one is likely to provide exactly what you're looking for. To help you in deciding on the best option, we've compared Baxi to some of the other well-known boiler manufacturers.
Baxi vs Viessmann Boilers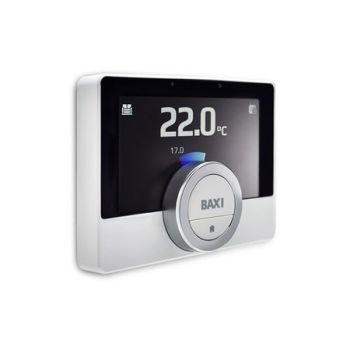 Compared to Baxi, Viessman is a relative newcomer to the UK, where they have been operating since 1989. That said, they have developed a solid foothold in the boiler market with what seems to be an ever-growing market share.
In terms of price point, Viessman Vitodens boilers are more expensive than the Baxi range. Their supporters argue, though, that the superior quality of the Viessman systems justifies the higher price tag.
When then looking at efficiency levels, Viessman put up a tough fight which Baxi struggle to compete against. Achieving an impressive 98% with their Vitodens 200-W, for example, really does show their commitment to engineering excellence.
This is, it seems, one of those cases where perhaps you get what you pay for. Baxi boilers do a good job; they can effectively provide hot water and heating to meet your family's needs. But, if you have the budget, Viessman does it just that bit better.
Baxi vs Vaillant Boilers
Both Baxi and Vaillant have achieved excellent status on Trustpilot, which would imply that their customers achieve a similar level of satisfaction. So, if these two manufacturers are the final two on your list, what differentiates one from the other? Well, there are a couple of considerations that might tip your decision one way or the other.
First of all, there is the amount of noise that the boiler makes when it's operating. If your boiler is situated somewhere that its operating noise is likely to disturb you, then you should be aware that Vaillant is one of the only manufacturers to achieve QuietMark accreditation for its range.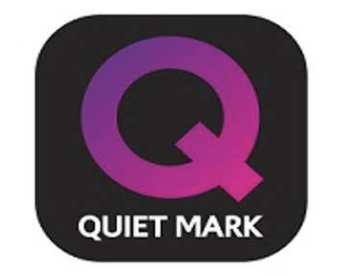 Quiet Mark is awarded to manufacturers of the quietest products across the world, so if having peace and quiet is important to you, then that may mean that a Vaillant boiler is top of your list.
Now, everyone wants an incredibly efficient boiler. Both Baxi and Vaillant have been endorsed by the Energy Saving Trust, which provides independent evaluations of appliances, which would seem to place them on even pegging.
However, Vaillant has fitted their models with a stainless-steel heat exchanger, which does help to increase efficiency. Baxi boilers, meanwhile, still use an aluminium heat exchanger
Get an online fixed price in 20 seconds:
What kind of fuel does your boiler use?
Baxi vs Worcester Boilers
Worcester Bosch has long been associated with top quality products which are incredibly reliable. The very fact that they were awarded a Royal warrant by Her Majesty the Queen is a pretty strong indication of how well they are considered! Worcester Bosch is also top of the league when it comes to awards.
They consistently receive Which? Best Buy Awards and have also been recognised by the YouGov Brand Index and Best Domestic Boiler Manufacturer in the Build Magazine 2020 awards.
Those accolades have led to Worcester Bosch installing over one million boilers in UK homes, making them the market leader. However, that reputation comes at a price because Worcester Bosch also has a reputation for being overpriced.
Baxi, meanwhile, are more commonly associated with being a very affordable brand. While Worcester may seem to have better options than Baxi, their price can put them outside of the budget that many homeowners will have.
Baxi vs Alpha Boilers
Alpha is well known for providing budget-conscious boiler systems, which start at just over £500. Their customer satisfaction levels are similar to those awarded to Baxi, so that doesn't seem to be an area of concern.
One challenge for potential Alpha boiler owners is that they tend not to be stocked as frequently as Baxi, so you may need to do some phoning around if your heart is set on one of their ranges.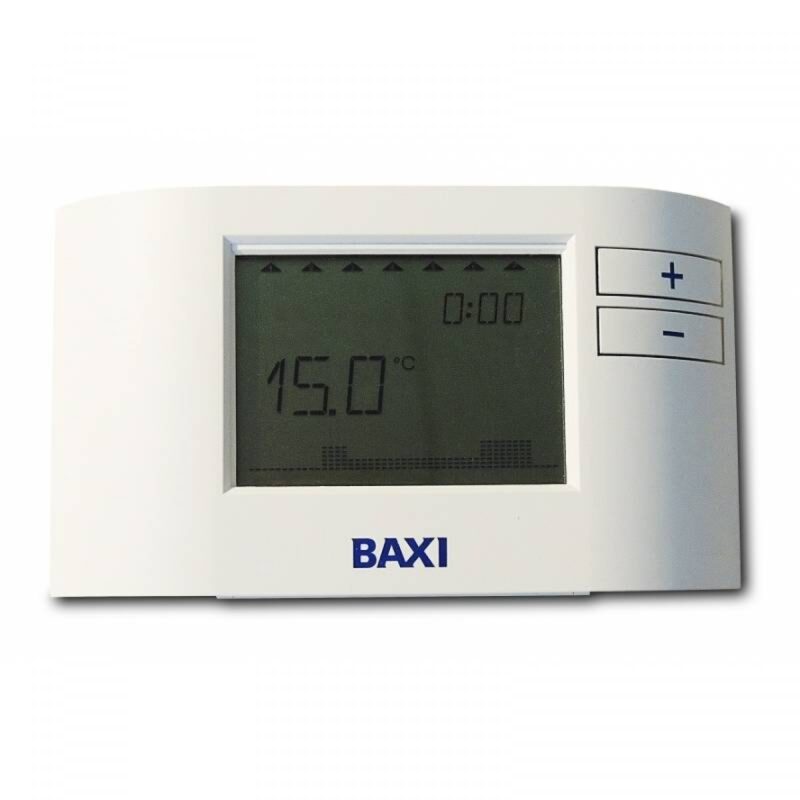 It's worth knowing that while Alpha is not one of the top names for boilers in the UK, they are part of the Immergas Group, which operates across thirty countries, including eight in Europe. Immergas is the market leader for heating systems in Italy which is their home country.
Baxi vs Ideal Boilers
Both Baxi and Ideal are considered mid-range boilers, so it can become a little more challenging to work out, which is the best option. Both companies have a strong UK heritage, with Ideal being founded in 1906 and producing one of the first UK boilers, the Cookanheat, back in the 1920s. So that makes them both well-established brands.
When it comes to the results of Which? surveys, both Ideal and Baxi achieve middle ground scoring 55 and 56%, respectively. In terms of price, that middle ground analogy follows through again, with there being little to separate the two when the budget is an essential factor. With so many similarities, it's a difficult choice to make between Baxi and Ideal.
That's when the warranty might make the difference. That's because Baxi offers their 10-year no-quibble guarantee, with no strings attached. While it does need to be fitted by a Gas Safe registered installer, they don't need to be accredited.
Now Ideal do offer a ten-year guarantee of some of their range, but to get this, the boiler has to be installed by an accredited installer, and there may also be a requirement to fit Ideal's filter, with other makes invalidating the cover.
Baxi vs Glow Worm Boilers
Glow Worm is another company with a solid British background. Founded in Derbyshire in 1934, they were then acquired by Vaillant in 2001. Glow Worm is a company that is highly focused on innovation, and its award-winning product range meets the needs of most homeowners.
When looking at pricing, there are very comparable offers from the two companies with both offering budget and higher premium products. However, it's hard to talk about Glow Worm without mentioning their exceptional 15-year warranty that's available on some boilers.
Though you do need to note that to get this, the boiler has to be fitted by a Glow-worm Club Energy installer. Don't exclude Baxi just yet, though, because their warranty terms are also some of the most generous within the industry.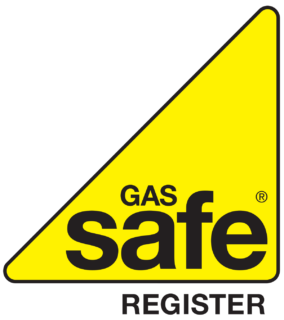 Closing Thoughts for Baxi Boilers
Baxi offers an efficient and well-thought-of range of boilers. Their mid-market price range means that they are accessible to budget-conscious homeowners, and their excellence in customer service can give absolute confidence in both pre-and post-sales advice.
For further help and advice in finding the perfect boiler for your needs. Our fixed-price quotation service simply asks you to enter a few details about your heating requirements, and we'll then present you with a choice of boilers perfect for your home. Find out more here.
Get an online fixed price in 20 seconds:
What kind of fuel does your boiler use?