Vaillant Boiler Prices, Reviews, and More – The Complete Guide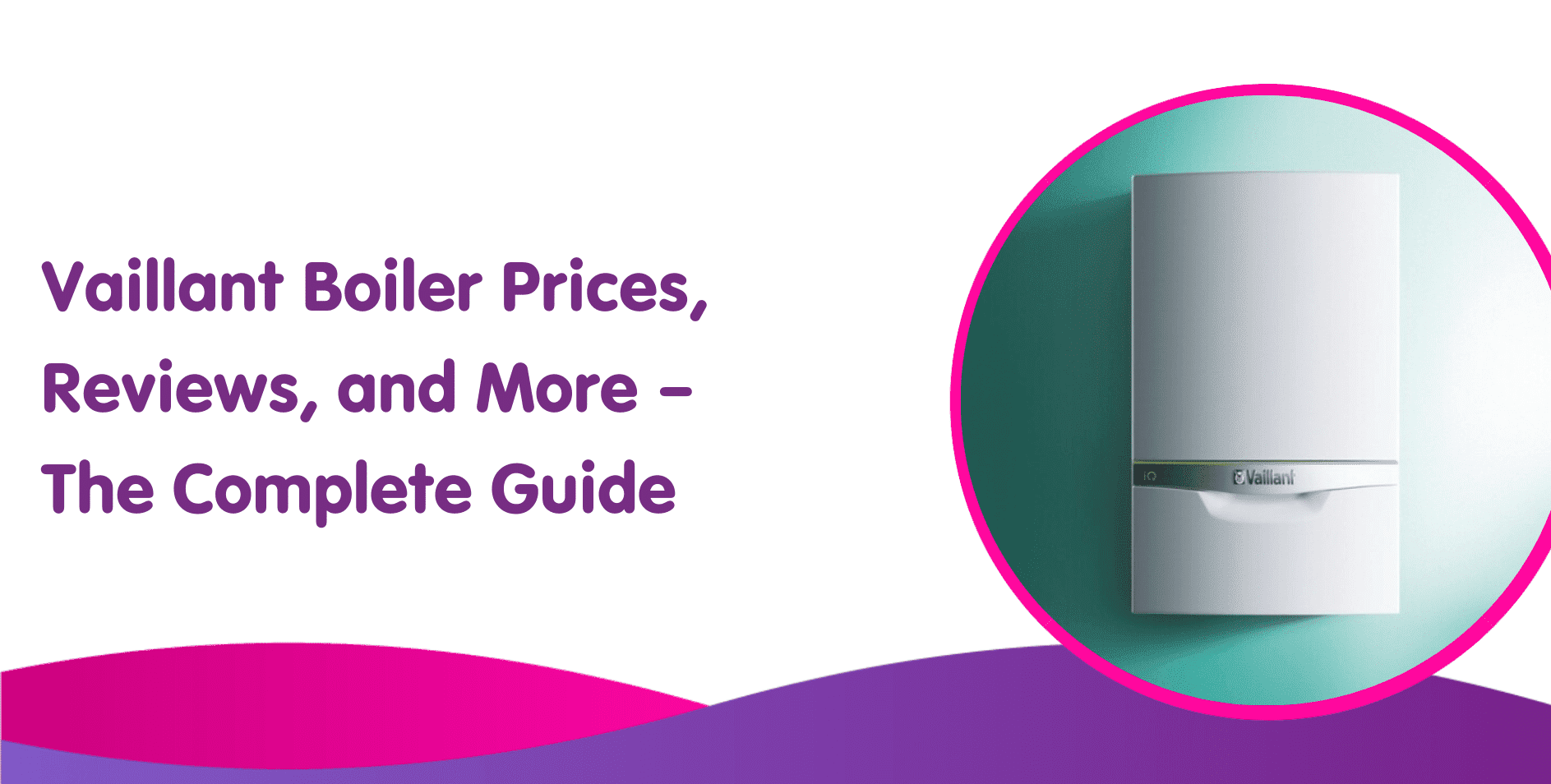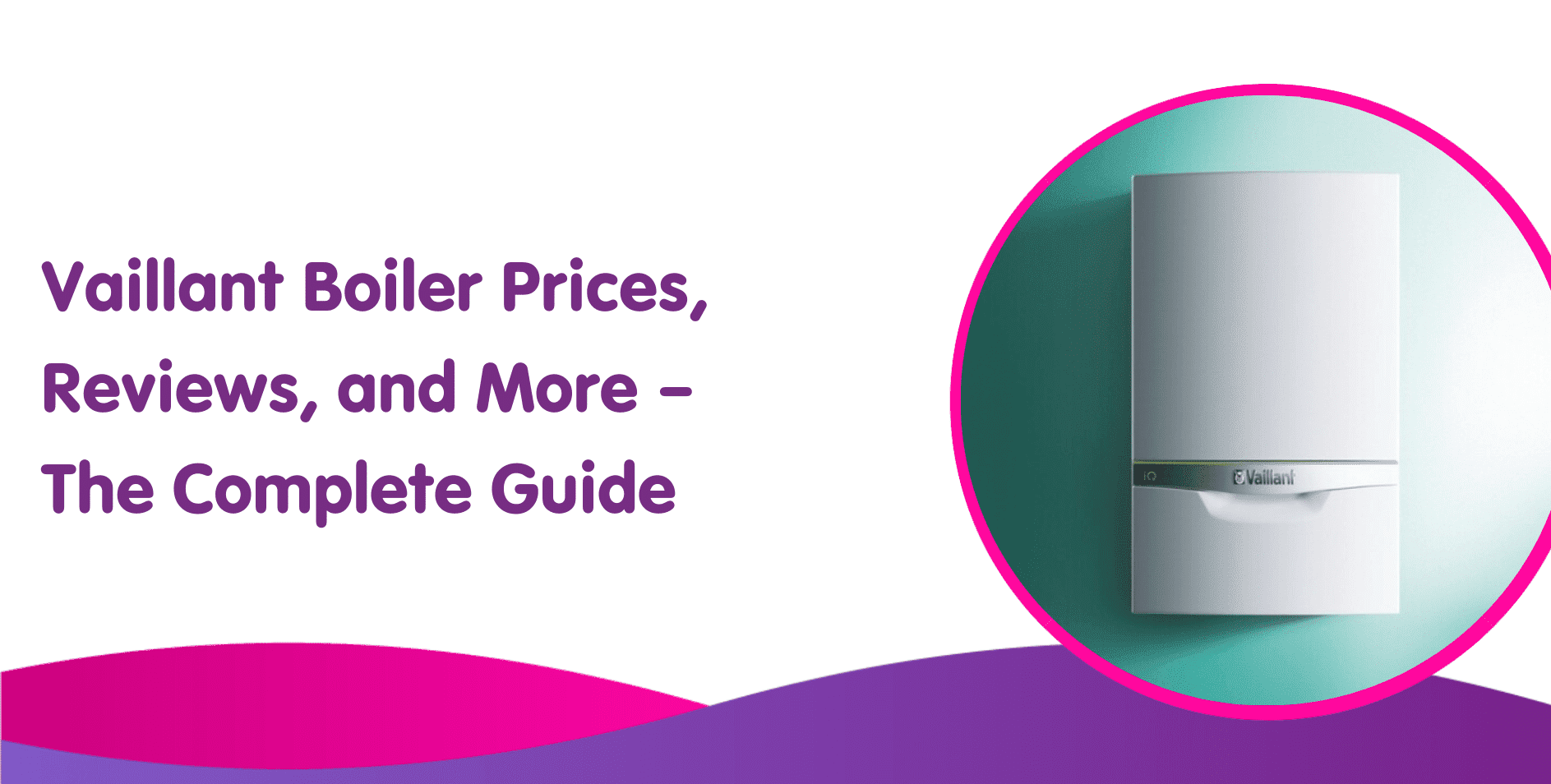 Latest Vaillant boiler prices, reviews & more for 2023
If you've started your search for a new boiler for your home, then you may have come across Vaillant. In this article, we're going to provide you with all the information that you need to know about Vaillant boiler prices and mainly their excellent ecoTEC range.
Get a fixed price here in 20 seconds
We'll look at the company itself before then reviewing some of its most popular gas boiler models.

Then we'll consider how much a Vaillant new boiler costs, warranty conditions, and then a comparison against other boiler manufacturers. In fact, everything that you need to know!
Vaillant combi boilers are one of the most installed gas boilers across the UK, and the Vaillant ecoTEC range is one of the most sought after replacement boilers in the UK.
Get an online fixed price in 20 seconds:
What kind of fuel does your boiler use?
Who are Vaillant?
This is a top boiler brand with an impressive heritage. It was established in Remscheid, Germany, in 1874 by the son of a tailor who announced in the local newspaper that he was now open for business as a 'coppersmith and pump manufacturer'.
Just twenty years later, the very first gas bath boiler was launched. Unique in its time for being a closed system, it also allowed for water temperature control.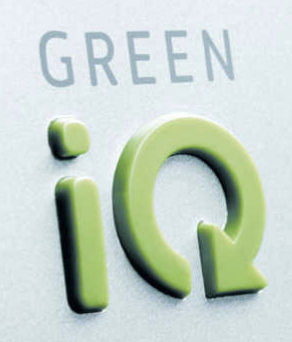 Over the following years, Vaillant perfected their craft and in 1924, developed a their best central heating boiler. Finally, you only needed radiators in each room rather than having a fire or boiler in each one. One of their most significant breakthroughs came in 1967 when the 'Combi-Geyser' was launched.
This meant that you could now have hot water and central heating all generated from the same unit. The principles of this game-changing design are still in use today in the ever-popular combination boilers.
Vaillant continued with their innovative approach, with the world's first fully mixing atmospheric burner in 1991 and being the very first boiler company to achieve Quiet Mark accreditation in 2014. In this same year, Vaillant was also awarded the prestigious Super Brands tile.
Now the company joined the likes of Rolls Royce and Coca Cola for being recognised for both the quality and reliability of their products.
This is not, however, a company that rests on its laurels. Vaillant has continued to innovate. Vaillant has consistently been one of the top names in heating innovation, from solar thermal systems to remote monitoring.
Vaillant Combi and System Boilers Reviews
Of all the Vaillant models, we're picked out four which we think really show off the very best of what this company has to offer. If you are considering a new boiler replacement, then these should be high on your list.
Remember, combi boilers heat water instantly from one single unit, whereas system boilers will require a separate hot water cylinder to work but are better for larger homes. See more about our online boiler quotes here.
Vaillant ecoTEC Plus Boiler
Cost: £1,050
No matter what type of boiler your home needs, you can benefit from the power and efficiency that comes from the Vaillant boiler, ecoTEC Plus. That means that whether you need a combi boiler, system or regular boiler, Vaillant ecoTEC Plus is an option.
Added to that, the boiler then comes in a range of heating outputs. So, whether you have an apartment or a large family home with multiple bathrooms, then this could still be the right boiler for you.
If you're wondering whether this Vaillant gas boiler deserves the eco prefix, well, all of the range of boilers are highly energy efficient, and each one has achieved an 'A' ERP rating. We especially like the built-in smart factor.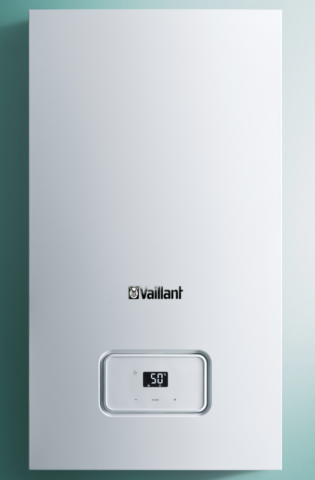 This enables the boiler to know when you don't need the full potential of its heating power, and it then drops down to using just 16% of its maximum power. That's going to mean a significant saving for you on fuel use and the size of your household bills.
So, with a tick in the box for energy saving, you might be wondering how well the Vaillant ecoTEC performs. If we take hot water delivery as a measure, from the point of turning on your tap to receiving hot water, it takes just 5 seconds.
When you take into account that there is no hot water storage tank involved, that's a pretty fantastic delivery time.
In terms of flow rate, well, that does vary depending on how far away the tap is from the boiler, but you can expect around 15.9 litres of hot water every minute.
The other feature we really like is how quiet the ecoTEC is when operating. In fact, they are so quiet that they've been awarded the Quiet Mark, an international award that recognises excellence in quiet product design.
We have an in-depth guide for you on the Vaillant ecoTEC Plus Boiler, which you can find here. If you're having problems with your boiler, you can use our Vaillant error codes page
Get an online fixed price in 20 seconds:
What kind of fuel does your boiler use?
Vaillant ecoTEC Plus 938 Combi Store
Cost: £1,700
When you have a larger home, it may feel as if a system or regular boiler are your only choices, even if you'd like the convenience of a combi boiler.
Well, with Vaillant's reputation for new innovation, they have managed to come up with the best of both worlds for you in the form of the Vaillant ecoTEC Plus 938 Combi Store. This is a Vaillant combi boiler which is suitable for homes with up to 15 radiators and a couple of bathrooms.
The ecoTEC Plus Combi store also has a built-in 2 stage frost protection system. This means that your boiler is protected in the colder months, and there are no worries about frozen pipes in the heating system.
We really like the easy-to-use step-by-step wizard, which means that the setup is very straightforward to work through.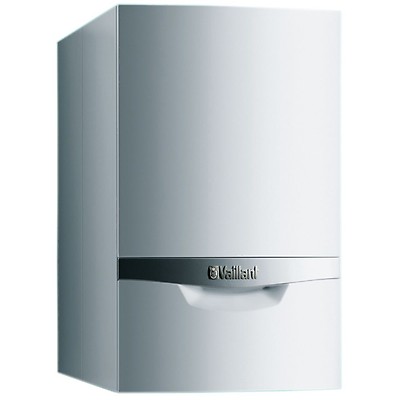 This boiler is only available in the 38kW option, so you do need to consider whether this might be too powerful for a small home or apartment.
That said, boilers such as this are now so efficient that you're unlikely to see a lot of difference in the running prices even with different kW levels.
This model is also compatible with the Vaillant vSMART™ app-based heating control. This smart Vaillant boiler thermostat allows you to control both the heating and hot water via your phone no matter where you are, as long as you have an internet connection.
It includes a weather compensation function that helps to keep your energy bills down and also a self-learning smart thermostat. This really does mean that your heating system can pretty much learn to run itself at an optimum level leaving you with one less thing to worry about!
Vaillant ecoTEC exclusive with Green iQ combi
Cost: £1,550
Vaillant themselves consider this to be their premium combination boiler. Wondering what the Green iQ stands for? Well, that means that it gives the very ultimate in energy efficiency, combined with the lowest of fuel consumption and incredibly lowest running costs.
This Vaillant ecoTEC combi boiler is their attempt at bringing the highest energy efficiency rating to a new gas boiler they possibly could to help lower heating bills even with high hot water demands.
As you would expect from the Vaillant ecoTEC Exclusive Green IQ tag, this is an ErP A-rated boiler, and it achieves an impressive 94% efficiency. This then results in a reduction in your carbon footprint as well as the resultant lower energy bills.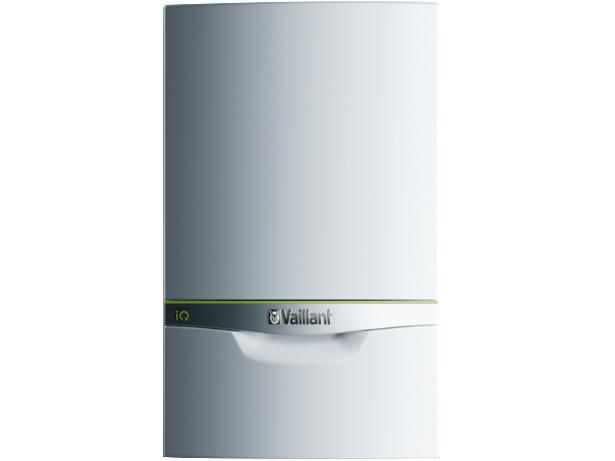 Vaillant has then gone one step further when considering the environmental impact of this gas boiler because when it comes to the end of its working life, its parts are 85% recyclable.
Another way that the ecoTEC exclusive with Green IQ enhances its efficiency comes from the unique extra condense heat exchanger. This gives built-in heat recovery and again results in reduced bills.
As with the standard Vaillant ecoTEC gas boiler, this model has also been awarded the Quiet Mark. As a result, the boiler can be positioned in the kitchen without it causing a disturbance while you chat with friends or try to work.
Get an online fixed price in 20 seconds:
What kind of fuel does your boiler use?
Vaillant ecoFIT Pure System Boiler
When you need a powerful system boiler, then the ecoFIT Pure is one to join the shortlist. Not only has it been awarded Which? Best Buy status, but the boiler also manages to operate with virtually no noise, resulting in Quiet Mark accreditation.
Now you might assume that one of these powerful Vaillant system boilers is going to need a fair bit of space for installation, but this is a compact model, which means that it fits into a standard-sized kitchen cupboard. Though as with all system boilers, don't forget that you'll still need a hot water tank to store the heated water.
Vaillant has also managed to achieve this while still maintaining high standards of efficiency. The ecoFIT Pure operates at an impressive ErP rating of 94%, placing it in the premier league for system boilers. And it's not only Vaillant and Which? who sing its praises because it's also been endorsed by the Energy Savings Trust.
The smart technology within this boiler allows it to reduce its output right down to 20% of its maximum ability when it recognises that your home needs less heat. That makes it perfect for when you're busy at work or out and about and not there to adjust the settings. At the end of the day, using less energy means lower fuel bills, something which we're all keen to achieve!
How much does a new Vaillant boiler cost?
New Vaillant boilers cost slightly more than most boiler brands in the UK when compared to their market rivals. Their entry-level boilers start at where most boiler brands have priced their mid-range boilers. The Vaillant ecoTEC pro is their base model and is in direct competition with the Worcester bosch 4000 combi boiler, which is their mid range combi.
Vaillant Boiler Prices: What can you Expect?
Vaillant boiler prices range from £840 to £1,950 depending on which model or output you choose.
As with all manufacturers, Vaillant offers a number of different models which come with varying boiler prices. We've gathered together pricing for the current range of Vaillant boilers to help you establish which ones fit into your budget. This means that they will have some low priced boilers with entry level boilers and high priced powerful boilers.
All the below Vaillant ecoTEC prices do not include a hot water cylinder if you have a system boiler or a cold water tank if you are looking for Vaillant regular boilers.
Vaillant Combi Boiler Prices
| | | |
| --- | --- | --- |
| Combi Gas Boiler Ranges | Sizes | Price |
| Vaillant ecoFIT Pure Combi | 25 – 35 kW | £840 – £1,150 |
| Vaillant ecoTEC Pro Combi | 24 – 30 kW | £880 – £1,850 |
| Vaillant ecoTEC Plus Combi | 25 – 38 kW | £1,100 – £1,500 |
| Vaillant ecoTEC Exclusive with Green iQ Combi | 35 – 43 kW | £1,380 – £1,950 |
Vaillant System Boiler Prices
| | | |
| --- | --- | --- |
| System Gas Boiler Ranges | Sizes | Price |
| Vaillant ecoTEC Plus System | 12 – 37 kW | £775 – £1,380 |
| Vaillant ecoFIT Pure System | 12 – 30 kW | £830 – £1,165 |
| Vaillant ecoTEC Exclusive with Green iQ System | 27 kW | £1,290 |
| Vaillant ecoTEC Plus 48kW & 64kW System | 48 – 64 kW | £2,195 – £2,610 |
| Vaillant ecoTEC 46kW & 65kW System | 46 -65 kW | £2,195 – £2,820 |
Vaillant Regular Boiler Prices
| | | |
| --- | --- | --- |
| Regular Gas Boiler Ranges | Sizes | Price |
| Vaillant ecoFIT Pure Regular | 12 – 35kW | £730 – £1,440 |
| Vaillant ecoTEC Plus Regular | 12 – 35kW | £720 – £1,520 |
Vaillant boiler installation cost
If you are looking to buy a new boiler, then you need to take into consideration boiler installation costs. A like for like combi boiler replacement will cost around £2,400 whereas a system boiler to combi boiler conversion will cost £3,000.
Luckily Vaillant is a popular boiler brand and their combi boilers and system boilers are easily installed by suitably qualified gas engineers. At Boiler Central we only use experts for our Vaillant boiler installations.
Get an online fixed price in 20 seconds:
What kind of fuel does your boiler use?
The Benefits of Using a Vaillant Boiler
High Levels of Efficiency
Vaillant has become synonymous with efficiency. Vaillant combi boilers are well known for exceptional efficiency, all of which means lower bills for you. An additional benefit to this is that with less fuel being used, there is a smaller carbon footprint and so a reduction in the environmental impact.
Excellent Feedback from Customers
Vaillant achieves an impressive 4.6/5 on Trustpilot, the independent review site. When over 14,000 reviews result in a 4.6 score, you know that the company is doing something right! Stemming right from the Vaillant Turbomax days, reliability has been key.
Excellent Customer Service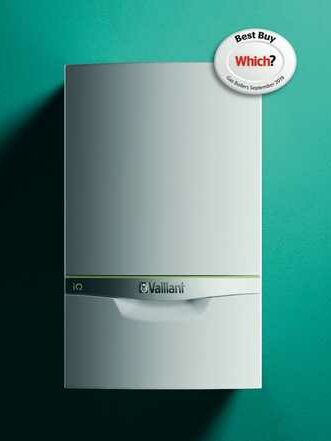 Vaillant aims to answer all customer calls within 20 seconds; now, while that may not seem such a big deal when you have a problem with your boiler, the last thing you want is to be left hanging on for hours listening to music.
You want to know that even once you're purchased their boiler, the company is still committed to providing excellent customer service.
Some of The Highest Water Flow Rates
When you have a large home and need the water flow rate to be able to cope, Vaillant has the solution. Whereas your previous option would have been a system boiler with a hot water tank, Vaillant's ecoTEC Exclusive range has models which reach an impressive 17.8 litres per minute.
Multiple Flue Options
All the boiler manufacturers offer horizontal and vertical flues, but sometimes even with these two options, there can be challenges when fitting a boiler into small places
A horizontal flue goes from the top of the boiler through to the outside wall. Meanwhile, a vertical flue comes out of the top of the boiler and then goes straight out via the roof.
Vertical flues again come out of the top of the boiler and then usually go out of the roof. But when your boiler is fitted into a kitchen cupboard, neither of those options might be a great choice.
Vaillant came up with the idea of a rear flue option for their ecoFIT Pure Boiler. Now that the flue can come out of the boiler at the back rather than the top, it gives lots more options for when space is at a premium.
Get an online fixed price in 20 seconds:
What kind of fuel does your boiler use?
Vaillant Boiler Warranties: The Best in the Business
As with all boiler manufacturers, the warranty offered depends on the model chosen, so it's important to check that out before signing on the dotted line.
Generally, Vaillant provides between 2-5 years over, and that's on both parts and labour. However, if Vaillant advanced installers carry out the installation, then the Vaillant boiler warranty period can up to between 7-10 years.
It's worth knowing that the Vaillant guarantee covers the repair of defects that are related to the boiler manufacturer. So, if they believe that the problem is due to misuse, you won't be covered.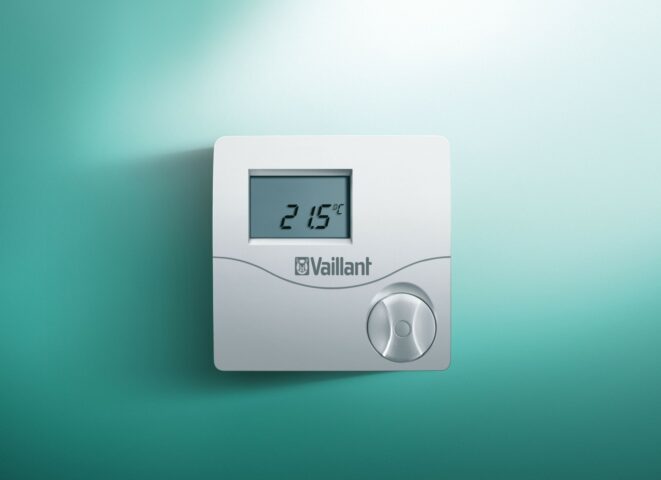 Vaillant also requires that warranty work must be completed by one of their own engineers, so that means that you can't get someone else to carry out the repair and then submit an invoice for reimbursement.
There are alternatives to the manufacturer's warranty in the form of boiler cover, which can be a better option for some homeowners. The cover often includes an annual Vaillant boiler service, which isn't included in the warranty, and there are options to include other home services such as plumbing and electrics.
No more worrying about unexpected bills!
Vaillant Boiler Problems and Errors
We should stress that Vaillant has an excellent reputation for the reliability of their product range. But, just like all mechanical devices, they can, at times, develop faults. Even the best combi boilers and system boilers will eventually have their problems.
The boiler manufacturers provide some assistance in working out why there are problems through the display of an error code on the control panel of your boiler. We've provided a guide that lists the more common Vaillant problems & error codes, and that can be found here.
However, if you're wondering what the most common issues that Vaillant boiler owners experience, this is our shortlist:
1. Low pressure
For your heating system to function correctly, it needs to have the correct level of pressure within the pipes. If that's not correct, then you might experience low water pressure and radiators which don't heat up as they should. On Vaillant boilers, that usually means that you'll see an F22 error code being displayed. You can then check the pressure gauge to see if the reading is below 1.5 bar, which will confirm the low-pressure issue.
The good news is that this a problem which you may be able to sort out yourself. This is done by opening the filling loop to allow water to end the system until you see the pressure gauge reach a reading of 1.5 bar.
2. Faulty gas valve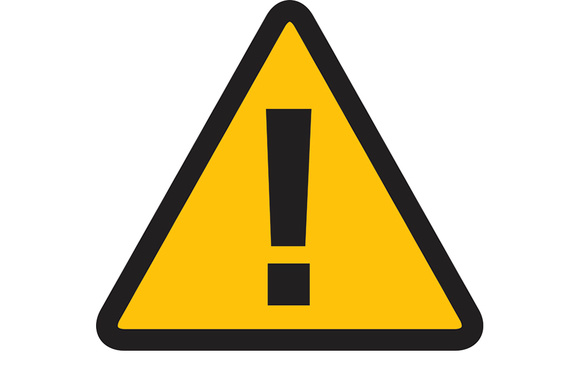 When a gas valve becomes stuck, you'll generally find that your boiler goes into lockdown mode. As a result, you'll not be able to reset it or enable it to be up and working again until the issue has been fixed. This is because when the valve is stuck, it means that the gas supply can continue to run even though the hot water and heating are turned off.
The error code for this one is F62, and it will need an engineer to come out and get this fixed for you before you can get everything working again.
3. Frozen condensate pipe
When the weather has taken a turn for the worse, and there are icy conditions, then there comes the risk of a frozen condensate pipe. This part of the boiler allows wastewater to be disposed of, and it usually runs from the boiler to the outside of your home. This then means it's exposed to freezing temperatures. This is another one that is quick and easy to fix yourself. Simply pour warm water over the pipe until the ice is thawed.
You may then need to reset your boiler before it will come to life again. If you're not sure how to do a reset, your boiler manual will provide the instructions you need. If you're now wondering where your manual is, a new copy can be downloaded from the Vaillant website.
Get an online fixed price in 20 seconds:
What kind of fuel does your boiler use?
Compare Vaillant boilers and prices against the competition
As you've seen, there are several reasons as to why Vaillant combi boilers seem to be an excellent choice for your next boiler. However, there are several really great boiler manufacturers who are either based in the UK or who have UK distributors. So, we've taken a look at five alternatives for you to see how Vaillant stacks up against the competition.
Vaillant vs Viessmann Boilers
So, this comparison brings the two top German companies head-to-head. Viessmann has been producing boilers and heating systems for over a hundred years and is now based in 12 different countries and provides boilers worldwide. With both companies having excellent reputations for quality, you'll then need to dig a little deeper to establish which one offers the best deal for you.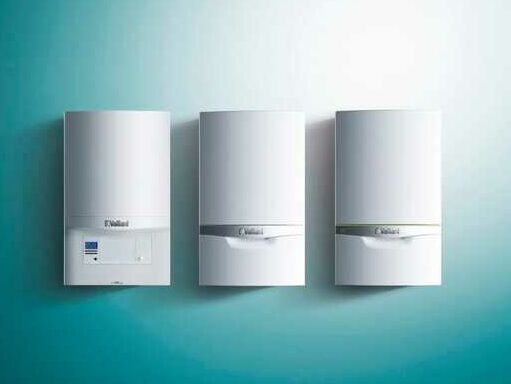 That means that warranties could be a deciding factor. Well, the standard warranty for both Vaillant and Viessmann is between 2 and 5 years, dependant on the boiler model and type that you decide upon.
Both also offer extended warranties with additional requirements, such as installation being undertaken by trained and accredited engineers.
We delved in deeper to understand the differences between these two companies with our complete guide to Viessmann vs Vaillant boilers
Vaillant vs Worcester Boilers
This company was initially known as Worcester, and they set up in the city of the same name in 1962. They then joined the Bosch Group in 1992. Now while this company doesn't have quite the rich heritage of some other boiler companies, they have quickly become known for the quality of their products.
Having achieved the coveted Which? Best Buy status for many years, many customers are attracted by this independent validation of the Vaillant product range.
In terms of price, there really isn't an awful lot between the two companies, though we found that Vaillant can be a little more expensive. However, with special offers and deals on extended warranties, you may find that's reversed when you come to make your purchase and Worcester Bosch prices may offer more value.
If we then compare warranties, both companies offer up to 10 years. Do, however, check the terms and conditions as this may be dependent on having accredited engineers fit and then carry out the annual servicing.
Vaillant vs Alpha Boilers
Although Alpha is less well known in the UK, they are part of the huge Immergas, which has a strong following across Europe and is the number one supplier in their home country of Italy.
Now, they do have a growing popularity in the UK, but you may find that some suppliers don't have them or the spare parts in stock as often as, say, Worcester Bosch or Vaillant.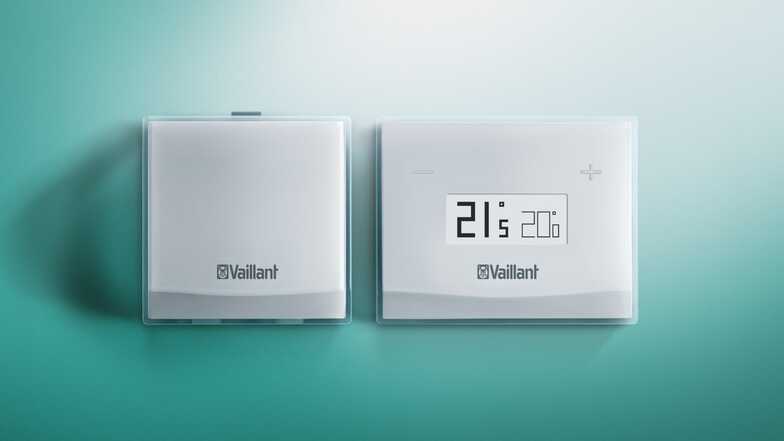 Alpha boiler prices has, however, developed a strong name for themselves within the budget boiler field, with their range starting at around £500. On warranties, Alpha offer between 2-7 years on their combination boilers.
There is the option of extending this by another three years by purchasing what's called the Premier Pack. This wall-mounted jig provides protection to your boiler through the Cyclone Plus magnetic filter, and so increases the life of your boiler.
Get an online fixed price in 20 seconds:
What kind of fuel does your boiler use?
Vaillant vs Ideal Boilers
Ideal is a UK boiler company with their head office based in Hull. They have a real depth of experience and knowledge within the field, having been founded back in 1906.
In fact, this was one of the first companies to launch a multipurpose product, in this instance, one which not only heated the home but could also be used to cook on.
Ideal has become known for its commitment to new technology and was one of the first companies to produce boilers with a focus on efficiency. In 2009 they launched their Logic range which offered a then industry-leading efficiency rate of 90%.
In terms of cost, Vaillant is more likely to be a pricier option, so for more affordable boilers, Ideal may offer a better range of choices. When then comparing the warranty offer, Ideal provides an impressive 12 years on their top of range vogue model. If having that long term peace of mind is important to you, then Ideal are worth looking into.
Vaillant vs Glow Worm Boilers
So, this is an interesting one because Glow Worm is now part of the Vaillant group!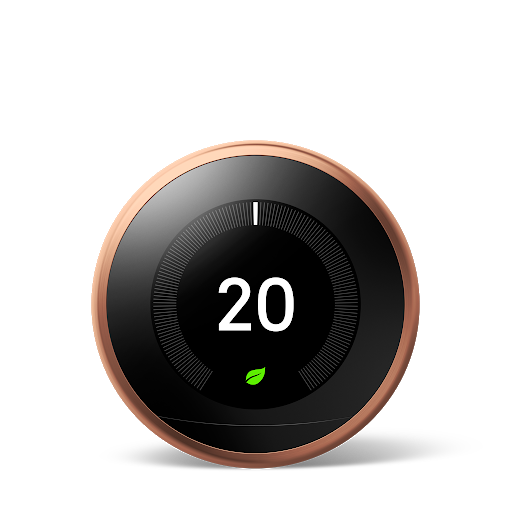 Glow Worm was founded back in 1934 when they were based at the Derwent Foundry in Derbyshire. Then in 2001, they were acquired by Europe's second-largest heating group, Vaillant.
This is a company that has become well known for both the reliability of their products and for their innovative heating solutions.
When comparing prices, well, Vaillant has more premium products, so their average price does tend to be higher than that of Glow Worm. That said, both companies have good options at the lower price end of their ranges.
When comparing the efficiency of their boilers, Vaillant does take the lead but not by much, so when you then take price into account, then there really might not be much between the two of them.
Vaillant boiler issues
As with anything, when boilers start to get older, they start to break down, and Vaillant boilers can have problems as they are not invincible. Here is a list of error codes you may see on your boiler and a link to each guide on what the error code is:
FAQs
Are Vaillant boilers expensive?
In general, Vaillant boilers tend to cost more than their direct competitors but are built differently and are a more premium boiler due to the manufacturing process. Vaillant state that their boilers are handmade which should give confidence to the homeowners who are thinking about buying these boilers.
Which is the best Vaillant boiler?
In terms of the best Vaillant boiler, this is an easy answer as the Vaillant ecoTEC Exclusive Green IQ is their best combi boiler in terms of performance and energy efficiency although this does come at a price. The ecoTEC exclusive is Vaillant's attempts at creating the most energy-efficient boiler possible.
Where can I buy a Vaillant ecoTEC boiler?
If you have a Vaillant boiler and would like a replacement, then you can request a quote using our online form and we can give you a full end-to-end quote including a Vaillant boiler, Gas Safe boiler installation and warranty. We will give you a fixed price over the phone and arrange for an installer to attend your home and fit your Vaillant boiler as soon as tomorrow!
Closing Thoughts for Vaillant Boilers
Vaillant is an excellent company to consider for your next boiler. Their massive success across the world, combined with recognition from companies such as Which? means that they have become a name associated with quality and reliability. But that doesn't always mean that they're the right choice for every home.
With this in mind, we recommend that you use our free fixed price service. Not only does it provide pricing details, but it also presents recommendations for a choice of boiler deals & cheap boilers based on your needs and your home.
Get an online fixed price in 20 seconds:
What kind of fuel does your boiler use?