Vaillant F26 Fault Code Meaning, Causes & How To Fix It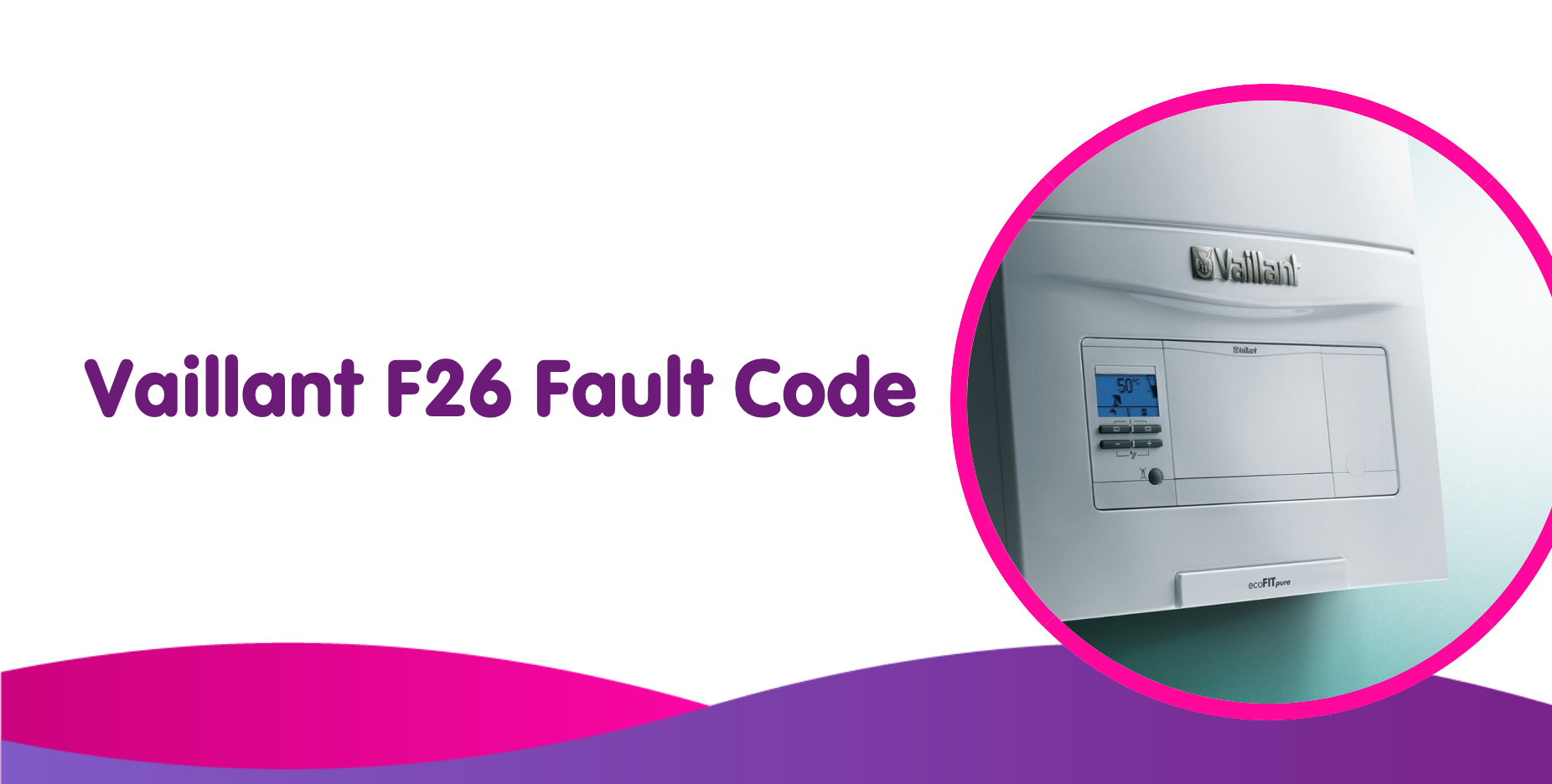 Vaillant Boiler F26 fault code meaning and how to fix it
Vaillant F26 fault code is in relation to poor circulation which is caused by a faulty gas stepper motor

This F26 Vaillant fault code is applicable to two models that have different meanings. This fault code applies to the Ecotec range. This means that the gas valve activated via the gas stepper motor has stopped working.
As this is a gas-related part you will need a qualified Gas Safe registered heating engineer to fix the issue. You can not open up the gas boiler yourself it is dangerous and could cause more problems with your Vaillant boiler or a gas leak.
An older boiler can mean repair costs start to add up – consider a replacement boiler for less with Boiler Central now
Get an online fixed price in 20 seconds:
What kind of fuel does your boiler use?
What does F26 fault code mean on my Vaillant boiler?
Your boiler will display the Vaillant F26 fault code due to poor circulation. If you get your boiler service done annually then you can usually prevent this.
Every boiler has both a return as well as a flow pipe. The flow is water that leaves the boiler after heating. After passing through all pipes, radiators, and heating elements, the water flows around and then returns to the boiler via the return pipe.
The return pipe contains a sensor called a thermistor. This sensor measures water resistance in relation to temperature. Higher temperatures will result in a lower resistance reading. The printed circuit board (PCB) which controls how the boiler works converts the resistance reading into temperature and determines if it's correct.
This could be because the thermistor noticed a lower temperature return than the flow temperature. This could be because your boiler isn't circulating water properly.
The PCB will display a fault code to indicate when there is an issue. In extreme cases, it may even lock itself out. This prevents damaged components from getting worse. If you get your Vaillant boiler serviced annually then this should hopefully be picked up on.
Get an online fixed price in 20 seconds:
What kind of fuel does your boiler use?
How can I fix the Vaillant F26 fault codes?
F26 is not a fault that can be fixed by DIY. An appliance inspection by a boiler repair company is required. Once they have identified the problem and fixed it, your boiler can be reset. The F26 fault code will be removed by resetting your Vaillant boiler.
Why does F26 Vaillant's boiler display an error?
The central heating engineer will inspect any components that could affect circulations or temperature readings. This includes both your Vaillant boiler and your whole central heating system. What are they looking for?
The NTC heating thermometer will provide you with the right resistance readings
The PCB and NTC thermometer are wired and connected.
The pump is used to ensure water circulation.
Air locks
Blockages
The NTC thermometers will be used by your heating engineer to check for any defects or incorrect temperature readings. This could cause the PCB to believe there is a problem with circulation when in fact there isn't.
How do I get my heating company to verify the resistance reading on my NTC thermistor?
The NTC thermometer is what allows the PCB to determine the temperature of the heating system's water. This component can be tested using a multi-meter.
They should expect resistance readings around 12K ohms at twenty degrees Celsius. If the resistance readings are higher than or lower than these, or if the thermostat is not present at all, it could be that the NTC thermostat is malfunctioning. In this case, a new NTC thermostat is required.
What's the Vaillant F26 fault code on my boiler?
Electrical components are extremely fragile. Even the smallest damage to wiring or connections can cause a component such as the PCB. A faulty PCB is a costly repair but also means your boiler will not work otherwise.
Another example is water damage. Many Vaillant boilers can fail due to water damage. Leakage in a heating pump can cause moisture damage to its components and wiring/connections.
Your heating company can conduct a visual inspection. The company will inspect for any burnt connections and damage to the wiring.
Loose connections are responsible for many cases of damage. These connections can be secured easily. To ensure that the PCB's communicate with the NTC thermistor at the central heating return pipe, any damage must be repaired.
How can the Vaillant F26 fault codes be displayed by the pump?
The NTC thermistor does not just monitor the return pipe, but also the flow. The PCB records the temperature of the water that leaves the boiler. The same applies to water that is re-entried via the return pipe.
Circulation restrictions can cause water to flow slower and heat up more quickly. Water takes longer to travel around the heating systems than usual, which can cause it to lose more heat.
This is a sign that the Vaillant boiler locks out if the difference in the readings of the thermistors is too great.
The heating company must verify that the pump is running at the correct speed. Modern pumps have three speeds. You might have to change to a higher speed setting if the pump is running at the lowest speed and your heating system is very large.
Then, they will need to check for blockages. This could be caused by combination of heating sludge and air.
The bleed screw can be used to remove the air and the heating oil. They will need to flush the heating system and inject inhibitor to ensure the heating sludge doesn't return.
The heating company recommends a limescale filter. Do I need one?
Prevention is always better than cure. Limescale is a problem that can be found in areas with hard water. This can block the heat exchanger and pump, which can be costly to repair.
Limescale filters and central heating inhibitors can be used to reduce the risk of your pump getting blocked or other expensive components. This will make your boiler work more efficiently. If you live in areas with hard water, a limescale or magnetic filter can be a smart investment. Magna Clean is a top-rated brand.
My boiler engineer said I needed a new pump. What is the estimated cost of a new pump?
Vaillant F26 fault codes and pump fault codes can be difficult to fix. If your pump is experiencing problems due to water damage, worn bearings, or long-term water damage, it might be worth replacing it.
A replacement pump should cost around £250. Grundfos pumps are high-quality and include labour.
How do you remove air locks?
Air locks can also be found in pumps, and can be removed using the bleed screw. Most commonly, they are found in towel rails and radiators. You can easily remove them yourself.
Be sure to check your boiler pressure before you bleed your radiators to take out air locks. It should be around 1.3 bars.
Protect your floors and walls with a radiator cloth to catch any water that might be released from the radiator, make sure you have a container.
To open the bleed screws, a radiator bleed key is used. As air is released from your system, you will hear a hissing sound. Once all the air has been released, the hissing sound is replaced by a drip of water. This indicates that the radiator has lost all its air.
After you have taken out all towel rails and radiators, you will need to visit the boiler. Once you have released the air from your system, it will be removed of any pressure. If the pressure falls below 1.3 bars, you will need to add pressure as low pressure can also cause a boiler not to work.
How do I raise the pressure in my Vaillant boiler?
The filling loop is a small, braided pipe that has a valve. This valve allows water to enter the system to repressurise your Vaillant boiler. The pressure gauge on your boiler will indicate an increase in pressure. We want to achieve 1.3 bars. To ensure your boiler is working efficiently you must maintain the correct water pressure.
Excess water pressure can be released by bleeding the radiator as before. Have someone inspect the pressure gauge and tell you if it's at 1.3 bars.
If you have an older boiler but don't want a new one, protect yourself from any unwanted costs with our boiler cover plans that even include a free annual boiler service.
Other Vaillant error and fault codes
See our other Vaillant error and fault codes to help you fix any issues you may have with your boiler.