Vaillant F25 Fault Code Meaning, Causes & How To Fix It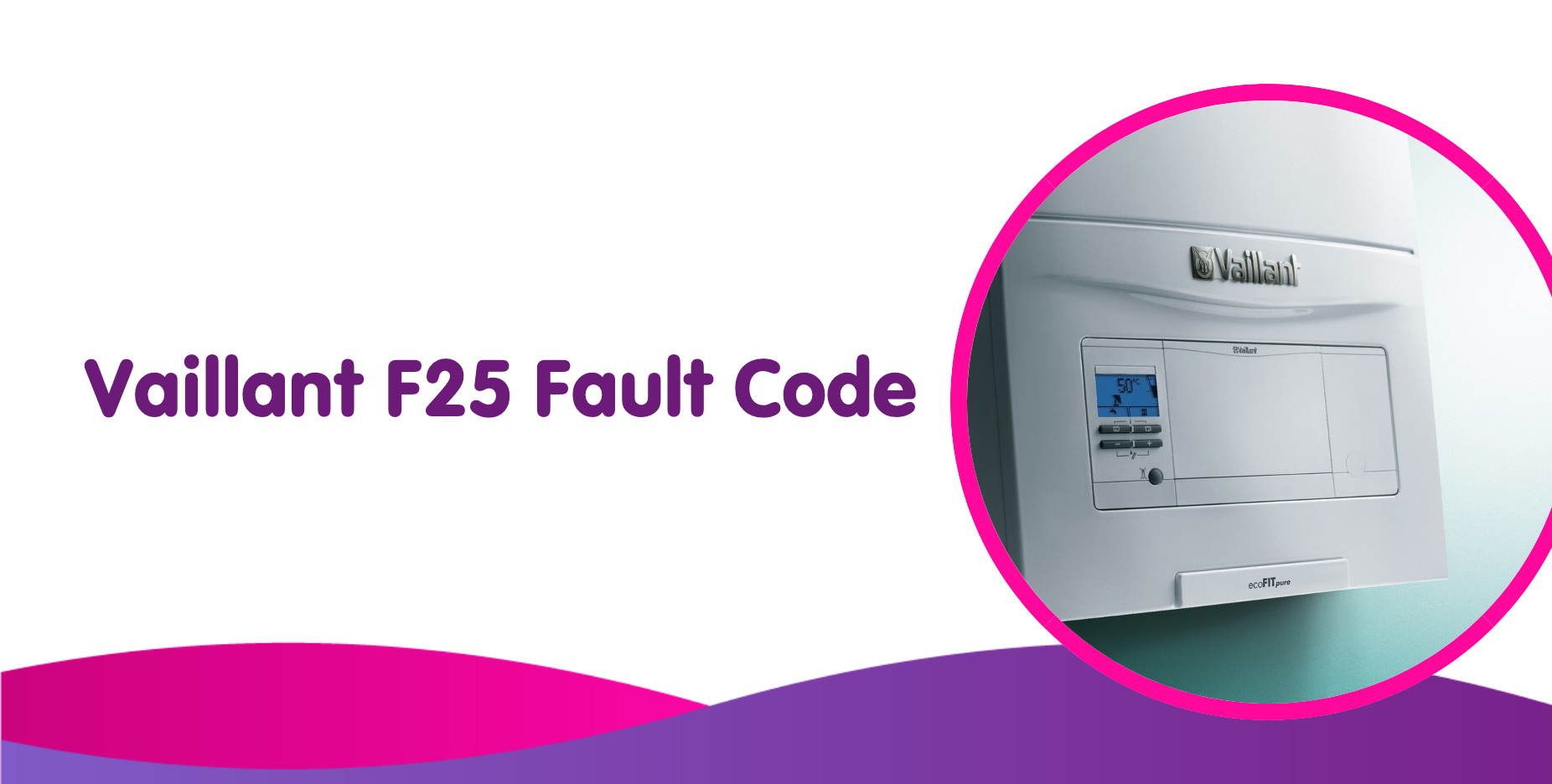 F25 Vaillant fault code meaning, causes & how to fix

The Vaillant F25 error code will be displayed on the Vaillant ecoTEC Pro or ecoTEC plus models. This indicates that these Vaillant boilers are not flowing at the correct flow rate causing the flue gas temperature to be abnormal.
It can happen due to blockages or parts that are defective. To fix the problem, a Gas Safe engineer will need to inspect it to get your hot water and central heating system working again.
If you need a new boiler, then get a fixed price quote in 20 seconds online now with Boiler Central.
Get an online fixed price in 20 seconds:
What kind of fuel does your boiler use?
What does the Vaillant F25 error code mean?
Vaillant F25 errors signify that the flow rate has risen too fast.
If the boiler is running and the temperature rises by 5 degrees per hour, this means that the system pressure and flue gas temperature are too low.
This will cause a Vaillant boiler F25 error code and a safety shutoff.
When the F25 is activated, your boiler will also go off or initiate a boiler lockout
What causes the Vaillant boiler F25 fault code
Vaillant F25 fault codes can be caused by either a blockage of the boiler or any other part of the system, such as the primary heat exchanger. If you get your Vaillant boiler service every year you should prevent this from happening if your getting engineer does the job properly.
If you get this problem with Vaillant boilers, the pump can also stop working due to a lack of water flow.
Alternatively, it could be caused by parts issues such as flow and return thermistors not being calibrated, flue gases thermostats being interrupted, or boilers with a broken limiter.
Vaillant F25 error codes can be caused by an increase in flue gas temperature difference. We recommend that you have your gas valve and system pressure checked immediately by a Gas Safe engineer.
Get an online fixed price in 20 seconds:
What kind of fuel does your boiler use?
How do you fix a Vaillant F25 error code
The boiler and system should always be flushed if there is any blockage or airlock as regardless of if the part is replaced, this build-up could go back around your central heating system and into your boiler. Magnetic filters can actually stop this build-up. At Boiler Central we put them on every boiler installation.
If the problem is caused by a defective component, a qualified heating engineer will diagnose it and either replace the part or clean it.
Can you fix a Vaillant F25 error yourself?
To get rid of the problem, you can still bleed your radiators, boilers, and towel rails and flush the system out, however, you cannot fix an F25 error yourself. See our guide to what a power flush is and if it is worth it.
This error can be difficult to fix. To resolve this problem, you will need to call a Gas Safe registered heating engineer.
How do I prevent an F25 error from happening?
Installing a scale reducer can help reduce the likelihood of F25 errors. A central heating inhibitor protects your heating system from circulation faults. This will prevent the buildup of limescale and central heating sludge, protecting heat exchangers.
Is the Vaillant F25 fault code a sign that my boiler needs to be replaced?
We can access all top Gas Safe registered heating engineers. If your Vaillant boiler model is more than 10 years old, you may want to replace your boiler. Old boilers are less efficient and can also lead to other error codes that could cause more expensive repairs. Check out the best new combi boilers here in our helpful guide.
If you don't think you need a new boiler just yet, protect your boiler and yourself from heft boiler repair bills with one of our boiler cover plans that actually include a free annual service.
Other Vaillant error and fault codes
See our other Vaillant error and fault codes to help you fix any issues you may have with your boiler.
Get an online fixed price in 20 seconds:
What kind of fuel does your boiler use?