Vaillant F84 Fault Code Meaning, Causes & How To Fix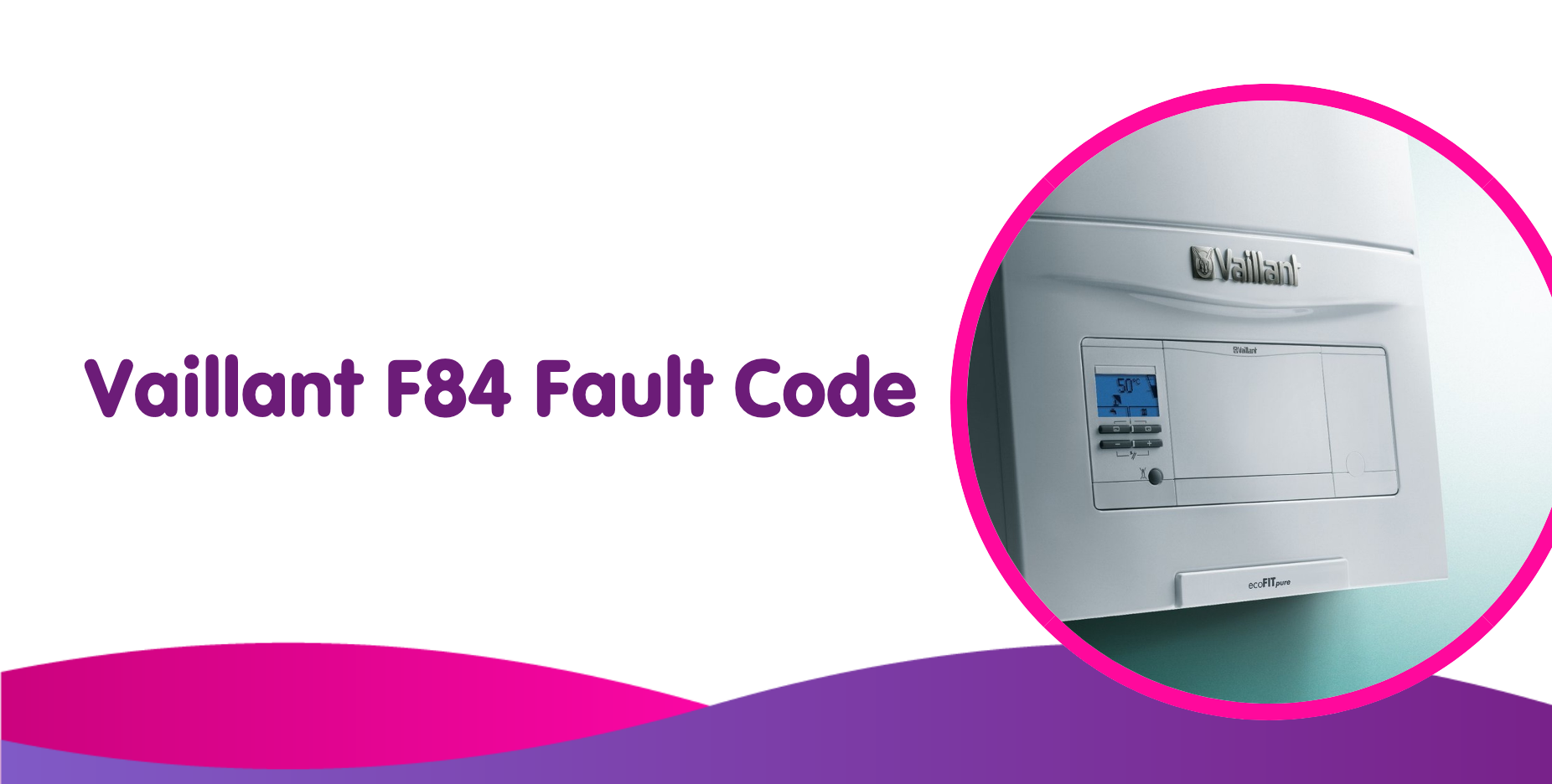 F84 Vaillant fault code meaning, causes & how to fix
Vaillant F84 fault code refers to ecoTec Plus models.

F84 fault code on a Vaillant boiler that indicates the boiler detected a temperature difference between flow pipes and return pipes.
They can also be caused by incorrectly calibrated thermistors or improperly installed thermistors. This boiler fault code, like most Vaillant boiler fault codes, is not something that you can fix and may need parts replaced by a Gas Safe registered heating engineer.
Get an online fixed price in 20 seconds:
What kind of fuel does your boiler use?
What does Vaillant F84 Error refer to?
An F84 error on a Vaillant boiler means that the boiler detected a permanent temperature difference between flow NTC thermistors and return flow. These temperature sensors will ensure your boiler works properly and does not over heat.
Through the boiler's flow and return pipes, the thermistors monitor the boiler temperature. The boiler's flow and return temperatures will differ from each other when it is operating properly. This is because heat is absorbed by the heating system. This will fluctuate through the boiler's operation. If it isn't working properly, you will see one the Vaillant fault codes.
Vaillant boiler F84 will be activated if the temperature difference between the thermistors are not corrected.
Damaged Vaillant boiler parts that the F84 fault code relates to
What are NTC thermistors on a Vaillant boiler?
NTC thermistors are used to monitor the water temperature in your heating system. One connects to the flow and one to return.
The flow thermistor will monitor the boiler's water temperature. The PCB (printed circuit boards), which detects if the water temperature is too low, will signal the gas valve to open and supply more fuel.
The boiler's return thermometer monitors the water temperature. Because radiators and pipework absorb heat, this temperature will be lower that the flow temperature.
The thermistors are not like regular temperature gauges. They measure the resistance in Ohms and at 20C, they should be giving a reading at 12k Ohms
What are some of the most common Vaillant faults found in NTC thermistors?
There are some thermistor faults that you should look out for in the F84 fault code.
Failing to connect or wire the circuit
Faulty NTC thermistors (replacement needed)
Incorrect installation of NTC thermistors
PCB detection fault
Limescale build-up
Why do the Vaillant boiler wiring and connection to break?
Vaillant boiler fault codes can be caused by the age of boiler components.
Faults can be caused by vibrations and wiring that has become damaged over time. The boiler's many moving parts, such as fan or pump, can cause small vibrations.
These vibrations can help to loosen connections over time. If the connections become weak, the signals these vibrations send to the PCB may be intermittent.
Circuit boards might occasionally receive signals, but others may not. More important, signals may be incorrect.
This could result in intermittent boiler operation. This could result in intermittent boiler operation.
The temperature of hot water from showers, taps, or baths is not right
Before radiators reach temperature, the boiler is turned off
The boiler is turned on and off continuously before locking out. It doesn't heat up hot water or radiators.
What causes a Vaillant F84 error?
Incorrect Installation Of Thermistors
Although it is uncommon, it is possible for thermistors to not give the correct readings because of incorrect installation. This could be a manufacturing issue.
Incorrect calibration of thermistors
Incorrect calibrations of NTC thermometers for flow or return pipes could lead to inaccurate resistance readings.
Alter or water damage could cause an incorrect calibration. This could indicate a boiler problem.
Broken or defective wiring
The thermistors won't be able to communicate required data to the boiler if the wiring connecting them to the PCB is loose or damaged. They may be only able to do it intermittently.
Faulty wiring can be caused by wear and tear or from vibrations generated in the boiler's moving parts.
Heat exchanger leak
Leakage and cracking can be caused by limescale buildup in heat exchangers. If the thermistor is damaged, you will receive the F84 fault code. Other fault codes may be issued before the F84 code, but it is possible that limescale build-up has made the primary heat exchanger defective.
Water could get into the thermistors and PCBs due to a heat exchanger leak. This could cause inaccurate readings at an internal pressure measurement point.
PCB fault – water damage
It is important to check your PCB if you see water or other signs of a boiler leaking water.
Even if it is determined that the problem is with the thermistors the communication issue could still be the cause. An error in the PCB, which is an electrical component, could be to blame.
A damaged or defective PCB can be an indication that you should invest in a new boiler, even though it is unlikely. They can be very expensive to replace.
How do you fix a Vaillant ecoTEC F84 error
These parts can be easily replaced if they become damaged or worn although you may need to weigh up the costs involved.
New thermistors do not come with new wires so it is essential to check all wiring for faults and damage. If the problem is with the wiring, you'll need to replace it.
A Gas Safe Engineer must check over and inspect your PCB if the thermistors stop working due to water damage. You could be forced to replace parts and pay for repairs if your boiler fails to function correctly due to water damage.
It will cost more to repair a problem that is caused by water damage. It will also need to be replaced. This type of problem is usually only caused by an old boiler that needs to be replaced.
Can you fix a Vaillant F84 error yourself?
You cannot diagnose or solve F84 on your own.
F84 error code could be caused by a leak. This problem could be identified by checking the pressure under your boiler or looking for water.
You can reduce the damage from the leak by turning off your boiler, flushing radiators, towel rails, and repressurising your boiler. However, this will not fix the F84 error code.
Is an 'F84' a sign my boiler has been damaged?
Your boiler's error code does not necessarily mean it is damaged. A Gas Safe Engineer can usually fix the error code and repair or replace your thermistors. It is worth asking the Gas Safe engineer to check and inspect other parts, such as the temperature sensors, water pressure sensor, and heat exchanger.
Do I have to reset my Vaillant boiler after an F84?
After diagnosing the problem, a Gas Safe Engineer will reset the boiler. If the boiler is being reset constantly to clear an error code, it can cause damage. If you see an error code, it is best to call a Gas Safe Engineer.
How much will it cost to repair an F84 Vaillant fault code?
An F84 repair might involve the replacement of NTC Thermistors and wiring. The parts are relatively cheap. This is one of the easiest errors to correct, even though labour costs can add up to £220.
How can leaks be fixed?
Limescale can lead to a primary heat exchanger being defective, and then a boiler leaking can result in the F84 error code. The code is triggered by damage to the boiler's internal components and not loss of water pressure. The F84 error code can't be cleared by either repressurizing or bleeding radiators or towel bars.
Other Vaillant error and fault codes
See our other Vaillant error and fault codes to help you fix any issues you may have with your boiler.
Do I need to get a new boiler if F84 is displayed on my Vaillant boiler?
If your Vaillant boiler is old and you start to see multiple fault codes, it could be the beginning of the end. A boiler fault code can indicate that you have other issues, particularly if it has limescale buildup. We recommend replacing your Vaillant ecoTEC boiler if it is more than 10 years old.