Vaillant F23 Fault Code Meaning, Causes & How To Fix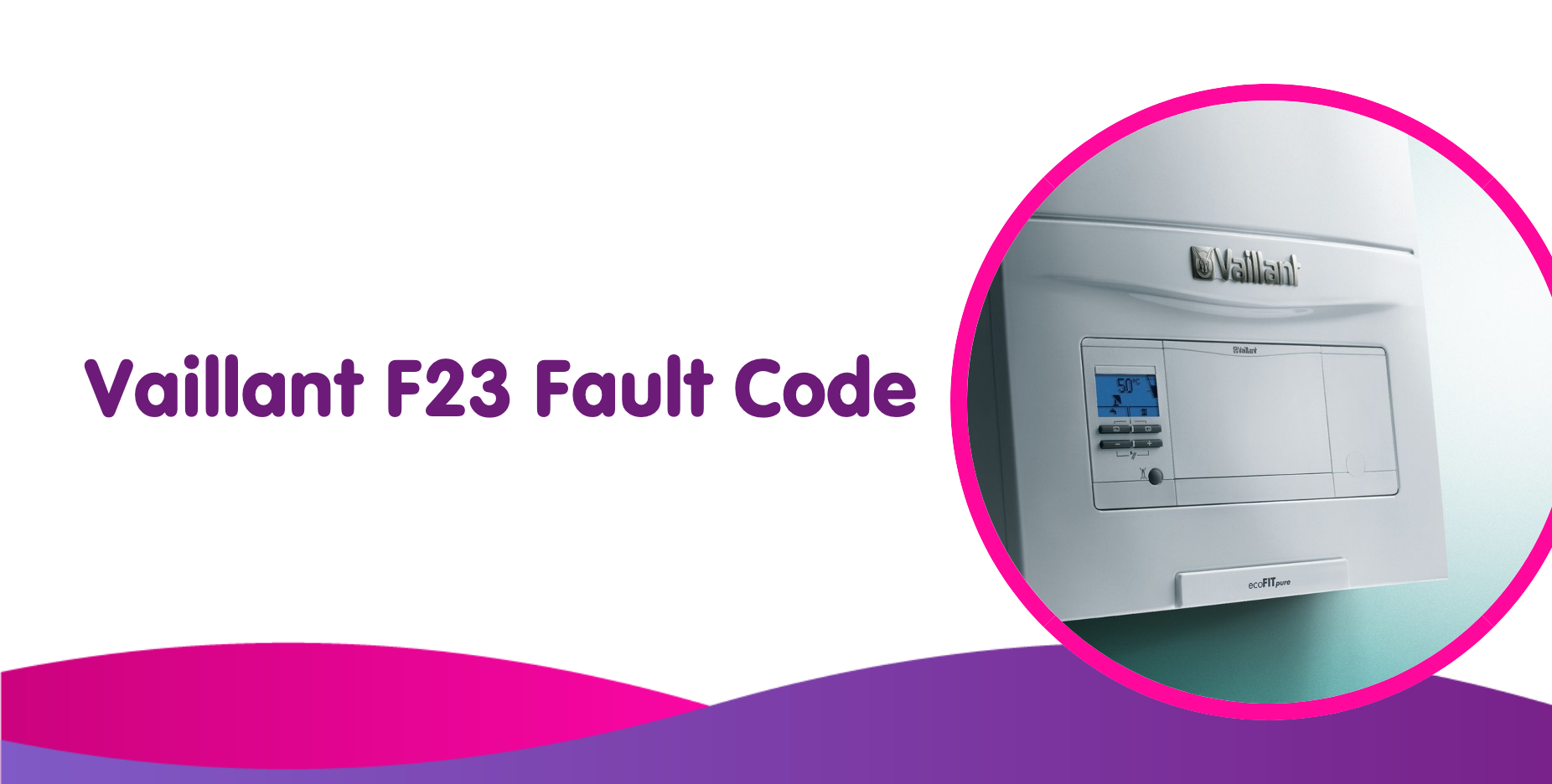 F23 Vaillant fault code meaning, causes & how to fix it
Vaillant F23 errors apply to Vaillant Ecotec Pro and Ecotec Plus.

Vaillant F23 refers to an error code that is caused by high-temperature differences between return and flow pipes. This error code can be caused by many things and should be dealt with by a registered Gas Safe heating engineer.
This is not a fatal error for boilers. A part might just need to be replaced to get your hot water and central heating back on track but this must be done by a Gas Safe registered heating engineer.
If your boiler is older however it may be time to consider a replacement boiler to stop rising fuel costs and increasing boiler repair bills.
Get an online fixed price in 20 seconds:
What kind of fuel does your boiler use?
What does Vaillant F23 Error refer to?
Vaillant F23 refers to the difference in temperature in the flow and return pipes.
The flow pipe heats the water. After it has passed through the central heating system, the water returns to the boiler via the return pipe.
Temperatures between pipes will always differ, but it is important to monitor the temperature for safety.
Because it directs hot water from the primary heat exchanger to the heating system, the flow pipe will be warmer.
Because the boiler heats up quicker than the radiators and pipes, this is also where the heat exchanger and all the action begins. Because water doesn't cool down as it moves around the heating system, and because the temperature difference between flow pipes and return pipes is only slightly lower, this can be explained.
Vaillant F23 errors are caused by a temperature difference between two pipes that is outside of the normal range. F23 errors are generated when the temperature difference between two pipes exceeds 35 degrees. This code triggers a safety switch-off.
What Causes an Error in F23 Vaillant?
Vaillant boiler F23 fault codes can be caused by multiple causes.
F23 errors on Vaillant boilers can be caused by a faulty pump. The boiler is heating water, but the pump isn't moving it fast enough. Water will have significantly cooled by the time it reaches the return pipe. This is because it is much cooler than it should be before it enters pipes or radiators.
A faulty pump can have many causes, but some are easier to repair than others.
It's possible that your speed setting was wrong. It is possible that the speed setting was incorrect. If the setting is too low, water won't move as fast and may lose its temperature. The pump's ability to work properly could be affected by a buildup of central heating sludge.
Another common cause of the F23 error is an air lock. Air locks can be found in every part of the heating system, including the boiler pump and bathroom towel rail.
Regularly bleeding radiators and towel rails can prevent them from becoming airlocks. You can easily identify an airlock in your boiler pump by the boiler making a clicking or banging sound.
F23 errors can also be caused by a physical blockage such as rust in pipes or radiators or limescale buildup.
This reduces the pipe's ability, which causes water flow to be slower through the pipes. It also increases the temperature difference between return and flow pipes. If you get your Vaillant boiler service every year it can stop this from happening.
Your thermostat could also be to blame. This means that your boiler isn't functioning properly due to incorrect temperature regulation.
Get an online fixed price in 20 seconds:
What kind of fuel does your boiler use?
How do I fix a Vaillant F23 error
It may be easier or more difficult to fix a pump fault depending on the issue. If the flow setting is too low, it should be adjusted.
It is best to replace the whole pump if you suspect the problem is due to a stuck shaft or other defective parts. These types of errors are quite likely to happen again.
The same method can be used to fix a thermistor fault, as the element will most likely degrade more after it malfunctions.
It's easier to fix an error code if it is caused by an oillock. To release trapped air, the boiler pump and radiators should be flushed.
Hot flushing with chemicals is possible to reduce the risk of another blockage.
How can you fix a Vaillant F23 error yourself?
Vaillant F23 fault codes can be caused by many things so it is important that you contact an experienced plumber to diagnose and fix the problem.
Airlocks can be eliminated. If you receive an F23 error code, then the best thing to do is bleed all your radiators or flush your central heating system.
The boiler's front must be removed to remove the airlock. Only a Gas Safe registered engineer should do this.
Chemical flushing may be necessary if the error is not due to physical blockage. This is not possible for a layperson.
These are the reasons why you should invest in a limescale or central heating inhibitor or magnetic boiler filter.
To reduce the chances of another F23 error, they should be cleaned between each service.
A defective pump or thermostat can cause the Vaillant boiler F23 fault. The defective central heating pump must be replaced. This should be done by professionals.
Get an online fixed price in 20 seconds:
What kind of fuel does your boiler use?
How Much Does It Cost to Repair a Vaillant F23 Fault Code?
Calling out may incur a fee depending on the company. Some companies will give you a quote for free, while others charge for calling. Expect to be called and receive a diagnosis in the range of £55-£75.
Repairs are usually as inexpensive as £80 depending on the extent of work required. It could be the pump, a blockage or a deficient sensor that is the problem. A power flush cost about £250 depending on where you live.
Is the F23 fault code a sign that my Vaillant boiler has failed?
A boiler's F23 error can be repaired by professionals. If it happens often, however, the boiler's pump or thermistor might need to be replaced. These sort of things are covered by our boiler cover plans.
Is it safe to use the boiler if it has an F23 error code?
An F23 error code will result in a safety switch-off called a boiler lockout. This means the boiler cannot be used until it has been fixed. You could try resetting the boiler but it is likely this will not work.
What should I do after an F23 to reset my Vaillant boiler?
After the boiler displays an error code, it can be reset. If the boiler does not get fixed immediately, it will display an error code and lockout. Make sure that you have fixed the problem before your boiler can be restarted.
Does the F23 have the same temperature as the Boiler Overheating?
Boiler overheating may cause similar problems to the F23 error. They aren't the same thing. If your boiler heats too fast, you will see F20.
Is the F23 fault code a sign that my boiler needs to be replaced?
You can now get a fixed price quote online for a new Vaillant boiler installation. We have access the best boiler repair specialists. An older boiler will not be as efficient if it is more than 10 years old. However, the F23 fault can indicate that more fault codes are being created which could lead to higher repair costs. See what the cost of a new boiler is online now with Boiler Central, it will likely be more economical in the long run.
Other Vaillant error and fault codes
See our other Vaillant error and fault codes to help you fix any issues you may have with your boiler.
Get an online fixed price in 20 seconds:
What kind of fuel does your boiler use?