Boiler Lockout and Ignition Lock Out Causes & How To Fix It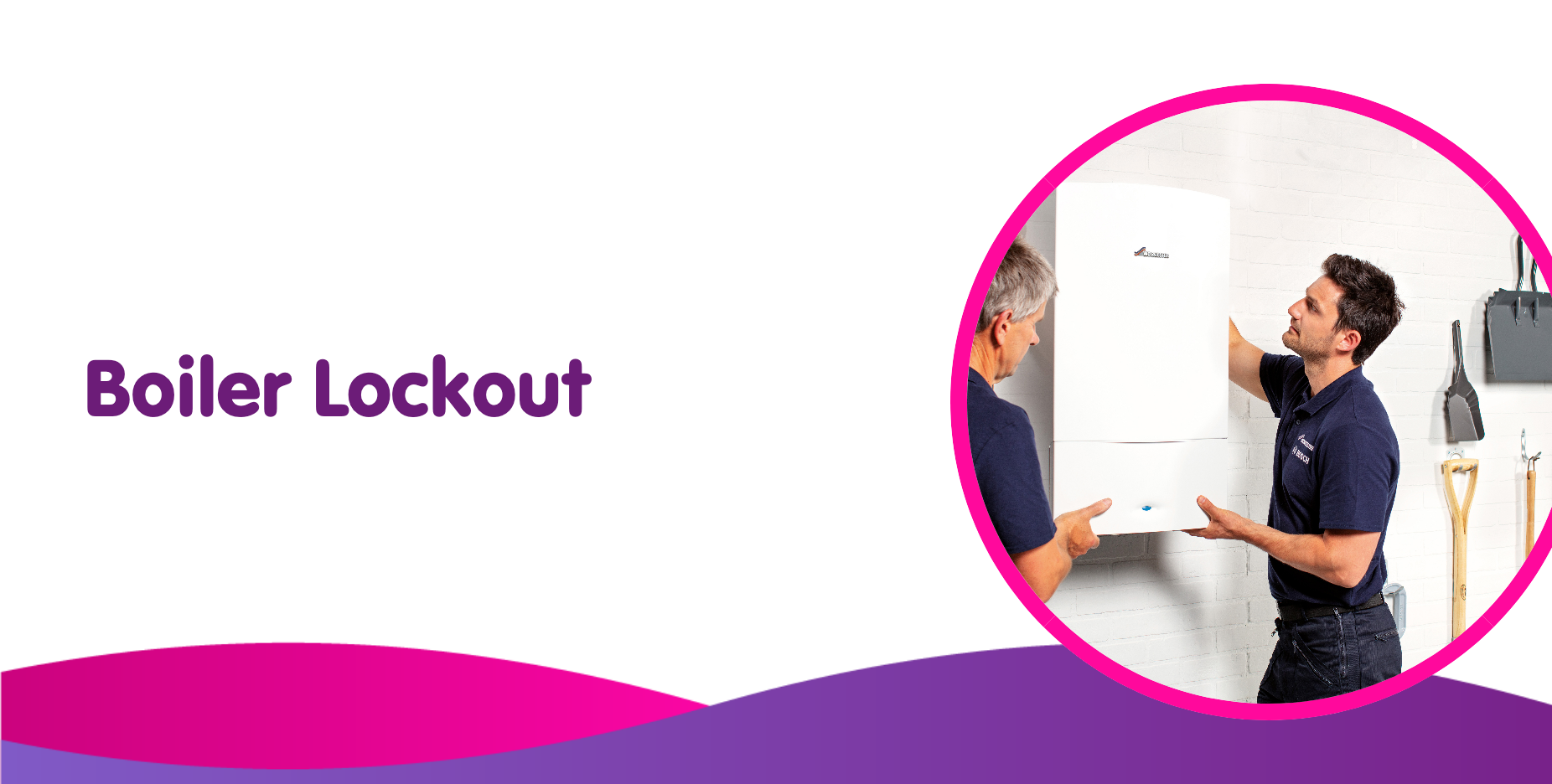 What is a boiler lockout and what does it mean?
Do you have a boiler lockout? Aren't sure what to do or what to do about it? This guide will help you understand the causes of boiler lockouts and how to fix the problem to get your central heating system back up and running.
Old boilers, usually over 10 years old start to have more frequent problems, error codes, leaks and part failures so it can be more economical to consider a replacement boiler. Get a fixed price quote online in under 20 seconds with Boiler Central on all the best combi boilers.
Did you know you can get boiler cover which means you have 24/7 assistance for any emergency breakdowns?
Get Boiler Cover
Get an online fixed price in 20 seconds:
What kind of fuel does your boiler use?
What is a boiler or ignition lock out?
Boiler lockout is an emergency shut down that your boiler initiates when it detects an issue in one of its components or the whole system. This shutdown is a safety feature helps to prevent boiler problems from becoming dangerous for your home, your boiler, and yourself. It also eliminates the risk of fire, boiler explosion, and damage to the components.
It can be frustrating to not have hot water or heating, especially in colder months. An automatic boiler shutdown prevents your boiler from starting up if there is an issue. A boiler lockout is basically a safeguard for your boiler, even if it's not working properly.
How do you recognise a boiler lockout?
Your central heating not working is the first sign. Your boiler can also tell you if it is experiencing other problems. An older boiler model will show a red, green light or blue flashing light, while a newer model will display a fault code. This looks like a string with numbers and letters.
The advice we give people here at Boiler Central is that an annual boiler service is so important to help prevent these issues. We offer some great boiler cover plans too that includes a free annual boiler service or if you don't want a cover plan and just s service, see how much a boiler service costs here.
What to do if your boiler locks out
No matter if your boiler flashes lights, displays a fault code, or both, the first step in solving the problem is to identify the cause. Here are some ways you can solve the problem.
To begin, check your boiler manual. It contains all the possible fault codes and their explanations.
If your manual does not contain the error code for your boiler, visit the manufacturer's site. They should have a complete list of error codes and causes.
If your older boiler doesn't show fault codes, contact the manufacturer's support line. Although they will probably tell you to call a heating engineer, there's always the possibility that they may know what the problem might be.
It's easier to solve the problem when you understand the root cause of the lockout. A boiler reset may be enough to solve the problem. However, if the boiler locks up frequently, it is better to address the root cause and work out a long-term solution rather than just putting a band-aid on the problem. Here are some common causes of boiler lockouts and how to fix them.
Main causes of boiler lockouts
Boiler lockouts are quite common with older boilers. However, modern boilers can also be locked out by automatic shutdowns. There are many reasons why a boiler could lock out, from a simple glitch or power cut to something more serious such as low pressure or safety concerns.
Although every boiler is unique and can result in a lockout for a number of reasons, there are certain common issues that we see with almost every boiler that could lead to a lockout.
If you have an old boiler find out the cost of a new boiler here to see if it is more cost-effective to invest in a new one than repair an old one.
System Blockage
Boilers, pipework, and radiators can become clogged with sludge. The condensation pipe that vents outdoors can also freeze, especially in winter or on cold mornings. These issues can cause a boiler lockout. We recommend that you hire a professional heating engineer to flush your heating system. If the problem isn't resolved correctly, it can lead to a boiler lockout.
Limescale can also block the heat exchanger. Limescale buildup can cause a whistling sound or kettling from your boiler. This can lead to water temperature rising too high, causing a lockout. Repairing a heat exchanger that is damaged can be costly if it's an older boiler. The repair costs are high. You can prevent this from happening by purchasing a limescale reducer.
Ignition Problem
Many boilers will lock out after three unsuccessful ignition attempts. Check the probe and ignition leads to determine if the problem is there. This will allow you to clean the flame sensor probes and ignition leads if the boiler is indeed causing the problem.
Fan Issues
The fan is an integral part of any boiler. It pushes harmful gases through the flue out of your home. The fan can cause your boiler to stop turning on if it is not working properly. A Gas Safe registered engineer can replace the fan if the problem is with your boiler.
Pump Failure
It is quite common for central heating pumps in the UK to fail, blow seals, or freeze up. You can feel tiny vibrations coming from your pump. This is a sign that it's working. If it feels hot, then its internal parts may be damaged. A simple tap can often free up seized-up parts. Just make sure to be gentle.
Boilers operate at pressures between 1 and 1.5 bars, but some boilers can go as high as 2.5 bar without any problems. You can refer to your boiler manual to determine your boiler's maximum pressure. Most boilers will shut down if the pressure drops below 0.6 bar or higher than 3 bar. You can raise the boiler pressure by filling the filling loop with water. You can also reduce the pressure by bleeding the radiator valves.
No power
A power outage can also cause a boiler lockout. A recent power cut, tripped electricals, or a blown fuse could cause the problem. The most serious problem of all is rare, but it can sometimes be the cause.
How do I reset my boiler?
After the fault is fixed, you can reset your boiler. Most modern boilers have a reset button on the boiler display board. To reset your boiler, press the reset button for a few seconds and then release it. It usually takes 5-10 seconds to reset the boiler. However, it is a good idea to refer to your manual for specific instructions. For a more detailed guide, see our How to Reset a Boiler article
You can refer to your manual if you have an older model without a reset button. You can find the reset button on your boiler's front by visiting the manufacturer's site. Or, call their customer service line for assistance.
Resetting the boiler after it goes into lockout mode will not solve the problem. We strongly recommend that you first identify the problem and then resolve it before trying reset your boiler.
How to stop your boiler from locking out
Boiler lockouts can happen often if you experience frequent problems. If you experience frequent boiler lockouts (i.e. This is an issue that you may have to deal regularly. If it is, it is best to stop paying for repairs and replacements of components and instead invest the money in a new boiler. Find out the best combi boiler in our guide.
We know that you didn't click this link to tell you to buy a boiler. However, it can be more economical to spend on a new unit rather than paying for repair bills. Modern boilers are more efficient than older boilers, which will help you save money on repairs and energy.
Getting new boiler installation can save you the hassle of a lot of boiler issues that occur with older boilers and can help you rest easy, knowing your heating needs are being met.
This is especially true for older boilers that have been in service for over ten years. We recommend a long warranty on your boiler, which we highly recommend. Your new boiler will be covered in case of any problems that might occur over the next few years. Make sure to compare prices before you buy a new boiler.
Get an online fixed price in 20 seconds:
What kind of fuel does your boiler use?