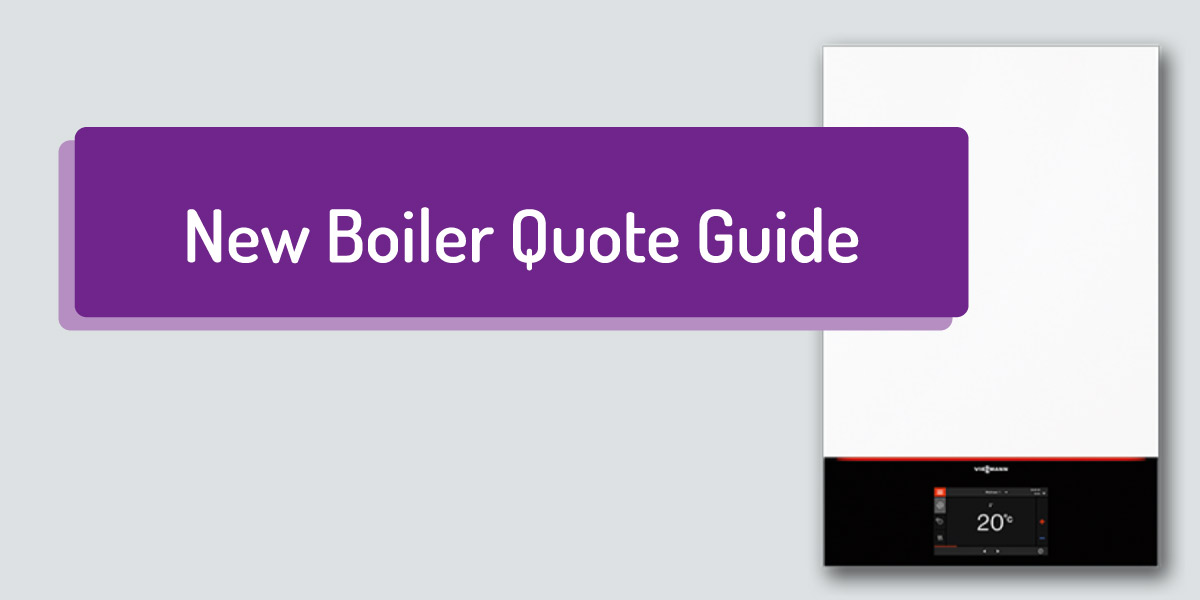 Table of Contents
Looking for a new boiler quote? Here's how to get the best boiler quotes
Getting a new appliance is exhilarating, and buying a new boiler is no exception.
At Boiler Central, we understand the thrill of choosing a shiny new boiler that will bring you more than a decade of comfort and warmth.
The boiler is the heart of the home, which is why choosing a new boiler should never be taken lightly. You need to research the types of boiler on the market and find the right one for your home.
Get an online fixed price in 20 seconds:
Q What kind of fuel does your boiler use?
Boilers not only run the heating, but they also give your home hot water. Heating isn't always essential, especially during the day in the summer, but hot water is always needed to keep your home and family clean.
With a vast range of boilers and heating solutions around, it can be tough to find the right solution, but thankfully there's help out there. Boiler Central knows everything there is to know about boilers, heating solutions, and more.
If you're looking to get a bespoke quote but aren't sure how the process works, then we're here to help.
As specialists in online boiler quotes and boiler installation, we know a thing or two about choosing the right boiler for your home, and we're here to share that knowledge with you!
The Key Factors To Consider When Looking For A New Boiler
When you're choosing a new boiler, there's a lot of factors to consider.
Many brands offer new boiler replacement options, and in various different types. Many new boilers come with innovative functions, and some are eco-friendly, so you can get a new boiler that suits your lifestyle.
The cost of the new boiler is also a critical consideration, as you must make sure that you're paying the right price for your new boiler.
With so many factors to consider, it's understandable that some customers would feel overwhelmed.
Whether you're looking for a combi boiler or a system boiler, or you're not sure what you require, it's hard to find the right solution at the perfect price.
Some of the main factors to think about when reviewing boilers are:
How many people will use your hot water/ central heating?
Find out what type of boiler (combi, system, etc) you have already so that you can decide if it's the right one for your home
Is your central heating system powered by gas or electricity?
How large your home is and how much work your heating system has to do to keep it warm
Your budget and how much you want to pay for your new boiler
Whether you want to pay upfront or buy your replacement boiler on credit
Any preferred brands that you want to trust
All this information about boilers might seem like a lot, but there's an easy way to put it all together. Boiler Central can get you a free boiler quote in minutes using our online tool.
Our quotes are bespoke and tailored to your needs. You just answer brief questions about your boiler, home, and heating system, and we do the rest.
We stock a vast range of brands, so you can find a cutting-edge new boiler that suits your home with our help.
We also offer credit services regulated by the Financial Conduct Authority, and Gas Safe registered installation so you can get everything you need in one place.
From the initial quote through to boiler installation, we can help you to find the perfect solution for your home that lasts many years.
Get an online fixed price in 20 seconds:
Q What kind of fuel does your boiler use?
Work Out What Finance Options You Need For Your Replacement Boiler
When we create your boiler quote, we offer you the choice; pay upfront or in instalments.
If you want to get a free online quote for boiler credit, then you can use our online tool to find out how much your new boiler would cost both upfront and on finance.
There's no obligation, so you can check what finance would cost and find out instantly. We offer interest-free boiler finance for 1 or 2 years on selected boilers, so you can get spread the cost without paying extra.
If you want more time, then you can get up to 10 years to pay off the balance. Whether it's a system boiler or a combi boiler, we offer you the chance to pay on finance from one of our reputable lenders.
You can also pay your finance early, as all of our lenders accept early repayments and their terms aren't fixed. So, you could save money on the interest if you choose to repay your new boiler loan early.
Shop Around For Online Boiler Quotes To Find The Best Service And Selection
Buying a new boiler directly from the manufacturer means that you might not get the best deal on the market. So, try shopping around for a boiler supplier with the best online boiler quote,
If you're not sure what sort of boiler you need, or you want to get the best possible quote from experts, then try a company that offers tailored boiler quotes, like us.
We'll never give you a generic, fixed price for your boiler; instead, we'll ask you questions and create an online boiler quote that best matches your needs.
When you buy your new boiler from us, you'll get a quote that includes boiler installation from Gas Safe registered engineers.
If you want to buy your new boiler outright, then you can, but many retailers also offer finance packages so that you can spread the cost.
With us, you'll get a great deal from a lender that's authorised and regulated by the Financial Conduct Authority. We work with a range of lenders, so you've got plenty of options.
We only work with the best finance providers around, so you can rest assured that when you spread the cost of your new boiler with us, you're safe. If you choose another finance provider, then make sure that they are regulated for peace of mind.
When you're looking for boiler finance, you need to consider more than the initial price. The cost of your boiler isn't always fixed when you buy on credit, as it depends on the rate of interest charged and the time you take to repay the cost.
Our offering includes interest-free short-term credit and long-term, interest-bearing loans of up to 10 years, so you can find the option that suits your financial situation.
All of our lenders are authorised and regulated, so you know that you're getting a great price and can spread all the costs that incur when you get a new boiler.
Get an online fixed price in 20 seconds:
Q What kind of fuel does your boiler use?
Find A Boiler Quote Provider That Offer Installation
While the boiler itself is a key focus for most customers, it's essential that you consider everything. That means not just the price, but also the installation costs.
Quality boiler installation is vital if you want your new boiler to work correctly. Your new boiler will connect to your central heating and hot water systems, so it needs to be installed by a professional.
According to UK law, you must get a boiler installation certificate when your boiler is installed. When you get your boiler installed by a member of Boiler Central's network of experts, you'll receive a Gas Safe installation.
As part of your boiler quote, we can include the price of installation, so that you know exactly how much you're paying and what the options are for installation dates.
Both gas and electricity can be volatile elements, which is why installation certificates were created. A poor quality installation could damage your home's heating system, leak gas, or worse.
So, you must work with a Gas Safe expert who knows how to install your boiler correctly, and we can connect you with such an individual.
Get an online fixed price in 20 seconds:
Q What kind of fuel does your boiler use?
Every boiler installer that we work with is Gas Safe and knows how to install your new boiler correctly.
They can take the appliance and connect it to your heating and water systems so that your new boiler performs perfectly for many years to come.
Like the cost of your new boiler, the costs for installation can also be paid on credit, or you can use our secure online payment portal.
It's quick and easy, so you can get your boiler installation underway and enjoy your new heating system and hot water provider in no time.
Why Choose Boiler Central For Your Boiler Quote?
There are hundreds of online boiler experts claiming to offer the best deals on new boilers, so why should you consider Boiler Central?
As a team of boiler experts who are committed to sharing our knowledge through our Boiler Advice page, we understand how challenging it can be to choose an online quote provider.
That's why, we offer a free, online, no-obligation quote that's tailored to you, as well as being quick and easy to use.
Whether you want to pay a fixed price for your new boiler and installation, or if you want to make monthly payments, we can help.
Fill out our online form by answering 10 simple questions about your home, and we'll show you the best boilers for your property. Once you've chosen the boiler that suits you, we'll give you the best price.
That's it! All you need to do then is choose an installation date, check the terms of your finance agreement, and pay.
Then you're good to go. The quote is free, so you can get a great price in no time, no matter what type or brand of boiler you want.
Not everyone likes to get their boiler quote online, and that's OK. If you want to speak to us and get the benefit of our expert advice on heating systems and boilers, then get in touch, and our boiler experts will be ready to answer any questions and find the best replacement boiler quote for you.
Get an online fixed price in 20 seconds:
Q What kind of fuel does your boiler use?