What is a Magnetic Filter for a Boiler?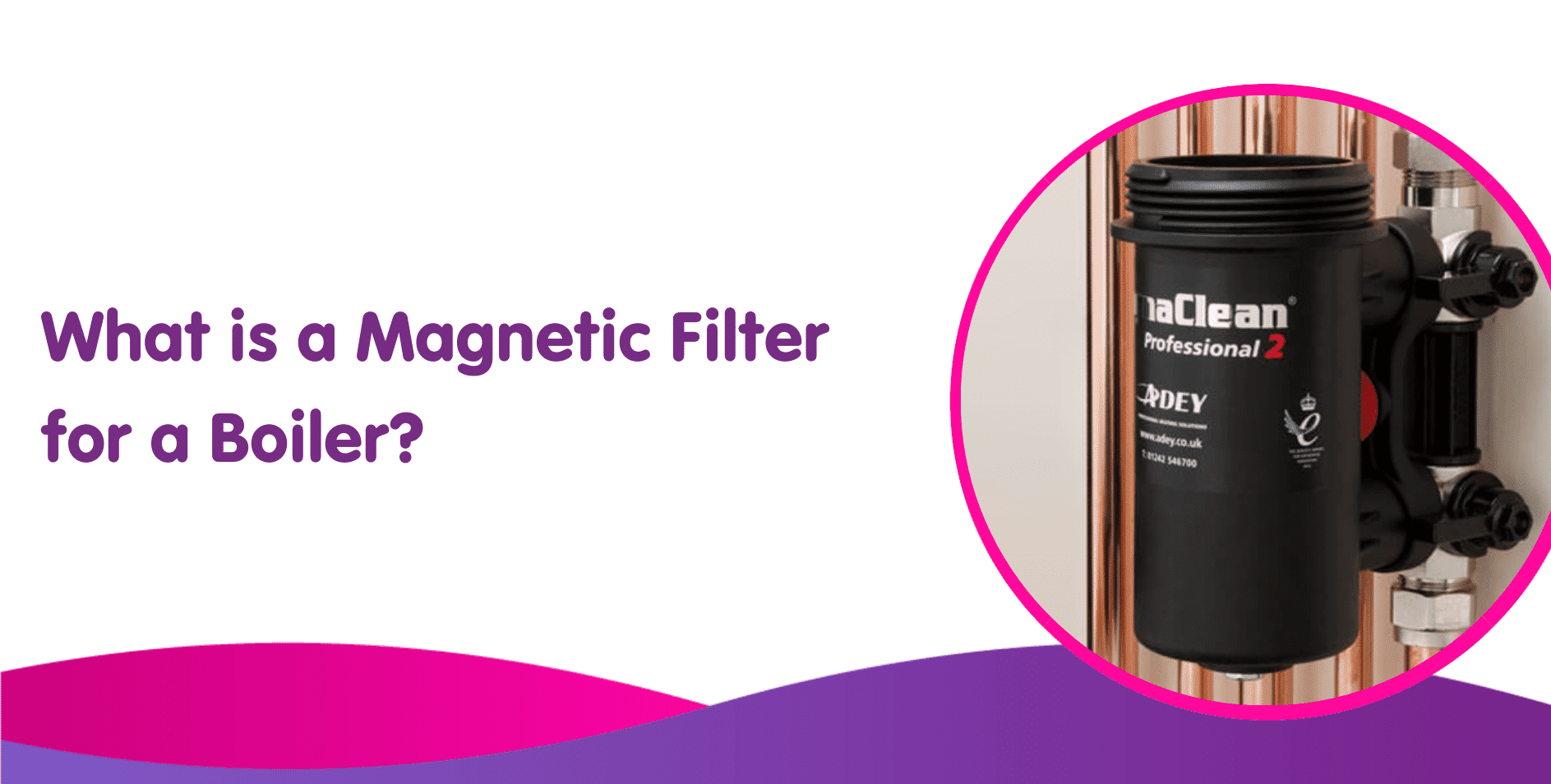 What Is a Magnetic Filter and How Do They Work to Ensure a Clean Central Heating System?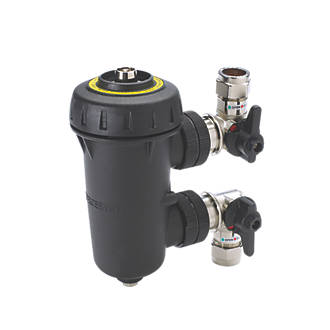 Many households with a central heating system know that sludge build-up can lead to expensive maintenance costs, but the good news is that you can avoid frequent breakdowns and costly repairs with certain heating solutions, such as a magnetic filter.
What exactly are magnetic filters, though? Do you really need one, and are they worth it?
And how do magnetic filters help your heating system run more efficiently? Our guide serves up answers, so keep reading.
If you consider a replacement boiler, you will be able to get a magnetic filter included in the total boiler installation cost with us here at Boiler Central.
Get an online fixed price in 20 seconds:
What kind of fuel does your boiler use?
What Are Magnetic Filters?
A boiler magnet filter is a sorting and filtering device that absorbs impurities in water, such as fine iron in your central heating system.
The filter is attached to a central heating system (on the water side not the gas supply side), and safely collects and stores particles that would have otherwise settled at the bottom of a boiler.
After several months or even years of water flowing through the radiator and metal pipes of your heating system, it is normal to expect the metal to rust, but with time, the rust will gradually break off and combine with dirt and other tiny particles to form a mud-like sludge.
The sludge is carried throughout your central heating and can even accumulate at the base of your boiler. This can cause serious problems, such as boiler leaks, heat exchanger failure, and central heating pump failure.
Installing a magnetic filter in your heating system can prevent sludge-related problems from developing and the magnetic function of the filter allows the device to catch and get rid of metallic particles. Some models can remove non-ferrous debris, thanks to their gravity filter design.
When to Consider a Magnetic Filter For Your Boiler System
We highly recommend getting and installing a magnetic filter along with your new boiler, however, if you already have a central heating system, you should consider fitting a magnetic filter when you notice one or more of these signs:
You notice a pool of water underneath your boiler, or your boiler starts to leak.
There is mud-like dirt lining or filling broken heating parts.
Frequent pump failure.
Your boiler doesn't heat properly (fails to reach its maximum temperature).
Your radiator and boiler make unusual noises (such as bubbling or gurgling sounds).
The water from your taps is cloudy.
Your radiator has cold spots, or the bottom of your boiler is cool, and the top is hot.
Your boiler shuts down on its own or overheats.
One of these things or a combination may be due to sludge accumulating in your central heating system. Get in touch with a heating engineer if you experience any of the above signs. The earlier you have your heating system checked, the better you can avoid problems that may require buying a new boiler.
By the way, if you want to buy your next boiler from a reliable brand, check out this guide to find the best boiler brands in 2023.
Get an online fixed price in 20 seconds:
What kind of fuel does your boiler use?
Best Central Heating System Magnetic Filters
| | |
| --- | --- |
| Rank | Magnetic Filter |
| 1 | Adey Magnaclean 2 |
| 2 | Fernox TTF1 Omega |
| 3 | Worcester Bosch Greenstar Magnetic filter |
| 4 | Adey Magnaclean |
| 5 | Boilermag Domestic |
| 6 | Plumbright Systems |
When purchasing a replacement or new boiler, there are many magnetic filters that you can choose from.
This section will discuss the most common magnetic filters and explain why they are so popular so that you can select the right one for your boiler.
Best magnetic filters for boilers to buy in 2023 review
1. Adey Magnaclean 2 System Cleaner
Heating bills can be slashed by 6%* annually (*Based on independent research for a three-bedroom property).
Increases the lifespan of your central heating system
Protection of the central heating system immediately
Carbon emissions reduced
Installation in-line can be done in less than two minutes
Bi-directional flow allows for either port to be an outlet, increasing flexibility
Drain valve with low profile design for easy servicing and dosing
Double non-magnetic capture with improved sheath design
10-year warranty
2. Fernox TTF1 Omega
Compact design and high capacity
Use in restricted areas and access areas
It is easy to install, and can be used on both horizontal and vertical pipes in both flow directions.
The angle at which the filter can be used is 45deg
It is quick and easy to clean the unit without having to disassemble it
Unique action that removes both magnetic and non-magnetic contaminants in system water
Slip socket that is easy to fit with compression fittings and a short pipe length
Do not restrict or block flow
With nickel plating, smart, tough forged brass construction with no hidden porosity
Unique manifold featuring double radial seals, multiple orientation capabilities and unique design
Neodymium magnet with powerful threaded cap

3. Worcester Bosch Greenstar Magnetic Filter
Over tightening prevention feature
Isolation valve indicators
Bi-Directional flow
Stronger magnet
Inspiring feedback from installers
This product is designed to make installation and service easier than ever before
You can use magnetic and non-magnetic filters to capture a variety of system debris
It can be installed under and above the boiler, or remotely.
One-way valve allows for easy addition of system chemicals
To visually aid in the isolation of the filter, there are indicators for the isolation valve
For power flushing and ease of service, you can attach your body.
For ease of access during servicing, drainage point is located at the bottom
2-year guarantee
4. Adey Magnaclean
Magnetic dirt is continuously and automatically removed from the heating system
It improves energy efficiency and reduces running costs
This helps to prolong the life of components like the boiler and radiators.
Reduce nuisance calls by eliminating dirt circulating problems
The compact design can be easily attached to any pipework
Easy to clean during heating system annual service
Easy to install and only 115mm are required for installation
Filter can be bypassed during servicing
ADEY Rapide Chemicals is simple and fast to use
2-year warranty

5. Boilermag Domestic Fillter
In minutes, install/clean
Protects for many years
Guaranteed no block
Dual flow technology: Filters twice in one pass
Magnetic and non-magnetic debris can be removed
Chemical dosing is easy to access
Valve and seals of high quality
It fits in line and allows for 360o adjustment

6. Plumbright Systems Filter
Actively filters out sludge, iron and rust
11,000 Gauss Neodymium Magnet
Maximum temperature of 90degC
Manual air bleed
Full bore drain valve
Filter surround with plastic magnets
400ml dosing capacity
360deg Installation
Service and fitting done efficiently
All these can be used in conjunction with a limescale reducer which is important if you live in a hard water area. See our limescale reducer guide now for more information, and if you are considering a new boiler, you get one for free included in the price at Boiler Central.
Get an online fixed price in 20 seconds:
What kind of fuel does your boiler use?
How Are Magnetic Filters Installed?
Usually, magnetic filters are fitted to a boiler or your heating system during a new boiler installation. However, a certified heating engineer can add the filter to your existing system if there is enough space.
However, have an engineer check your boiler before adding a filter as it doesn't make sense to add a magnetic filter to a boiler that's already too old. Your best bet would be getting a new boiler and having the filter fitted during the boiler installation.
Typically, magnetic filters are fitted to the boiler's return pipe, but you do not need to bother about this much because Gas Safe registered engineers know exactly how to install the device.
We also suggest a central heating system flush before adding any cleaner, as it will only get clogged up quicker if the system is dirty. Usually, engineers will follow these steps to install a magnetic filter:
Inspection and preparation: First, the engineer checks whether adding a magnetic filter to your existing boiler is appropriate. If it is okay, water is drained from the central heating system in preparation for the installation.
Pipework: Next, they mark where the filter will attach to the pipe. The pipework will depend on the size of your magnetic filter. If there is excess pipe length, it will be cut off to create room for the filter.
Placing valves and the filter: With the pipe marked and cut, valves are placed on both open ends. After this, the magnetic filter is placed between the valves.
Finishing up: The filter is connected securely to the pipe, and the system is re-pressurised (in many cases).
If you are in the UK and need help fitting a magnetic filter in your existing heating system, simply contact us, and we'll connect you with certified professionals in your area.
Benefits of Magnetic Filter in Central Heating Systems
Installing a magnetic filter in your central heating system has several benefits. Of course, the main benefit is ensuring that your heating system runs more efficiently since it gets rid of impurities and waste.
Provided you carry out annual boiler maintenance, you'll hardly spend so much money on boiler breakdowns, and besides, you can also have the filter cleaned during annual boiler maintenance (we'll discuss more on that in a bit).
Sludge can negatively impact your boiler; a magnetic filter prevents this from happening. And because there is little to no dirt and debris in the system, the heating system doesn't struggle to work as it should, reducing the stress on your central heating system and minimising energy consumption.
Here's a list of other benefits associated with having a magnetic filter:
Reduced carbon footprint
Reduced boiler breakdown frequency
Significant reduction in the cost of repairs
Reduced energy bills due to low energy consumption
Increased boiler lifespan due to less stress on the system
Possible increase in length of boiler warranty
Get an online fixed price in 20 seconds:
What kind of fuel does your boiler use?
Cleaning Magnetic Filters
Magnetic filters catch fine iron impurities and other debris in your heating system to prevent sludge build-up, but there's only so much dirt it can prevent before it requires cleaning. If you do not regularly clean the device, it won't work as it should, and you'll eventually spend money on costly repairs.
The best way to clean a magnetic filter is to ask your heating engineer or plumber to do it during your annual boiler service and inspecting or cleaning a magnetic filter isn't a complex task for a professional plumber or heating engineer, so it shouldn't take a lot of time or significantly add to the cost of the boiler annual service.
Regular cleaning will remove all the debris trapped in the magnetic filter and keep it working to protect your central heating system for a long time to come. If you have an old boiler, and want to protect yourself from hefty repair bills, checkout our boiler cover plans that includes free boiler service every year too.
How Long Do Magnetic Filters Last?
Most magnetic filters last for a long time, but the exact lifespan will depend on how regular you maintain the device. Many magnetic filters can last up to 10 years with proper maintenance.
Before you install and start using any filter, it is usually a good idea to read the instructions to know how to maintain the device. Also, the manufacturer's instructions will help you avoid any setup mistakes that can reduce the lifespan of your filter.
In any case, we highly recommend getting a heating engineer or plumber to install a filter for you. A certified professional knows how to set up the device correctly. But most importantly, they will check your existing system and offer advice on whether or not it is a good idea to install a magnetic filter or buy a new boiler.
Are Magnetic Filters Worth The Cost?
It is nearly impossible to avoid a sludge build-up if your home's heating system doesn't have a magnetic filter. That means you may likely spend a ton of money on frequent repairs and expensive central heating maintenance.
A magnetic filter doesn't only prevent sludge accumulation and avoidable repair expenses; it also reduces your energy bills. In other words, installing a magnetic filter is a cost-effective investment.
Here's another benefit that makes magnetic filters a worthwhile investment. Some manufacturers may offer an extended boiler warranty if you install a magnetic filter. This offer doesn't apply in all cases, so read the manufacturer's terms.
That said, it may not be necessary to install a magnetic filter if you've recently treated your heating system with a corrosion inhibitor. This type of chemical in a central heating inhibitor prevents or slows down the corrosion of metals in a boiler and heating system that often lead to the accumulation of central heating sludge.
Magnetic Boiler Filters: Final Thoughts
Magnetic filters can add a few extra years to the lifespan of your central heating system and boiler. It is a cost-effective investment, as it can reduce the cost of frequent boiler repairs and help you with long-term savings on energy bills and if your are spending over £2,000 on the best combi boiler then you want to make sure it lasts.
As long as you regularly maintain your magnetic filter, you can be sure of uninterrupted heating and hot water year-round.
Don't hesitate to contact us if you are thinking of fitting a magnetic filter to your existing boiler or if you want to buy and install a new boiler with a magnetic filter. We'll give the best boiler quotes and connect you with the most qualified installers in your area.
Get an online fixed price in 20 seconds:
What kind of fuel does your boiler use?