F29 Vaillant Fault Code Meaning, Causes & How To Fix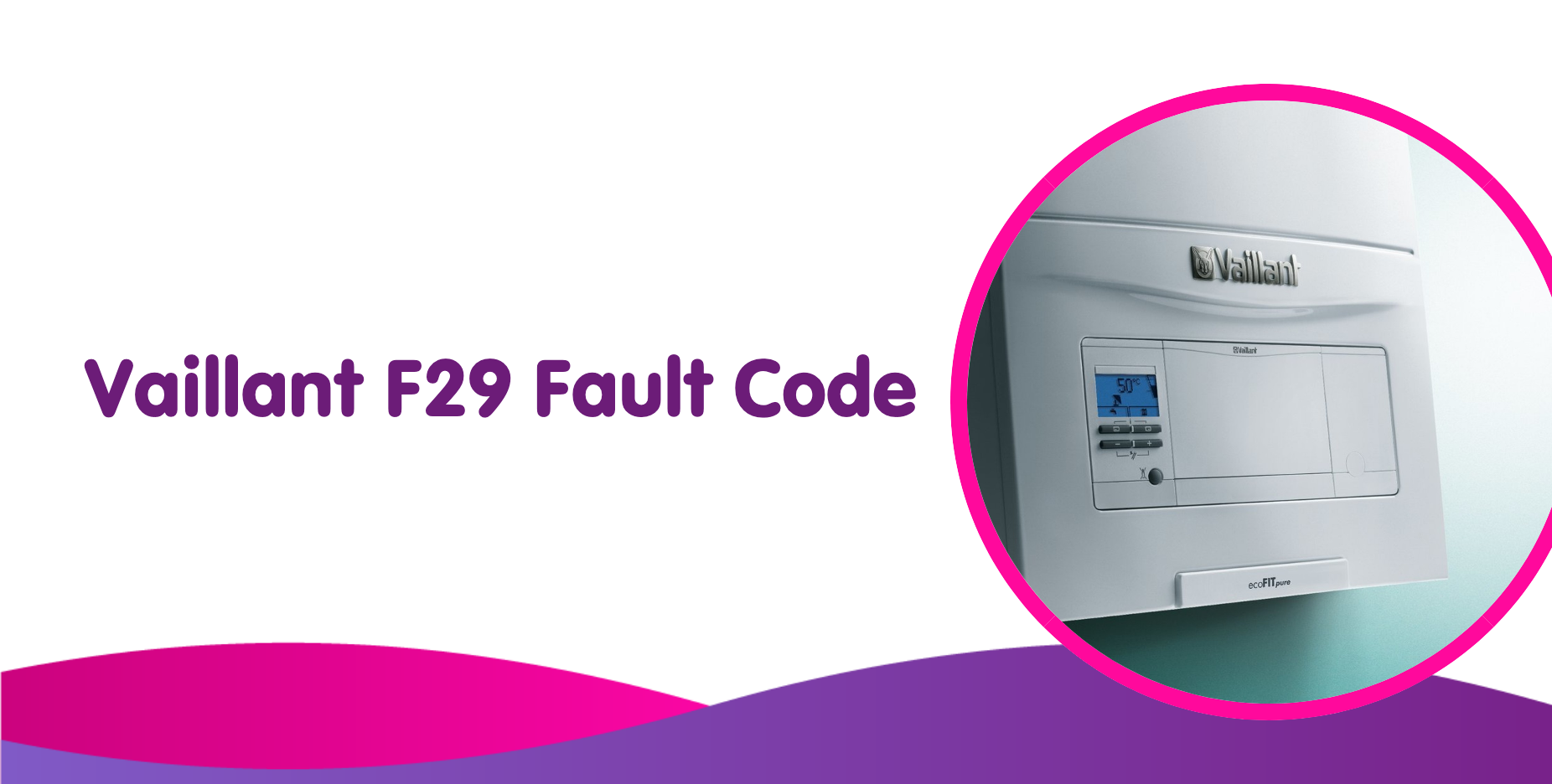 Vaillant F29 fault code on boiler causes & how to fix it
The F29 Vaillant fault code is unfortunately a particularly common error code. If your Vaillant boiler isn't working properly, you might see an error code and F29 is quite often the most frequent fault code.

Vaillant F29 refers to flame failure that is usually caused by gas supply to EcoTec Vaillant boilers.
Defective parts, such as a defective gas valve, insufficient gas supply or blockages in the flue pipe, can cause this error code. These can cause a boiler lockout and you will need to have a Gas Safe Registered Engineer to fix it however this problem should not be attempted to solve by you.
Get Boiler & Central Heating Cover
Get an online fixed price in 20 seconds:
What kind of fuel does your boiler use?
What does Vaillant F29 Error Code mean?
The error code on a Vaillant boiler is an indication that the boiler's flame has stopped lighting up, more often than not due to a faulty gas valve causing a lack of gas supply.
This code is important because it heats the hot water tap water and central heating. Until the problem is resolved, your home will not have hot water or heating.
Vaillant ecoTEC boilers may not ignite due to many factors. These are:
The burner is blocked with debris
A faulty gas valve can cause low gas pressure
The condensate pipe was frozen
Problem with the ignition lead/electrod
Flues that are not working
Get Boiler Cover
What can I do to fix the Vaillant F29 boiler error?
These are possible solutions for the Vaillant boiler error code F29. One thing we will suggest is that you get a Vaillant boiler service every year to ensure that you limit the chances of getting these problems.
Gas valve or gas supply problem
Low gas pressure refers to when not enough gas is reaching the boiler. This is crucial if the unit is going to work. Gas may be leaking from the valve, which could cause it to stop gas from reaching boiler. An engineer registered with Gas Safe can diagnose the problem and, if necessary, can repair or replace it.
Over time, the burner may become clogged with debris. This can cause the inlet gas pressure drop. This can lead to the flame not igniting. If your boiler is regularly serviced, this problem can be avoided. If it happens, a boiler engineer can remove any debris and assess the damage. They will replace the burner if necessary.
Frozen condensate pipe
Condensing boilers use a condensate pipe to drain acidic wastewater. The boiler heats water using the energy from the flue gasses to produce water. Condensate pipes are located outdoors and can freeze at low temperatures.
Water can freeze in condensate pipes, clogging them and preventing it from escaping. Flooding and other serious issues can occur. To protect your central heating system, the boiler locks out.
If the condensate pipe is frozen, it must be thawed. To warm the condensate pipe, heat water but not boil it. It will need to be reset before the boiler can be used once again. You may need to have the boiler reset done by a boiler engineer. However, if you experience a blockage you can continue doing it until the weather improves.
Get Boiler Cover
Flues that are not working
When the boiler is not in use, the flue is responsible for exchanging harmful gases. The flues are identified by the presence of ducts in your roof or on the sides of your house. Faults could be caused by a blockage or incorrect installation. A boiler flue that isn't properly installed can blow out in strong winds if it is not. A boiler can block the flame, causing it to stop igniting.
This code is known as an F29 fault code. Faulty flues must be repaired by a Gas Safe registered engineer. If the flue was not installed correctly, it can be repaired or replaced. To allow gas to flow freely through your house, they can clean out any obstructions in the flue. They can also install a flue guard if necessary to prevent any further obstructions.
Lead problems or Ignition Electrode
These parts are crucial to ignite the boiler once it starts. If these components are damaged, your boiler won't ignite. Parts of older Vaillant boilers might need to be replaced. Leakage in the system could cause damage to these parts. Gas Safe engineers are qualified to diagnose and fix the problem. This is not something that you should try.
Get Boiler Cover
Who can repair the Vaillant F29 error code.
Your Vaillant boiler could be showing an F29 error code for many reasons. These errors should be dealt with by a professional Gas Safe engineer, especially if the boiler's gas valves need to be replaced. The homeowner can fix a frozen condensate tube, but it is not possible to do so if you're not confident. Get a quote online in less than 20 seconds if you feel it is time to replace your boiler.
A leak may be causing the Vaillant F29 Error
Boiler leaks can sometimes cause damage to the boiler's electrical components, such as the electrodes and ignition leads. An internal leak may be the cause.
It is not a good idea to try to diagnose the problem on your own. You should have the problem diagnosed by a Gas Safe Engineer.
How Much Does It Cost to Replace a Boiler Burner?
Although prices vary between boilers, you can expect to pay up to £450 for a new burner. What can I do to stop F29 errors from happening?
To avoid making this error, it is better to have your gas boiler serviced annually.
This will ensure your boiler is in good condition and prevent problems such as a buildup of debris in the burner or improperly adjusted valves. This will catch any problems before they become serious.
Get Boiler Cover
Other Vaillant error and fault codes
See our other Vaillant error and fault codes to help you fix any issues you may have with your boiler.
Get Boiler Cover