Vaillant F62 Fault Code Meaning, Causes & How To Fix It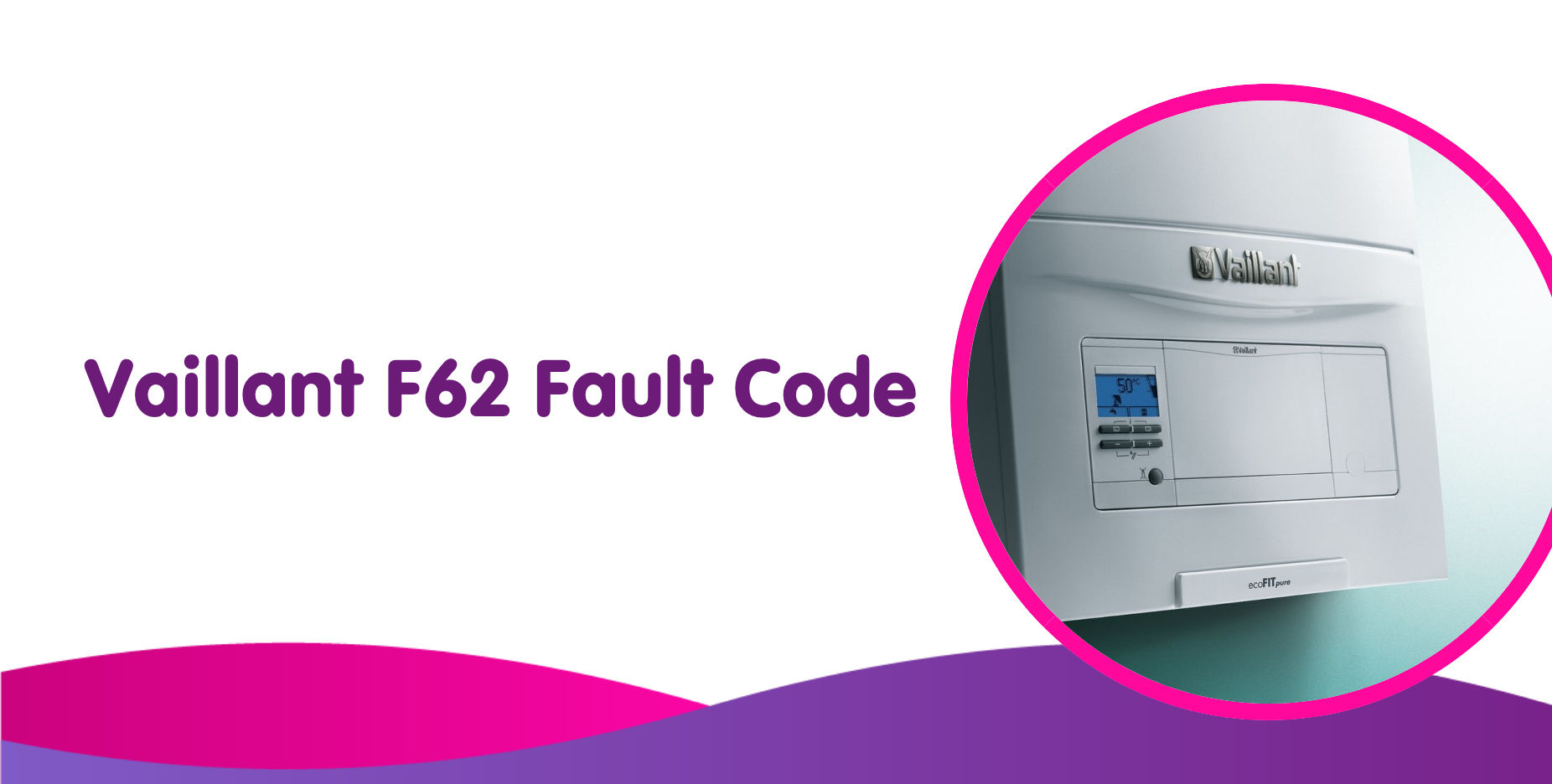 F62 Vaillant fault code meaning, causes & how to fix
Vaillant F62 fault codes are a sign that your boiler's gas valve is failing. The fault code Vaillant F62 could indicate that the gas valve has failed. A Gas Safe Engineer should diagnose the problem. Parts will usually need to be replaced.

Vaillant F62 error code will flash up on the display if you have a faulty gas valve in the Vaillant boiler. This code exists in the Vaillant EcoTec Plus or EcoTec Pro models.
This error code could be in relation to a gas leak, so if you smell gas it could be a faulty gas valve leaking and then you need to call the emergency phone number 0800 111 999
Got an old combi boiler? See which is the best combi boiler to buy right now at a great price with Boiler Central
Get an online fixed price in 20 seconds:
What kind of fuel does your boiler use?
What does the Vaillant F62 Error Mean?
Vaillant boiler F62 errors are an indication that the gas valve is failing and will result in a lockout. This could mean that you need a gas valve replacement therefore you should only use qualified Gas Safe engineers to complete the work.
When hot water is required, or central heating is being heated, the boiler will turn on. To heat the water, it will need a supply of gas. The gas valve in the boiler regulates the flow.
The valve should always be open when hot water/heating is required. Gas can get into your home if it is not closed. This can be extremely dangerous. If you smell or see gas, you should immediately call the emergency gas line.
A defective gas valve is detected by the boiler and causes a lockout. The boiler will not turn on. To prevent this, turn off your boiler's gas supply and call a Gas Safe engineer.
What is the Cause of the F62 Vaillant boiler fault code
Vaillant F62 is a fault code that is different from other error codes. It is caused when the gas valve isn't closing or opening correctly. This could be due to many reasons. Some great advice we can give from our experts at Boiler Central is to make sure you get a Vaillant boiler service booked in every year to pick up on any issues along the way.
Faulty Gas Valve Stuck
Mechanical parts can wear over time and become clogged. Your Vaillant boiler may have a gas valve that is stuck and cannot regulate gas flow.
Faulty PCB (Printed Circuit Board)
The F62 fault code can be activated by a faulty PCB sending signals for the valve to open and close at inappropriate times. This could cause the gas valve to leak. This would allow gas to flow through the valve even if it's not needed and stop it from flowing when it is.
Intermittent Connection with the PCB
If the PCB cannot communicate consistently with the gas valve, the PCB will not send instructions to the valve on how to open and close it. This is why the F62 error code appears.
How to Repair an F62 Vaillant Boiler Problem
You can fix the problem by replacing or removing damaged or stuck gas valves. Sometimes, a replacement PCB is required.
It can take a while. It is very unlikely that the plumber will have the correct parts. This error code can be difficult to fix and may take hours.
If the boiler is leaking, the engineer will inspect it.
These leaks can usually be fixed, but water-damaged electronics parts or PCBs might need to replace. It is worth weighing the cost of repairs against the cost to buy a new boiler.
How do you repair a Vaillant F62 boiler error?
A Gas Safe Engineer can legally handle this F62 fault code. You should not attempt to fix a gas-related issue yourself. It is dangerous and costly. If you see an F62 error, it is important to immediately contact an engineer.
As with any gas-related problem, it is a smart idea to shut off your gas supply until an engineer arrives.
Does an F62 Error Mean That My Vaillant Boiler is Broken?
This isn't a fatal error for Vaillant boilers. This could indicate that your gas valve has failed or that your electronics have to be fixed. It may be necessary to replace the PCB. This is costly and it is better to purchase a replacement boiler.
Can I use the Boiler with an F62 Error Code?
The boiler will lock out if it receives an F62 error code. The boiler is not safe to use. A lot of boiler error codes can trigger a lockout, especially if they're gas-related. These problems could be dangerous and must be fixed by a Gas Safe engineer to prevent further problems or in worst-case scenarios a boiler explosion.
How do I reset my Vaillant boiler following an F62?
The Vaillant boiler can be reset after the error has been fixed but it is not meant to be an all-encompassing solution.
The error code will not be cleared temporarily if the boiler is reset after it has been fixed. If the same error is found again, a lockout may be initiated and an F62 error code displayed.
Once the engineer has repaired the problem, your boiler will be re-set so you can start it up again.
How much does it cost to fix an F62 error?
Gas valve replacements can cost up to £340. A replacement PCB could cost up to £560. It is more economical to replace a boiler that has been in use for longer than five years.
There are many Vaillant fault codes. What is the best way to tell which fault code is correct?
Boilers can't pinpoint the cause of their failure. These error codes are not intended to diagnose the problem but serve as a guide.

There may be multiple error codes that are related to the same issue. An F62 error code might appear alongside F28 or F29, for example. F28 and F29 are both signs that the gas valve was not properly adjusted. F62 means that the valve may be defective.
The cause of the problem is not yet known, but the combination code indicates that an engineer can identify it as the gas valve. If you think that your boiler could start having more problems but you don't want a new one, consider a boiler cover plan from Boiler Central to pay for all or some of your repairs.
Is the F62 error a sign that I need a new Vaillant Boiler?
Gas Safe's top engineers can help you price your job. However, if you have an older boiler, the F62 fault code may just be the beginning of many fault codes. It may be cheaper to look at new boilers if your Vaillant ecoTEC boiler has been in service for more than 10 years.
New boilers are more efficient than ever, so you can start saving money on your energy bills immediately. Find out the cost of a new boiler here to see if it is a better option to spend your hard-earned cash.
Other Vaillant error and fault codes
See our other Vaillant error and fault codes to help you fix any issues you may have with your boiler.