Vaillant F22 Fault Code Meaning, Causes & How To Fix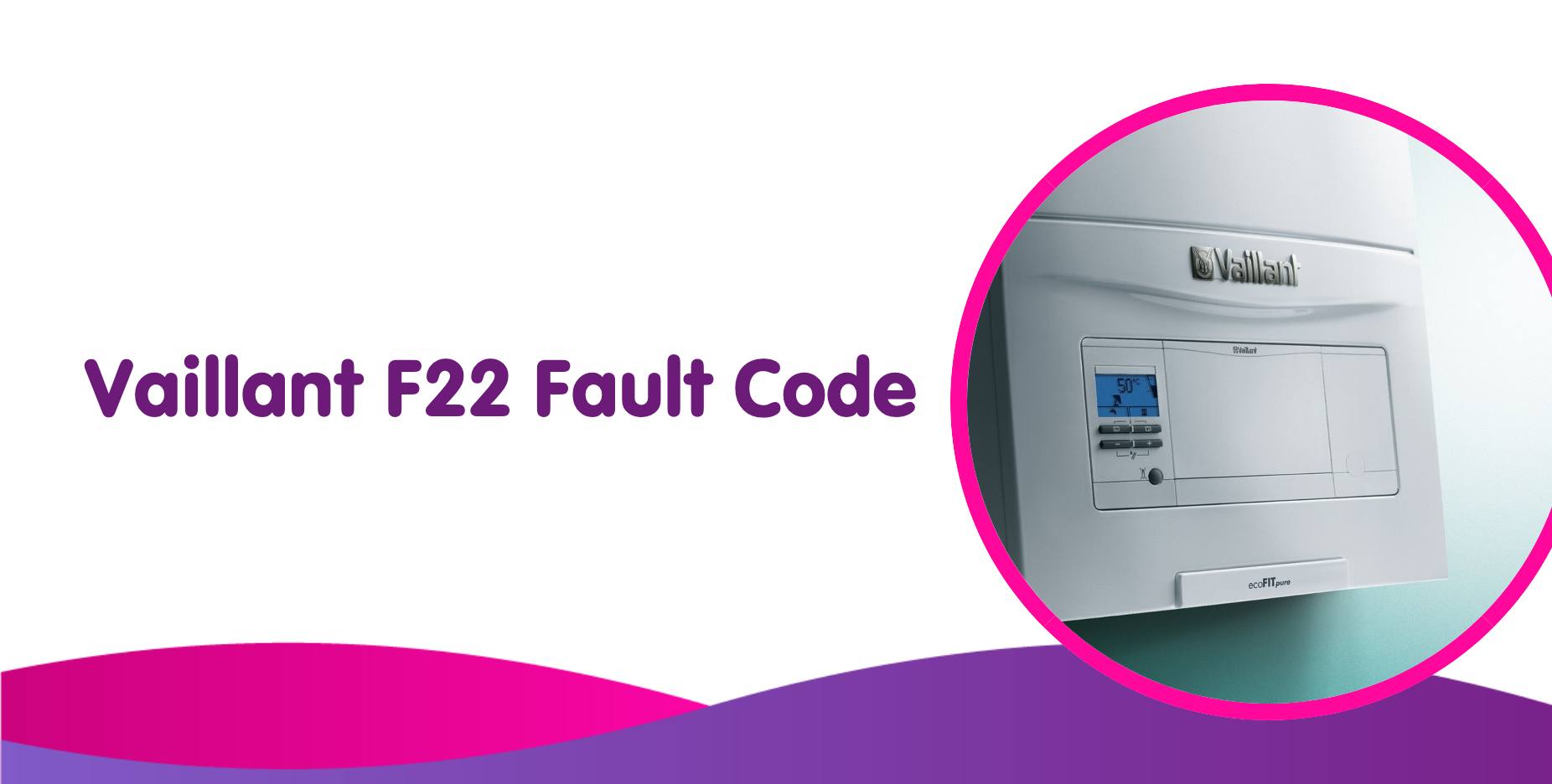 F22 Vaillant fault code on boiler: What does this error mean and how to fix it?
F22 fault codes for Vaillant boilers are the most common error codes and they are also one of the most prevalent Vaillant boiler issues as it's related to low boiler pressure.

It is easy to correct the underlying issue of the Vaillant F22 error, therefore, if your boiler is losing pressure, you may need to have it checked for water leaks. A Gas Safe engineer will be able to assist you.
It may be cheaper to replace an older boiler with a more efficient one as old boilers become less efficient over time and break more frequently so a new boiler or boiler service is recommended to lower your gas bills.
Book a Vaillant boiler service nationwide:
Book my service
Get an online fixed price in 20 seconds:
What kind of fuel does your boiler use?
What does Vaillant F22 Error Code mean?
Answer: The central heating system has low boiler pressure
The Vaillant F22 error codes indicate low water pressure. To correct the problem, you will need to increase the water pressure. Vaillant ecoTEC boilers must work at the correct pressure. If the water pressure falls below the required level, the boiler will display the F22 error code.
If the water pressure drops below the required level, the boiler will lock out and both central heating and hot water will cease to work.
According to the Vaillant user manual:
F22 Safety Switch-Off: Low Water Pressure
There is no/insufficient water or your central heating system and the water pressure is too low
Verify: Plug, cable, or heating pump water pressure sensor, water pressure sensor heating pump.
Activate and purge
If you suspect that your Vaillant boiler is having problems, it will be necessary to check the fault code first. Your boiler may not show an error code. However, this does not mean you are in any way affected. We can help explain the Vaillant F22 error codes so that you can take steps in order to get your central heating system working again with enough pressure.
Get an online fixed price in 20 seconds:
What kind of fuel does your boiler use?
What is the correct Vaillant water pressure?
According to the pressure gauge, your Vaillant boiler must have a water pressure equal to 1.5. The boiler will continue to work if the water pressure is below 1.5. However, a warning code will display and the boiler will stop working for your safety. You must repressurise your Vaillant boiler to get it working again.
What Are the Common Causes of Vaillant F22 Fault codes?
Vaillant boilers can not ignite if there is insufficient water pressure. This can prevent the boiler from heating your water and your home. It is essential to determine the root cause of the problem before you can fix it.
Boilers experience a loss of pressure over time. The process is gradual, however. If the pressure suddenly drops, a boiler could be at risk of leaking.
It is not a good idea for you to attempt to repair a Vaillant boiler's leak. This job should be handled by a professional heating engineer. If you find a leak in your boiler or your pipes, shut off your water supply immediately.
Your system may not be leaking. The boiler's pressure sensor, lead or pump could be at fault. A qualified boiler engineer should identify and fix this problem.
What is the Vaillant Boiler F22 Fault Fixed
While you wait for your Gas Safe registered technician, you can temporarily start your boiler.
After your boiler and system are cooled, locate the charging link (also called the filling ring).
Under a Vaillant ecoTec boiler, you will find two grey plastic knobs. They will be sealed. You can turn these knobs to let water flow into your heating system, increasing boiler pressure.
Other Vaillant boilers will also have an external filling loop. It looks like a grey flexible hose that connects two pipes. It can be found below the boiler in a cylinder cabinet or behind the washer machine.
Once you have located the filling loop, the valves on either side will have flat head screwdriver slots or a black plastic handle. Both valves need to be opened in order for water to flow into the boiler and increase its pressure.
Whatever type of filling system, close all valves. Never leave the boiler unattended for longer than 1 bar. This could cause more damage.
You may need to reset the boiler after you have re-pressurized it. For five seconds, hold the reset button down.
Get an online fixed price in 20 seconds:
What kind of fuel does your boiler use?
Quick Repair of the F22 Error code
This issue must be resolved quickly. A Vaillant boiler F22 error code could cause no hot water from your boiler or central heating. This error code can be fixed by a registered Gas Safe engineer. Not only is a registered Gas Safe engineer highly skilled in the repair and maintenance of Vaillant boilers that have an F22 error code, but you may be able to resolve this boiler pressure issue.
Do you know of any other Vaillant Boiler Fault codes.
Many error codes can be displayed by Vaillant boilers. F22 is one error code. If you are having an issue with your Vaillant boiler, you may see an error message. Please let us know the error code when you call to schedule a repair. When we visit your house, we will be able repair the system and get it running again. Our team is highly trained to deal with any Vaillant boiler problem or if you need a replacement boiler.
Other Vaillant fault codes
See below our Vaillant fault code list to help you diagnose any issues with your Vaillant boilers.
How can I fix the F22 Vaillant error code?
While you could attempt to fix the Vaillant F22 error codes by yourself as it is only related to the low boiler pressure, a registered Gas Safe engineer will be able to help you quickly and safely. Contact us today to get a quote or to schedule your boiler repair.
We also offer regular Vaillant boiler service plans to ensure that your unit is looked after and the warranty is kept valid every year.
Get an online fixed price in 20 seconds:
What kind of fuel does your boiler use?