F32 Vaillant Fault Code Meaning, Causes & How To Fix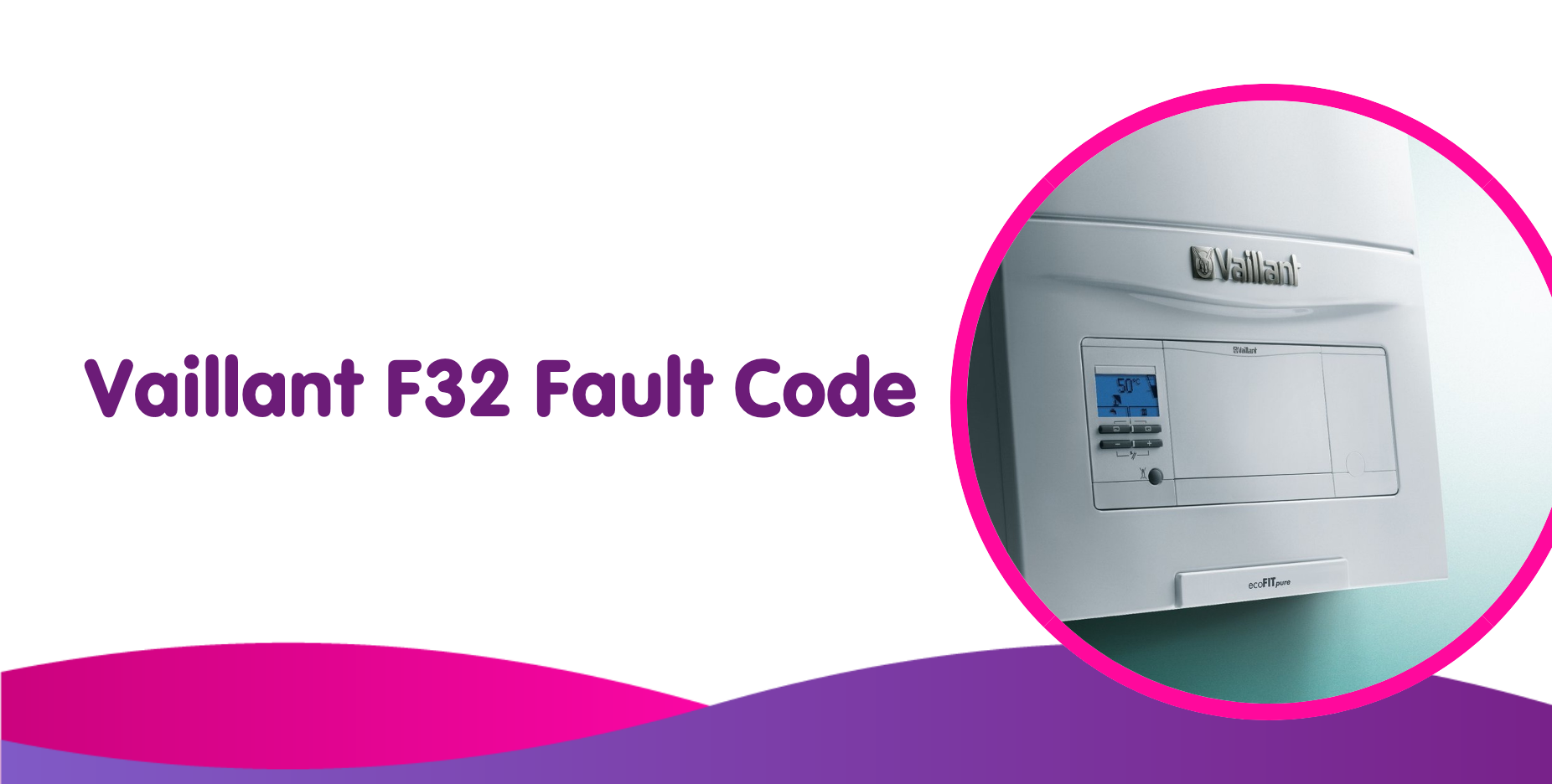 What does the Vaillant F32 fault code on the boiler mean?
If your Vaillant boiler displays the F32 fault code, then there is an internal issue that needs fixing. This can cause the boiler to not ignite properly and prevent hot water or central heating from turning on or off.

Vaillant F32 fault code refers to an error in the ecoTEC boiler's air system. This applies to all Vaillant ecoTEC models. Often there is a humming noise accompanied with the F32 fault code.
F32 errors may be caused by a number of factors, including a blocked flue pipe or fan failure, fan malfunction, and communication problems between the fan circuit board, fan, and fan. If you are not skilled, it can be difficult to diagnose the problem.
Sometimes replacement parts may be required. It is best to get the help of a Gas Safe Registered engineer if you fix this error code for a Vaillant boiler.
Old boiler over 10 years old? Find out which are the best boilers to buy right now
Get an online fixed price in 20 seconds:
What kind of fuel does your boiler use?
What's the Vaillant F32 Fault Code?
When there is an air problem, the F32 error code will be activated. This means that the fan is experiencing problems. This could indicate that the system is not correctly removing waste gases. The Vaillant boiler should be turned off to ensure safety. The boiler may have locked out already.
The boiler's display may not be what you expect, but the F32 error code is a warning sign and helps to identify the problem and you will likely need a Gas Safe engineer to fix an air fault. We always recommend a Vaillant boiler service every year to decrease the likelihood of errors and faults happening.
Vaillant boiler fan problem
A Vaillant boiler fan is made of sturdy components. It is unlikely that the fan will fail. If there is moisture in your device, it can cause damage to the electronics. If the flue pipe has not been installed correctly, you should consult a heating engineer.
A jammed motor, worn bearings, or age-related wear could cause fan problems. If you hear unusual sounds like a hum coming from the boiler, it could indicate a problem. It is important to identify the problem so that they can order a replacement fan or determine the extent of bearing damage.
PCB Communication Error
In Vaillant boilers, it is possible for fan and printed circuit board communication interruptions to occur. Your PCB might not detect the fan, so it may continue to work. The F32 fault code will also be activated if the circuit board does not permit the boiler to ignite. Once the boiler has entered lockout, it will not turn on.
Blocked flue pipe, or improperly installed flue
If the flue pipe is not installed correctly, it is possible for water to escape through the flue system into the boiler's electronic parts.
Most boiler flue pipes include some protection to prevent air from clogging. The guard may not be present, meaning that the flue could have been blocked. This could cause an error code. Even if the guard is present, it could mean that one or more flue internal parts are blocked. This happens when the pipe becomes blocked, not the component. This would activate F32 code.
How can I fix Vaillant F32 errors by myself?
Gas Safe Engineers can diagnose the problem and replace or remove any blockages. You must not open a boiler yourself as it is dangerous and could lead to more problems or in the worst case scenario a gas leak or explosion.
How can you fix an Vaillant Boiler F32 fault code?
It is important to identify the root cause of the error before you can correct it.
A professional can either repair or install preventative measures to prevent a blocked flue from occurring again. A new flue installation might be cheaper if the flue is more complicated or older. This would reduce the chance of error codes repeating and speed up repairs.
Flues that are not properly installed or leak must be replaced. To prevent future problems, you can correctly reinstall flue pipe. Replacement costs for fans range from £185 to £315 inclusive of labour.
A communication fault on the circuit board could cause the problem. This repair is costly. It would cost a lot to replace the PCB. A replacement boiler is possible, especially if it's an older model.
Does the Boiler need to be reset after the F32 Error was fixed?
After fixing the F32 fault, it is important to reset your boiler. It is crucial to reset any Vaillant boiler in order to avoid further damage.
Contact a professional to diagnose F32 errors.
My Vaillant boiler fan is constantly humming – how can I stop it?
Although you can lower the fan speed to reduce the hum, this will not result in proper expulsion of the waste gases through the flue pipe.
If the gases are not expelled properly, the boiler could lock out.
Although you can reduce fan speed to decrease the annoying humming sound, this will only make things worse.
Does the F32 Vaillant fault code mean i need a replacement boiler?
Old Vaillant boilers may become less efficient with time. These boilers are also more costly to repair and can cause more damage. A qualified professional may recommend a replacement boiler. You can get a fixed price quote online in seconds and compare brand new boiler costs online with Boiler Central now.
Other Vaillant fault and error codes
See below our other Vaillant fault code guides to help you get your boiler back up and running.