Vaillant F24 Fault Code Meaning, Causes & How To Fix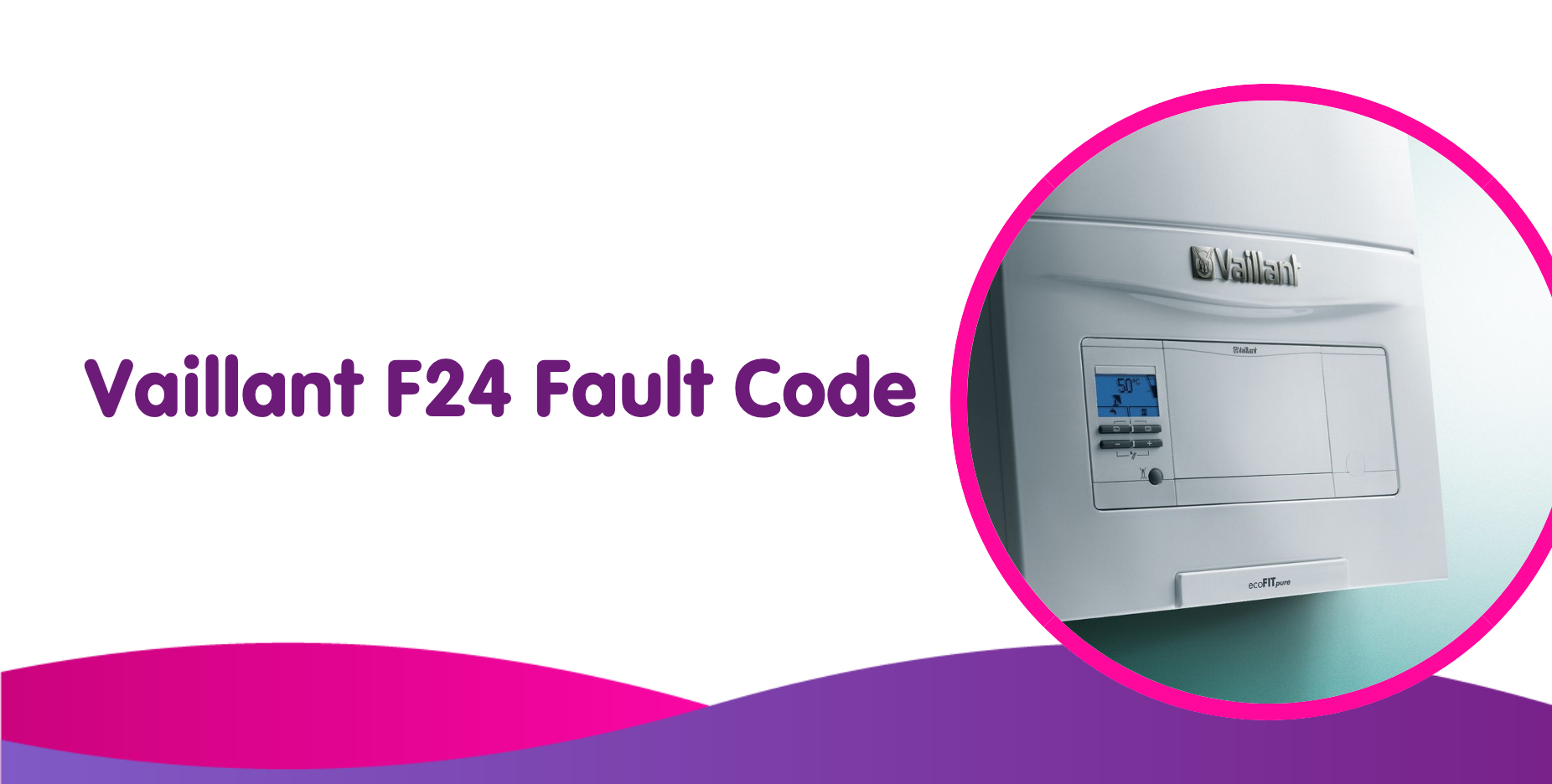 F24 Vaillant Fault Code Meaning & How To Fix It
Vaillant F24 refers to an error code that indicates there isn't enough water in your boiler.

It can be caused by simple, inadvertently closed isolation valves, or a more serious problem such as a faulty PCB or blocked heat exchanger.
This error is affecting Turbomax plus 824/828E models as well as Ecomax Pro18/28E, Ecomax Pro828E, and Ecomax Pro82E models.
If you have one of these models then you likely have an old boiler that is becoming much less energy efficiencnt and starting to need more boiler repairs. Check out the latest and best combi boilers right now, it may be cheaper in the long run.
Get an online fixed price in 20 seconds:
What kind of fuel does your boiler use?
What does the Vaillant F24 fault Code refer to?
The Vaillant boiler F24 fault code is a single error but can be applied to many errors.
To diagnose the problem, your engineer will need to conduct a diagnostic.
The fault code will identify the problem:
Pump failure
Closed isolation valves
Air lock in boiler or heating system
Debris can block the heat exchanger
How easy is it to fix F24 fault codes on a Vaillant boiler?
The easiest and simplest fix would be that someone might have turned off the isolation valves underneath your boiler and not turned them back on.
If they are closed, the heating system will be unable to obtain the water it needs to function.
This will then show the Vaillant F24 fault code.
An engineer can diagnose the problem and inspect all parts to determine if isolation valves are the problem. If the problem is serious, it may be time for a replacement boiler. Get a fixed price quote with Boiler Central now.
Get an online fixed price in 20 seconds:
What kind of fuel does your boiler use?
What does Vaillant F24 Error mean?
Boilers heat water by allowing it to flow through them. To function, this requires constant water flow.
F24 errors on Vaillant boilers mean that the boiler has not been working due to insufficient water.
What Causes an Error in F24?
F24 errors may be caused by many reasons that your engineer can diagnose. Here are some of the most common reasons. Many of these errors or faults with Vaillant boilers can be picked up by getting an annual boiler service.
At Boiler Central we offer different boiler cover plans too that all include a free annual service and we even do the remembering for you.
Isolation Valves
If the F24 is triggered by the F24, it could happen if the boiler has been serviced recently and the isolation valves were left open by accident. If this is the reason for the Vaillant F24 fault, it is probably one of the best options.
Faulty pump
F24 error code can be caused by a faulty pump. There are many possible causes of this error code. If the problem is caused by the central heating pump, it can be repaired. Find out all about central heating pump replacement costs here.
Internal components seized
It could have been a boiler failure or a seized part. It's easy to find out if this has happened.
The boiler pump should be kept warm, but not too hot. An internal part that is stuck can cause the motor's to heat up and work harder.
If the pump vibrates and is extremely hot, it's possible that it has a seized component.
Debris
Heating sludge and debris caught in the pump can trigger the Vaillant F24 fault.
Water deposits can build up in the main heat exchanger, which can cause heat sludge. This can block heat flow and cause heat exchangers to become blocked.
Limescale and iron oxide buildups can also affect the central heating system.If these get into the heat exchanger then this is when serious problems arise and costs start to rise for repairs.
Speed Setting
A boiler pump can be set to run at different speeds. A faster setting is required for larger properties, while a slower setting will be needed for smaller ones.
If the speed setting for a large property is not sufficient, an F24 error will be generated.
Airlocks
An air lock is small bubbles of air trapped in the system. It can dramatically slow down or stop water flow.
An airlock could have triggered the f24 in your pump or towel rail, radiator, or other heating systems.
Electrical Error
An issue with the communication between the pump and the PCB could be caused by a malfunctioning central heating pump or a wiring problem. This could cause the F24.
How to Fix an F24 Vaillant Error
The valves can simply be opened if the error was caused by closed isolation valves.
If the problem is with communication with your PCB, you will need to replace it. This can cost approximately £510. A boiler that is in danger of deteriorating is not financially feasible. It is much better to spend on the cost of a new boiler.
Airlocks can be solved by pressing down on the pump, radiators, or towel rails in your home.
Experts can inspect affected parts and offer advice on how to clean them or replace them if they are damaged.
Can you Fix a Vaillant F24 Error Yourself?
If the isolation valves have failed, you can repair the problem yourself. The valves will be located below the boiler. The slot for the screwhead is parallel to the pipes.
The slots of the valves will not be straight if they are closed. You can fix this by using a screwdriver.
Sometimes a gentle tap on the pump can free stuck components. It is possible that the part has become stuck due to debris. A professional should be contacted.
You can manually bleed an airlock if you suspect that the problem is caused by an airlock.
Close the gate valves to stop water entering. Then, loosen the bleed screw slowly. Once the air has escaped, it will make a hissing noise and be replaced by a drip of liquid water.
Open the gate valves at all ends of your boiler to restore water flow.
You should flush all radiators for good measure.
How to keep your boiler from breaking down in the future:
Having your boiler serviced on a regular basis is the best way to avoid costly, inconvenient, and even dangerous boiler faults. In fact, you should have all gas appliances in your home safely checked and serviced by a Gas Safe registered engineer on an annual basis. Matter of fact, we offer a boiler cover with free annual boiler servicing, so instead of making a yearly appointment, you can rely on us to assist and check your boiler on a regular basis.
Other Vaillant error and fault codes
See our other Vaillant error and fault codes to help you fix any issues you may have with your boiler.
FAQs
Can you prevent the F24 error?
This could indicate a water shortage. This could be a sign of a leak.
A boiler leak is most likely to be caused by the central heating pump. The boiler could have new parts, but it is more likely that the seals are worn. An annual Vaillant boiler service could help to pick up on issues before they start.
Is there a different type of circulation fault?
Problems with circulation can result from a blockage in your heating system. This can happen with older heating systems that use a hot flush, or newer heating systems that use a pressure flush to get rid of heating sludge.
What can I do to stop the F24 error from happening?
Installing a limescale reducer on your heating system can help reduce the likelihood of F24 errors. This will prevent circulation faults and a build-up of heating sludge plus you can purchase a magnetic system filter that captures heating debris.
Does my Vaillant F24 fault indicate that I need a new boiler or heating system?
The top Gas Safe engineers can help you estimate your job. They can also help you decide if it is time to replace your boiler. Boilers older than 10 years can become less efficient and produce more fault codes. A damaged heat exchanger is the most expensive and serious problem that can be fixed however it may be more economical to consider looking at new boilers instead.