F83 Vaillant Boiler Fault Code Meaning, Causes & How To Fix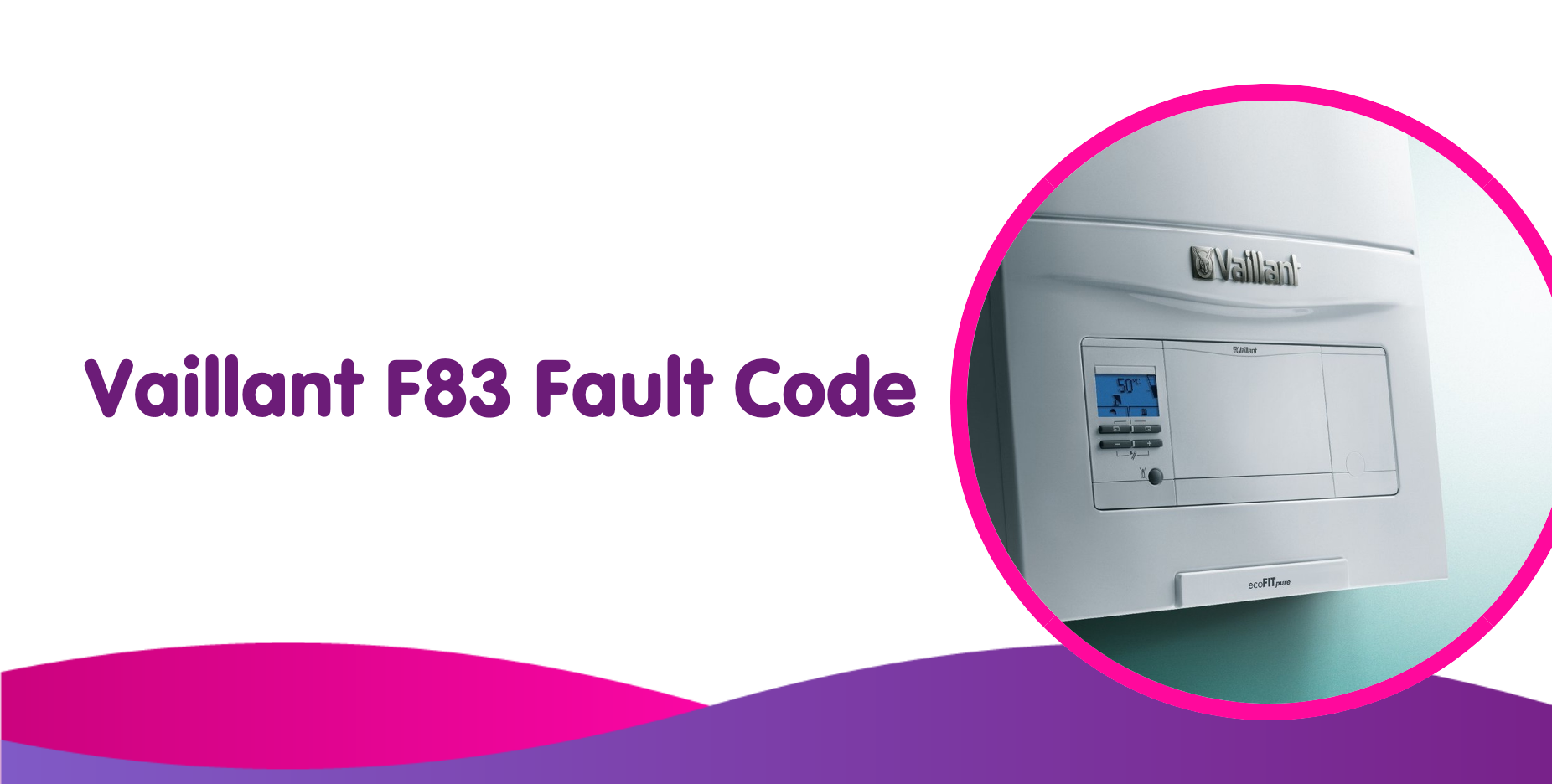 Vaillant boiler F83 fault code on boiler causes & how to fix it?
The Vaillant F83 fault code refers to the return temperature sensor, which detects insufficient temperature rises after the burner is lit.

When there is an issue with the central heating system or boilers of Vaillant boilers, a fault code will be displayed.
The F83 Vaillant fault code will allow you to either diagnose the problem or call a professional boiler repair company. Boilers can experience many fault codes. These fault codes can range from simple blockages, to maintenance and lockout problems.
This article will provide a more detailed look at the Vaillant F83 fault code. It can be fixed either by you or a qualified professional, depending on the fault code to get central heating systems back up and running.
Get an online fixed price in 20 seconds:
What kind of fuel does your boiler use?
What Does The Vaillant F83 Fault Code Mean
This is a common problem for Vaillant boilers and shouldn't be a concern. It must be addressed to ensure that your boiler heats and provides hot water at its best. There are many reasons why Vaillant boiler fault codes may be displayed.
If your boiler is getting old, however, it may be worth considering how much a new boiler cost compared to your boiler repair bills.
Vaillant F83 error is used on ecoTec Plus models.
F83 is a fault code indicating that the boiler detected a temperature difference in the return or flow pipes. This warning code can be caused by incorrectly calibrated thermistors or faulty wiring. If you get a Vaillant boiler service every year, this can stop issues like this from happening.
Low boiler pressure
Low pressure can lead to problems. If this is the case, you can repair it yourself. This f83 error can be corrected with the help of a Gas Safe Engineer. This error may also need parts replacement if your boiler pressure keeps dropping, but usually you can fix low boiler pressure yourself.
Temperature sensor for returning faulty
Your water's return temperature sensor may have been incorrectly or improperly placed inside the pipe. Low pressure in your boiler system could be a sign of low pressure. An F83 error code can also indicate a problem in the wiring or a damaged or loose connection to the PCB. A boiler engineer can fix loose connections.
Faulty heat exchanger
The boiler could also have a problem with its heat exchanger. Low temperatures can result. This could be due to a malfunctioning gas valve or low gas flow within the system. This could lead to heat transfer being restricted or too low. If you have a faulty heat exchanger this could lead to bigger problems.
The heat exchanger is the main component in your boiler that gets your water hot. If this breaks you will never be able to have any hot water until it is fixed.
The gas valve not correctly adjusted
They can easily be replaced if they become damaged or worn. An incorrectly adjusted gas valve can be quickly and easily fixed. However, a faulty gas valve must be replaced.
Vaillant F83 is a complex error code that indicates a problem with the Vaillant boiler. This should be addressed immediately by a certified Gas Safe registered boiler technician.
F83 does not always mean that your boiler is damaged. This could be caused by parts or sensors not working properly. Your boiler could stop working properly. If the problem is caused by an internal leakage, a replacement boiler might be required. It will continue to display the same code otherwise.
How to fix an F83 error code
New thermistors do not come with new wires so it is essential to check all wiring for faults and damage. If the wiring is the problem, you'll need to replace your thermistor.
A problem with the heating system or boiler can cause low pressure. A leak in the boiler or the pipework can also cause low pressure.
Although you may be able to spot a boiler leak by yourself, a Gas Safe Engineer should call in to fix it.
How can I tell if my Vaillant boiler should be repressurised.
The Vaillant boiler's screen displays the low water pressure F22 fault code. The boiler should be repressurised if the water pressure sensor indicates that it is too low.
How do you top up the pressure in a Vaillant boiler
The filling loop is located under the boiler. This is a silver Flexipipe with one or more taps.
Turn the right-hand tap until it aligns with the pipework. To let water into the boiler, keep an eye on the pressure gauge.
Don't let pressure get too high. It should be at least 1.5. You can prevent accidental pressure rises by closing both taps after pressure has been balanced.
All The Vaillant ecoTec Plus models include a built-in filling loop. Two small taps are located under the boiler. Once the pressure has been rebalanced open both taps again.
Does F83 Vaillant fault mean a broken boiler?
F83 could be a sign that the NTC thermistors or wiring in your boiler need to be replaced. It does not necessarily mean your boiler is dead. This fault could be caused by boiler damage. This could result in the need to replace your boiler.
How do I reset my Vaillant Boiler following an F83?
A Gas Safe Engineer will reset your boiler after you have solved the problem. You can check if your problem is resolved by repressurizing the boiler and bleeding it.
How much does it cost to fix an F83 fault code?
A Vaillant F83 fault repair might involve replacing the NTC Temperatures or wiring. The parts are relatively cheap. This is an error that a boiler engineer can fix easily, even though it may cost more to repair than the parts.
Other Vaillant error and fault codes
See our other Vaillant error and fault codes to help you fix any issues you may have with your boiler.