Vaillant F61 Fault Code Meaning, Causes & How To Fix It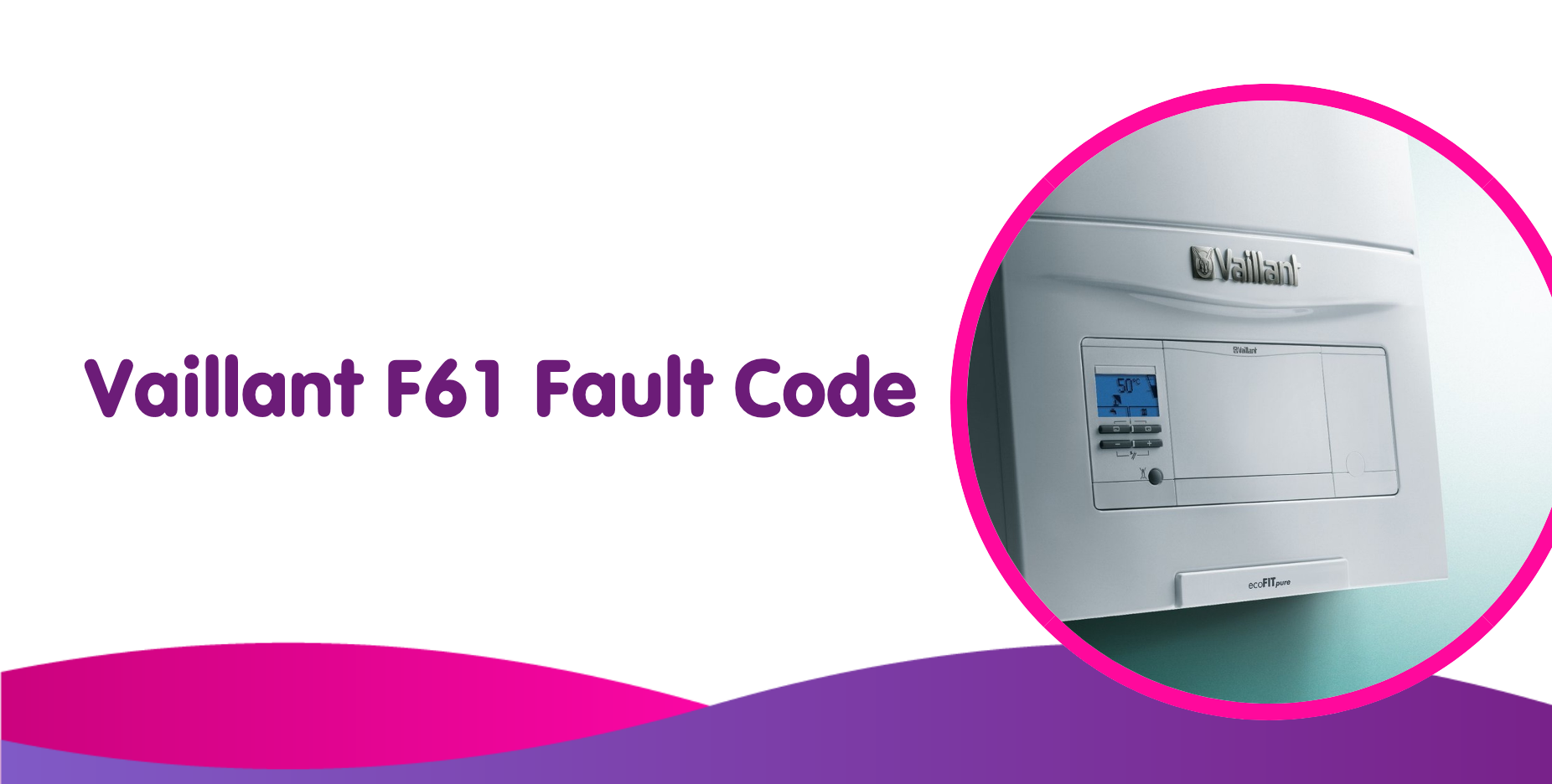 What does Vaillant F61 Error Code on boiler mean?
According to the Vaillant ecoTEC boilers' official website, the Vaillant F61 fault code will display when there is a gas valve actuation fault. As this is gas related, the boiler repair will have to be completed by a Gas Safe registered engineer.

What causes a faulty gas valve on a Vaillant boiler?
The gas valve in a Vaillant boiler can't be actuated when:
– The cable harness supply line to the gas valve is defective
– Problem with gas valve
– Boiler PCB issue
This is a gas-related problem so make sure you hire a qualified gas engineer to repair your heating system. If your boiler is over 10 years old, it may be time to consider a replacement boiler. New boilers are far more energy efficient and if your Vaillant boiler has started with error codes, it could be the first of many.
Get an online fixed price in 20 seconds:
What kind of fuel does your boiler use?
Is your Vaillant boiler more than 10 years old? Request a quote here:
Get an online fixed price in 20 seconds:
What kind of fuel does your boiler use?
F61 fault codes for ecoTEC boilers
Vaillant ecoTEC boilers could display an F61 fault code due to a fault in the gas valve. This could be dangerous so it is crucial to correct it immediately.
The printed circuit board of your boiler monitors several sensors to ensure that it is running safely and efficiently. The Vaillant boiler F61 fault code means that your boiler is locked out to protect you.
What is the Vaillant F61 Error?
F61 faults can be caused by a gas-valve that is faulty or seized. These faults are not uncommon as they occur due to mechanical parts that wear over time. Sometimes the fault can be due to a problem with the valve or wiring, or communication problems in the boiler's circuit board.
If you get your boiler serviced every year then you can limit these issues and they can also be picked up early.
What is F61 on a Vaillant boiler?
Vaillant boilers have an F61 error code which means either the boiler or gas valve components are not communicating correctly. This could be due to many factors.
The valve has seized
Wiring problems
Malfunctioning gas valve
To determine the cause of your F61 code, a Gas Safe engineer should inspect the boiler.
How to fix the F61 Vaillant EcoTEC Error Code
Gas valve failure
The stuck gas valve can be removed and gas supply restored to normal. A Gas Safe boiler engineer will need to assess and repair the damage. If they can't free the valve completely, they may need to replace it.
Gas could be able to get into the boiler's combustion chamber through a partially stuck gas valve. This could lead to serious consequences. This could cause your boiler to run out of gas.
Wiring harness problems
Faulty wiring or connections can lead to problems. F61 error codes may also be caused due to faulty connections or wiring. Wiring can become loosened due to pump vibrations or fan noises. Alteration, a problem with a boiler, or water damage can cause connections to be loosen.Minor wiring and connection issues can be repaired and secured. Gas Safe engineers will usually replace the gas valve to ensure that the boiler is safe. This is usually more economical than having the boiler repaired.
Gas valve fault
Some gas valves are not repairable. Sometimes it's not financially feasible to repair a damaged gas valve. A boiler engineer can check the valve to determine if it is correct. It may need to be replaced.
PCB fault (printed circuit boards)
Faults with printed circuit boards. A defective gas valve can sometimes cause F61 errors. The problem could be caused by a problem in the wiring harness connecting the gas valve to the PCB.
The printed circuit board is your boiler's control centre. The printed circuit board is the control center for all electronic components. Wiring problems can become a problem. If the PCB is damaged, the boiler won't work properly and will shut down. The new boiler cost may be cheaper and is recommended as it can be costly to replace the PCB.
Who can fix F61 Vaillant error?
Vaillant F61 fault code can temporarily reset the boiler, but eventually, a Gas Safe registered engineer will need to diagnose the problem and fix it.
Vaillant F61 faults are caused by a component failure of your Vaillant boiler. Boiler repairs can only be done by Gas Safe certified engineers.
We recommend an annual Vaillant boiler service if this is your third or fourth experience with the fault. This includes system water analysis, and inhibitor topping up.
How do I reset my Vaillant boiler following an F61 error?
After an error occurs, a Vaillant boiler must be reset. This can be done by an engineer. You shouldn't try to fix F61 by restarting your boiler.
The boilers may be able to restart for a short time. However, the PCB will soon detect the same error and cause the boiler lockout.
The only way to correct the error code is to call a Gas Safe engineer. If the error code persists, call a Gas Safe engineer.
What is a Vaillant Gas Valve Replacement Cost?
Gas valve replacements can cost up to £320. Engineers are unlikely to have the correct boiler components so they will need it ordered. You might need to wait for the boiler to be repaired before you can order the complete gas valve assembly. You should only hire a Gas Safe certified engineer for any boiler repair or to get boiler replacement.
Other Vaillant error and fault codes
See our other Vaillant error and fault codes to help you fix any issues you may have with your boiler.