Vaillant F27 Fault Code Meaning, Causes & How To Fix It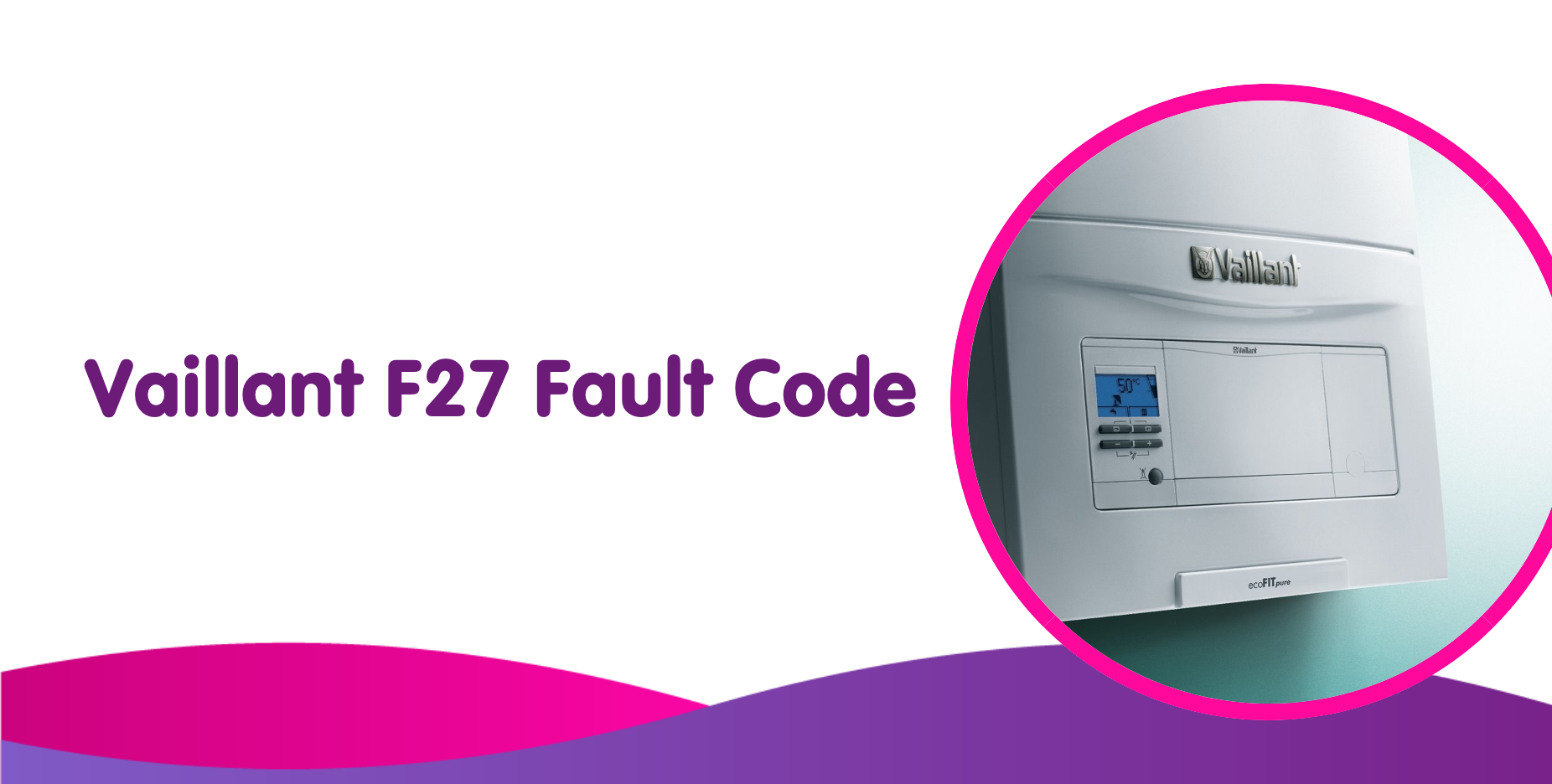 F27 Vaillant fault code meaning, causes & how to fix
Vaillant F27 error code is common in ecoTEC PRO or PLUS boilers. This error code is most common in 2005-2012 models, and it will likely need a boiler to be repaired.

It is most often caused by moisture that damages the electrical components or a defective computer board of a Vaillant boiler. This condition can also occur with F61 and F62 fault codes, which both relate to defective gas valves.
You will need to inspect the ignition components and gas supply of your Vaillant boiler for this problem. This error means that the boiler repair must be carried out by a Gas Safe registered engineer.
Get an online fixed price in 20 seconds:
What kind of fuel does your boiler use?
What does Vaillant F27 Error refer to?
F27 is an error code that indicates that the Vaillant boiler detected an "incorrect flame". This means that the boiler detected a gas/flame ratio that is not sufficient to allow it to operate.
Vaillant F27 errors cause a lockout. The error will cause your central heating and hot water to stop working until it is fixed.
What Causes an F27 Valillant Error on the boiler?
Vaillant boilers claim that the F27 error code can also be attributed to a defective flame sensors. There could be other reasons. You can prevent most of these boiler problems by getting your Vaillant boiler serviced every year.
Broken spark electrodes or ignition leads
On Vaillant boilers, this error code could be caused by too worn spark electrodes and ignition leads. These parts are responsible for the flame. They can become damaged or worn out, and the flame won't ignite properly. This will trigger the F27 code.
This is likely to be the issue if the Vaillant ecoTEC boiler doesn't fire up.
Moisture on electrical components
Vaillant F27 faults are most often caused by moisture on electrical components.
You can either have water on the parts or water dripping onto them. A gas safe engineer will be needed to resolve this issue. This could be a problem if your boiler loses pressure frequently or quickly.
Malfunctioning PCB
F27 fault can be triggered from an electrical malfunction, but it isn't always moisture-related. F27 can also be triggered by a failure of a PCB.
The PCB controls all electric components of the boiler, including the flame sensor and temperature sensor. If it fails, it can cause serious problems.
This is what you see
A flashing display panel
Poor temperature regulation
Failure of the fan or pump
If the F27 code is displayed, the boiler flame will not be affected. The fault PCB has caused the error code to display.
However, this doesn't mean nothing should be done. If the PCB fails or becomes damaged, it must be repaired.
Gas valve is not working properly
The gas valve allows gas into the boiler. It controls the amount of gas that can be allowed into the boiler. It must provide enough gas to the boiler to produce a flame. As it is a gas valve problem, you will need to contact a gas engineer if your boiler shows the F27 fault code.
Defective flame sensor
According to the manufacturer's instructions, it could be the cause. It is not common. It can be easily tested by an engineer – provided the device conducts electricity well and is clean, it should work.
How to Fix an F27 Vaillant Boiler Error
To correct the error on your Vaillant boiler, you will need to contact a Gas Safe Engineer.
The fastest and most cost-effective way to fix the problem is to replace the damaged parts. These parts can be expensive and can take a long time to replace. If the boiler is older than 8 years, then you should consider getting your boiler replaced.
How can you fix a Vaillant F27 error yourself?
If you suspect there might be a leak in your system and it is contributing to the Vaillant F27 error, then shut off your water supply until an experienced technician can fix it.
A sudden drop in the water pressure in your Vaillant boiler is an indicator of a leak.
You cannot correct this error. When you open the boiler cover, you are using a gas-powered appliance. It is not safe if you don't have the Gas Safe certificate.
It is easy to overlook the F27 problem, and then replace the wrong parts. This can result in huge, unneeded expenses.
For assistance, contact a Gas Safe registered engineer.
FAQs
My Vaillant boiler has lost pressure.
Vaillant F27 codes are not caused by low pressure. The Vaillant Low-pressure code is F22 but this can lead to water getting into the electrical components if your boiler leaks, for example from your heat exchanger. This could lead to an F27 error message.
How can I reset my boiler in order to fix an F27 error
Resetting the boiler will not only fix the fault code but also solve the problem.
You can reset the boiler after it displays an error code. If the boiler isn't fixed immediately, it will display the error code once again.
Once the problem has been fixed by the registered gas safe engineer, you can restart your boiler.
Can the ignition leads and electrodes of an ignition system be reconditioned instead of being replaced?
If the problem is caused by them, they can be repaired. If you require a Vaillant gas boiler repair, however, the cost should not exceed £125.
A boiler won't turn on if it shows an F27 error code.
When the code is first displayed, it will just show the relevant code to what has gone wrong.
The Vaillant boiler will eventually lock out, out, and then stop and will not be able to be reset. It is best that you call a Gas Safe Engineer as soon as you notice the fault code.
Is the F27 fault code a sign that my boiler needs to be replaced?
You can get a fixed price quote online for a complete boiler installation. Considering how much a how much a new boiler cost might be an option if your boiler is older than 10 years. You could save on your gas bill by switching to an energy-efficient A-rated new boiler. Get a fixed price quote online now including installation by one of our fully qualified gas engineers now.
Other Vaillant error and fault codes
See our other Vaillant error and fault codes to help you fix any issues you may have with your boiler.