F20 Vaillant Fault Code Meaning, Causes & How To Fix It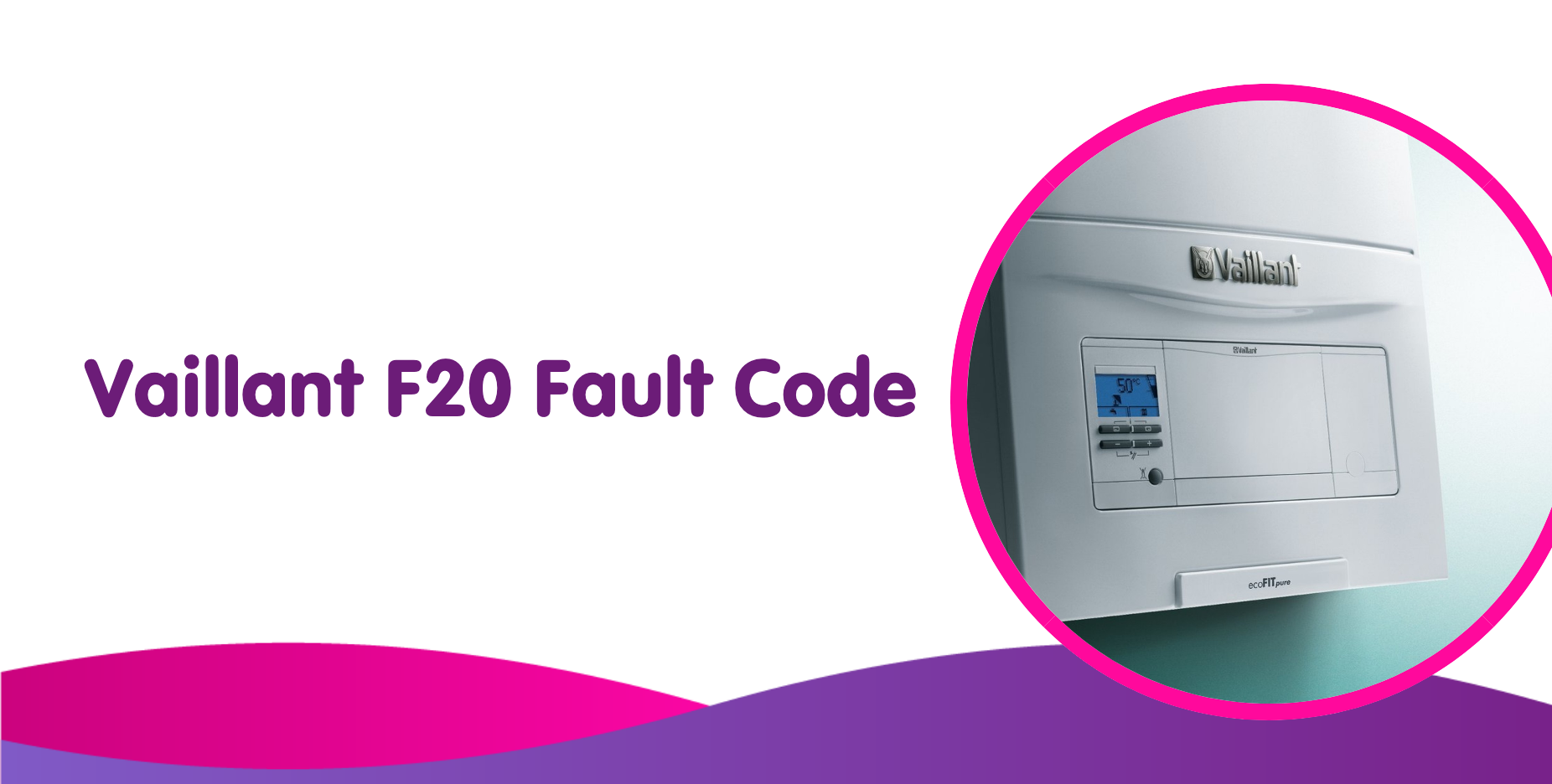 Vaillant F20 Fault code meaning, causes & how to fix it
The Vaillant F20 fault code is displayed if a boiler heats too much. When a Vaillant boiler overheats luckily they include a safety feature called a lockout. This is a failsafe that kicks in when the boiler stops working within its operating range. This protects you and your boiler from in a worst-case scenario, overheating.

Low pressure, high pressure, and system blockages can all cause overheating which can then lead to boiler lockouts.
The F20 Vaillant error code indicates that the ecoTEC boiler's thermistors have detected excessive heat within the boiler.
This means that water in the boiler is at temperatures above 97°F, which is beyond the operational range of a Vaillant ecoTEC boiler, therefore, deeming it to be unsafe.
Get an online fixed price in 20 seconds:
What kind of fuel does your boiler use?
My Vaillant boiler locks out and shows an F20 fault code.
A fail-safe like a boiler lockout is designed with two things in mind:
You should protect the boiler's internal parts from damage
Protecting the residents of a property from an unsafe boiler
It is not a good idea to risk your safety or the safety of your boiler parts, your property or your health.
Before you reset the boiler, make sure to inspect the problem but do not attempt to fix it unless you are qualified. You should contact a Gas Safe registered heating engineer to fix any Vaillant boilers.
What are the most common reasons for the Vaillant F20 fault code to appear?
Vaillant boilers that are overheating and causing a boiler lockout could have any one (or more) of the following problems:
Broken fan
Faulty thermistor
Heat exchanger Kettling
PRV's blocked (pressure relief valve)
Limescale close to the thermistor
Do I have the ability to fix the F20 boiler fault myself?
Untrained professionals should not work on gas appliances. Call an emergency gas engineer.
More importantly, many issues that are related to a boiler lockout or overheating, as well as an F20 error, can be attributed to bad installation or repair work, which are people who have attempted to fix the problem.
Incorrectly diagnosing and fixing boiler overheating could lead to expensive parts being damaged, such as heat exchangers. if you are unsure, one way to ensure that your boiler is working is to get an annual boiler service every year by a Gas Safe registered heating engineer.
Vaillant boiler shows F20 and turns off after a short period of time?
Due to the amount of time it takes for the boiler to overheat in this case, it sounds most likely to be a faulty fan.
The older your boiler is, the more likely it will overheat when it detects an F20 error. This is especially true if the fault is fan-related.
A brand-new boiler, for example, will heat up in 10-20 minutes. Older boilers take 20-30 minutes.
This is because modern boilers are more efficient (A-rated boilers have over 89% efficiency), and they heat up faster and the thermistor will monitor temperature of the return and flow pipes.
If the temperature gets too high, the boiler's computer (PCB), switches off the heat and activates the fan to cool the boiler's internal parts.
The water will naturally cool if the fan is damaged, but the boiler will freeze if the fan is not working.
How can I fix the F20 fault if it's the fan?
Call an engineer to diagnose the exact problem (i.e. the fan) however fans can be expensive so it would be foolish to replace them without knowing the facts, but if you are lucky enough, parts of the fan can be replaced instead of the whole fan.
My boiler pipes aren't hot but the Vaillant boiler displays an F20 fault code
The boiler doesn't have to overheat, for it to think it has and the thermistors are used to monitor heat flow and return in a boiler.
They tell the boiler to turn on when the heat has dropped below the desired level and then they tell the boiler not to turn off if the heat reaches a certain level or if the boiler is heating beyond its desired temperature.
A bad thermistor can cause a boiler to not fire at all or to not reach a temperature as it's simply not properly monitoring the temperature and turning off your boiler, therefore it believes it is hotter than it really is.
Is my boiler pump hot? What is causing the F20 error on my Vaillant?
If your pump is hot to the touch, it's usually because internal parts have seized.
This can be done by flushing the pump. However, it is necessary to identify the source of the problem.
It is likely to be:
A pump that is old and needs to be replaced
The pump clogged up with dirt because the central heating inhibitor and boiler filter have not been installed.
A faulty pump can cause the F20 fault.
A faulty pump, however, is more likely to be related to an "inadequate circulatory" fault like the F24.
My Vaillant boiler sounds like a kettle
Boiler kettling is more common than you might think. It makes boilers incredibly noisy, and malfunctions at the same time.
Limescale can be a problem in areas with high mineral content and hard water.
This is a buildup of minerals that attaches to itself almost everywhere and it is common for limescale to form hotspots on the heat exchanger unit.
This could mean that water has been heated to the boiling point, or even to the point it makes whistling and kettling sounds.
Two problems exist here, first, this will cause your Vaillant's thermistor to sense temperatures that cause lockout and F20 errors and the problem is that kettling is occurring in the first instance.
The heat exchanger in a boiler is the most expensive and important component, therefore if the heat exchanger is kettling, then hotspots can create weak spots. This can lead to the heat exchanger cracking and a cracked heat exchanger cannot be fixed; it must be replaced, which unfortunately will cost you hundreds of pounds.
If you suspect your boiler is kettling, turn it off immediately and call an engineer.
You'll hopefully have it caught in time and won't need to replace the heat exchanging unit.
There was a PRV leaking – What should I Do?
The boiler's computer will show the most relevant fault code.
A PRV that has been blocked or removed to stop a leak is not the right fix. It's possible for an F20 fault code (or other codes) to appear.
Vaillant boilers may not have the "pressure too high" fault code.
This could be the problem if there is an increase in pressure, rather than just a general high, which causes the PRV to kick-in.
It is easy to fix. Or, the PRV must be replaced.
It sounds like the kettling sound is coming from the pipes, not the boiler.
Limescale can get everywhere, not just onto the heat exchanger.
The pipes connected to the boiler might make a small, gurgling sound.
This will be caused by limescale buildup, similar to the heat exchanger.
The limescale buildup will cause hotspots, just like the heat exchanger.
These temperatures could be detected near the thermistor and not representative of the overall flow or return of the system.
It's hotter near the thermostat than it is overall. The thermistor assumes that all water in the system has reached too high temperatures. The thermistor will then lockout and display an F20 fault.
The boiler will cool off, then it will be reset and the same problem will happen.
You can fix the problem by identifying the hotspots in the pipework, replacing them and also replacing the thermistor if it has a limescale hotspot.
Is there anything I can do to protect my Vaillant boiler from the F20 error?
Get an annual Vaillant boiler service. An engineer will notice important things like a noisy fan (that could stop working), and a kettling heat exchanger (that's very costly to fix).
Consider fitting a limescale remover (also called a scale reducer) and this will catch any scale before it settles on boiler parts or creates limescale hotspots.
Search 'Hardwater map by Bristan to find out if your area is medium-high therefore you may consider fitting a limescale remover (also called a limescale reducer). This will catch any scale before it settles on boiler parts or creates limescale hotspots.
How can I reset my Vaillant boiler after an F20 error?
The majority of newer boilers have a reset (or incandescence) button at the front.
The EcoTec button looks like a flame, but has a cross-shaped design. This reset button can be pressed and held for the boiler to reset and allow it re-ignite.
This is a heat issue. Allow the boiler to cool down before resetting the boiler.
However, before you do this, make sure that the F20 error has been fixed on your Vaillant boiler otherwise it will lock out again if it does not.
Does the F20 Vaillant boiler fault code mean I need a new boiler?
This fault doesn't directly mean that you need a new boiler. If your Vaillant boiler is old, which would mean over 10 years old then it may be time to consider a new one to improve energy efficiency and stop the risk of expensive repair bills. You can get a fixed price quote now for a new boiler in under 20 seconds online with Boiler Central now.
Other Vaillant fault codes
See below our Vaillant fault code list to help you diagnose any issues with your Vaillant boilers.