Frozen Condensate Pipe and How To Thaw Frozen Condensate Pipes Easily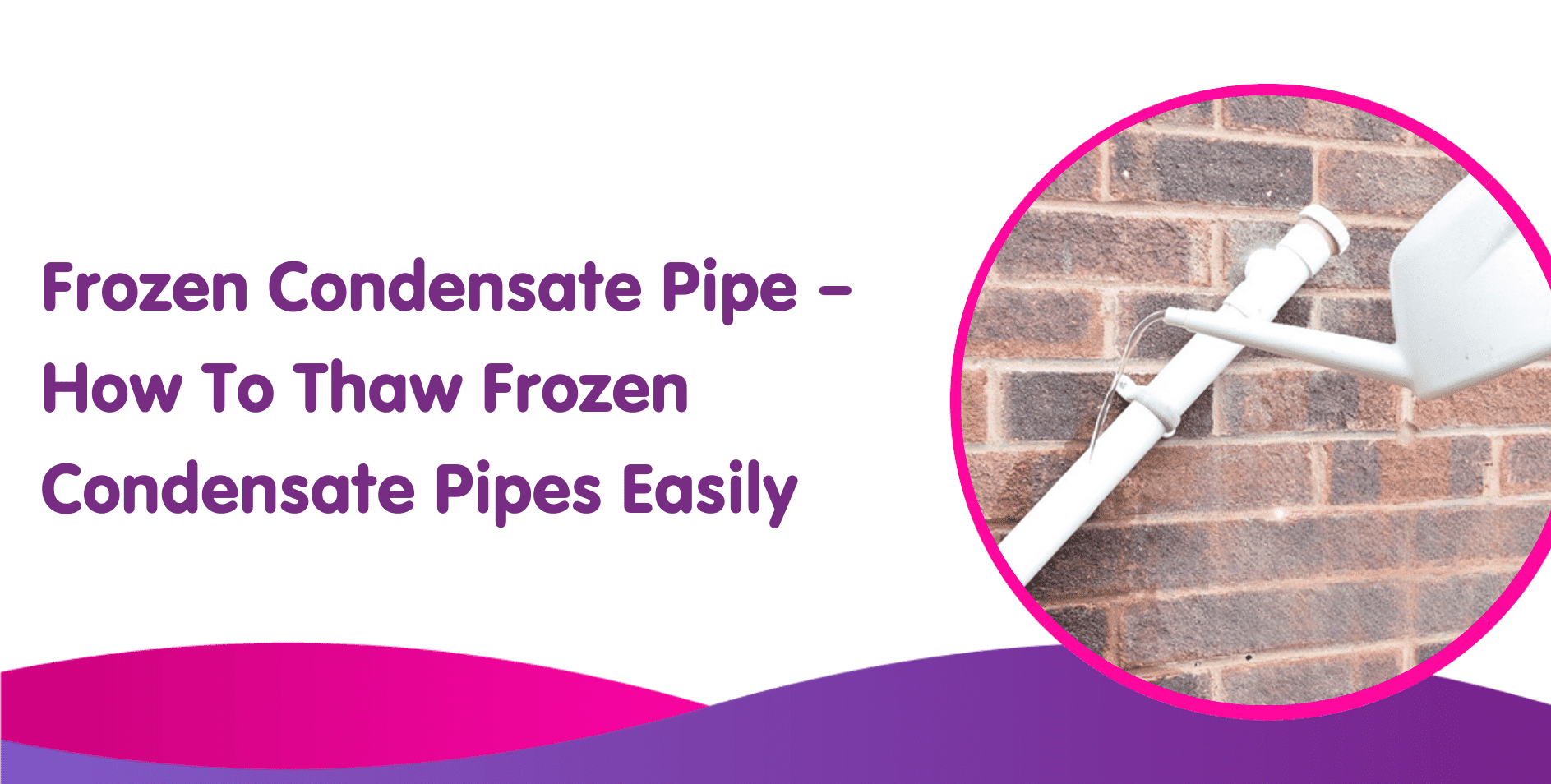 Frozen condensate pipe – What is it and how to fix it easily?
If you are lucky enough to have an energy efficient condensing boiler, then you will definitely have a boiler condensate pipe that is routed externally.
In sub zero temperatures it is likely to freeze up in the winter and affect the proper functioning of your boiler. More often than not, a lockout will occur or a frozen condensate pipe usually results in poor heating and a lack of hot water when you need it most.
Don't worry though! Your new boiler isn't broken or needs replacing, there are just a couple of easy fixes that can be done to unfreeze your condensate pipe and get your boiler back to normal. In short, to unfreeze your condensate pipe, all you have to do is:
Pour warm/hot water from the kettle over the frozen pipe. Make sure it isn't boiling so it doesn't damage the pipes or burn you.
Place a hot water bottle on the frozen pipe to unfreeze it.
Ensure that the pipe is properly lagged
You can insulate a condensate pipe to stop this from happening in the future
Get an online fixed price in 20 seconds:
What kind of fuel does your boiler use?
Can I thaw a frozen condensate pipe myself?
Often when your boiler is not igniting or firing up, we usually recommend calling a qualified heating engineer to check our boiler issues; thawing a frozen condensate pipe doesn't necessarily require a professional. Anyone who can heat water and carefully transfer it to a pipe outside using a jug can unfreeze their boiler's condensate pipe if it ever gets frozen.
The majority of households ins the UK have a gas condensing boiler, so our quick guide will show you how the best way to defrost a frozen condensate pipe. You'll also learn where condensate pipe freezing is most likely to occur and how to insulate the pipe well ahead of the frosty weather.
If it has caused more issues then take a look at the cost of a new boiler here to see if it is more economical in the long run, as getting a replacement boiler could be less hassle.
Watch our how to defrost a condensate pipe video
Get an online fixed price in 20 seconds:
What kind of fuel does your boiler use?
How to Know Your Condensate Pipe is Frozen
One of the first signs of a frozen condensate pipe is a lack of heating such as your radiators turned off or no hot water. This usually happens when temperatures drop below 0oC, a common occurrence in the winter season.
Here's another tip to know when your condensate pipework needs thawing. If you hear gurgling noises when your boiler is operational, the condensate pipe is likely frozen and will need defrosting so that you don't run out of heating and hot water in the colder months.
The good thing about condensing boilers is that they stop working if the boiler condensate pipe becomes blocked by ice to prevent possible damage if the boiler continues to work under such conditions.
In other words, your boiler's condensate pipe is likely blocked by ice if the appliance suddenly stops working in winter or if the control panel is displaying a fault code while the boiler turns itself off.
Want to prevent frozen pipes? Read about getting a boiler with frost protection here
Fault codes to look out for
Depending on the brand of boiler you have, there are a number of different fault codes that appear to tell you something is wrong with your boiler. Many of these codes are usually displayed due to no working boiler flame, a poor gas supply or your boiler heating up too fast, all of which can be caused by a frozen condensate pipe.
The fault codes that you should look for if you are having boiler issues are:
These are some of the most common fault codes caused by a frozen condensate pipe on the most popular boiler brands in the UK. Should any of these fault codes pop up, make sure to check out your condensate pipe to see if it is frozen and, if so, pour warm water or use a hot water bottle to unfreeze it.
Where is the Condensate Pipe?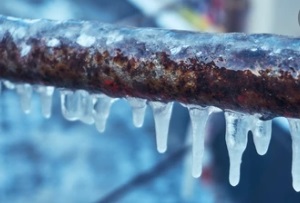 Before defrosting a condensate pipe, you need to locate the pipe first, right? Thankfully, an external condensate pipe is not difficult to find. Don't confuse it for your overflow pipe however.
The pipe is usually made of plastic and runs from your boiler to an existing waste pipe in your home's drainage system, external drain pipe, or soakaway. It is typically located outside your property, particularly if it is not routed to an internal waste pipe.
Where is Freezing Likely to Occur in the Condensate Pipe?
External pipes carrying wastewater away from your home can become frozen at any point along their length due to continuous exposure to chilly weather during a cold snap.
However, you can quickly figure out the exact point where the pipe is frozen, so you won't have to rely on guesswork to defrost the frozen condensate pipe.
Visually inspecting the pipe should tell you where ice is blocking it, but the two likely points where the pipe is likely to freeze are:
At the elbows: Water usually collects at the elbows or joints of a pipe, so you can expect the condensate pipe to freeze at its joints.
At the exit: Water trickles from the exit into the drain, so it is normal for ice to form around the pipe's exit when the water is exposed to below freezing temperatures.
How to Safely Thaw a Frozen Condensate Pipe
As earlier mentioned, there's nothing too complicated about defrosting a frozen condensate pipe. Still, it is important to know how to do it safely to avoid further damage.
Use any of the methods below once you've identified the frozen section in the condensate pipe.
Pour Hot Water Over the Frozen Section of the Pipe
Heat water in a kettle. Make sure the water is not boiling, as that could damage the pipe, or you may accidentally burn yourself. However, if the water gets to a boiling point, allow it to cool down for a few minutes before proceeding with the rest of the steps.
Carefully pour the warm water into a container, such as a jug or watering can, and bring it outside to the frozen pipe.
Gently pour the warm water over the frozen section of the pipe.
Restart your boiler after unfreezing the pipe.
Place a Hot Water Bottle on the Pipe
If you can't access the pipe or don't feel confident about pouring hot water on the frozen spot, consider placing a hot water bottle on the pipe.
To do this:
Fill a water bottle with hot water.
Place the water bottle on the frozen section of the pipe to thaw it.
Restart your boiler once all the blockages are melted.
This method usually takes a long time, especially if you need to defrost several sections of the pipe.
Two Things You Should Never Do to Your Frozen Pipe
Only use hot water directly on the frozen pipe or place a hot water bottle on it. Never use a hairdryer to defrost the frozen pipe. It is very dangerous to use electrical appliances in cold, wet conditions, and we do not recommend it.
Never cut the boiler condensate pipe. It is best to call a Gas Safe engineer to handle the job if you think the pipe needs cutting. Keep in mind that the condensate pipe is an integral part of the boiler's flue system, so any physical repair must be carried out only by a certified professional.
Tips to Stop Your Condensate Pipe from Freezing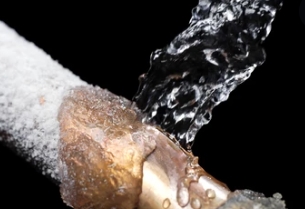 Not having access to heating and hot water in winter can be a very frustrating experience. And if you're like most people, defrosting a condensate pipe in sub-zero temperature isn't exactly what you look forward to.
Thankfully, you can take preventive measures to ensure you have heating and hot water throughout winter.
Here are our top tips for preventing a frozen condensate pipe:
Increase the temperature of your heating system: Consider turning up the temperature of your boiler or heating system. This will increase the temperature of the condensate pipe and reduce the chance of freezing. It is worth mentioning that increasing the temperature of your heating system will likely increase your energy bill. For this reason, you should decide if it is worth doing this or using the other tips below.
Insulate the pipe: Use waterproof lagging to insulate the condensate pipe. This will increase the temperature of the pipe and prevent freezing, even in icy weather. There's nothing too technical about insulating your condensate pipe. All you need is good-quality waterproof pipe lagging, and you can do it yourself.
Increase the pipe's fall angle: Changing the fall angle of your condensate pipe is a good way to increase water flow through the pipe. There is less chance of the water freezing if there is increased water flow.
Changing the angle of your pipe isn't as simple as it sounds. You will need a heating plumber to handle this task for you.
Re-route the condensate pipe: You might want to consider moving the pipe to an internal drainage location. This is one of the most effective ways to avoid constant exposure to freezing temperatures.
However, this is not a DIY project, and it might be expensive, depending on your existing drainage system. Get in touch with a Gas Safe registered engineer to help you figure out what it will cost re-route the pipe.