Worcester 224 Fault Code Meaning, Causes & How to Fix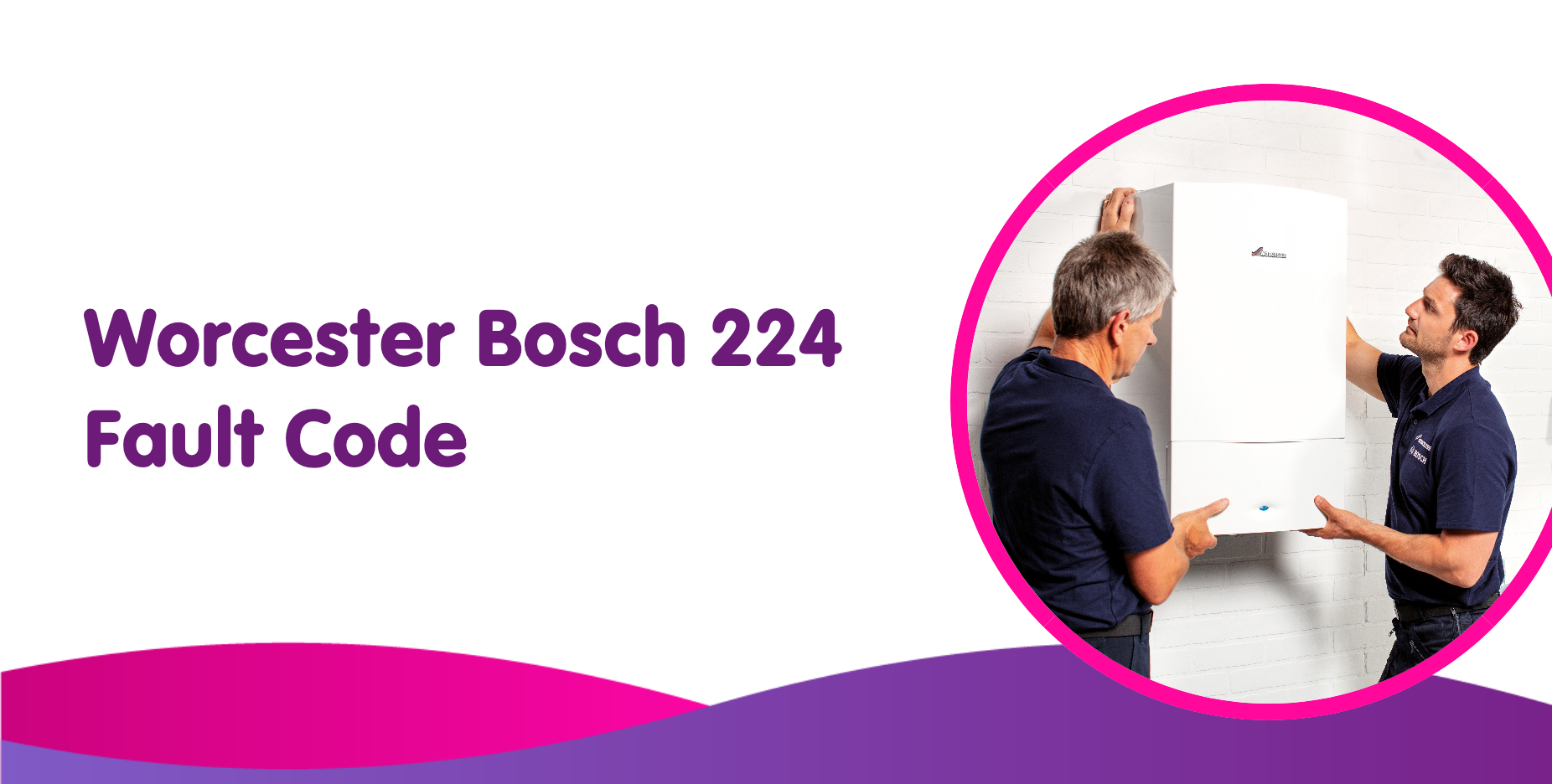 What Does Worcester code 224 Mean & How To Fix It?
Worcester error code 224 may be caused by a boiler heating up. A boiler that gets too hot can cause it to stop working therefore the Worcester error code 224 will then be displayed to notify you of this issue.
Get 12 years warranty for the price of 10 on the Worcester 4000 exclusively at Boiler Central – Get a fixed price here
Worcester Bosch E9 224 error: Maximum temperature thermostat activated
Cause code: E9 224
Reset type Click on the Reset button
Possible Cause: Flue or high limit thermostat activated
Boiler over 10 years old? It might be time for a new one, find out if a Worcester Bosch still tops our best combi boiler list now.
Get an online fixed price in 20 seconds:
What kind of fuel does your boiler use?
What is the Worcester Error Code 224?
Boiler lockout occurs when a boiler heats too fast. This safety feature is present in modern boilers. To fix the boiler lock out and get your central heating system and hot water working again, the system must first be checked, cooled, and then restarted.
There are many reasons why a boiler might heat up too much
Pressure release valve stuck
A blocked condensate pipe
Your fan is to blame
Pump fault
It is important to fix the problem that caused your boiler's heat loss. You could be putting yourself and your family at risk if it doesn't heat up. Getting your Worcester Bosch boiler service every year should help stop any issues like this from arising.
What happens to the Worcester Error Code E9 224?
If you ignore the fault code 224 or don't address it, your boiler may need to be replaced. A new boiler should be installed every 10-15 years if you are having problems with an older boiler.
If your boiler is not up to date, you can consider buying a new boiler. To save time, money, hassle, and effort, you should respond quickly to any Worcester boiler error codes.
E9 224 – What's the problem with an overheated Worcester Greenstar boiler.

Overheating can cause boiler components to melt and produce toxic smoke. The boiler may explode in the worst case.
Modern boilers are safer than ever because of their safety features and the high pressures they can still operate at. The potential dangers associated with boiler overheating don't seem nearly as severe as they used to be.
You could have a blocked condensate pipe which is quite common in the winter. A frozen condensate pipe can easily be fixed by yourself by pouring warm water over the pipe to melt the ice and free up the pipe. This should make your boiler work again.
Other problems such as a faulty pressure release valve, fan or central heating pump will all need to be fixed by a professional. Anyone who fixes a gas Worcester bosch boiler needs to be fully qualified for your safety.
Can a boiler explode if it gets too hot?
If not addressed promptly, boiler overheating can cause serious damage and your boiler could explode in extreme circumstances.
This is highly unlikely. Modern boilers automatically lock out when they detect an issue. This is especially true for modern boilers.
To ensure your boiler is safe, you should have your boiler serviced annually by a Gas Safe registered engineer. If your boiler was installed more than 10 years ago, you should replace it. This will ensure that you have the latest safety features.
How do you fix an overheated boiler?
How to fix the boiler will depend on what is causing it to heat up. All of the problems that we have listed will need to be fixed by a professional.
It is essential to find an experienced engineer to service, repair, and install boilers. A bad person could cause your boiler's overheating or other problems.
Only Gas Safe certified engineers can work on boilers. If you are looking for a heating engineer who can work on a boiler, make sure they are on the Gas Safe Register.