Worcester Bosch EA Error Code Meaning, Causes & How to Fix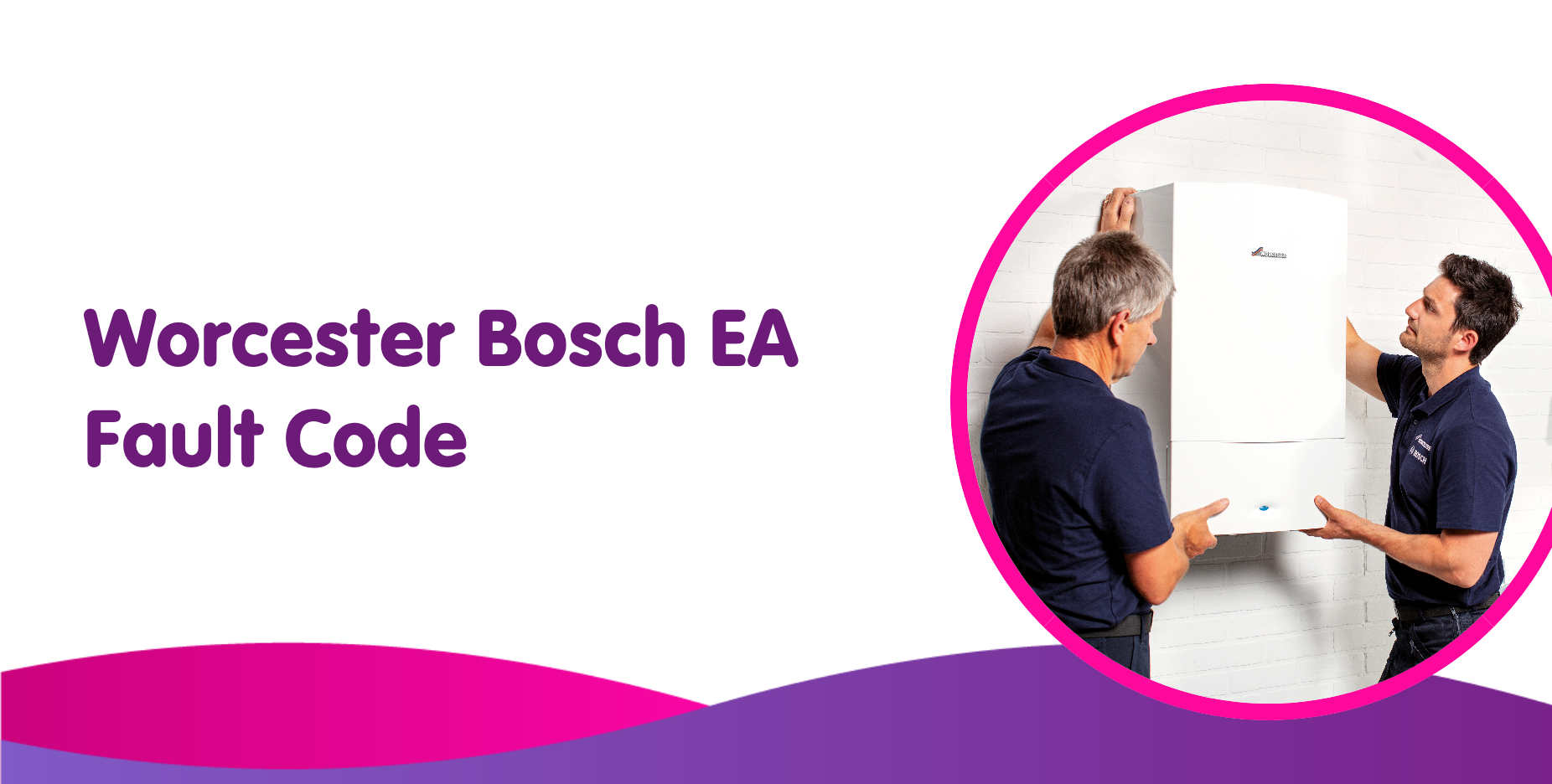 How to fix the Worcester Bosch EA fault code in your boiler
According to Worcester Bosch boiler manual, "EA" fault codes and "EA" error codes: "Indicates the flame hasn't been detected.
The Worcester boiler range can experience problems, as with everything. Sometimes, the control panel might display an EA code or stop working. Learn how to fix Worcester EA codes so your boiler lasts many years if it is a quick fix like low pressure or the best idea is to get a qualified Gas Safe engineer to fix it for you if you need to take it apart.
Worcester Bosch make some of the best combi boilers, but even so they can break down when they get old. If your boiler is over 10 years old, it may be time to consider a replacement boiler as boiler repairs and gas bills start to increase.
Find out which is the best combi boiler right now here before considering your boiler installation.
Get an online fixed price in 20 seconds:
What kind of fuel does your boiler use?
Fixing the EA error code & a locked-out Worcester boiler
The Worcester EA fault code usually includes a blue flashing light as well as a red reset button, you can do this yourself, but if this doesn't work you will need to call an engineer.
These are signs that the Worcester Bosch boiler has detected a possible danger and is now 'locked out' to stop it from running again. This boiler lockout is a safety feature and will cause it to stop running and you will continue to see the Worcester Bosch blue flashing light on the boiler.
This code could indicate a gas issue such as a stuck or broken gas valve. It will normally require an engineer visit. Before calling an engineer, there are some things that you can do at your home to fix the problem.
This Worcester error code guide will tell you what caused the code to appear, and how to fix it unless you need to get inside the boiler, where it is illegal to do so unless you are qualified.
What does the Worcester EA fault code on a boiler mean?
Worcester Bosch describes in its manuals the EA fault code "Flame Detection Error" as an error code. This is the flame in your boiler unit that heats the heat exchanger and hot water.
A printed circuit board (PCB) controls the heating process of your boiler. After receiving an indication that it was successful, each stage must be initiated using the PCB.
The EA fault code on a Worcester Bosch boiler indicates that the PCB can't confirm or deny that there has been an ignition attempt after four attempts. To protect components and to reduce external risks, the PCB locks itself out.
Gas can flow freely into the Worcester boiler and cause serious leaks if it isn't shut off. If ignition attempts fail to establish a flame, this could indicate a defective gas valve. A Gas Safe engineer will be required to check the faulty gas valve.
How do you fix the EA Error Code of your Worcester Boiler?
These are the steps you should follow if your goal is to fix the Worcester boiler EA error code without having to call anyone.
For five seconds, hold down the reset button to check if your system is on. Most cases will be resolved by this. To verify, you can do it once or twice.
If the reset doesn't work, ensure that your gas supply is working properly. Also, make sure that the emergency valve has not been turned off accidentally or that pre-pay meters are still available.
You can use any gas appliances located on your property to check the gas supply. Contact the gas emergency number to request an engineer to come to your house to check for gas shortages.
Frozen Gas Meter Regulator. Engineers will recommend that you insulate your meter after it has been defrosted to prevent any further freezing. This could involve wrapping the meter in insulation material or putting it into a box. This is often called "lagging". This can be a cost-effective procedure depending on the amount of labor required.
If your boiler is not gas-powered:
Here are more reasons your boiler might be giving you an EA error code.
If the gas isolation valve does not work, you can check it and adjust your lever to parallel.
You should ensure that your prepaid meter is charged with enough juice and that you have the most recent bills.
Contact your gas supplier to find out if there are any other issues with your local gas supply.
Make sure that your condensate pipes do not freeze if the temperature drops to unusually low levels. It is easy to find as it is usually white, and runs from your boiler to the drain (usually outside). If you are able reach the condensate pipe and it isn't frozen, warm it up and you can go back to step 1.
If none of these steps are successful, you should call a Gas Safe engineer who will diagnose the problem and then fix it.
Which Worcester Models Use EA Fault Codes?
There are many fault codes in Worcester, but each code is only used once. The EA fault code will indicate a problem with flame detection. Many models use the EA fault code, including:
Greenstar Si
Greenstar CDi Highflow
Greenstar CDi Classic Regular
Greenstar CDi Fi Regular
Some models may require an additional number to go along with the EA fault code. These codes may be used to indicate a problem in the flame detection or sensor, but could also be used for another purpose.
To indicate that the flame signal has been lost in the boiler operation, the code EA 227 can be used. The number on the fault code is a more accurate response and can identify problems such as a faulty flue gas thermostat or heat exchanger temperature sensor.
Is it a sign to get a new boiler?
If this kind of issue persists, it may be a good idea to consider boiler replacement as it will likely end up costing less than constant problems and repairs.
You can get a brand-new replacement boiler with full boiler installation by a Gas Safe engineer with fees included at Boiler Central for great prices and are able to get a quote in just 20 seconds!
Get an online fixed price in 20 seconds:
What kind of fuel does your boiler use?