Vaillant Boiler Thermostats & Controls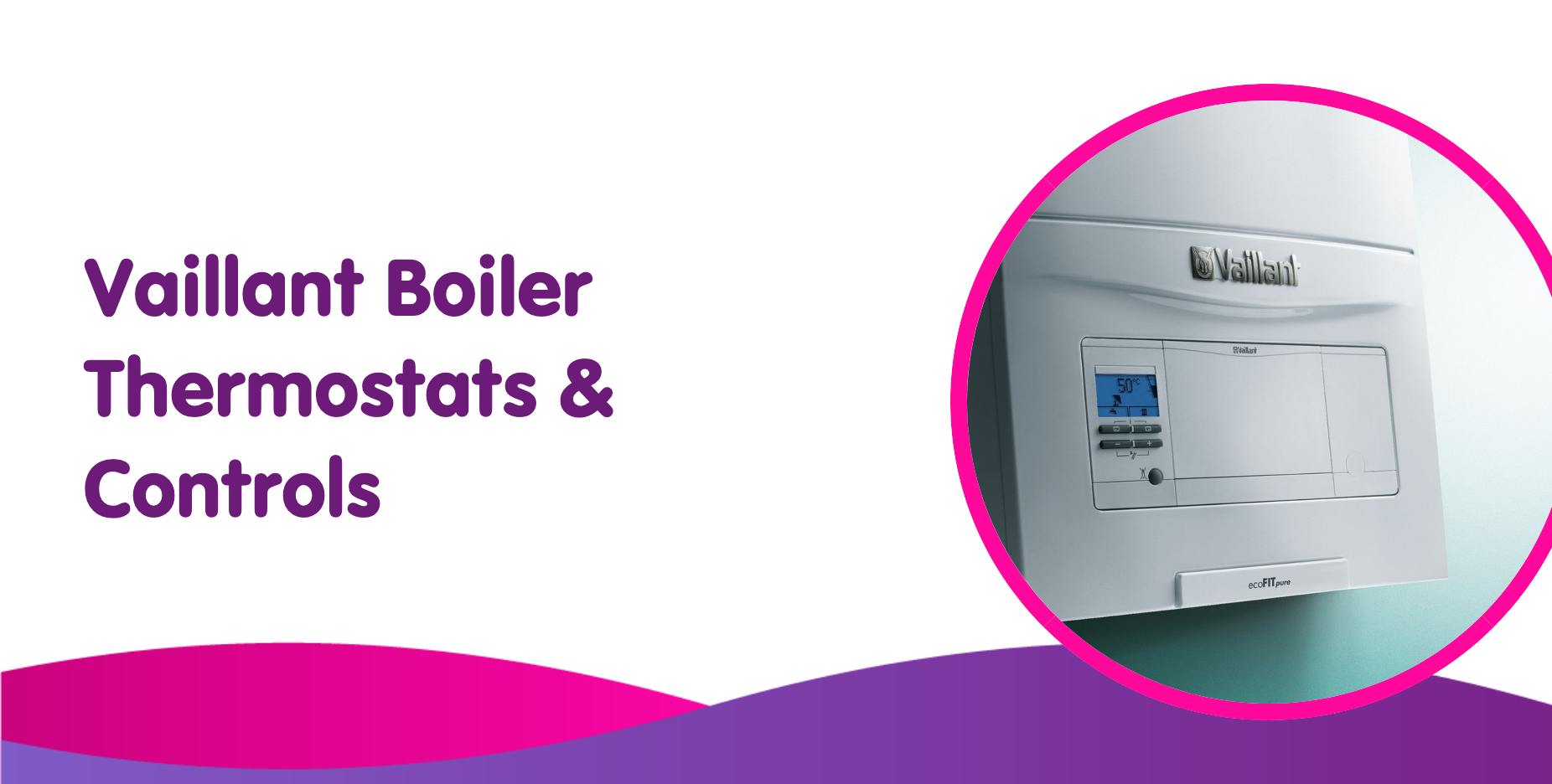 Vaillant boiler controls & wireless thermostats for central heating
Boiler controls are a fantastic option for those who want even heating while saving energy and Vaillant Boilers have an exceptional boiler range with unique features.

Get a fixed price in 20 seconds online now
Using boiler thermostats and controls is the best method to keep your house nice and warm while saving energy and lowering your electric bill significantly, and in addition, boilers relieve you of the burden of heating and hot water regulation, allowing you to enjoy a more relaxed and carefree lifestyle.
Get an online fixed price in 20 seconds:
What kind of fuel does your boiler use?
Choosing the right Vaillant boiler controls for your central heating system
Vaillant is one of the most renowned boiler brands and reliable suppliers of the most refined boilers in the UK. Their diverse array includes a variety of boiler controllers and intelligent thermostats to help you save on your energy bills and manage your energy usage properly.
Thinking about a new Vaillant boiler? Check out our best combi boiler guide.
Their appeal stems from their amazing choice of Vaillant boilers, fitted with very effective condensers that operate with flying colours combined with their controls. While all their thermostats and controls function exquisitely, they have certain distinguishing characteristics.
All thermostats and controls are meant to be distinctive, allowing you to select the one that best suits your lifestyle and the demands of your smart home. So read on and explore the various possibilities they provide.
Vaillant wireless thermostats
Vaillant VRT350F wireless programmable room thermostat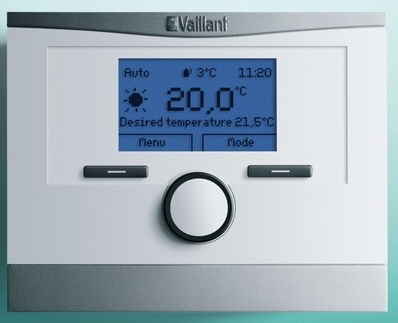 Vaillant VRT350F programmable thermostats monitor the room temperature and adjust the boiler controls accordingly. This guarantees that your boiler operates at peak efficiency, lowering energy expenditures. The VRT 350F has a blue-tinted backlit display and only two simple push buttons for controlling the three independent time settings.
Comprised of two components: one connects to the front panel of your Vaillant boiler, and the other is a Programmable wireless Roomstat that allows you to manage the boiler remotely. It is compatible with Vaillant ecoTEC boilers and a great thermostat for controlling your central heating.
Key features:
Wireless command and control
It is designed to integrate with the fascia of Vaillant ecoTEC boilers
Automatic summer/winter transition
Backlit blue-coloured display
One rotary knob and two push buttons
Holiday rewind function
Calendar feature
Three distinct time settings
Advanced override configuration
VRC 700f/VRC 700 weather compensating thermostats
Model 700 by Vaillant comes in two versions: the wired VRC 700 and wireless VRC 700f system controls. The VRC 700 and VRC 700f have been designed to work in harmony with all existing Vaillant products, ensuring that your appliances are constantly operating efficiently.
For example, the holiday function of this boiler thermostat turns the heating and hot water off while you are away and turns it back on when you return home. It has permanently saved programs, including time and temperature, even during a power outage.
Key features:
Communicates intelligently with all Vaillant appliances
Compatible with the whole Vaillant boiler line
To modulate ultimately, it communicates with the boilers using the eBUS language, ensuring that the boiler is continually operating at peak efficiency.
Programs with variable start times
Compatible with S and Y plan systems
Backlit display with outstanding contrast and clarity
Get an online fixed price in 20 seconds:
What kind of fuel does your boiler use?
Vaillant wireless digital controls
Vaillant timeSWITCH 150 plug in 24 hour analogue timer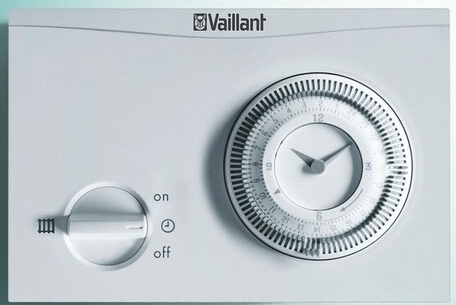 If you like classic controls, the Vaillant TimeSWITCH 150 may suit you. It's a primary analogue single-channel heating control that works with Vaillant's VRT 50 eBUS room thermostat to alter the heating program and select when you want the heating to turn on and off throughout 24 hours.
Installation is straightforward because the control attaches directly to the boiler fascia, eliminating the need for visible wire. The time switch 150 is compatible with all Vaillant combi boilers and aids in the efficiency of your boiler, resulting in lower energy bills. It has up to 48 on/off times, and you can simply select the heating start and stop intervals using the control tappets.
Key features:
Installs directly into the boiler fascia
Analog timer with a single channel
Central heating timer set for 24 hours
For increased convenience, an override switch is included
Vaillant smart thermostat
Vaillant vSMART control
The Vaillant vSMART intelligent room control is perfect if you want to instantly manage your heating and hot water. Thanks to its internet connectivity, the vSMART gives you complete control remotely, which enables you to manage your heating and hot water via an intuitive app on your smartphone or tablet. Get your annual Vaillant boiler service every year to maintain maximum efficiency whilst using your smart thermostat to keep your energy bills down.
This smart thermostat is a self-learning control that learns about you and your heating and hot water demands. It also features an intelligent weather compensation function that analyses weather data to inform your boiler how long it has to work to get to the required temperature.
If you want a comfy and cosy environment when you are back home from work, set this control when you get home, when you wake up, or any other time you like, and it will ensure the performance is up to your demands.
If you want to use the vSMART standalone, you can wall-mount the central unit or use the provided stand. Additionally, access may be shared across several devices, allowing your entire family to handle your heating and hot water system.
Key features:
Android and Apple iOS applications are available
equipped with a self-learning mechanism
Weather insurance
Connect several vSMART controllers to a single app simultaneously
Connection is wireless
Vailliant vSmart control application
The Vaillant vSMART heating control app enables you to manage your heating from your smartphone at any time and location. Designed to function with all Vaillant boilers, the vSMART's simple connectivity guarantees that your boiler is constantly operating at top efficiency. With up to thirty customized time and temperature profiles, the vSMART allows you to plan your home heating around your schedule and is a great accompaniment to a replacement boiler.
Key features:
The app can link to various vSMART controls, such as My Place and Mother's Place
The vSMART gateway links to the internet via your Wi-Fi network
vSMART continuously monitors the outside temperature, ensuring that your boiler only operates as hard as it needs to, lowering energy use
The vSMART knows how much energy your home needs to maintain the ideal temperature for optimal comfort and efficiency
Modern and sleek design app with an interactive interface
FAQs
What is the best temperature for your Vaillant boiler?
The recommended temperature setting levels for your boiler is to be between 65°C-75°C, as going higher or lower than this could cause potential issues with your boiler and maybe even your well-being. You don't want your boiler temperature to be too hot, as this cause burns to you when using it and having your boiler at too low of a temperature could cause the risk of certain diseases caused by water droplets.
What is weather-compensating technology?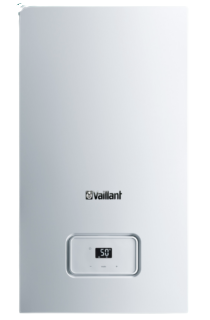 Weather compensation means that your boiler will adjust the temperature setting levels to be at the perfect temperature for everyone in the household, without making it too hot or too cold. With this technology, the boiler will acknowledge what the temperature outside is so it can alter the temperature to be as comfortable as possible.
Vaillant thermostats & boiler controls conclusion
You should configure your house's central heating system with the most incredible Vaillant boiler thermostats controls to increase your home's comfort levels; consequently, you must make the right choice when investing. Do be aware too that the controls do not come under the standard Vaillant boiler warranty cover.
We promise that Vaillant is one of the best brands in terms of efficiency and dependability. Their smart thermostats and controls for central heating will keep your house comfortable and snug in all weather while saving energy and decreasing electricity expenses. If you buy a boiler with Boiler Central you will get an wireless thermostat absolutely free included with the new boiler cost.
They will prove that their items are eventually the best on the market. So, check out their variants if you're on a tight budget but don't want to sacrifice quality.
Get an online fixed price in 20 seconds:
What kind of fuel does your boiler use?