Best Smart Thermostats Review 2023: Smart Heating Controls For Your Boiler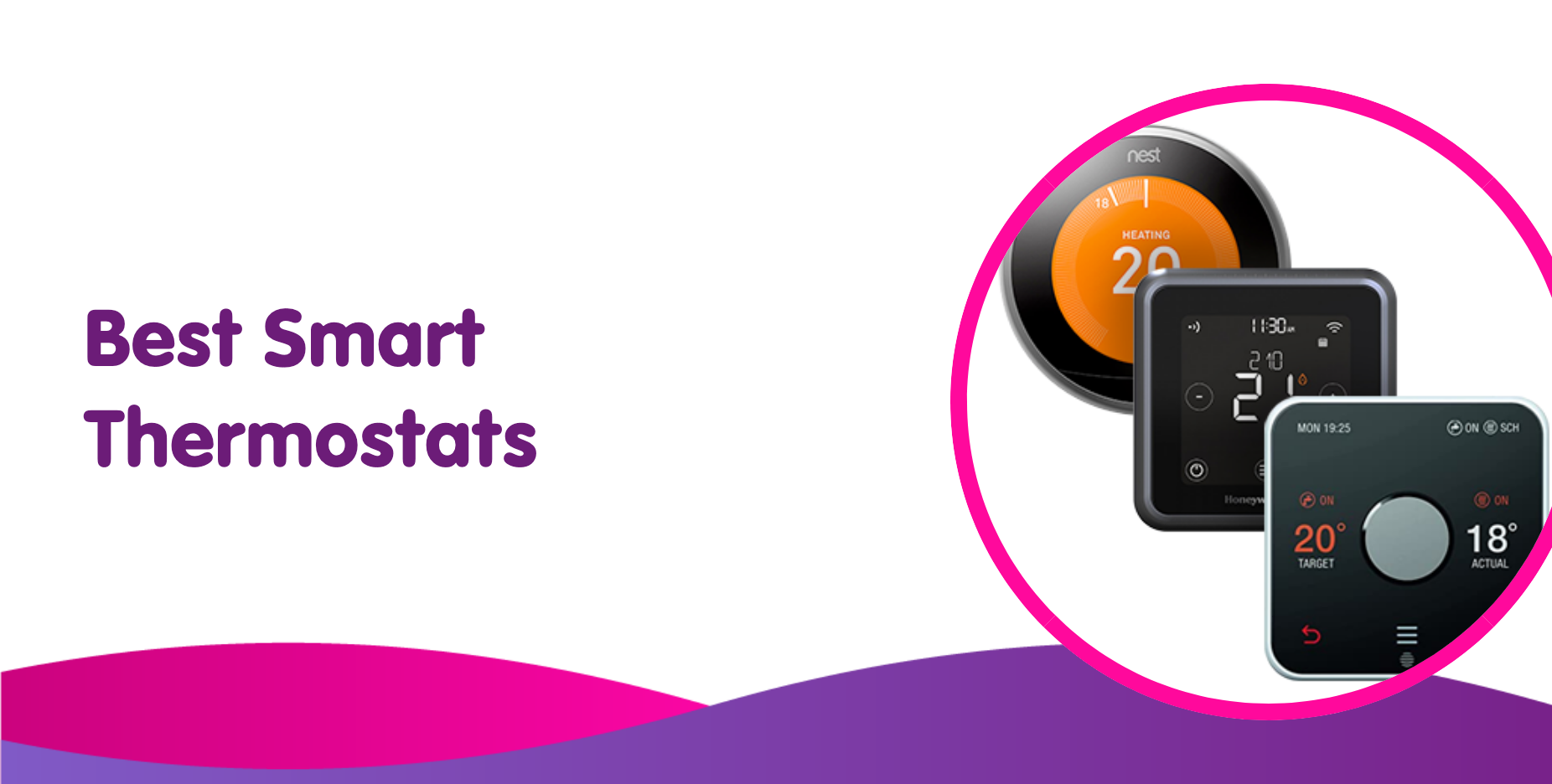 Which is the best smart thermostat to buy in the UK right now?
If you want a thermostat that sets the temperature according to your default preference, when they sense your presence in the home, you have come to the right place! After reading this article, We at Boiler Central hope you will know about the best smart thermostats available on the market!
Smart thermostats come with a variety of exciting and innovative features. Some thermostats even allow the customisation of each room separately, while others regulate the temperature of the entire unit uniformly to help keep gas and electricity bills down.
So, choosing one can be a bit tricky. It would be best to evaluate which features you want and which ones you don't.
We like Drayton's Wiser Smart Thermostat as the best overall, but to make the choice hassle-free, here are some of the best smart thermostat options available.
Get an online fixed price in 20 seconds:
What kind of fuel does your boiler use?
Video:
Best Smart Thermostats Video Review
Smart thermostats are one of the best ways to control your heating from anywhere you are to help keep energy bills down, find out more in this video.
Best Smart Thermostats Overview
Best for a Low Energy Bill: Google Nest Learning Thermostat
Best Premium: Hive Smart Thermostat
Best Overall: Drayton's Wiser Smart Thermostat
Best For Zonal Temperatures: Honeywell's EvoHome Smart Thermostat
Best for a Low Energy Bill: Google Nest Learning Thermostat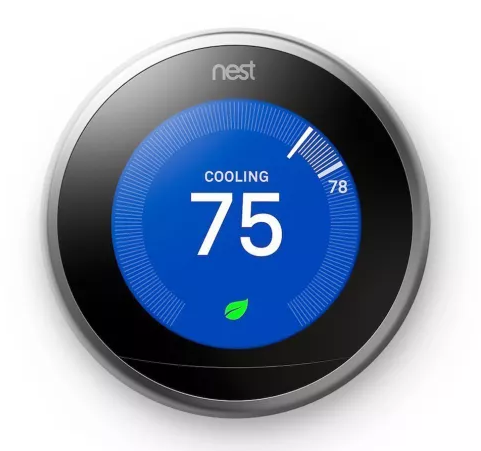 The Google Nest learning thermostat is a great choice to adopt if you want to save money on your heating bills. Its user-friendliness and third-generation design are a perfect balance of style and smartness, making it one of the best picks for many folks.
Why not combine it with one of our most efficient combi boilers?
The appealing design of the Nest thermostat attracts customers, its cost might put some people off.
The best part is that the unit learns about your daily routines and adjusts perfectly to your home. Meaning that over the months, your heating system will adapt to your needs, so you won't have to change it every time yourself.
The location-based features on the Google Nest thermostat will track your phone. Its built-in sensor will turn the smart heating system on or off according to your location.
The thermostat design is very similar to the Apple iPod click wheel. However, it is made up of premium materials that include glass and brushed metals and has a stylish design that most thermostats don't. Once you've everything installed, you'll need to make a schedule using the Nest app for it.
Unfortunately, the Nest Smart Thermostat is not a perfect system as it lacks zonal control, so you'll have to adjust your heaters manually in each room. However, over the year, its use has saved 13.5% of the heating bill for average customers.
Pros
Attractive design
Easy-to-use mobile app
Easy to operate and setup
Learns and adapts overtime
Cons
Lacks zonal heating controls
Good placement is required for proper functionality
Installation requires a professional
Best Premium: Hive Smart Thermostat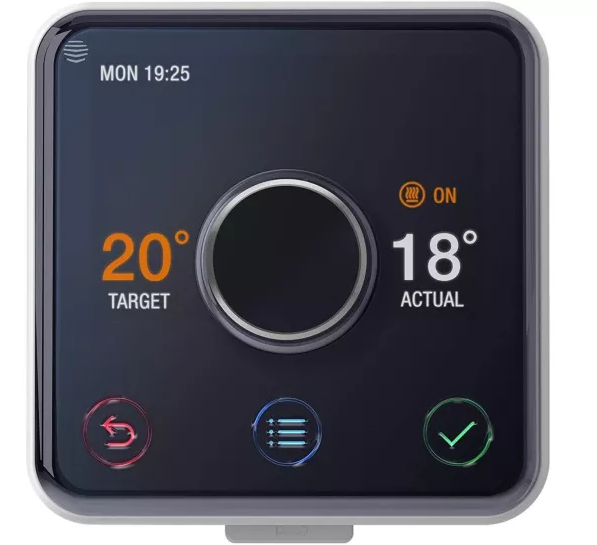 Hive Heating 2 is a perfect pick if you plan on building an intelligent ecosystem for your home. The thermostat is user-friendly; once installed, you need to use the Hive app to set up the thermostat and create a schedule.
After that, the system will control the heating for your house. Although, if you want to control heating rooms separately, you will have to get optional smart thermostatic radiator valves priced at £54 each.
Furthermore, the device is in sleep mode until you turn the dial on the Hive smart thermostat.
As you turn it on, it shows the set temperature on the left and the actual temperature on the right. Once the temperature reaches the set value, the thermostat will turn off until the temperature declines.
The Hive thermostat has one of the most aesthetically pleasing designs. It features a circular dial in the middle, so you can rotate clockwise or anticlockwise to set the temperature. The unit also supports a geolocation tool to access via an app.
More options include turning on the thermostat automatically while you are near the house, so the temperature is already set for your comfort when you get home. If you're away on vacation, a feature is available to keep the thermostat dormant until you return to help save costs on the heating bill.
Unfortunately, the Hive thermostat doesn't come with a motion sensor, which solely depends on the geo-location. So, you would have to turn it on manually when you are back home.
Pros
Aesthetically pleasing design
Can give room-to-room access
Can work with Alexa, Assistant, and Siri
Cons
The app requires a subscription for monitoring
Requires a Hub for internet access
Does not have a motion sensor
Best Overall: Drayton's Wiser Smart Thermostat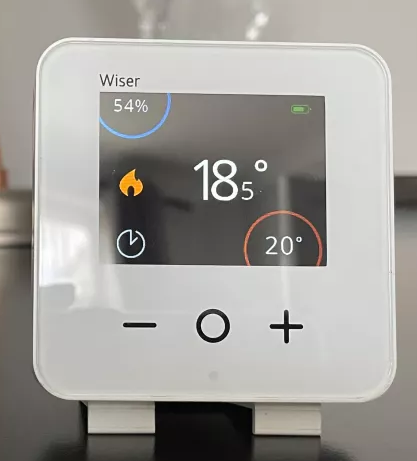 Drayton's Wiser is the perfect mix of internet-connected heating and zonal heating control at an affordable price compared to its rival products. An intelligent heating system that lets you heat specific rooms. Conserve electricity and get a reduction in electricity bills by installing this smart device.
You can set up the schedule through the wiser app. At any point, you can turn on the individual radiators for intervals between 30 mins to 3 hours to boost the temperature in the room through the app or the thermostat itself.
After learning your routine, it offers multiple handy modes that automatically regulate the temperature of the rooms to your liking. In addition, the heating systems support both Amazon Alexa and Google Assistant.
So, if you have a device with built-in speakers, you can regulate the temperature through voice control.
This one embraces a very subtle design compared to its competitors, all white with rounded corners. The heating hub is a rectangular box with two buttons. One activates the startup process; the other button starts the whole heating system. The LEDs above the buttons glow green when pressed.
Unfortunately, the unit's parts are plastic, so they lack the stylish looks of rival thermostats. Although, the low-cost design makes them a cheaper yet worthy option.
Pros
Smart radiator valves give access to room-to-room control
Alexa and Google smart speaker assistant are compatible
User friendly
Cons
Design is not captivating
No motion sensors
The thermostat doesn't display the temperature
Best for Zonal Temperatures: Honeywell's EvoHome Smart Thermostat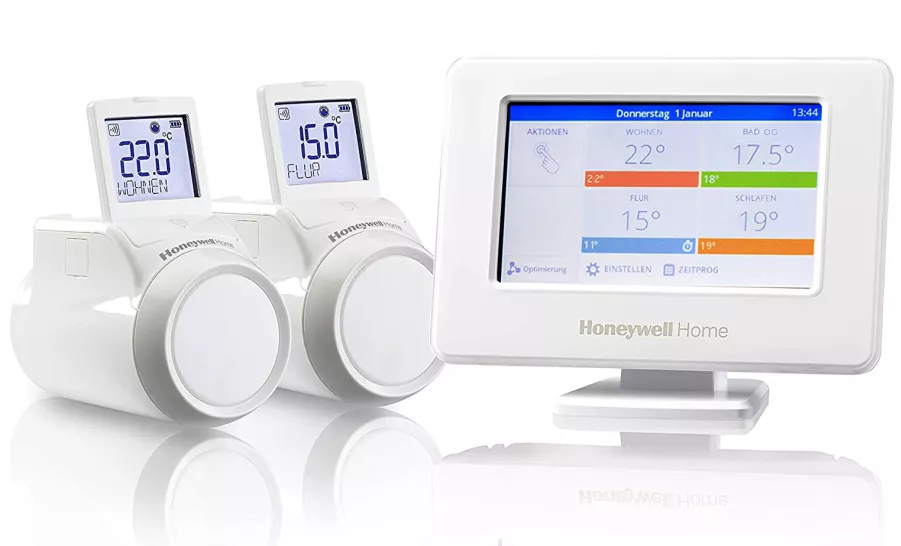 Honeywell's Evohome falls in the middle of the spectrum regarding smartness. While it might not be the best on the market, it manages the zonal temperature with reliable and fair accuracy.
In addition, it is a connected thermostat, so you can control the temperatures of different rooms separately. You can now set the room temperature in your particular room according to your preferences without disturbing others.
Its installation might be a bit complicated for some because an individual thermostat must be fitted with each radiator present in your house.
The design comes off as simplistic and old-fashioned compared with its competitors. Its plain white plastic body is certainly not appealing but is functional.
The Honeywell smart thermostat features a back-lit resistive touchscreen design that allows easy control and navigation of the entire heating system.
In addition, its internal software has a beautiful interface with colour-coding for temperatures to identify temperature easily. Evohome allows its users to set temperature adjustment schedules and calculate the time required for a room to heat up.
However, it does not appear to be a cheap option. Its modular nature increases its cost significantly. Nevertheless, you can get discounted rates on packs. To summarise, it is an expensive but efficient device with simplicity in its features.
Pros
Pre-heated floors by under-floor heating
A simplistic design
Easy to use
Allows control of Zonal temperatures
Interactive user interface
Cons
Lacks advanced features of a smart device
Low sensitivity
It does not depict temperatures with high accuracy
Unattractive design
Buyer's Guide
Determine Whether a Smart or Non-Connected Programmable Thermostat is More Appealing to You
If you're concerned about easy programming, a non-connected programmable thermostat is your best bet, and they're significantly less expensive. On the other hand, a smart heating thermostat is something to think about if you're interested in controlling it with your smart speaker or an app, having it learn your routines or any combination of these features.
Consider intelligent features (like geofencing), pricing, and qualities that are important to you (such as colour, size, or style) to reduce the number of options you have.
Examine Your Wiring
Additionally, you should check the wiring in your current thermostat by opening it up. While previous heating systems frequently used two low-voltage cables to operate. But now, most non-connected, programmable thermostats and contemporary thermostats often need a standard wire, sometimes known as a C-wire.
For features like screens and WiFi, the C-wire delivers constant power. You must speak with an heating specialist if you are unsure whether you have a C-wire.
If you want a smart thermostat but you lack a C-wire, here's what to do:
Pick a product from Honeywell Home with a power adapter or power extension that enables you to connect a C-wire to your system.
Purchase and set up an add-a-wire adaptor from a third party.
Select a model without a C-wire from our ratings. Nest offers many systems that don't require a C-wire. Nest versions feature an inbuilt battery that charges while your system is in use. However, some heating experts advise against this arrangement since they believe it may harm your central heating system.
Hire a pro to install the C-wire.
Energy Efficiency
Many thermostats embrace a technology that allows you better control over your heating system by letting you know how your heating system utilizes energy. A thermostat that automatically adjusts the heating by observing your routines and behaviours can significantly cut your energy usage while guaranteeing you never come home to a cold house. An example of this might be a Neomitis thermostat, which has many of these energy-saving features.
Additionally, underfloor heating provides an effective multi-zone heating strategy that lets you heat various rooms in your house independently, reducing your energy usage.
Aesthetics
You'll probably want it to look good if you're placing a device on the wall of your house for the next ten years. Modern thermostats, especially innovative versions, are available in various sizes, forms, and designs. Choose between the traditional, rounded design thermostats and the cutting-edge, all-glass, rounded-square designs.
Thermostats have a traditional aesthetic and contemporary, boxy appearance with large displays. Pick a design that complements your home the best.
Best smart thermostats for each boiler brand & manufacturer
Whilst there are the mainstream universal smart thermostats that we have covered. Most boiler brands have their own smart thermostat that is designed to work with their best smart boilers. They generally only have one per brand but the main thing that lets them down generally isn't the smart thermostat itself, it is the usability of the app on your mobile phone. We wouldn't put you off a brand smart thermostat as they are generally cheaper but beware when considering this option.
Boiler brand smart thermostats
Worcester Bosch – Bosch EasyControl
Viessmann ViCare Smart thermostat
Ideal Halo smart thermostat
Vaillant vSmart
Glow Worm MiGo
All these smart controls use an app based system that you can control mainly from your phone to keep track of your heating bills and hopefully save you money in the long term.
Smart thermostats FAQ's
Is it better to keep the thermostat at a constant temperature?
No, it's not; leaving your thermostat at a constant temperature even when you are not home is a waste of energy and money. It also causes wear and tear to your system, decreasing its lifespan. Instead, adjust the thermostat when the temperature increases or decreases.
learn how to use a central heating thermostat here to make sure that you get the most out of it to keep energy bills down.
Can a smart thermostat measure humidity?
Most thermostats can measure and display humidity when your system dehumidifies the air. However, a separate hygrometer is required if you want to measure humidity at home.
Will a smart thermostat save you money?
A smart thermostat will help you save money. Your home's energy bills could be reduced by up to 23%. With presets like "spring," "summer," "autumn," "winter," and "energy saving," these thermostats make it simpler to save money automatically.
While you are away from home throughout the day, preset energy saving modes keep your air conditioning at a higher temperature or heat at a lower degree. The thermostat can be programmed to have your house at the ideal temperature for your comfort when you return.
Your smart thermostat will adjust the temperature as you sleep at night based on your preferences.
Best smart thermostat Conclusion
Smart thermostats significantly impact the quality of life by making temperature convenient and hassle-free. In addition, they prove to be a good investment in cutting expenses in the long run because the smart thermostats rely on an energy saving mechanism!
Check out two that just missed out on our list the Tado smart thermostat.
While the unit is expensive, consider the features and comfort they offer. We hope this article proved to be a valuable read for you. We have included all the top-rated smart thermostats you can find on the marketplace. Each model has its distinct features, which certainly make a valuable addition for its user.