What is a Smart Boiler & What Makes a Boiler Smart?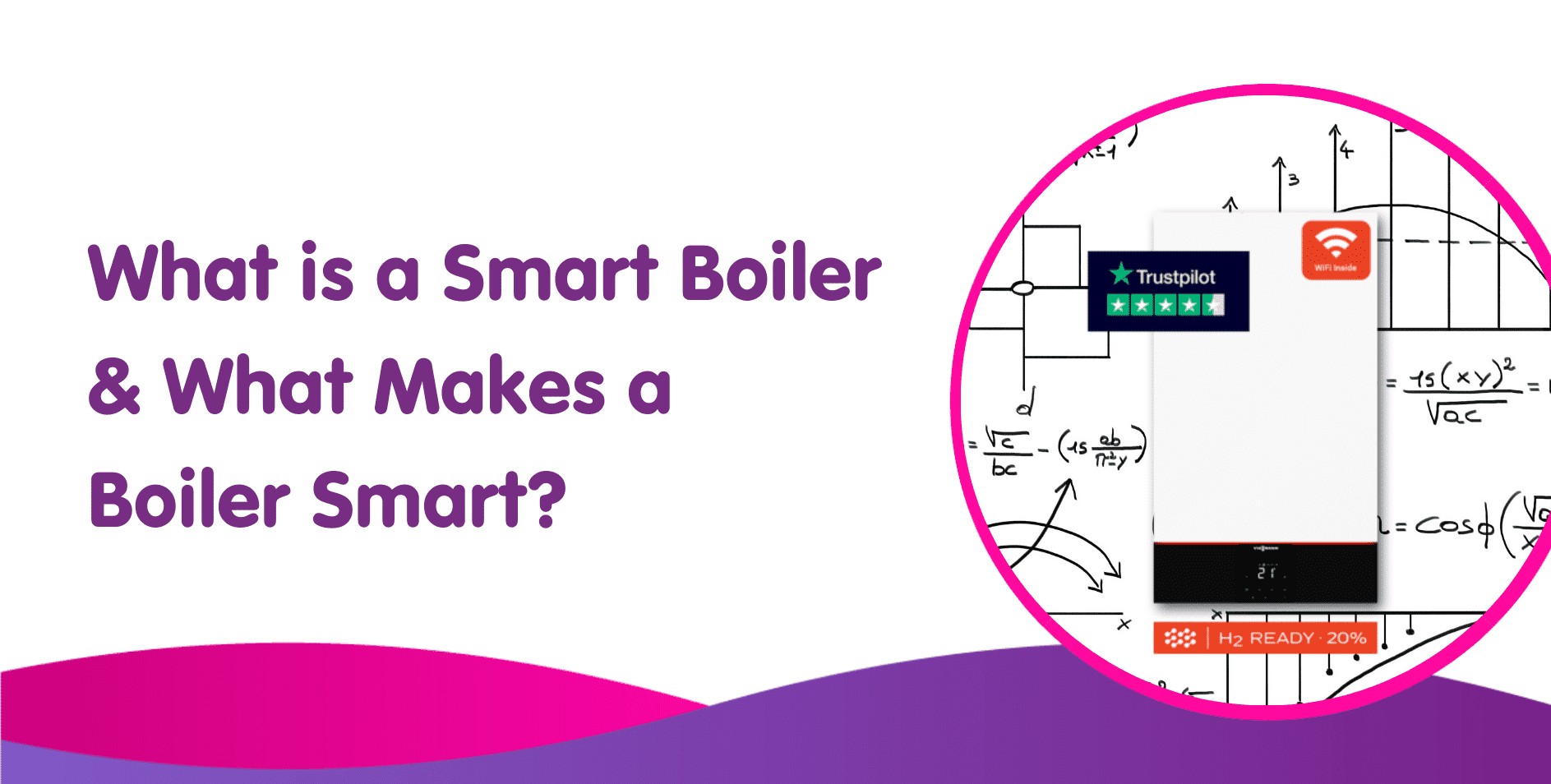 Smart combi boilers with the latest technology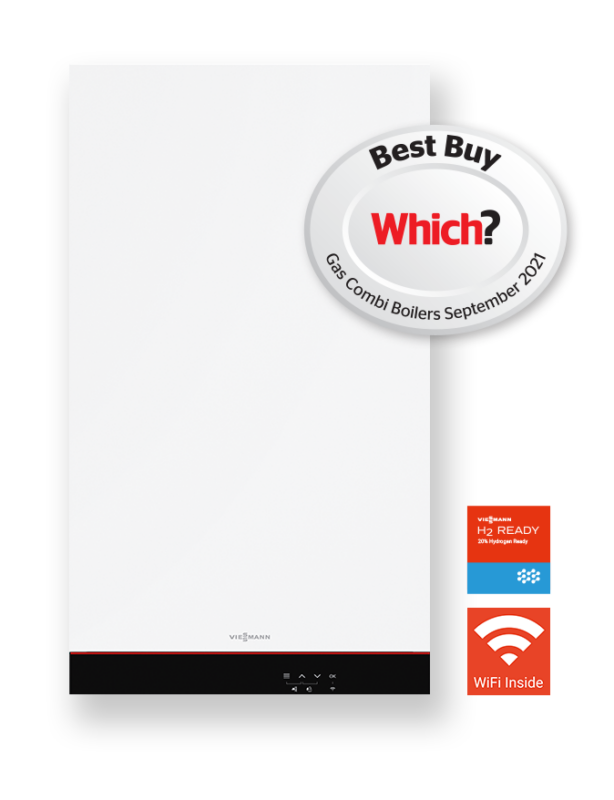 With the rise of the internet of things (IoT) and smart homes in the news, it's a safe bet that you've already heard of smart cameras, smart locks, smart lights, and even smart plugs and switches. But what about smart boilers and smart heating?
Get a fixed price online in 20 seconds – Click here
The growth in the adoption of smart homes means more UK households are buying smart devices. According to a YouGov 2018 survey 23% of Brits own a smart item, with 8% owning two or more, and this number is likely to grow.
But does the thought of trusting something as important as your home heating (well, it can get pretty cold here in the UK!) to something that connects to your phone seem a little out there?
Are all new boilers smart boilers? Is a smart boiler just a trendy gizmo, or a genuinely useful bit of tech?
Get an online fixed price in 20 seconds:
What kind of fuel does your boiler use?
How does a smart boiler work?
The fact is that smart technology is here, and it is already revolutionising our homes. Plus, smart boilers are easier to use and install than you might realise.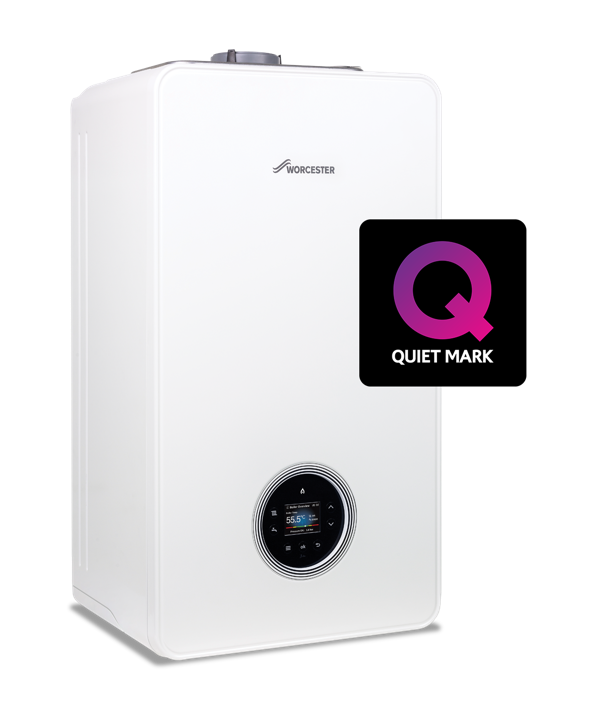 The ability to heat your home with a device that can learn from your habits and be controlled by your phone and even your voice is not as futuristic as you think.
Smart heating and smart boilers can help you to save money, reduce your energy use and carbon footprint, all without having to rip out and replace your current central heating.
In this article, we'll run you through the ins and outs of smart boilers and whether they are the right thing for your home along with the best combi boiler to buy.
By the end, you'll know your smart thermostats from your combi boilers and feel more confident about making the decision to add smart heating into your home and routine. If you are choosing a new boiler, you can upgrade to a smart thermostat as part of your boiler installation.
What is a smart boiler?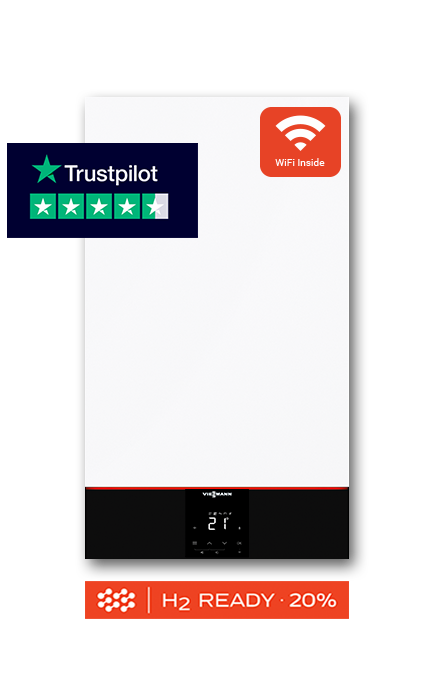 A smart boiler is a boiler that is hooked up to a smart thermostat such as nest or hive, giving you a smart heating system.
Once a boiler has been paired with a smart thermostat, the user can control their central heating and hot water from anywhere inside and outside of the home.
If you purchase a learning thermostat, it will automatically learn from your routine, and control your boiler to conserve energy. Other items that make your boiler smarter are things like smart thermostatic radiator valves which you can control each radiator separately.
Better control over your heating and energy use
Once your boiler has become smart, you'll have more power and flexibility when it comes to heating your home. For example, you can choose to only heat certain parts of the house and control your energy usage in a more proactive way, reducing your bills and your carbon footprint.
Smart boilers also offer greater convenience as you can tailor your heating needs to suit you and your family's routine and lifestyle.
Essentially, if you want a smart boiler, you'll need to invest in a smart thermostat. If are thinking about replacing your boiler, get a smart thermostat included in your boiler quote to save money on your energy bills.
Get a fixed price online in 20 seconds – Click here
Get an online fixed price in 20 seconds:
What kind of fuel does your boiler use?
What is a smart thermostat?
A smart thermostat is a thermostat that connects your boiler to the internet and allows you to control it from anywhere in the world. Instead of being tied to a thermostat in your home, smart heating controls can travel with you.
This means that you can control your home's heating remotely using an app from your desktop computer, tablet or smartphone.
If you're at work and the kids have left the house, you can turn the heating down. No point in heating an empty house, is there?
Control your heating with your phone or mobile device
If you're comfy on the sofa and don't want to get up, simply adjust the temperature from where you sit. The convenience of being able to manage your home's heating schedule from a mobile app rather than being tied to the buttons of a control panel is a big appeal to many users.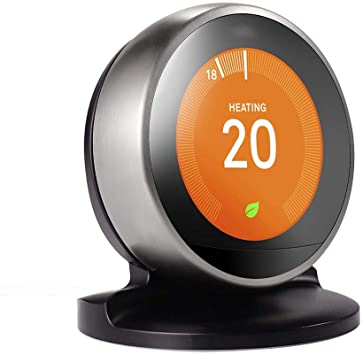 Some smart thermostats can even detect when you leave home and when you're coming back using built-in sensors and the GPS on your phone.
This allows the smart thermostat to turn on the heating before you get home and have the house warm when you return.
This is handy if you have a changeable schedule and find yourself wasting energy by programming a traditional thermostat to switch on at set times.
Now that you have a better idea of what a smart boiler is, you can think about making your own central heating system smart. If you want to make a smart choice, check out hydrogen-ready boilers to future proof your home.
How do I make my boiler smart?
To make your boiler smart, you just need to buy a smart thermostat and install it. If you're confident in your DIY skills, then you can do this yourself. The smart thermostat will need to be fitted in place of your old one, and then connected to your boiler.
The good news is that smart thermostats are compatible with most kinds of boilers, including combi boilers, gas and electric boilers, smart systems, and heat only boilers and condensing. However, they aren't compatible with every boiler there is.
A good rule of thumb is to check with the manufacturer before buying. Also, before you start shopping for a smart thermostat, check your current boiler can be controlled by a traditional thermostat or programmer. If yes, then there should be no problem in hooking it up to a smart thermostat.
If you're unsure about anything, then you can choose to have a professional install it for you. Just ask the manufacturer.
Get an online fixed price in 20 seconds:
What kind of fuel does your boiler use?
How does a smart thermostat connect to a boiler?
There are three things to think about when it comes to connecting a smart thermostat to a boiler.
The hub. This plugs into your broadband router, and can also be connected wirelessly.
The receiver. This is hooked up to the boiler and connects it to the internet.
The smart control system. The part that includes the interface and allows you to control your heating.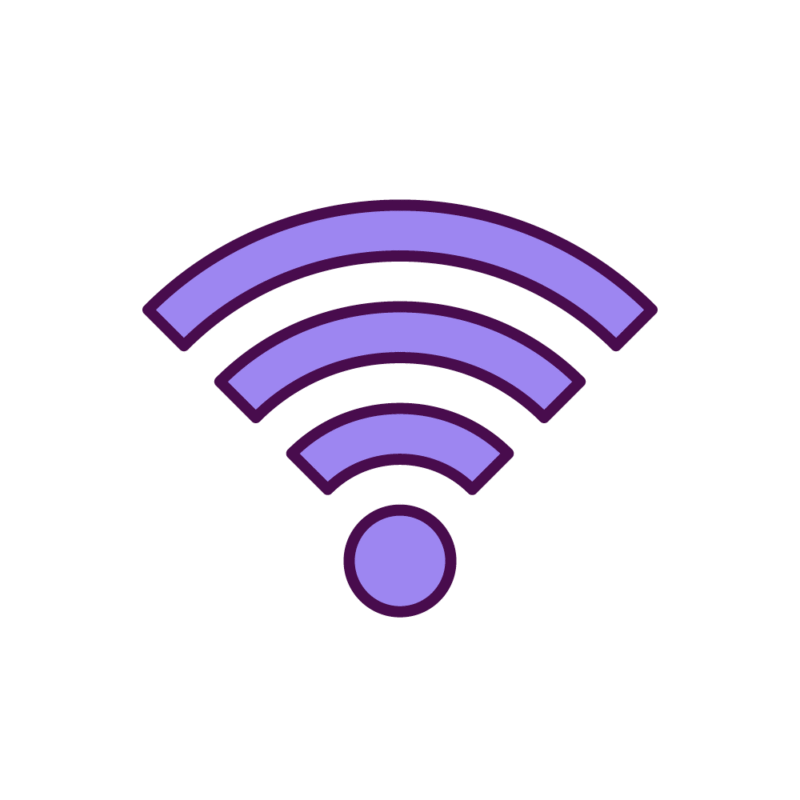 Set up will vary between brands and each smart thermostat will come with a detailed list of setup instructions.
As a rule, the thermostat itself should be mounted away from any radiators or direct sunlight which could mess up the temperature reading. It's also recommended that you fit the receiver close to the boiler, but keep it away from large metal objects which might interfere with the signal.
Best place to keep a smart thermostat?
Some manufacturers recommend keeping the smart thermostat out of the bedroom, as this room should be a couple of degrees cooler than the rest of the house for optimum sleeping. A hallway is a sensible place as there are usually no windows to let in a breeze or sunlight which could give an inaccurate reading, and the temperature should be pretty constant.
Once the smart thermostat is connected to the boiler, you can go ahead and set up the app.
Connecting a smart thermostat to a boiler does require some confidence with wiring, so if you're at all worried, then it's best to let a professional handle the installation. Are your boiler controls not working? here are the reasons why that could be!
Get a fixed price online in 20 seconds – Click here
Which is the best smart boiler?
A smart boiler is as far as technology goes includes built in Wifi which manufacturers can connect to remotely to diagnose and help you sort a problem with your boiler if your boiler's not working. This saves time and money as there is no need to call an engineer out to check the problem, then go away and come back. Here are some of the best smart combi boilers to buy right now:
Best smart combi boilers to buy right now for 2023
Worcester Bosch 4000 combi boiler
The new Greenstar range of smart boilers from Worcester Bosch is one of the best-selling boilers in the UK already. The Worcester 4000 combi boilers are an improvement on the Greenstar i boilers that have dominated the market for years, and people are replacing them with this as it slots perfectly into the same pipework.
The main features that make the Worcester 4000 a smart boiler are:
Built-in WiFi connectivity
Hydrogen Ready boiler
Intelligent filling system for water pressure (optional)
Quick tap water saving
A modulating boiler to use less power
Touchscreen LED boiler controls
Looks great
As you can see, boilers have come a long way and Worcester Bosch is continuing to improve their boilers all the time.
Viessmann Vitodens 050-w combi boiler
The Viessmann Vitodens 050-w combi boiler is a smart boiler due to the new technology that they have included with this superb value combi boiler. Viessmann is striding ahead and seriously competing with the likes of Worcester and this Vitodens 050 smart boiler is not only clever but reliable and compact as well.
Main features that make the Vitodens 050 a smart boiler:
Hydrogen ready boiler
Built-in Wifi
Modulation of power for energy efficiency
Touchscreen controls
Great new look
Very compact compared to the performance & reliability
As you can see the Viessmann Vitodens might not quite have as much built-in technology, but at the same time, it is far more compact and from experience a much more reliable boiler too.
Best smart heating technology to use with boilers
There is a range of options when it comes to buying a smart thermostat in the UK. Picking the best one for you will depend on the compatibility of your boiler, as well as whether you already have other smart devices that work together.
We'll take a brief look at few of the most popular best smart thermostats currently on the market, as well as some which have been released for specific boiler from each brand.
Nest Learning thermostat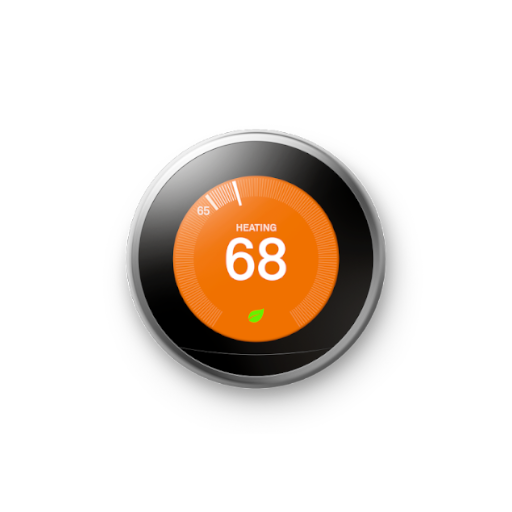 Owned by Google, this thermostat stands out as it learns from your routine. After you use the device for a bit, it listens to and learns from your heating schedule. It can also track where you are, using your phone's GPS and adjust your heating accordingly.
Nest's smart thermostat is compatible with most types of boilers, including combi boilers, system, regular, air-source heat pumps.
The device has also received plaudits for its design, so if a slick-looking device matters to you, this is the one for you. You can buy the Nest thermostat with or without professional installation, but Nest does recommend using a professional.
Get an online fixed price in 20 seconds:
What kind of fuel does your boiler use?
Hive Active Heating
The Hive Active Heating (owned by Centrica) can be controlled by a user's voice or by using the smartphone app. The company claims that users can save up to £120 each year, which is a tempting incentive for those looking to cut their energy bills.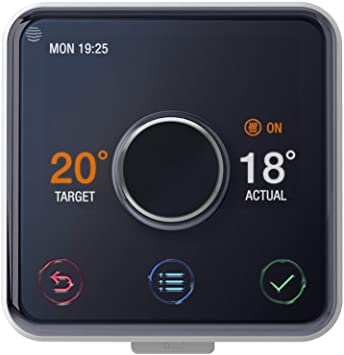 British Gas engineers are available to fit the thermostat for you, although the company says that you can do it yourself if you wish.
If you already have a smart home hub, then this thermostat is also compatible with Alexa and Google Home. It works with gas and LPG (Liquified Petroleum Gas) boilers, as well as some electric and oil boilers.
The device works with the smart assistants Amazon Alexa, Google Assistant and Siri. It also connects to the Amazon Echo and Echo Dot, so if you like the idea of controlling your heating with voice commands, this could be a nice bonus.
Get an online fixed price in 20 seconds:
What kind of fuel does your boiler use?
tado° V3+ smart thermostat
The tado° smart thermostat works with most gas boilers and also offers the option of smart radiator controls. It takes the weather forecast into account when heating your home and, like others in the market, uses geofencing to make sure you don't heat an empty home.
You can choose to heat your entire house, or adjust the heating in specific rooms. It also detects when there's an open window and reminds you to adjust your heating accordingly.
With the app, you can access smart reporting which you can use to monitor and changer the way you use your central heating.
Worcester Bosch EasyControl
This model is only compatible with Worcester Bosch model gas-fired combi or system boilers, including the Worcester 4000, Greenstar 8000, Greenstar i, the Greenstar Si Compact and the GreenstarHighflow CDI.
Like other smart thermostats on the market it allows you to control your Worcester boiler from your smartphone or tablet. The app works with Apple and Android, which customers can use to monitor their energy usage.
Like other smart thermostats, this Bosch EasyControl has to be connected to your through Wifi and can help to really lower your energy bills. It looks pretty good too, so if you get the latest Greenstar LifeStyle range you can pick between a black or white thermostat to match your boilers looks.
Baxi uSense
The Baxi uSense smart room thermostat also requires a wired connection to your boiler, and is compatible with any combi boiler, such as the Baxi Duo-tec and the Baxi 600.
The device also offers features such as a boiler fault diagnosis and a "holiday mode" to stop you wasting energy when you're away from home.
This isn't an exhaustive list of what these smart thermostats can do, or what's available on the market today. There are a wide range of options out there and you can speak to your energy provider or boiler maker to help you decide what will work best for you and your home.
Instead, this should give you an idea of some of the choices out there and hopefully you now feel confident enough to start searching for and comparing smart thermostats yourself.
EPH CP4i Smart thermostat
The latest smart thermostat from boiler control specialists EPH is the CP4i wich can be controlled with your phone via the EMBER app from pretty much anywhere you can get an internet connection.
With built-in programmable settings and wireless connections, frost protection, weather compensation and zonal control, this energy-saving EPH CP4i smart thermostat could be the perfect option for your home and you can get it it exclusively here at Boiler Central.
Get an online fixed price in 20 seconds:
What kind of fuel does your boiler use?
How much does a smart boiler cost?
The cost of a smart boiler will depend on the kind of smart thermostat you decide to buy. You can expect to spend at least £150 on a new smart thermostat, while some will set you back more than £300. If you decide to have a professional install your smart thermostat for you, this will cost extra. With Boiler Central, if you want to have all the latest smart home technology, you could get a boiler on finance and pay monthly for it all.
There are also extra monthly subscription services that you can pick up when you buy a smart thermostat.
Here are some of the best combi boilers people are buying right now to work with smart technology:
Is a smart boiler right for me?
Have you ever come home to a freezing house, or been frustrated that your boiler is pumping out heat when there's no one home to appreciate it? If so, then a smart boiler may be right for you. Smart thermostats can use geofencing track where you are via your mobile app and get your home warm ready for your return.
If you have a routine that the smart thermostat can learn from, and don't want to bother with manually setting a rigid schedule, then adding a smart boiler to your home can be an efficient way to heat your home.
If you're already using voice commands to control other smart devices in your home, like your lights, then you'll probably feel comfortable extending this control to your heating as well. But you should check that your smart assistant and home hub is compatible with the smart thermostat you want to buy first.
If you want to monitor your energy usage more closely and make changes, then a smart boiler may be the right way forward for you. Many smart thermostat apps allow you to monitor your energy usage and set targets to save energy over the year. Some will even send you a notification if you accidentally leave the heating on when you go out, reminding you to turn it off and conserve energy.
As well as saving the planet, keeping a close eye on your energy usage can also help to save you money by being more efficient in how and when you heat your home.
For people who want the convenience of setting and adjusting the temperature of their homes wherever they are, and are comfortable using an app to manage their central heating, then a smart boiler may be the way to go. Smart homes can help us reduce our carbon footprint, cut down our energy usage and save money.
Get an online fixed price in 20 seconds:
What kind of fuel does your boiler use?
Smart boilers: pros and cons
Pros
You can save money on your heating bills.
You can set specific heating zones in your house.
Users can control heating and hot water separately.
Many smart thermostats integrate with other smart devices in your smart home ecosystem
They can help you be more eco-friendly by cutting your energy usage.
You can control your heating outside of the house.
Users can view and review their energy usage.
Some models allow you to alter the temperature of your house with your voice.
If you forget to turn the heating off when you leave your house, smart thermostats can do it for you.
Cons
Smart thermostats aren't compatible with every boiler. Certain models will only work with specific types.
If you have an erratic schedule, a smart thermostat may struggle to learn your patterns.
The financial savings take time.
People who are less tech-savvy may be put off.
Adding more smart controls to your home can mean more maintenance.
If you're already careful with your energy usage, the savings will be small.
Extra features and subscriptions can be pricey.
Smart boiler installation
Smart boiler installation is quite a simple process for a Gas-Safe registered engineer, with it essentially being the same as a standard combi boiler before adding the smart thermostat. Once the smart thermostat and smart features of the boiler have been installed, you are good to go.
However, like any boiler, you should make sure to get the right installer for you as you don't want to be experiencing constant issues with your boiler when you need it the most. Getting a brand-new smart boiler replacement installed correctly could go a long way to meeting your needs and giving you peace of mind about your heating and hot water.
Boiler Central offer new smart boilers at great prices with high-quality installation included! Get a quote for your brand-new smart boiler in just 20 seconds.
Smart boilers: are they right for me?
The smart home is here to stay. Smart boilers and smart thermostats can form an important part of an energy-efficient home and help you to save cash, as well as keep a closer eye on your energy usage.
The convenience and high-tech intelligence of smart thermostats will appeal to many users, although those who are less confident with new technology may be unsure at first.
Speak to your boiler manufacturer about making your boiler smart, or call your energy provider to learn about potential deals they may have on smart thermostats.
Get an online fixed price in 20 seconds:
What kind of fuel does your boiler use?