Worcester Bosch Boiler Thermostats & Controls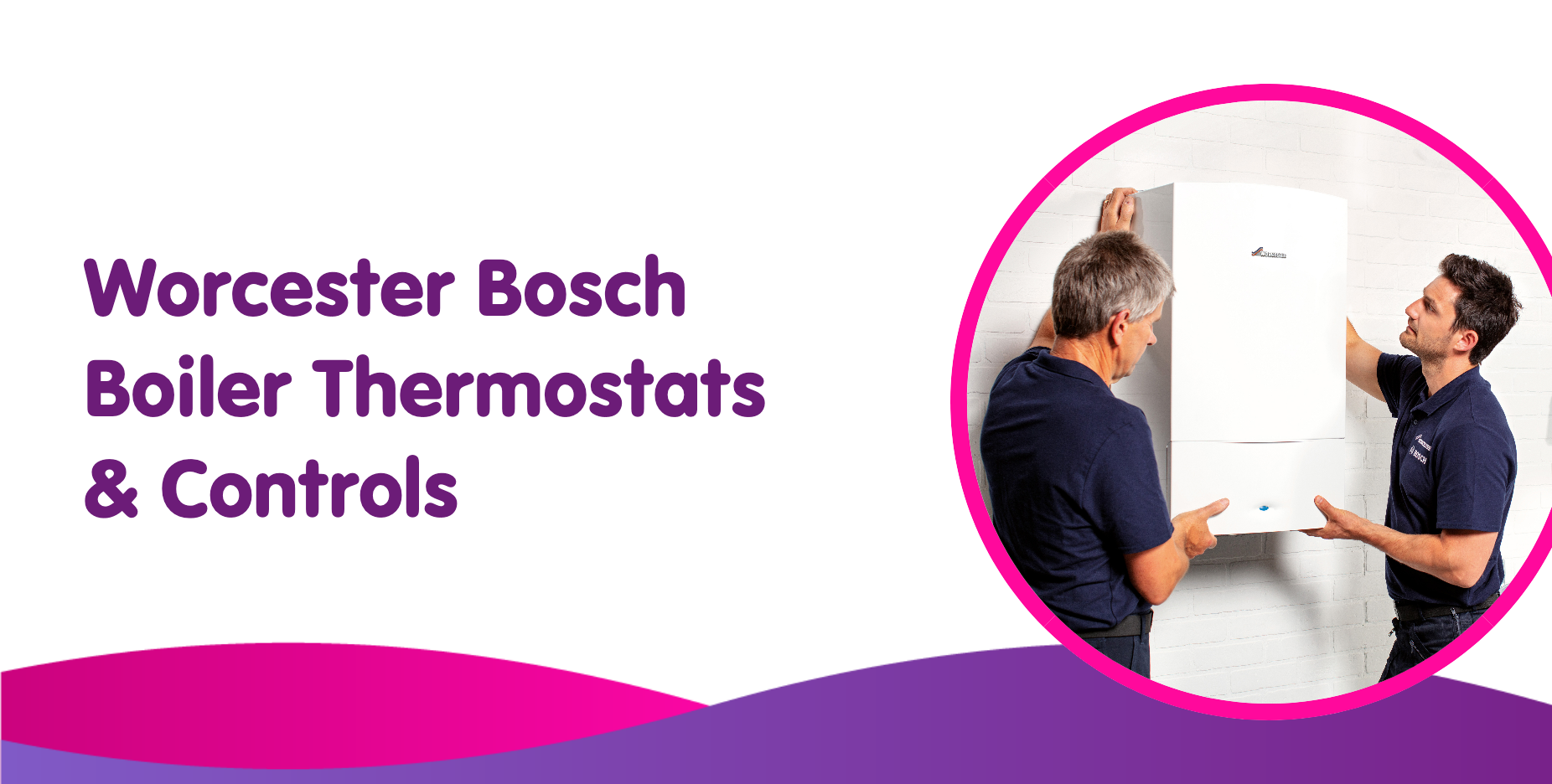 Worcester Bosch boiler controls & wireless thermostats for central heating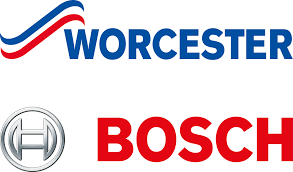 Worcester Bosch boiler controls can reduce energy waste and raise comfort levels inside a residence therefore thermostats and wireless boiler controls make it simpler to handle hot water and central heating systems.
One of the leading UK boiler manufacturers is Worcester Bosch, which provides a range of boiler controls and thermostats to save money and energy. These controls include digital controls, room thermostats, and intelligent and smart home thermostats.
Get an online fixed price in 20 seconds:
What kind of fuel does your boiler use?
Choosing the best Worcester boiler thermostat for central heating
The Worcester Boiler controls significantly impact your central heating system. Their condensing boilers are already run as efficiently as possible. Still, their selection of controls gives you another way to improve the overall performance of your system and reduce your heating costs.
Boiler controls come in various forms, each with unique features. Worcester Bosch presents various controls, including digital, mechanical, and smart heating controls. It's crucial to think about what kind of control might work best for your way of life. Worcester tops our best combi boiler list, but without a good wireless thermostat, getting the most out of your boiler for minimum cost will be difficult.
Do you merely need the heating to come on and go off at scheduled intervals, or do you need a constant, cosy temperature in the room? A wireless thermostat is perfect for this and with Boiler Central, you will get one included in the new boiler cost.
Worcester Bosch thermostats: Smart, hard wired & wireless options
Bosch EasyControl – smart thermostat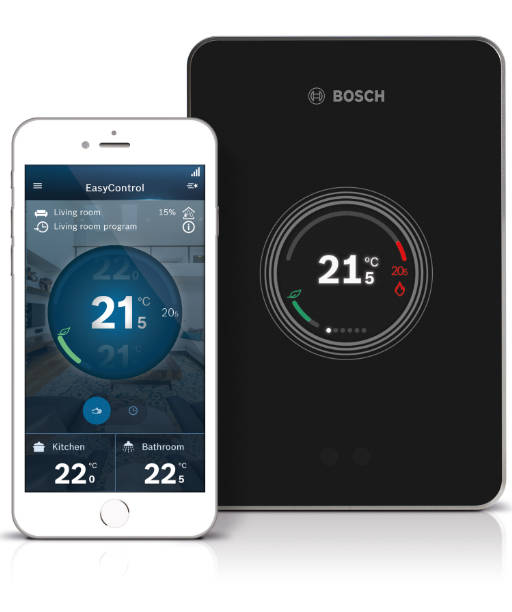 The new intelligent Worcester Bosch EasyControl central heating and hot water thermostat give you complete control. You may create the ideal home heating environment by using the EasyControl Professional thermostat, which is connected to the internet.
Then, using the EasyControl App on their smartphone, homeowners may control the heating in specific rooms when using the EasyControl Professional thermostat in combination with Worcester Bosch Smart TRVs. You may choose the times, temperatures, and spaces you wish to heat using your smart device.
The Worcester Bosch EasyControl Professional needs a 2-core wire connection between the control and boiler. The Wi-Fi network is used for all other connections; an external connected sensor is not required. The EasyControl software is used to complete the straightforward setup once online.
Check out the best smart thermostats in the UK right now if you want to compare alternatives that can work with a Worcester boiler.
Home presence recognition, user-friendly control displays, and the ability to learn and adapt to homeowner behaviour are new features.
Key Features:
The boiler's modulation by Bosch EasyControl is incredibly effective at reducing pressure and strain on the heating system
Each space is easily controlled; you select the ideal temperature
Stunning slim glass touchscreen design in black or white with ambient lighting
The Bosch EasyControl app, which is simple to use and can be shared with up to 6 family members, is user-friendly
Be aware that there is a standard 2 year warranty on the Bosch EasyControl and isn't covered under the actual Worcester boiler warranty.
Worcester Bosch digital wireless controls & thermostats
Greenstar Comfort I
Greenstar Comfort I Worcester Bosch comes with a separate room thermostat included. It is a sophisticated programmer that plugs into the boiler. When used with a gas boiler, the thermostat's load compensation feature allows the control and the boiler to communicate intelligently, increasing package efficiency by 3%.
The control plugs into the boiler and is pre-paired with the room thermostat. Since there is no need to hard wire it back to the boiler, this reduces disruption.
Key features:
Comes with three adjustable heating and hot time periods
Central heating and hot water program that is pre-set
Simple menu operation
Transparent backlit display
Control hot water and heating seven days a week
Improved heating system efficiency
A room thermostat can be used to control the heat
Greenstar Comfort digital programmer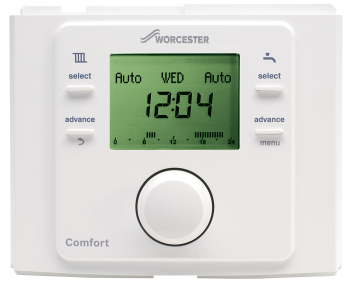 A twin channel programmer called the Greenstar Comfort control plugs directly into the boiler. This control menu's superb usability and intuitive design make it possible for you to rapidly become accustomed to the system.
It is possible to arrange for the central heating and hot water to turn on and off up to three times per day, with various schedules for each day of the week to meet your schedule. Additionally, the control automatically changes between British summer and winter time.
Key features:
Three programmable central heating and hot water times
Transparent backlit display
Simple menu operation
Holiday mode
Easy to use menu navigation
Heat control and hot water 365 days a year
Greenstar comfort II
The Greenstar Comfort II combines a room thermostat with a programmer, typically hooked into the boiler so that you can access all control features from a single, convenient location. The control's features, which include programming six customizable heating temperatures per day, are easily accessible through a short list of menu options.
Key features:
In 24 hours, adjust the temperature six different times
Three varying hot water time periods
Program and manage hot water and heating at the thermostat in the room
simple menu navigation six daily heating temperatures that can be adjusted
Instead of the boiler, the room thermostat can be used to program the boiler
Comfort+ Stat RF
Load-compensating thermostats such as the Comfort+ Stat RF are easy to use without any catch. For their Greenstar Lifestyle line, Comfort+ Stat RF is a wireless alternative. It is easy to install and comes ready to use.
The receiver, known as the RF Key, would be put into a port at the base of the boiler, and the thermostat could then be installed anywhere in the house, thanks to dependable RF transmission.
Key features:
With the Greenstar Style range, wireless connectivity
Three programmable heating and hot water times
Pre-set heating and hot water program
Simple menu operation
Transparent backlit display
Manage the temperature and hot water
Improved efficiency of the heating system
Greenstar Comfort+ II RF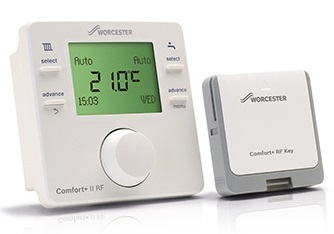 Their Greenstar Comfort+ II RF wireless control is easy to use and gives you access to all control features in one convenient spot.
Using the control's straightforward temperature dial and simple navigation interface, you may configure up to six customizable heating controls and three hot water schedules per day. Unfortunately, only Worcester 2000 and the Greenstar Lifestyle line are compatible with the Comfort+ II RF.
Key features:
Controls that are simple to use and have a transparent menu
Able to program three daily hot water times and up to six heating control settings for best comfort
Built-in load adjustment reduces energy consumption
Controllability via the room thermostat
Includes a vacation mode to reduce energy use further while you are gone
Only suitable for use with the Worcester 2000 Boiler Plus compliant and the Greenstar Lifestyle series
Worcester Bosch Boiler Central Heating Controls Conclusion
The boiler's central heating system depends on its heating controls and thermostats. Using the controls wisely, you can save energy and guarantee that every space is pleasant. Undoubtedly, Worcester Bosch provides thermostats and controls that increase home comfort and improve performance.
Have you seen the Hive or Nest smart thermostats that can be used with pretty much any gas boiler? These can also help to reduce your energy bills when used in conjunction with a Worcester Bosch boiler. We also offer great special offer replacement boiler packages here at Boiler Central where you can get a Hive or nest included with your boiler.