Honeywell T6R Smart Thermostat Review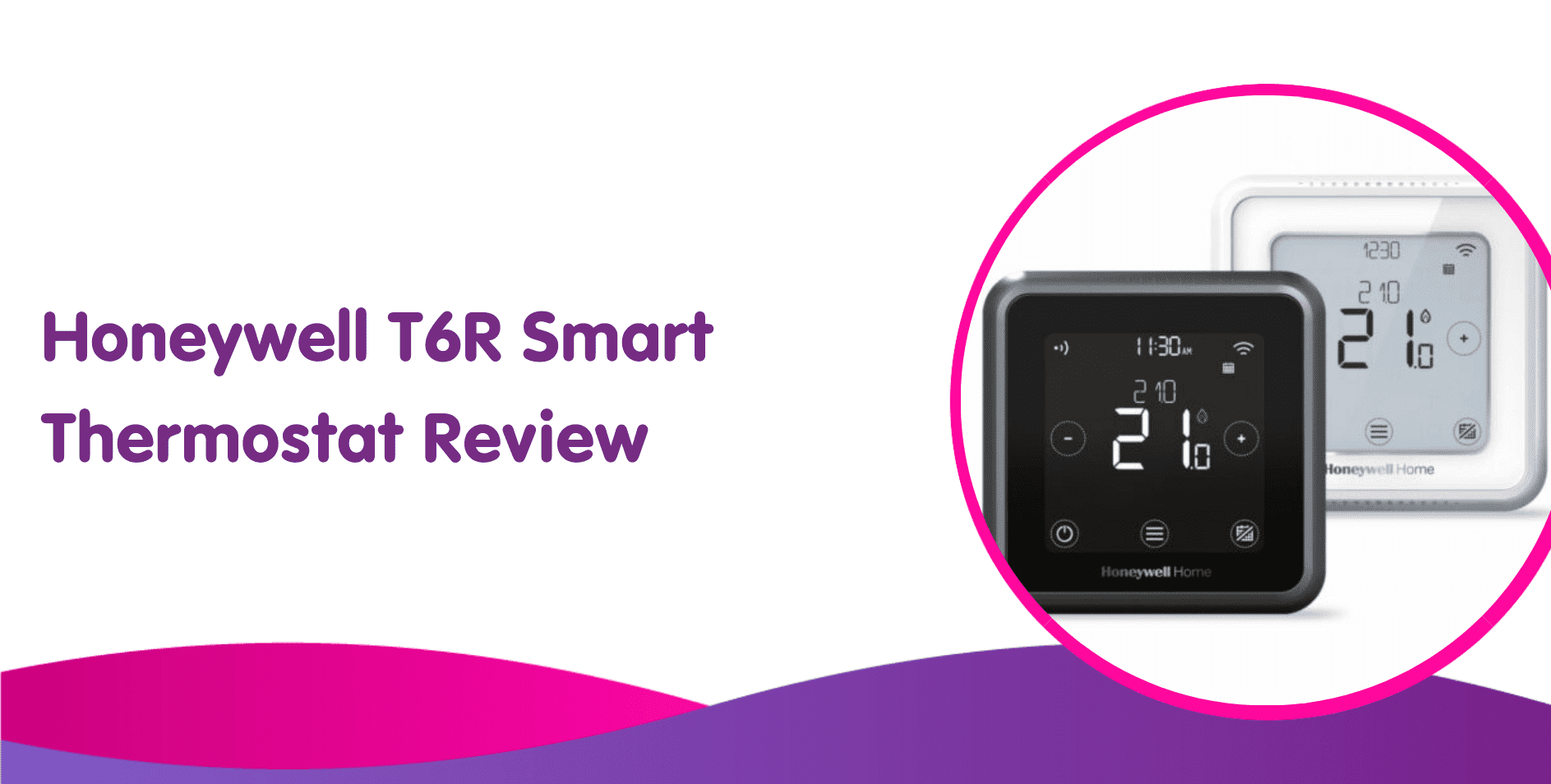 Honeywell T6R smart thermostat review – is it any good?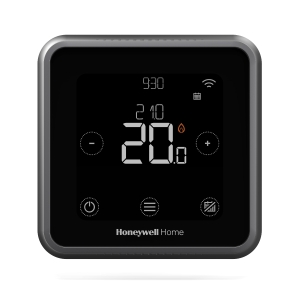 Having a solid, reliable thermostat that gives you complete control over regulating the temperature in your home is key to a happy, comfortable home life.
Get a fixed price with a Honeywell thermostat here in 20 seconds
Honeywell is the UK's leading supplier of thermostats and heating solutions, offering a range of smart gas, water, and temperature control systems for your home. The Honeywell T6R smart thermostat is their latest installment of smart heating controls.
Get an online fixed price in 20 seconds:
What kind of fuel does your boiler use?
What is a Honeywell Smart Thermostat?
Incorporating the cutting edge of home thermostat technology, the Honeywell Smart Thermostat gives you comprehensive control over every inch of your home heating. You can get one of these smart thermostats with a replacement boiler from Boiler Central right now.
What does a Honeywell Smart Thermostat do?
The Honeywell Home T6r Smart Thermostat is the next generation of home or business heating and hot water control technology. It is currently one of the best smart thermostats on the market.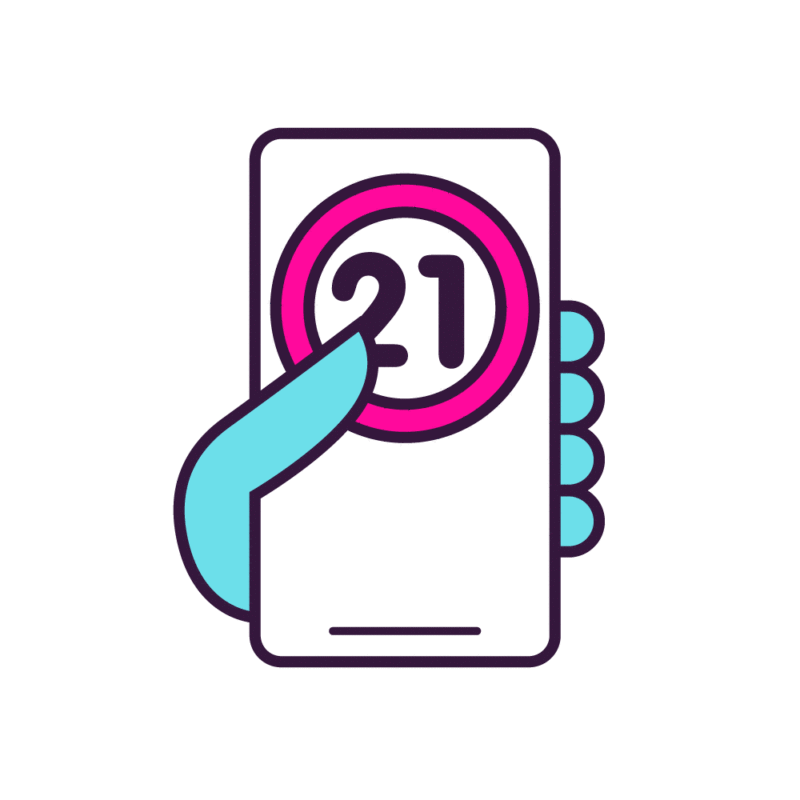 This innovative thermostat has an easy-to-read, programmable touchscreen with Wi-Fi remote access, allowing you to control it from anywhere in your home from any Android or Apple device via the Honeywell Home app. It's even compatible with voice-activated Google assistant Google Home or Alexa.
The T6R Thermostat offers flexible control over your home heating, making changes to scheduling and overriding temperatures easy.
Its comprehensive controls and smart technology make it possible for you to efficiently manage your home temperature control and cut down on your energy bills.
It even uses an intuitive geofencing system, so it knows when you're on holiday so it can save energy, and it can tell when you are nearly home so it can start heating your home to the perfect temperature for when you arrive home.
How does a Honeywell Smart Thermostat work?
Gone are the days of complicated, unintuitive thermostats.
The T6R Smart Thermostat comes out of the box ready to set up and install, and is compatible with most home boilers.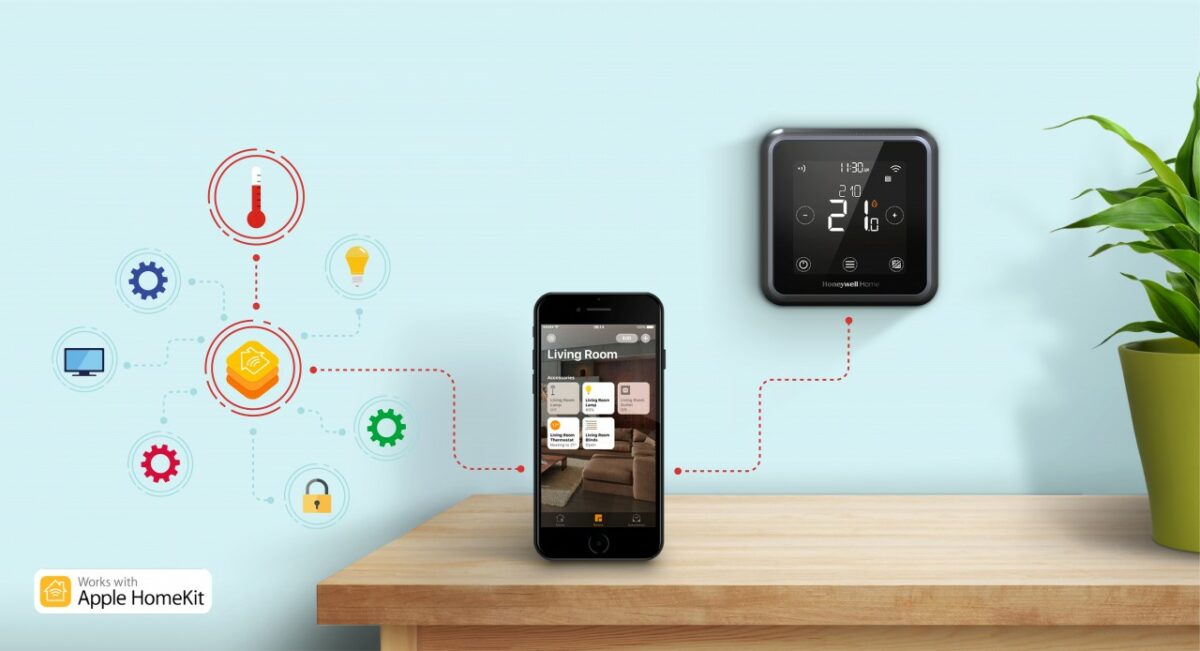 The Honeywell Home app gives you quick, easy, and total control over the Honeywell Home T6R Smart Thermostat, making its intricate control over your home even more straightforward.
Once you've downloaded the Honeywell Home App, it will take you on a simple step-by-step setup of your new smart thermostat, after which point it will be fully programmable from your phone or, as the T6R Smart Thermostat allows you to link multiple smartphones, anyone else logged into your home's system.
Get an online fixed price in 20 seconds:
What kind of fuel does your boiler use?
What features does a Honeywell Smart Thermostat have?
Beyond its simple, user-friendly interface, the Honeywell Home T6R Smart Thermostat comes replete with a range of features to help you warm your home with precision.
Geofencing
Geofencing is a location-based service that uses radio or cellular data to ping your phone. Often used by advertisers to ping customers near their stores, the T6R Smart Thermostat uses it to intuitively customize your home heating based on your location and your comings and goings.
This means the innovative geofencing technology will have your home heated to the desired temperature just in time for when you get home from work, or to switch off altogether when you are away.
Voice support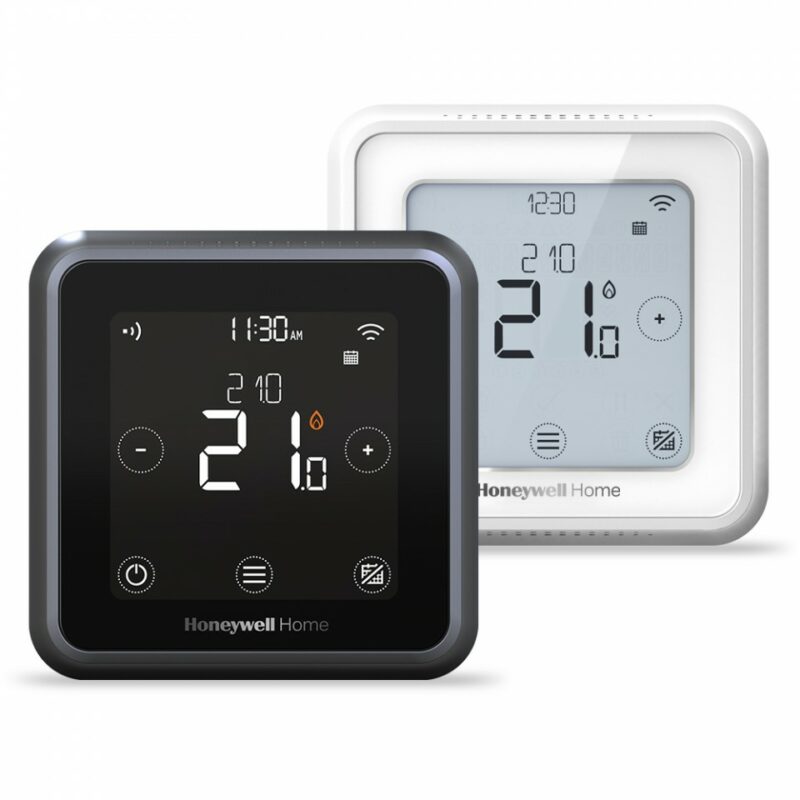 You can link multiple smart devices to your T6R Smart Thermostat, including Amazon's voice assistant Alexa or Google Home.
The T6R is designed to work in harmony with both devices so you can easily turn the heat up or down using simple voice commands, adding another layer of elegant control to an already simple interface.
Mobile app for remote control
The Honeywell Home app gives you innovative thermostat control via your Apple or Android device.
The uncomplicated interface makes hot water control from anywhere in your home a doddle. If you want to get cosier without leaving the couch it's as simple as dialling up the heat from your phone, no need to get up!
You can also plan the weekly heating schedule down to the day via the Honeywell Home app.
Colour touch screen & locking
The attractive, bright touch screen makes manual changes on your T6R Smart Thermostat simple and easy. The backlight also makes those late-night adjustments much easier.
The T6R also comes with a screen locking feature to ensure your carefully chosen desired temperature isn't tampered with.
Energy-saving mode

The T6R Smart Thermostat has a selection of features that make saving energy easy, including the 'optimum start and stop' boiler control function which allows more energy-efficient communication between your thermostat and boiler.
Its integrated control system ensures that your boiler fires only for the minimum amount of time to reach your required temperature, helping you make consistent savings on energy bills. If you are choosing to get a new 20% hydrogen ready boiler to help cut down on bills, the Honeywell T6R could help even further.
7-day programming and scheduling
The Honeywell Home T6R Smart Thermostat is built with the knowledge that life is unpredictable.
You don't have to wrestle with a clunky, old-fashioned interface to set a one-size-fits-all heat for the week, you can instead schedule a specific heating plan for the week and alter it remotely if your plans change.
You can also use single-day scheduling mode to plan heating options for specific days of the week.
Indoor humidity sensor
The Honeywell Home T6R thermostat doesn't only get to know the temperature in your home, but the humidity as well.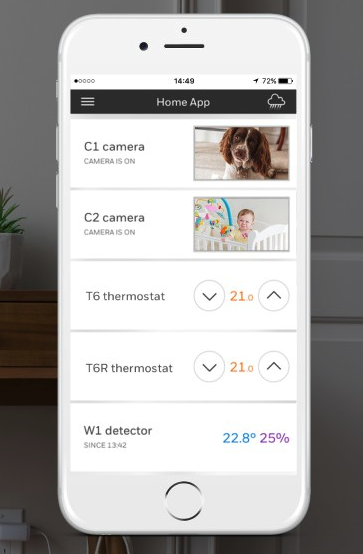 Using the touch screen interface you can take up-to-the-minute readings of the humidity in your home to ensure it is at optimum levels.
Advanced comfort control
Using innovative thermostat control via your mobile device, Apple Watch, or tablet you can lower or raise the temperature in your home by 0.5-degree increments, so you reach maximum comfort with minimal effort.
The Honeywell Home App
The comprehensive software of the Honeywell Home app gives you a direct line to your smart thermostat, so you always know what's going on at the touch of a button.
Once you've completed the simple set-up, configuring and altering your heating is easy. You can use the Honeywell app to schedule heating for the days ahead with incredible ease and use it to activate the geofencing capabilities of your T6 Smart thermostat so it can track your location and have your home toasty for you the moment you get home.
Zone control
What temperature works in one room might be all wrong for another, maybe you want to get into a nice cool bedroom after enjoying the warmth of your lounge. The T6 Smart Thermostat allows multiple zone control giving you and your family total freedom over the temperatures throughout your home.
Smart Response temperature timing
The Honeywell Home T6R thermostat uses several layers of software to ensure it has the most energy-efficient relationship with your boiler.
The optimum start and stop system heats your boiler only as much as it needs to to get to the right temperature, and then the thermostat quickly shuts off at that point, saving you money.
Linking to multiple smart devices
The Honeywell app allows multiple home devices to control your T6 Smart Thermostat, giving seamless control over their comfort.
Once the app and your thermostat are linked you can control every detail of its function from anywhere in your home and so can your family, regardless of what device they're on.
The Honeywell Home T6R is compatible with Android, Google Home, and a range of Apple products, including your Apple watch when used alongside Apple's voice assistant, Siri.
Get an online fixed price in 20 seconds:
What kind of fuel does your boiler use?
The pros and cons of a Honeywell T6R Smart Thermostat
Pros:
The Honeywell Home app gives an easy-to-use interface with your thermostat so you can control it seamlessly from anywhere. The ability to connect multiple devices via the app is another great feature.
If you're not using the app, the brightly lit, uncomplicated display is straightforward to program.
Scheduling heating for 7 days not only gives you peace of mind and saves daily reprogramming but ensures your home heat settings are energy conscious.
The geofencing system ensures you'll never return to a cold home.
Cons:
Using a fully online, wireless thermostat may be off-putting and confusing to people who have only ever used manual thermostats. This could also make setting the thermostat up in your home tricky.
Taking full advantage of the T6R requires you, or someone else in your home, to have access to the Honeywell Home app.
The Honeywell Home T6R Thermostat is incompatible with 5.0Hz internet routers, so ensure yours is 2.4Hz before purchasing.
Honeywell Smart Thermostat installation and set-up
The Honeywell Home T6R is a wireless thermostat, so if you're replacing your old one it doesn't necessarily have to replace it. It can go on the wall or on the kitchen tabletop, or wherever you like. If you choose your new gas boiler installation with Boiler Central our Gas Safe registered installers will install it for you and set everything up!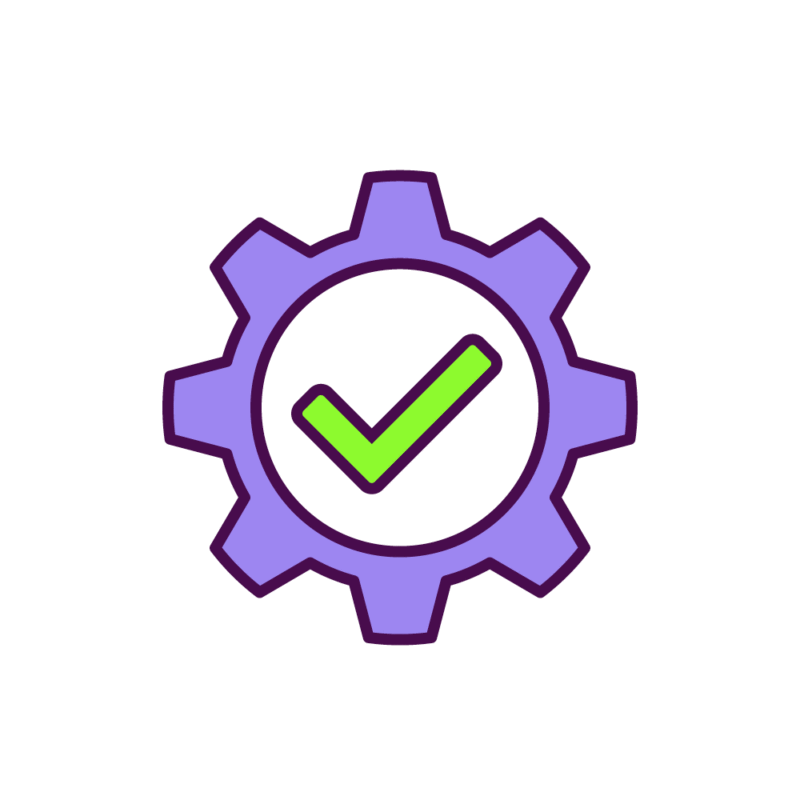 The T6R is designed with easy installation in mind and comes with several features to streamline the set-up.
First, you have to fit the relay box near your boiler, as this contains the connections for your boiler. Make sure to use proper wall mountings when fitting the relay box.
Then select the ideal place for your thermostat and finish off the setup and configuration process. This is done intuitively either via the touch screen on the thermostat or using a device connected to the Honeywell Home app. Simply follow the prompts on the screen to complete the simple process.
How much does a Honeywell Smart Thermostat cost?
The RRP for the T6R is £199.99, but if you shop around you can typically find them for cheaper. The T6R is available on Amazon for £175.00. If you are buying a new boiler from us then you can choose on when you checkout!
Is a Honeywell Smart Thermostat any good?
The Honeywell Home T6R receives consistently excellent reviews from those who purchase it. The setup is just as easy as Honeywell claims, with clear, straightforward configuration steps.
Once you're set up it's simply a case of lazily programming your home heating with the touch of a few buttons. No more fussing around with complicated, decade-old liquid crystal interfaces! Using the bright, clear display lets you understand exactly what you're programming and not simply doing what you think is right and hoping for the best.

Integrating the thermostat with the Honeywell app is a smart, forward-thinking move that centralises control over your thermostat to your phone or tablet. Adjusting the temperature, or taking a read on the current one, is easy for all the family.
Use your phone to alter the heating plan for the week down to a single day to suit your ever-changing and busy lives, and it's all done by simply opening up the app on your phone.
The Honeywell Home T6R Thermostat is a fantastic, user-friendly temperature control device that takes all complications out of heating while making your home smarter in the process.
Get an online fixed price in 20 seconds:
What kind of fuel does your boiler use?
FAQs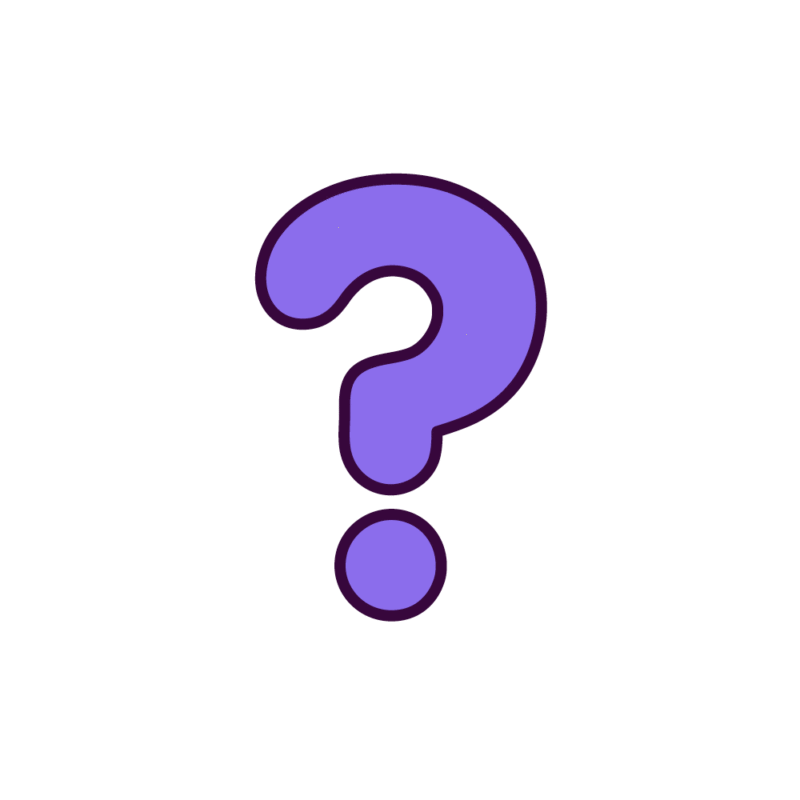 Are Honeywell Smart Thermostats reliable?
Absolutely. The T6 Smart Thermostat is a simple, sophisticated piece of kit that understands not to overcomplicate what should be a straightforward process.
It doesn't even require an internet connection to control the heating, so you don't need to rely on a solid wireless connection for it to do its job.
Can you control the Honeywell Smart Thermostat with your phone?
Of course! Exactly the same as the nest or hive, you can do everything with your phone.
But not just your phone, virtually every home device can be used to download the Honeywell Home app. This includes Amazon Alexa, Google Home, or Apple Homekit.
Does a Honeywell Smart Thermostat need to be fixed to a wall?
The Honeywell Home T6R doesn't have to be put on your wall. It comes with a handy stand so you can pop this inconspicuous, classy device anywhere you like in your home to best suit your preferences.
Is a Honeywell Smart Thermostat worth it?
If you want a simple, intelligent solution to home heating that's easily controlled from anywhere in your home, and even outside it, the T6R is well worth the price. If you want something similar then why not check out the Tado smart thermostat just in case.
Honeywell t6r smart thermostat Conclusion
As smart home technology becomes more advanced by the year, it's important to stay ahead of the curve and keep up with the rapidly advancing technology.
The Honeywell Home T6R is a fantastic example of home technology as it should be: a stripped-back, simple and enjoyable piece of kit that makes a complicated task the work of a few simple taps.
Get an online fixed price in 20 seconds:
What kind of fuel does your boiler use?