Viessmann Boiler Thermostats and Controls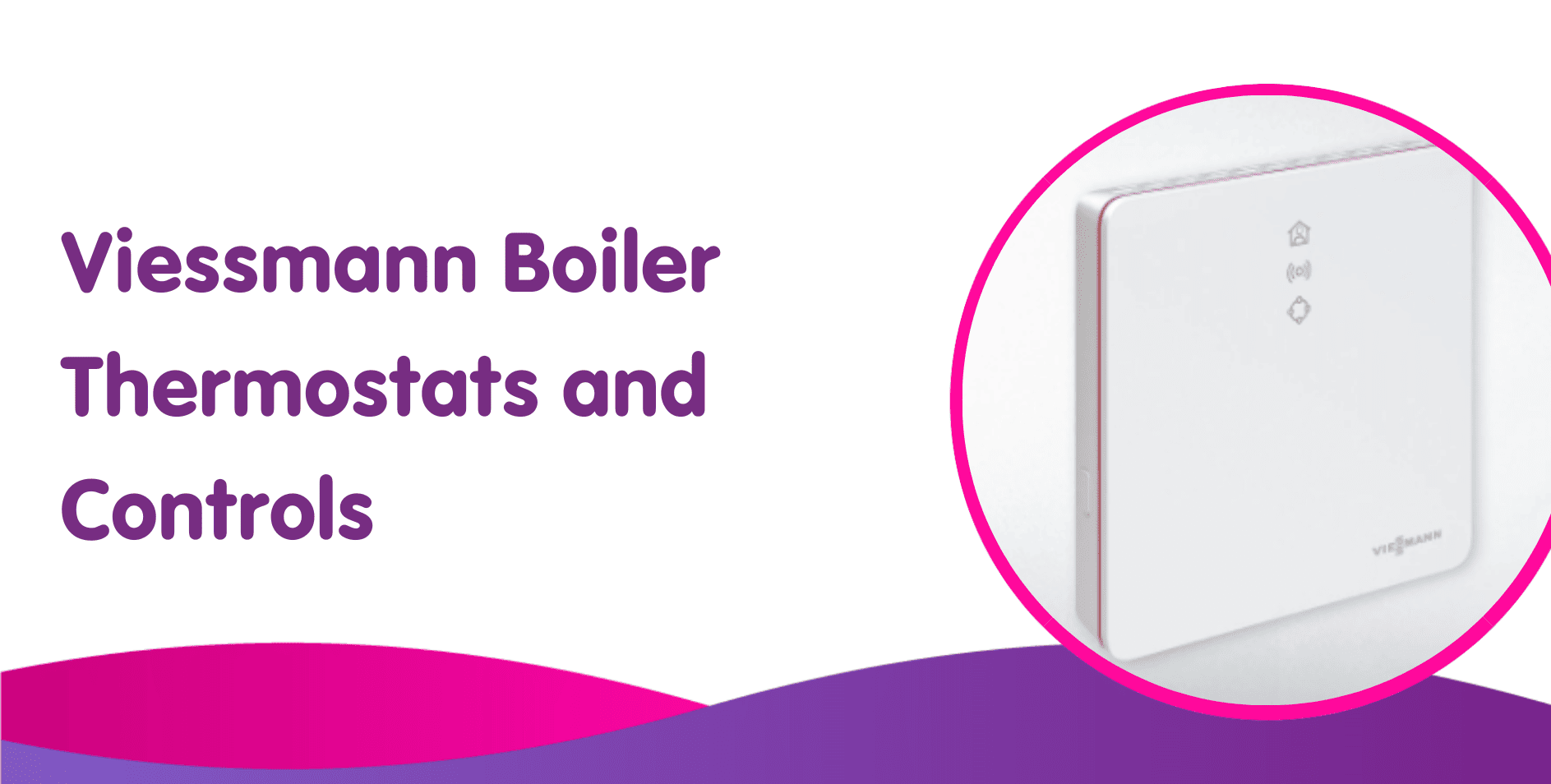 Viessmann thermostats, smart thermostat and central heating controls

Viessmann boiler controls reduce energy waste and improve indoor comfort. From Smart thermostats that use Wi-Fi to RF controlled thermostats, these boiler controls make it easy to use your boilers and ensure a continuous hot water supply to your taps.
Viessman is one of the top UK boiler brands, recognised by The Energy Saving Trust, that features a variety of thermostats to control your central heating and boiler.
This premium brand guarantees efficient boiler operation and lower energy bills with its digital controls, room thermostats, and other smart home thermostats. Not to mention its ErP "A" rating, which further lets the customers shop confidently.
A Viessmann high-efficiency boiler reduces energy consumption and is far more environmental-friendly than a manual one. Attachments like smart thermostats, room temperature sensors, and digital and mechanical controls help increase the boiler's performance and allow you to control your central heating unit from any area in your home.
We have put the following boiler thermostats through our testing process and compared their features and costs to assist you in selecting the one that fits your home's needs.
Here is a list to give you an idea of the available models with their key features to help you out!
Smart Viessmann Boiler Thermostats & Controls
To go with some of the best combi boilers, Viessmann offers a range of boiler control options and thermostats. Below are a few popular controls and thermostats offered by this company to give you an idea of what's trendy in the market and which one is the most suitable for your home.
1. Viessmann ViCare Wireless Thermostat & Climate Sensor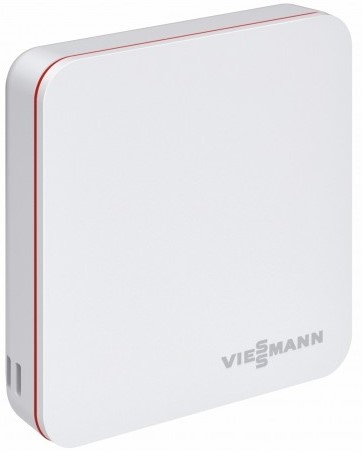 The ViCare Wireless Thermostat is a smart thermostat by Viessmann that allows you to easily control your heating and hot water system using the ViCare App.
ViCare Thermostat lets you set specific heating temperatures for every room and turn the heater on and off with a click. This increased degree of control results in less energy usage and reduced heating costs.
One thing that sets this thermostat apart from others is its feature of entering and saving a certified engineer's number into the app. In case any problem arises, the engineer would have all the necessary information about the system and will provide faster support.
Additionally, you can quickly check if your thermostat is operating fine without switching off this heating unit. And if a problem is observed, the app would be the first to inform you through its email feature.
With ViCare App, you can make your heating system smart and experience an automated boiler's ultimate warmth and security and works particularly well with the Vitodens 100-w
Note: The ViCare application is available on both iOS and Android devices. However, the ViCare thermostat is only compatible with Vitoconnect 100W & 111-W boilers with a built-in Wi-Fi Module and is not covered under the standard Viessmann boiler warranty
Key Features:
Comfortable modulating efficiency and other digital services
Uses ViCare App for user settings
No third-party controls are required
Boiler RF connection present
With Load Compensation providing Boiler Plus qualification
Viessmann Wireless Thermostats & Controls
2. Viessmann Vitotrol 2-Channel Wireless Programmable Room Thermostat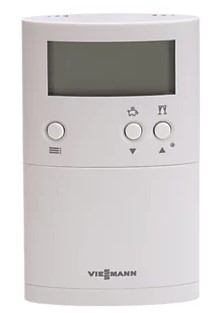 Viessmann Vitotrol 2-Channel Wireless Programmable Room Thermostat is an innovative, wireless room thermostat with a seven-day, two-channel digital clock. The thermostat has a temperature range from 10 to 30°C and is the ideal choice for combi boilers.
Both the thermostat and receiver are battery-powered. The thermostat has three pre-set programs and is programmable round-the-clock. Additionally, its large LCD and selection buttons make adjusting the settings simple.
However, this thermostat has a few wireless range restrictions. Its wireless range can be affected by appliance interference or physical obstructions like brick walls, floors, metal frames, and floors, which can cause its signal to weaken.
Key Features:
A temperature range of 10-30°C
LCD Display
Boost Facility
Three Pre-Set Programs
Is Programmable 7-Day & 24-Hours
Features a battery-powered motor
Battery-Powered Receiver
Multiple On / Offs Over 7 Days
Ideal for Combi Boiler
Compatible with Vitodens 050-W Models
3. Viessmann Vitotrol Open Therm Programmable Room Controller
The Viessmann Vitotrol Open Therm Programmable Room Controller is an intelligent boiler controller designed to control your heating system efficiently and provide comfort when at home and energy saving when away.
This hardwired, seven-day, single-channel room thermostat features load compensation for the boiler and compliance. In addition, the controller's large screen display and easy-to-use dials allow for quick and simple adjustment of heating and hot water temperature and ultimately ensure the efficient running of your heating system.
Key Features:
Ergonomic user interface
Large LCD screen
7-day heating program to fit your lifestyle while maximizing energy saving
Four independent temperature levels per day (from 5 to 35°C)
A Holiday button to save energy by allowing you to lower the temperature for up to 99 days
Built-in memory to hold the user's program
Simple wiring to open therm connections of the boiler
Load compensation available for the boiler
Clear displays that are easy to program
4. Viessmann Vitotrol 100 UTA-RF Wireless Room Thermostat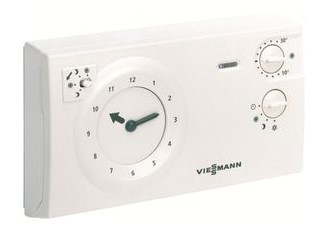 The Vitotrol 100 UTA- RF wireless programmable room thermostat comes with an uninterrupted, one-channel clock.
In addition, this thermostat has two rotary selectors, one for time and the other for selecting temperature settings. The time switch controls the heating operation and DHW heating according to the chosen heating program.
While the thermostat provides four programs: Standby mode, Standard mode, Automatic mode, and Reduced mode, each suited for different needs.
Key Features:
Continuous and wireless operation
Comes with a Compact Weather Compensation feature
One channel clock
5. Viessmann Vitodens 100-W Vitotrol 100 UTDB RF2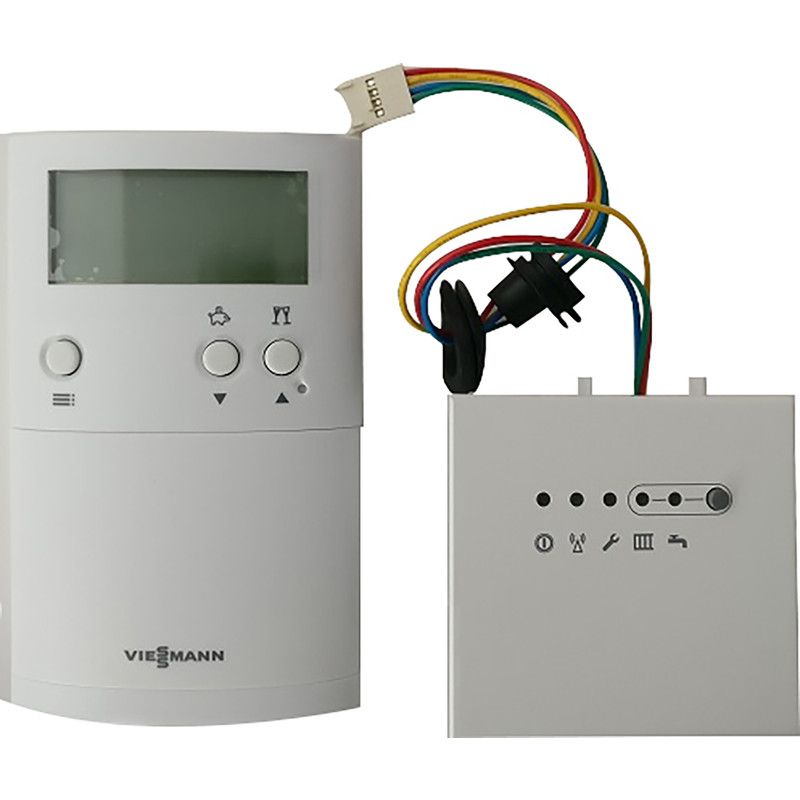 Viessmann Vitotrol 100-W Vitotrol 100 UTDB RF2 is an integrated radio transmitter and room temperature controller. It has three individual and seven-day programs, including a built-in temperature sensor with two-channel outputs.
The Vitotrol by Viessmann also features a large LCD screen and multiple time setting programs. These include frost protection, permanent comfort, and permanent setback.
In short, this Trust-approved, energy-saving wireless thermostat is an excellent solution to your heating problems.
Key Features:
Digital control with seven-day and three individual programs
Built-in Room Temperature Sensor
Large LCD screen and selector
Only suitable for Vitodens 100W boiler ranges and Vitodens 111-W B1LD Storage Boiler
Viessmann Boiler Controls & Thermostats Conclusion
Heating controls and thermostats are essential to any boiler's heating system. Alpong with a regular Viessmann boiler service, smartly using these controls can reduce energy consumption and ensure proper and comfortable home heating.
Viessmann has not failed to provide excellent products for the last hundred years and continues to impress its customers with these latest smart boiler controls and thermostats.
We hope this article provides you with enough options to choose the next best companion for your boiler.