Viessmann Vitodens 222-F Boiler Review 2023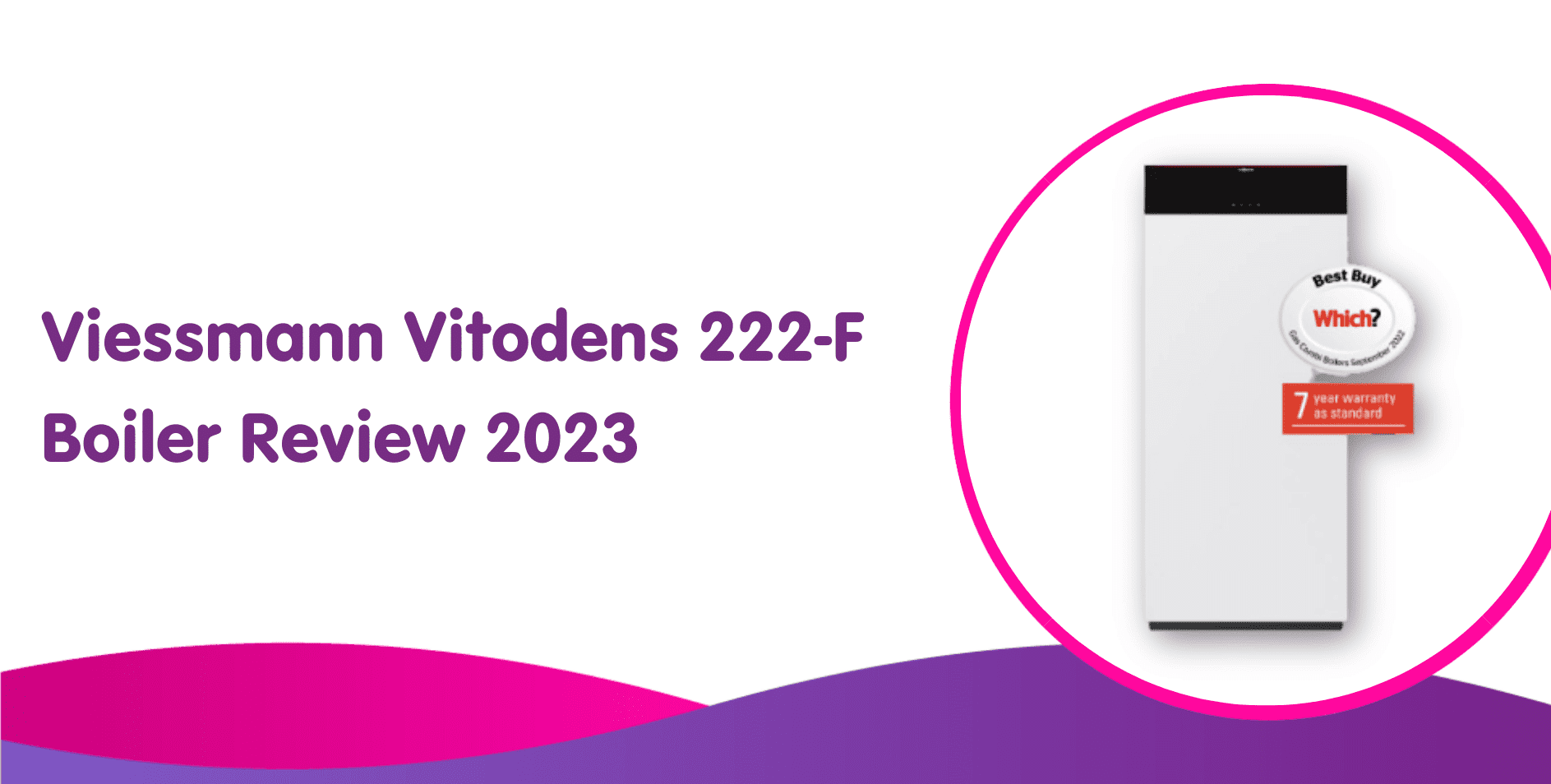 Viessmann Vitodens 222-F Storage Combi Boiler Review
Looking for a new boiler that offers all the benefits of a system boiler while providing the convenience of a combi?

The Viessmann Vitodens 222-F storage combi boiler might just be a perfect choice.
This model comes from the well-respected Viessmann company, a manufacturer that is well known for the efficiency and reliability of their boilers.
First set up in Germany, Viessmann boilers now have a worldwide presence with their UK headquarters being based in Telford.
In this guide, we're going to take an in-depth look at the 222-f to help you decide if this replacement boiler might be the right option for your home.
Get an online fixed price in 20 seconds:
What kind of fuel does your boiler use?
What Type Of Boiler Is A Viessmann Vitodens 222-F?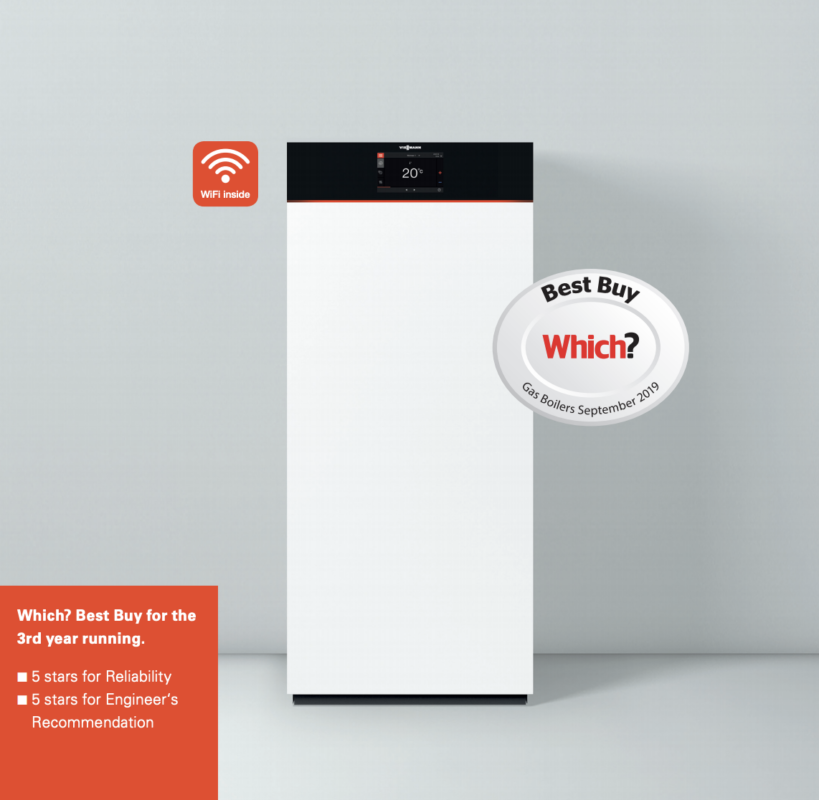 The Vitodens 222 F is a storage combination boiler which means that it heats the water as needed and so doesn't need a cold-water tank or a hot water cylinder for storage.
But what makes the Vitodens combi boiler a little different is that it has a built-in storage tank and it's here that the water is heated. This then means that the boiler is continually ensuring that there's a ready supply of hot water.
One of the downsides of even the best combi boiler can be that they struggle to cope when hot water is needed from more than one outlet at a time. The Viessmann 222-F does away with that issue.
If you want a more compact storage combi boiler then the Vitodens 111-w may be what you are looking for instead.
Viessmann Vitodens 222-F Features
Viessmann prides themselves on being at the forefront of new technologies and on the Vitodens 222 boiler you'll find the following key features including being a hydrogen-ready combi boiler. All new Viessmann combi boilers are hydrogen ready.
Stainless Stell Inox-Radial Heat Exchanger
When the boiler is made of top-grade materials, then you know that you'll get long-lasting, economical operation. The stainless steel Inox-Radial heat exchanger is well known for its exceptional reliability and high condensing efficiency, which doesn't waiver over time.
MatriX-Plus burner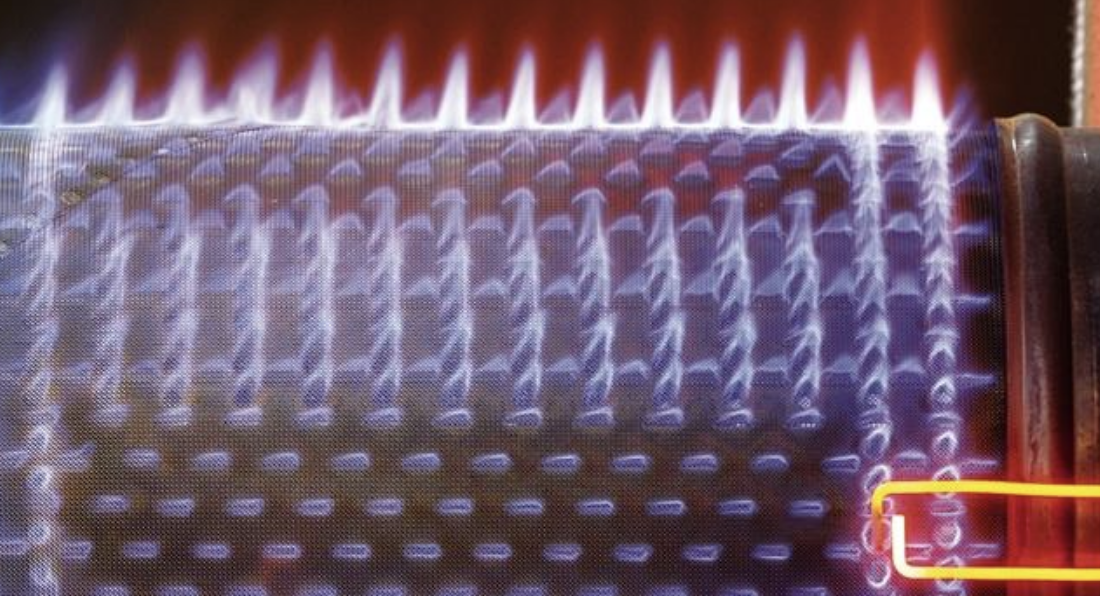 Not only does this innovative burner contribute to high energy efficiency, but it also minimises emissions making it good for your finances and the environment.
The MatriX-Plus burner has the highest levels of modulation, meaning that the flame is very stable, which in turn results in lower levels of fuel consumption.
Get an online fixed price in 20 seconds:
What kind of fuel does your boiler use?
The New E3 platform with 7" colour touchscreen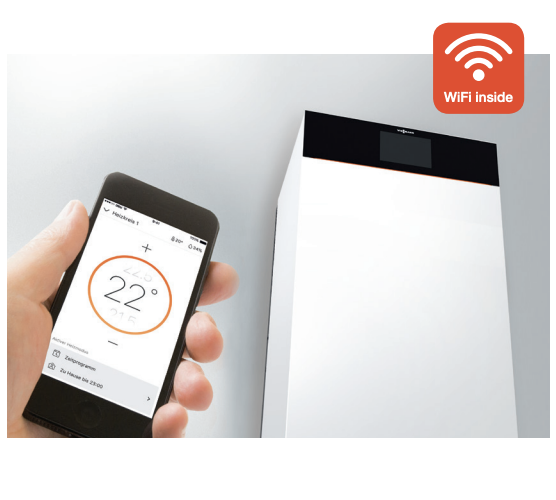 This new system enables both you and your heating engineer to know precisely how the boiler is performing.
When connected to the internet with the ViCare or Vitotrol Plus app, the engineer can be notified if there's an issue before it causes you a problem.
The Benefits Of A Vitodens 222 Boiler
So, why should the Viessmann 222-F storage combi be on your shortlist?
Hot Water Storage for Smaller Homes
The need for a hot water cylinder can mean that there just isn't enough room in many homes for a system or regular boiler. The Vitodens 222-F gives you storage without needing that hot water cylinder.
A-Rated Boiler
This means that the 222 has reached the highest levels of efficiency and in turn, provides lower fuel bills for you while also lowering your carbon footprint.
Super Quiet Operation
This is a boiler which is designed to fit into a kitchen cupboard, and with its low operating noise, it's not going to disturb you while it heats your home.
How Long Do Viessmann 222 Boilers Last?
The typical lifespan of a boiler is 10-15 years. Do make sure that you follow the annual servicing schedule to keep everything working effectively and to prolong that life as long as possible. When taking into consideration boiler replacement costs, you want one that lasts.
Viessmann 222-f Price Guide
The Vitodens 222-F new boiler cost will depend on the power output, but our pricing table provides you with an idea of what you can expect to pay.
| | | | |
| --- | --- | --- | --- |
| Model | Output | Output for DHW Heating | Guide Price |
| Viessmann Vitodens 222-F 19Kw | 19kW | 21.8kW | £2,847 |
| Viessmann Vitodens 222-F 25Kw | 25kW | 28.3kW | £3,084 |
| Viessmann Vitodens 222-F 35Kw | 35kW | 33.5kW | £1782 |
What Warranty Is Available?
A standard 3-year warranty is available on each of the Vitoden 222-F boiler replacement models. This can then be extended to 5 years when the boiler is installed by a Viessmann Trained Installer and to 10 years as a chargeable extra.
As an alternative to paying for the longer warranty, you might want to consider a boiler cover plan which can also include the cost of annual servicing. One huge positive of having a Viessmann boiler is that there arn't many common Viessmann problems that we are aware of, backing up their reliability claims
Is A Viessmann Vitodens 222-f The Right Boiler Type For Your Home?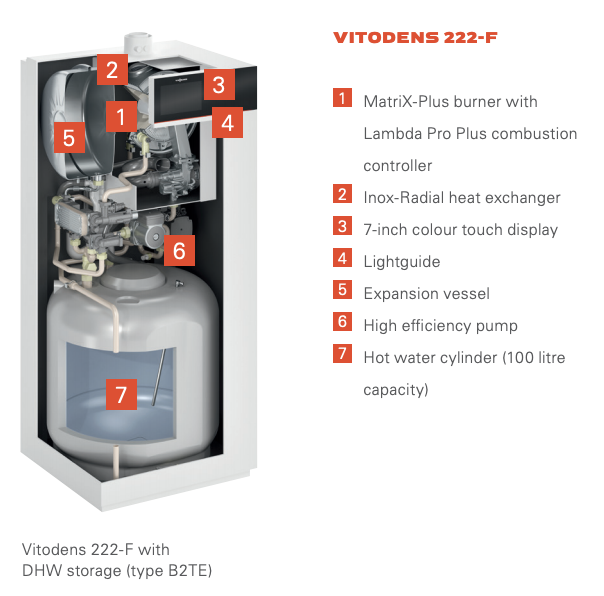 When you want a combination boiler, but you also have a high demand for hot water, then the Vitodens 222 is a great option.
It's an easy-to-use model, and with the opportunity to control everything through an app, it's easy to set it up to meet your needs.
When checking out boiler reviews, Viessmann is one of the most trusted manufacturers. And when looking at the Viessmann 222-F review listings, it's clear to see that homeowners are very happy with the model and Vitodens 222 problems are few and far between.
If you want a Viessmann but think that the 222-f is a bit too much, then there are other boilers available, here is a list of other Vitodens boilers in the range:
An Overall View Of The Viessmann Vitodens 222-f Boiler
The Vitodens 222-F gas-fired condensing boiler is the perfect space-saving option. Its compact, floor-standing design offers opportunities for being sited in the kitchen, and its hot water storage makes it ideal for the smaller family home.
The Vitodens 222 price is high compared to other Viessmann combi boilers, but the benefits of the hot water storage make it an excellent choice.
If you're looking for tips on how to buy a boiler online, new boiler deals, or the best system boilers, we have it all covered here for you.
Get an online fixed price in 20 seconds:
What kind of fuel does your boiler use?