How Old Is My Boiler & How To Tell a Boilers Age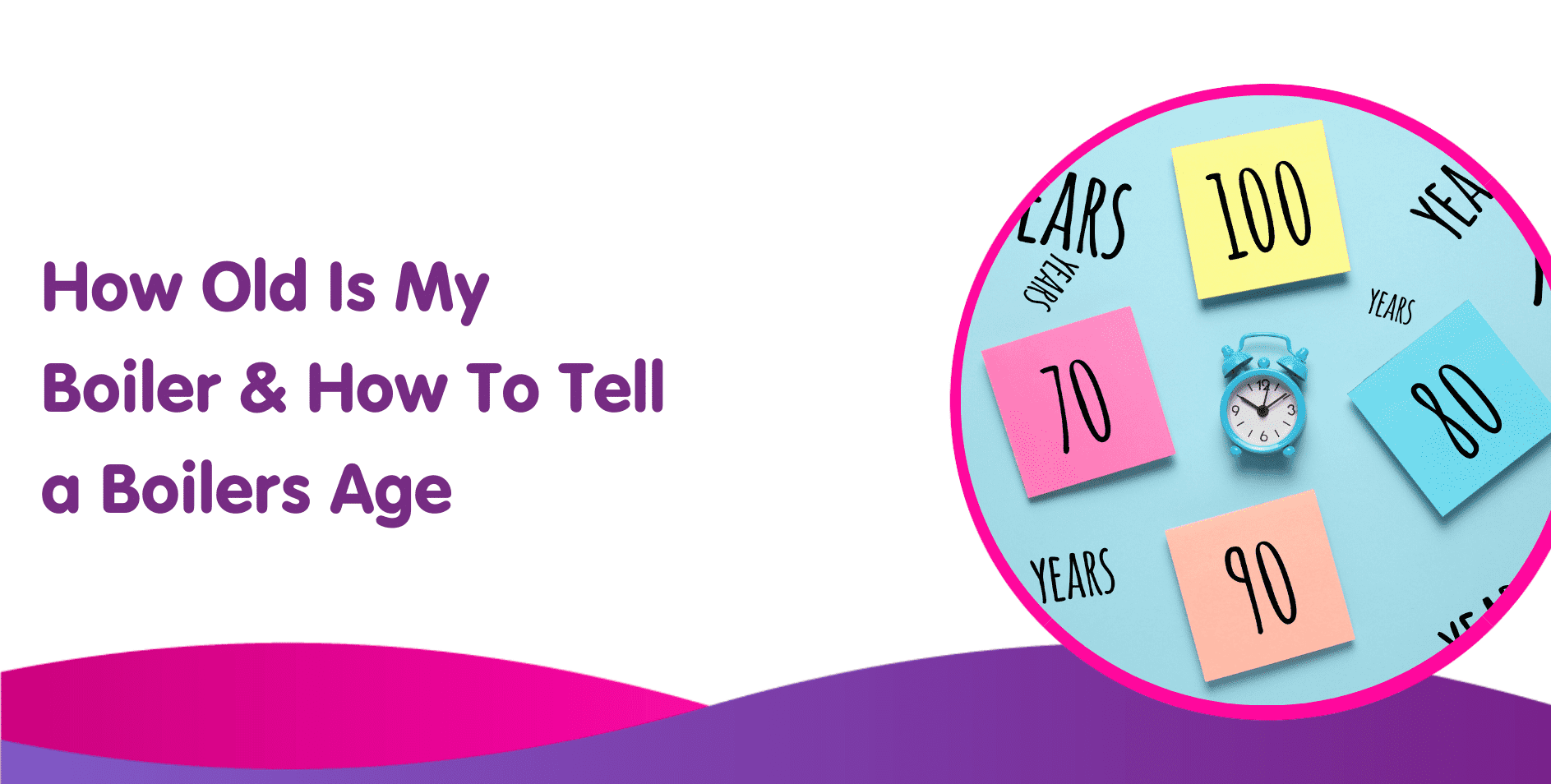 How To Tell How Old a Boiler Is
Using an old boiler means using an inefficient one, which is why it is important to be able to answer the question, how old is my boiler? When you have a clear answer, you know when to purchase a new one. After all, using an old boiler means unnecessarily paying more to heat your home, which is the last thing anyone wants.
The age of a gas boiler has many costly effects, good and bad therefore it is important to know when thinking about a replacement. This article will help you find out just how old your boiler is. Let's begin!
get a fixed price new boiler quote in 20 seconds online now with Boiler Central
Get an online fixed price in 20 seconds:
What kind of fuel does your boiler use?
How to tell a gas boiler's age
The age of a gas boiler can be found in different ways for different boiler brands. Take a look at our guide to find out the age of your boiler and if it is starting to require a walking stick or not.
Older boilers are far less efficient than new ones so actually being able to tell how old a boiler is more important now than ever with the huge rise in gas prices.
If you are still struggling with the age of your boiler after reading our guide then you should contact us and we can help you along the way. If you require any more assistance or there is something missing then you could always call out a Gas Safe engineer.
The oldest boilers and most inefficient boilers are back boilers, if you have a back boiler it is likely to be at least 20 years old.
Boiler Manufacturer's Standard Serial Number Should Give You the Age
One of the ways to find out how old a boiler is is by checking its serial number. The serial number is a long barcode. It is typically outside on the back of the boiler. It consists of letters and numbers, which you can use to determine the boiler's age. You simply have to know what to search for.
This section of the how old is my boiler article will cover the following boiler manufacturers:
Worcester Bosch
Valliant
Ideal
Baxi
Should your boiler brand not be on the list, you can still find out about your boiler's age through the Products Character Database. You should note that you will need to know the boiler type, fuel used, the manufacturer, and the model. You can find this information in the owner's manual that came with the boiler.
If you want to upgrade your old combi boiler, then check out the best combi boilers right now for help in deciding which to choose!
How old is my Worcester Bosch boiler?
Trying to ascertain where to locate the serial number of Worcester Bosch is a little tricky. Worcester Bosch doesn't display their serial numbers for non-professionals to read. So, if you aren't sure how old your boiler is, you will need to call the Worcester Bosch customer support line.
How To Tell How Old A Valliant Boiler Is
Like many other boiler manufacturers, Vaillant boilers have a serial number. The serial number may have been stuck somewhere on the back or front of the boiler. Typically, the 3rd and 4th numbers on the serial number show the year it was made. With this in mind, the Valliant boiler made in 2001 will have the following serial number:
26012463030010256754
How To Tell How Old An Ideal Boiler Is
Find out the age of an Ideal boiler by checking its Benchmark certificate located in the manual. Should you not find the Benchmark certificate, you can call Ideal to get it. If you have an Ideal Mini, Classic or Logic boiler, they all come with serial numbers that show the date they were manufactured.
Ideal Mini
Compared to other boilers, Ideal Mini boilers tend to have a shorter serial number. The last 4 numbers are the year the boiler was manufactured. So, if the serial number is:
N104250308
Then you need to focus on the last four numbers: 0308. The 03 is the manufacturing month, while the last is the 08, the year it was made. So this example boiler was manufactured in March 2008.
Ideal Classic
The most effective way to determine the year Ideal manufactured your Ideal Classic boiler is to look at the third section of numbers. For instance, if the serial number is UZ 202034 0912 00149, you will need to focus on the 3rd section of numbers, which is 0912, which means that this boiler was made in the 12th week of 2009.
Ideal Logic
Where you can find the date on your boiler's serial number depends on if your boiler was manufactured before or after 2015.
With the Ideal Logic, you need to look at the final six digits, as the boilers manufactured after 2015 will read Day/Month/Year. Ideal boilers made before 2015 are the opposite; they read Year/Month/Day.
How To Tell How Old A Baxi Boiler Is
If you are interested in searching for your Baxi boiler's serial number, open the drop-down panel at the front of the Baxi boiler. Once you have the serial number, you can speak with Baxi to get the exact date when your boiler was made.
If your Baxi boiler was made after 2003, then it will have a serial number like the one below:
ABC-06-10-00311-AP
The second serial number section is the year when the boiler was made. Check out this old boiler, the Baxi Bermuda, if you have one of these then we strongly suggest a back boiler replacement and conversion to an energy-efficient combi boiler. At Boiler Central we are experts in converting back boilers to combis.
How To Tell The Signs of an Older Boiler
If you aren't sure about the age of your boiler, then you need to pay attention to the following signs. Other than how your boiler looks if it is starting to look worn out and hagged like an old dustbin, then here are some of the effects a boiler usually over 10 years old can have an effect.
If your boiler is less efficient it is likely to be old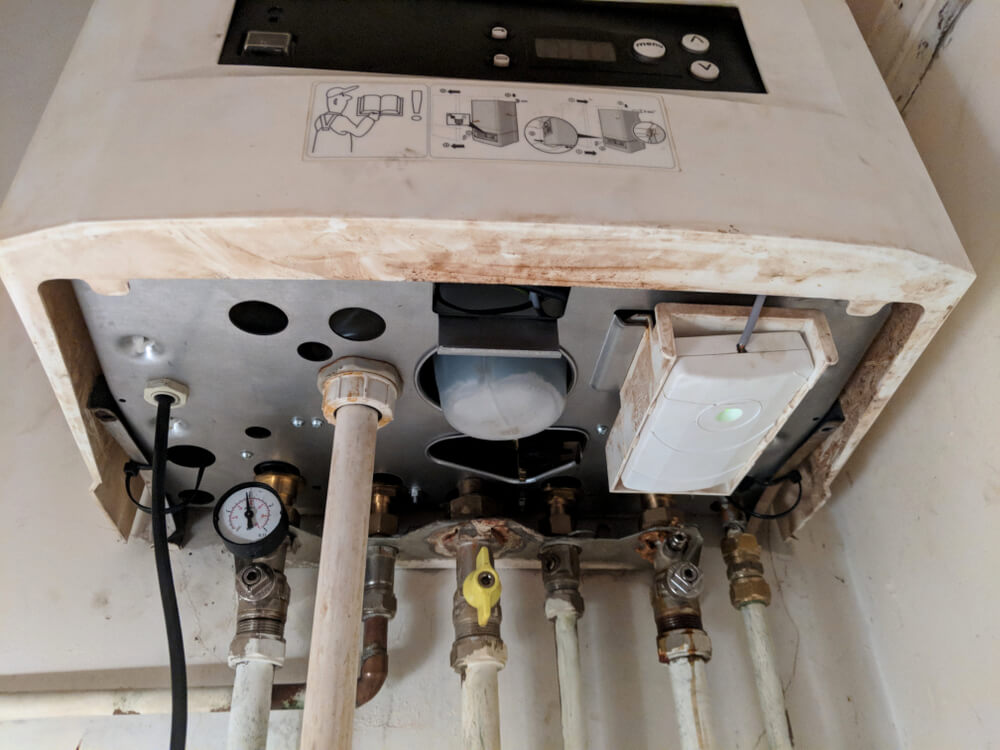 The efficiency of boilers tends to drop with age and consistent use. A new boiler will have about 94% efficiency; however, after ten years of use, it will have just 80% efficiency. This means that as the years go by, your boiler will use more fuel, which will raise your heating costs. Experts recommend that you change your boiler once it is ten years old.
If you decide to hold off getting a new boiler, the efficiency could drop to 60%. If you think it is time to get a new boiler, compare boiler quotes here.
If it is hard to find parts for an old boiler
If your boiler engineer has challenges finding the right parts for your boiler, it is clearly an old system. The unavailability of parts should signify that it's time to get a new boiler. This is particularly appropriate to gas back boilers, which ideally need replacing in order to improve energy efficiency and keep gas bills down.
If your boiler suffers from regular breakdowns
When your boiler regularly breaks down, that means frequent repair bills. These costs can add up quickly, to the point where a new boiler is worth the money. This is such a huge cost factor, one problem with an old boiler can lead to two or three more. When you consider the cost of a new boiler is around £2,000 with installation, you could have paid for half your boiler by the time you have had 3 call-outs.
Your house isn't as warm as it used to be
If the boiler is not effective anymore, it might be necessary to change it. A new boiler is a lot more effective at keeping your house warm. This is linked to an old boiler or central heating system no doubt. As age kicks in, the older boiler becomes tired and parts start to become weary before inevitably they will break. Catching this aging process early is a sure-fire way to keep bills down.
Rising heating bills
If you have noticed that your energy bills are rising, then it could be that your boiler is not as efficient as it used to be. When a boiler ages, it burns more fuel, causing your energy bills to rise.
Tips to Help Keep Your Old Boiler Efficient
When you purchase a new boiler, do all you can to ensure it runs smoothly. Thankfully, you can do a few things to ensure your burner runs efficiently and is reliable for years.
Pay attention to the noises your boiler makes
Whistling, banging, and gurgling noises coming from your boiler mean that there is something wrong with it. If you hear any of these noises, you shouldn't ignore them. The longer you ignore these noises and choose not to repair your boiler, the worse the issue will get. You need a licensed boiler engineer to handle any boiler's noises and faults.
Bleed your radiators
With frequent use, air can get into your heating system. While this might not sound important, air in the heating system can stop hot water from moving around your radiators. The boiler works even harder to heat your room to its desired temperature when this happens.
This also means that you are going to burn more fuel. You can combat this by bleeding your radiators. Bleeding the radiators means allowing air to escape. If your radiator top is cooler than the bottom, it is time to bleed them.
Service your boiler
One of the best things you can do to care for your boiler is to arrange a yearly boiler service. To do this, you will need a Gas Safe licensed engineer to give it a once over. This ensures it runs smoothly. Furthermore, servicing your boiler every year ensures that your warranty remains valid.
When You Should Replace Your Old Boiler?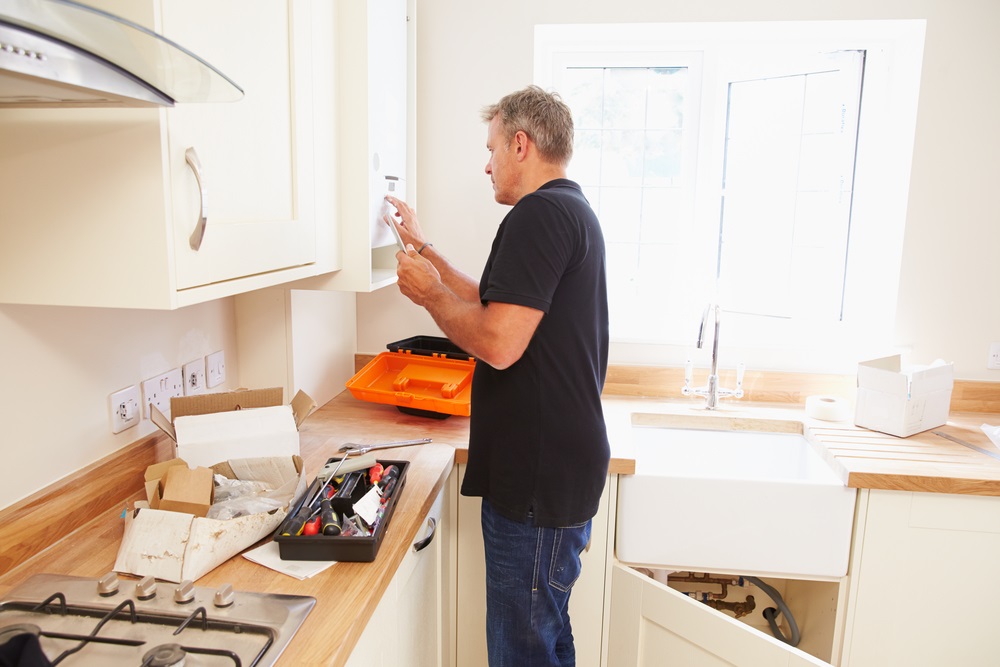 You should think about replacing your boiler after eight years of use. However, most experts recommend that you should replace your boiler after ten years.
Furthermore, the cost of replacing your boiler can depend on the type of boiler you want to install. There are three options to select from when getting a new boiler: a regular boiler, system boiler or combi boiler.
Most times, the boiler replacement you get is a direct replacement of your old one— a regular boiler for another regular boiler. Nevertheless, if your home's hot water and heating demands have altered, you might want to consider getting a different type of boiler.
On average, a combi boiler can cost anything from £500 to £2000. Installation costs can range from £500 to £1000.
A system boiler can cost anything from £500 to £2500, with installation costs ranging from £500 to £1000.
A regular boiler can cost anything from £500 to £2750, with installation costs ranging from £500 to £1000.
It may be better to pay what a boiler service costs instead and keep your boiler efficient.
If you want to move your boiler to a better place then this will be an extra cost of around £600
You should note that regular and system boilers must be installed with a hot water cylinder. A hot water cylinder keeps hot water till you are ready to use it. To keep installation expenses to a minimum, you should get quotes from numerous companies.