Baxi Baxi 836 Combi Gas Boiler Review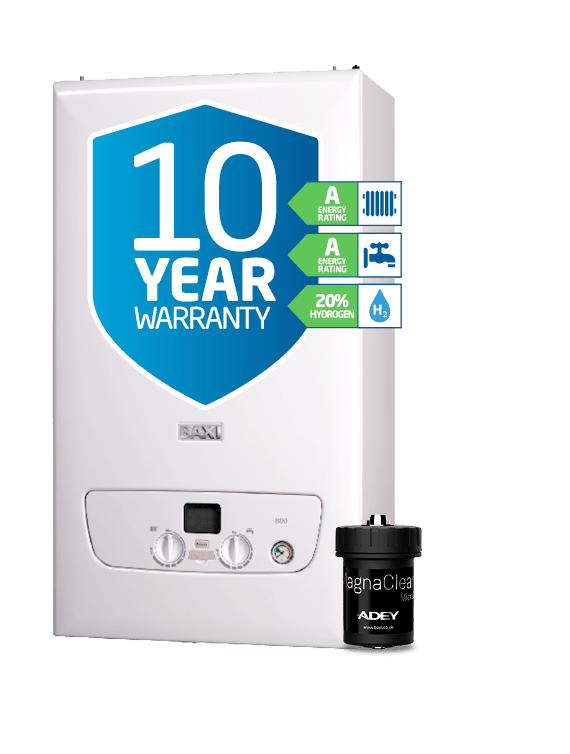 | | |
| --- | --- |
| Manufacturer | Baxi |
| Boiler Model | Baxi 836 Combi Gas Boiler Review |
| Condensing boiler? | Condensing |
| Energy Efficiency Rating | 93% |
| Energy Band | A Rated |
| LPG model/Conversion kit | No |
| Manufacturer Warranty | 10 Years |
| Heating Output | 26.4 kW |
| Wall Mounted or Floor Standing | Wall Mounted |
| DHW Flow Rate | 15 l/min |
| Total Cost | From £2,100 |
| ERP Rating | A Heat A Water |
| Hot Water Max Output | 36 kW |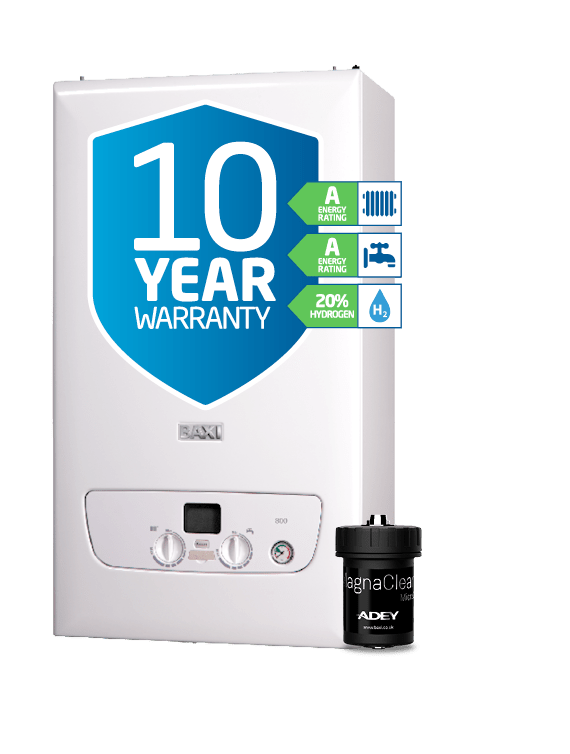 Baxi 836 combi boiler review – how good is it?
here we will take a look at the Baxi 836 combi boiler. This is the most powerful combi boiler in the Baxi 800 range and is more suited to medium-sized homes with up to 2 bathrooms.
Get a fixed price quote for full boiler installation in 20 seconds here by clicking get a quote now
Retailing at £1,100 – £1,200, the Baxi 836 is a hydrogen-ready combi boiler that is not only built to last with top quality parts, but it is also one of the most energy-efficient boilers available. To ensure smooth running and longevity of this boiler. It comes with a Magnaclean filter to protect your boiler and central heating system.
Why choose the Baxi 836?
Currently, money-saving using boilers is one of the most important things on people's agendas due to the rise in gas prices. If you are looking for a Baxi 836 combi boiler then you can be sure that this A-rated replacement gas boiler will help keep costs to a minimum.
According to the Energy Saving Trust, an A-rated boiler such as this one can save you up to £580 a year on energy bills.
Get an online fixed price in 20 seconds:
What kind of fuel does your boiler use?
How can I get the Baxi 836 boiler installed?
The Baxi 836 combi boiler is one of the most compact combi boilers available with a 36kw output. This means that even if you have a medium-sized home with lots of space, you can still put it in a kitchen cupboard if required.
These wall-mounted combi boilers come with all the necessary fittings expected for a Gas Safe registered installer to be able to easily fit it on most walls in your home.
How long will it take to install a Baxi 830?
If you already have a Baxi combi boiler, or any combi boiler for that matter, and you just a direct boiler replacement, then expect the installation to take no longer than 1 day barring any complications.
If you currently have a system boiler or a regular boiler that has water tanks that they require to work, then expect the installation to take up to 2 days.
This is because this type of boiler installation is a conversion and there is lots of pipework to be added and moved around for a combi boiler to be fitted. As much as the time taken to change to a combi boiler is longer, it is a relatively easy process and is very common in the UK
Get an online fixed price in 20 seconds:
What kind of fuel does your boiler use?
Can I change my boiler's location?
Of course, moving a boiler is a popular thing to do if you are wanting to either change boiler type or create space during home improvements. The cost involved in moving a Baxi boiler will depend on how far you want to move your boiler. Generally the further away you move a boiler from the current one will mean more expense
Clearly, this will include the cost of labour and any extra pipework. it will also depend on where you move your boiler to whether or not it will require a vertical flue or not. Vertical flues will generally mean more expensive too due to the extra materials involved.
What fuel supply does the Baxi 836 need?
The Baxi 836 is a gas combi boiler. This means it runs on natural gas and with it being a hydrogen-ready combi boiler, it will also be able to run on up to 20% hydrogen fuel blend. This is in anticipation of a switchover to 100% hydrogen in the future once hydrogen fuel can be harnessed cheaply.
There is currently not an LPG Baxi 836 model at the moment.
How do Baxi 836 combi boilers work?
The Baxi 836 combi boiler works just like any other combi by heating hot water for your taps and central heating in just the one single unit. There are no extra hot water tanks or cold water tanks required for a combi making them the most popular choice in the UK
The Baxi 836 is one of the more powerful output boilers so it can cope with slightly higher hot water demand and power more radiators to the correct temperature.
Is the Baxi 836 suitable for my home?
The Baxi 830 has a central heating output of 26.4 kW, there for it is great for homes with up to 15 radiators. The flow of the water is 15 l/min and the maximum hot water output is 36 kW. The extra power in the 836 combi boiler means that it will be fine if your home has 2 bathroom but no more.
What are the dimensions of the Baxi 836?
The dimensions of this boiler are H 700mm x W 390mm x D 285mm. The Baxi 836 combi is designed to fit in smaller spaces, it isn't the smallest combi in the world but it is capable of slotting perfectly into kitchen cupboards. When you take into consideration that this is a more powerful combi bit is very good for the size.
The 836 only weighs 29.5 kg making it easy for an installer to fit on his own. Always ensure that you use a Gas Safe registered installer too.
How much does the Baxi 836 gas combi boiler cost?
The Baxi 836 retails between £1,100 – £1,200 (inc VAT).
For full boiler replacement, expect costs to be around £1,000 more including all the extras and labour costs of fitting by a Gas Safe registered engineer. . Installation costs of the Baxi 836 combi boiler start at around £2,100 inclduing the 10-year warranty and magnetic filter.
If you are planning on converting to a Baxi 836 combi boiler from a boiler with a tank such as a gas system boiler or a gas regular boiler then expect costs to be much higher. Conversions are a great way of freeing up space and increasing energy efficiency if your hot water demands has decreased. A conversion to the 836 would cost around £2,700.
What other Baxi 800 options are available?
The Baxi 836 is the most powerful in the 800 range but there are 2 other smaller models if you don't require the extra power or output.
The Baxi 825 has a maximum central heating output of 21.2kW and a domestic hot water output (DHW) of 25kW. The Baxi 830 has the same maximum central heating output of 21.2kW but a higher DHW of 30kW – This mid range boiler is one of the most popular in the UK and is great for medium-sized homes with 1 bathroom. if you have 2 bathrooms, got for the 836.
You can also get some of Baxi's cheaper options such as the Baxi 630 if you want to spend a little less on your boiler replacement.
Get an online fixed price in 20 seconds:
What kind of fuel does your boiler use?
Is the Baxi 836 easy to service?
If you thinking ahead to getting your Baxi boiler serviced every year, which. is required to keep the 10-year warranty valid, then you'll be glad to know that it is a very easy boiler to service and that any gas safe trained engineer can service this boiler.
You can get a Baxi engineer to do it but you don't have to. you could also take out boiler cover too with Boiler Central and we can service your boiler every year and we will also do the booking for you so you don't forget!
How good is the Baxi 836 combi boiler?
The Baxi 836 Combi Gas Boiler is a great boiler. It is A-rated and runs at 93% high energy efficiency, which can save you money on your energy bills. This more powerful combi is great for modern families who may need to use 2 bathrooms with hot water at the same time. Not only that, you won't have to worry about the hot water stopping as baxi make some of the most reliable boilers on the market.
This hydrogen ready combi boiler, the Baxi 836 is full of top-quality components and is easy to use. It can also be sued with energy-saving smart thermostats too which makes it an even more attractive buy.
Baxi 836 key features?
The Baxi 836 Combi Gas Boiler is built with a stainless steel heat exchanger which means it is using industry top quality materials. Along with this, it is also using high-end brass hydraulics. With long extended flue options (up to 20 metres) the 836 is easy to fit and easy to get to when requiring its annual service. Topping up the boiler pressure when it is low is a common boiler problem, and Baxi has made it easy with their easy-to-use filling loop.
It has OpenTherm technology which allows you to connect the boiler to lots of different makes and models of smart thermostats, including Baxi's own uSense smart thermostat. The uSense thermostat can be controlled by smartphone or tablet and features a boiler fault diagnosis.
Nearly all Baxi boilers come with an Adey Magnaclean system filter to ensure the 836 lasts as long as possible and doesn't break down for something as simple as much or debris getting clogged up in your new boiler.
Is the Baxi 836 a hydrogen-ready combi boiler?
Yes the new Baxi 836 is also now a hydrogen-ready combi boiler which means that it is capable of running on up to 20% hydrogen fuel blend with natural gas. Baxi have been pioneering hydrogen technology for the past few years so you can be sure that choosing a Baxi boiler your boiler will not be banned in 2025.
Get an online fixed price in 20 seconds:
What kind of fuel does your boiler use?
How efficient is the Baxi 836
Wanting to make maximum savings when you upgrade your boiler, then if your are interested in the Baxi 836 Gas Combi Boiler you'll be glad to know it has an ErP efficiency rating of 93%, which means it has an Energy efficiency A rating.
If you're looking for the golden goose and changing from a G-rated boiler to an A-rated boiler, you could be saving yourself up to £580 per year on your energy bills. Considering the average boiler is around £2,000 this means that you could be saving yourself a fortune in the future.
What is the warranty period?
This boiler comes with a 10-year parts and labour warranty, which if you service your boiler annually should be more than enough to see you through with no issues at all. Baxi customer service is always on hand if required.
One thing to note is that you must let Baxi know that you have had your new boiler installed by registering its installation. If you use Boiler Central, like everything else, we will take care of that for you, you just need to ensure that you watch out for your paperwork in the post.
Does it need annual servicing?
Yes, one of the stipulations of a boiler warranty is that you ensure that you service your boiler. If you take advantage of the Baxi 836's 10 year warranty then you will need to have the boiler serviced by a Gas Safe registered engineer every year in order to keep the warranty valid. Also, we always suggest that you keep serving your boiler till it's very end, Why not check out boielr cover to protect yourself from any faults after this period and get your services booked every year!
Can I connect the Baxi 836 to a smart thermostat?
The Baxi 836 Combi gas Boiler has OpenTherm technology which means you can connect it to a range of smart thermostats, including Hive, Nest and Baxi's own uSense thermostat. This allows you to control your heating on the go from your tablet or smartphone.
Get an instant quote for your Baxi 836 Combi Gas Boiler Review installation
Get an online fixed price in 20 seconds:
What kind of fuel does your boiler use?
"The engineer Hasan arrived on time, was very polite & helpful. A pleasure to have him done our boiler service."
"The lads were great got a big job done in 2 days put new boiler in loft the lads were very efficient and managed to tackle a number of problems that they came across with the gas pipe and would definitely be using Yorkshire
bolilers again when I move also Andrew Firth the sales agent was great and then rest of the team I spoke to one the phone.
Mr and Mrs Dass"
"Swift tidy service and friendly engineer thankyou"
"Arrived within timescale given. Gary was friendly, knowledgeable and efficient, thank you."
"Top lads cory and kieran very clean and tidy it's been a pleasure, very efficient with install of new boiler explained everything, very polite top job done lads, credit to themselves....thanks dave"
"Hasan was very polite knowledgeable and efficient. Telephoned to say when arriving and so helpful."
"First class boiler service. The engineer Gary was very polite, helpfully, and knowledgeable. Thank-you."
"Engineer was very pleasant and gave good advice."
Who are our fitters?
We use our own Gas Safe installers and the best installers the UK has to offer. Every single one is Gas Safe registered and has been thoroughly vetted.
Get a Fixed Price Now
Get a great price on a Which? Best Buy boiler online in minutes