Glow-worm Betacom₄ 30kW Combi gas boiler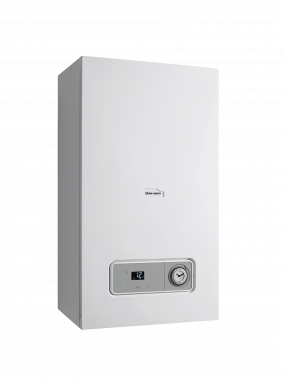 Total Cost
£1,365 - £1,865
| | |
| --- | --- |
| Manufacturer | Glow-worm |
| Boiler Model | Betacom₄ 30kW Combi gas boiler |
| Condensing boiler? | Condensing |
| Energy Efficiency Rating | 94% |
| Energy Band | A Rated |
| LPG model/Conversion kit | Yes |
| Manufacturer Warranty | 5 Years |
| Heating Output | 30kW |
| Wall Mounted or Floor Standing | Wall Mounted |
| DHW Flow Rate | 12.4 l/min |
| Total Cost | £1,365 - £1,865 |
| ERP Rating | A Heat A Water |
| Hot Water Max Output | |
This highly efficient combi boiler has a modern design to suit any home. With a high heat output rating, the 30kW combi can withstand demand in larger homes with multiple radiators and bathrooms.
The Betacom4 comes with Glow Worm's MiGo app, allowing for easy programming to fit your central heating and hot water demands. The easy settings provide you with control on the go and increased boiler efficiency.
The automotive-grade aluminium means the boiler is quick and easy to install and compact enough to be fitted virtually anywhere. It comes with a wide range of accessories including a spacing frame and pipe cover plate.
What type of boiler is the Glow-worm Betacom₄ 30kW Combi gas boiler?
As a combi gas boiler, the Betacom₄ can provide both hot water and central heating in the same system. Combi boilers don't require a separate hot water storage cylinder because they use the mains, saving you both space and installation time. They will only heat water when it is needed. This design means that combi gas boilers have high energy efficiency.
All combi boilers are required to have an additional measure to fit in with the Boiler Plus legislation. The homeowner's circumstances are considered when deciding on the legislation requirements. The requirements are as followed:
Load Compensating Control
This means that the current room temperature is able to modulate the flow temperature.
Weather Compensating Control
An outdoor sensor is fitted to the exterior of the house to monitor the outdoor temperature and adjust the flow temperature inside.
Smart Control
An internet control (such as an app) provides automated heating and hot water. This will also optimise boiler efficiency and lower energy bills.
Get an online fixed price in 20 seconds:
What kind of fuel does your boiler use?
How efficient is this boiler?
This highly efficient combi boiler has an efficiency of 94%, which is equivalent to an ErP 'A' rating. The combi boiler has a Grundfos pump, which ensures low energy use and savings on your fuel bills. You can control the boiler via the MiGo app-based control to further improve efficiency and performance.
MiGo App
MiGo is an app that you can download onto your phone to help control your boiler's settings. Not only does this make life easier as you can use it wherever, but the app can also save you money. The application only ever tells the Glow-worm boiler to use energy as and when it needs to.
Using Wi-fi to digitally analyse surrounding weather stations and your location, the app is able to calculate the outside temperature and adjust the heating accordingly.
The smart technology will automatically learn the energy requirements of your house as soon as you install the app. This means that the temperature will adjust to your desired level immediately.
If you have multiple occupants in the house, each of them can download the app and have access to the boiler's settings. Within the one app, you can also control MiGo thermostats installed in different houses.
How much does it cost?
The total cost of this boiler and the installation usually comes between £1,365 – £1,865 inc VAT. This will vary, based on factors such as installation costs and service charges.
Size – how big is the boiler?
This boiler is a perfect size for medium or large-sized houses. At approximately 740mm tall and 418mm wide, this boiler is small enough to be installed in a kitchen cupboard.
Most boilers should have a gap of 50 mm or more between the cupboard and the appliance. There also needs to be sufficient air ventilation and enough space for servicing and maintenance.
Is this boiler suitable for my home?
This wall-mounted boiler is a good choice if you're wanting to save on floor space or don't have an airing cupboard to spare. The heat output rating of 30kW works well for larger homes with a high demand for hot water and heating. It gives reliable performance and can function well for two or more bathrooms. This Glow-worm boiler provides instant hot water, without the need for tanks and cylinders. The Betacom₄ is also available in a size of 24kW, which is better for smaller houses with less heating and hot water demands.
What are the main advantages of this boiler?
There are several advantages to having the Betacom₄ combi. The Glow-worm boiler has been designed with a high-grade aluminium heat exchanger, which means that it is easy to maintain. Another advantage of this design is how quiet it makes the boiler, meaning you won't have to worry about being woken up by the boiler in the morning!
One of the many benefits of this glow-worm boiler is the Grundfos pump. The pump results in lower energy use because it adapts to heating and hot water demand. Not only is this better for the environment, but you should also be able to lower costs too.
The boiler is fitted with an inbuilt filling loop, which is a pipe that is used to connect the central heating system to the mains water supply. Using water directly from the mains results in a high flow rate of 10 litres per minute.
If you want a control panel with settings that are easy to confirm and change, this boiler has a bright LCD (liquid crystal display) for easy installation and maximum control over the unit. The simple inbuilt analogue timer is also clear to read and use.
Get an online fixed price in 20 seconds:
What kind of fuel does your boiler use?
Is Glow-worm a good brand for boilers?
Glow-worm is a British company that was set up in 1934. It was acquired by German brand, Vaillant Group, in 2001. All of Glow-worm's products are manufactured in their production facilities in Belper, Derbyshire.
In 2005, Glow-worm was the leading manufacturer in the switch to high-efficiency boilers. This trend has continued into recent years, with Glow-worm providing highly reliable service and reasonable boiler prices.
How long is the warranty period?
The Betacom₄ warranty period is currently set at 2 years. However, it can be extended to 6 years through Club Energy, an award-winning loyalty programme.
The warranty covers you for the repair of any defects caused by manufacturing faults. Your boiler must receive annual services to maintain the boiler's warranty.
To register for the Glow-worm warranty guarantee, you will need the following information:
Serial number. This is a 28 digit number that can be found on the control panel of the boiler
Gas Safe registration number of installer
Date of installation
Installation address
Your Glow-worm boiler must be registered as soon as it is installed to receive the guarantee.
How long will the boiler last?
Glow-worm boilers typically last about 12-15 years. Apart from booking regular services, there are other ways that you can make sure your boiler is running properly and safely.
Check the flue
Check that the ventilation flue is free from any blockages. The flue is the pipe that expels exhaust gases from the boiler. If you do find the flue is blocked, do not try to clean it yourself. Instead, open windows and ventilate your home in case there is a build-up of carbon monoxide and call an engineer.
Insulate the pipes
The external pipes may freeze in the winter, which can lead to leaks, increased pressure, or even your boiler breaking down. To avoid this, insulate the pipes using materials such as polyethylene or foam.
Monitor the pressure
Check to see if the pressure gauge is at a stable level between 1 and 2. If the pressure is too high or too low, you can readjust the pressure yourself using the instructions provided in the manufacturing guide.
Insulate your house
Your boiler may be working harder than it needs to if your house is poorly insulated. Insulate your house to minimise the risk of heat escaping and lower running costs.
How often will it need to be serviced?
It's always best to get your boiler serviced regularly, ideally on an annual basis. Nobody wants their boiler to break down unexpectantly, which is why servicing is crucial. Engineers will be able to see if everything is in working order and can prevent future repair by spotting problems early on. Regular servicing can also increase your boiler's life expectancy. Boilers become less efficient as they get older, so it's good to have an engineer check whether parts need replacing or maintenance.
There is a risk of a carbon monoxide leak if a boiler isn't burning fuel completely. This gas is potentially lethal, so it's important for your safety that the boiler is subject to regular inspections so that any leaks can be fixed.
This boiler comes with a five-year warranty, but it is only valid if your boiler has annual services. You should never try to carry out a boiler service yourself. Instead, find a Gas Safe registered engineer that can properly carry out the checks and maintenance.
Get an instant quote for your Betacom₄ 30kW Combi gas boiler installation
Get an online fixed price in 20 seconds:
What kind of fuel does your boiler use?
"The engineer Hasan arrived on time, was very polite & helpful. A pleasure to have him done our boiler service."
"The lads were great got a big job done in 2 days put new boiler in loft the lads were very efficient and managed to tackle a number of problems that they came across with the gas pipe and would definitely be using Yorkshire
bolilers again when I move also Andrew Firth the sales agent was great and then rest of the team I spoke to one the phone.
Mr and Mrs Dass"
"Swift tidy service and friendly engineer thankyou"
"Arrived within timescale given. Gary was friendly, knowledgeable and efficient, thank you."
"Top lads cory and kieran very clean and tidy it's been a pleasure, very efficient with install of new boiler explained everything, very polite top job done lads, credit to themselves....thanks dave"
"Hasan was very polite knowledgeable and efficient. Telephoned to say when arriving and so helpful."
"First class boiler service. The engineer Gary was very polite, helpfully, and knowledgeable. Thank-you."
"Engineer was very pleasant and gave good advice."
Who are our fitters?
We use our own Gas Safe installers and the best installers the UK has to offer. Every single one is Gas Safe registered and has been thoroughly vetted.
Get my fixed price now
Get a great price on a Which? Best Buy boiler online in minutes