Vokera Boiler Service Cost And How To Book A Vokera Service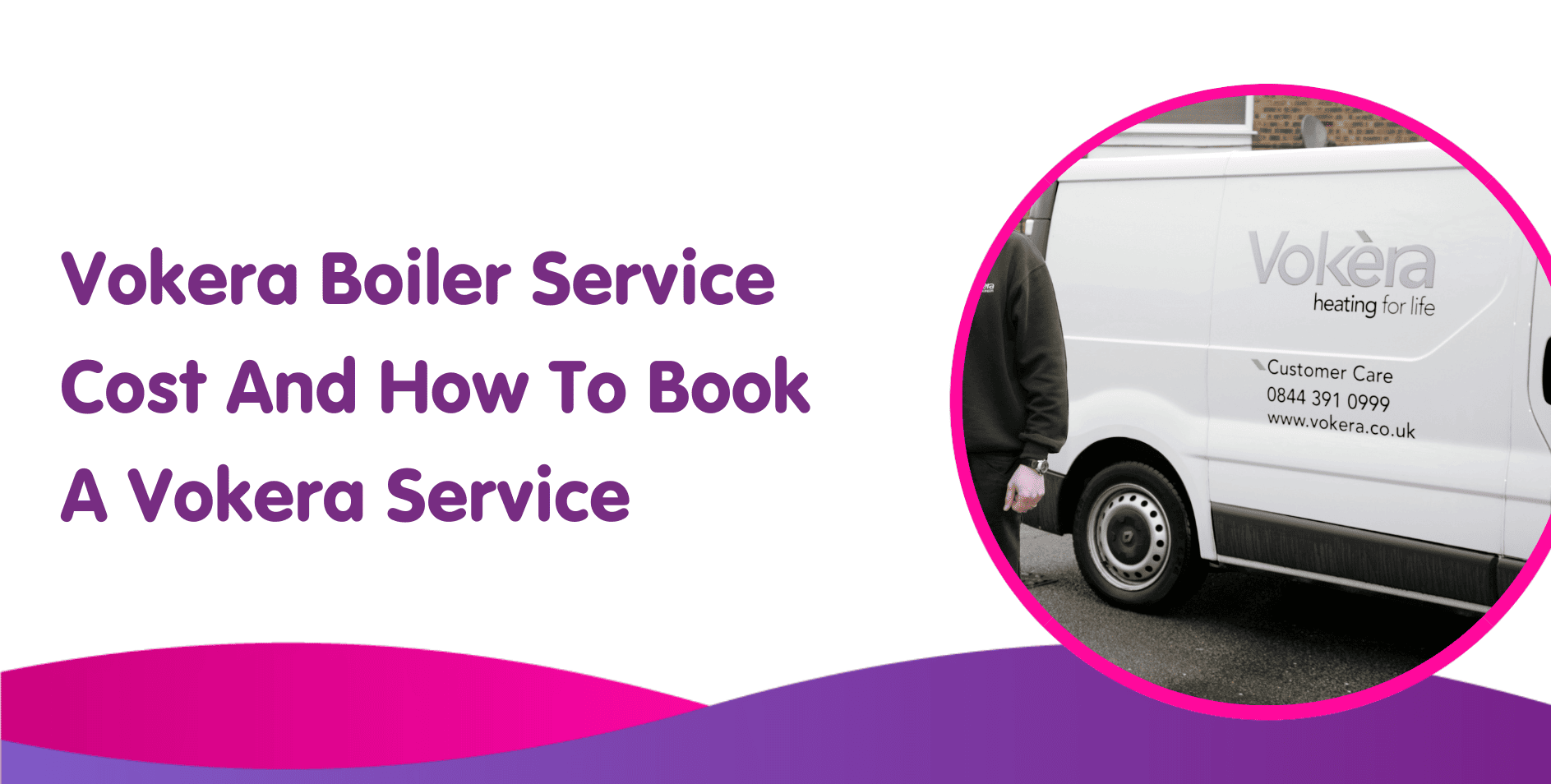 Vokera Boiler Service Guide – How to book, what is included & costs
Choosing the right Vokera boiler for your home entails more than just reviewing the product itself; An annual boiler service is an incredibly important component of your investment and can also mean the difference between consistent heating and consistent problems.

The right service plan is key to your Vokera boiler service, and Vokèra offers three different types of service for their top-rated boilers.
We will look at Vokera boiler service packages below, along with more information about the brand, its strong reputation, and its reliable products.
A Vokera boiler needs servicing every year to maintain its warranty and keep it valid, so why not book yours online now? You can book one of our local Gas Safe heating engineers to attend your home on a day that suits you by using our online service booking form here.
Book my service
Vokèra by Riello Annual Gas Boiler Service
A well-known name for affordable boilers, Vokèra is a boiler manufacturer that also produces several other products for the home. Its offerings include:
Domestic Gas Boilers, including combi boilers, system boilers, and open vent boilers
Heat Pumps
Controls, including outdoor compensation sensors, central heating system programmable room thermostats, and RF (or wireless) room thermostats
Water Heaters
Solar Thermal, including flat plate collectors and tube collectors
Unvented Cylinders for water storage
The Vokèra reputation is backed by an important statistic: a 99% reliability rate within the first two years of boiler installation. Their products result from an ongoing commitment to innovation, safety, and testing.
Book my service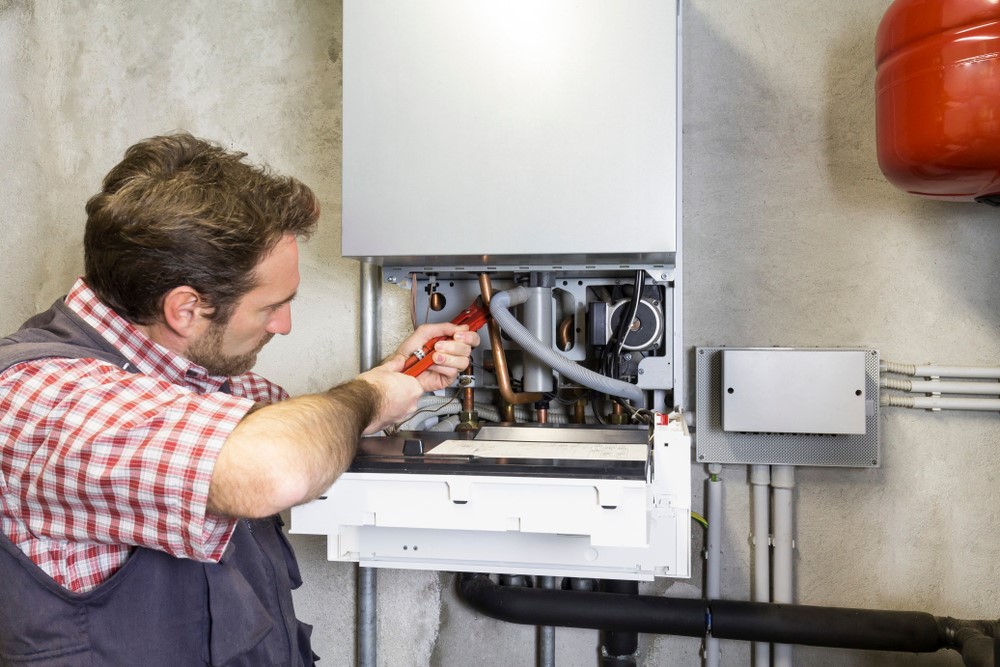 Vokèra Boiler Service Plans
Vokèra recognizes the importance of reliable customer service for maintaining its products. They manufacture high-quality products, no boiler is immune to the possibility of eventual problems, especially for general wear and tear and ageing.
Even if you experience a malfunctioning boiler, you may rest assured that if you have purchased it from Vokèra you can count on excellent customer service to investigate and correct the issue.
Customers of Vokèra can utilise different types of boiler servicing options to suit their needs for repair and maintenance.
Fixed Price Repairs
You may find that your boiler is malfunctioning and in need of a repair, in which case you may contact Vokèra for a fixed-price repair. The company will offer one fixed price for boiler servicing, which includes parts, labour, and the service call.
Some customers wait until a Vokera boiler repair is necessary and then contact Vokèra for a fixed-price repair, based on the quality reputation of the brand and the expectation that problems will be limited.
However, other customers may prefer to take less risk and commit to an established maintenance plan upfront.
Book my service
Vokeara Repair & Care Maintenance Plans
Vokera Boiler Repair & Care Maintenance Plans are provided and managed by Domestic & General Services Limited.
This company has more than 100 years of appliance repair and support in the UK, with expertise in all major boiler brands, including Vokèra. They fix or repair more than two million gas appliances each year.
Customers who want assurance that the ongoing repairs of a defective boiler will not become a financial hardship often prefer Vokèra's Repair & Care Maintenance Plans, offered by Domestic & General Services Limited, for the peace of mind they provide.
"The no fix, no fee" promise associated with Vokèra's Repair & Care Maintenance Plans guarantees this: when an expert Gas Safe engineer attempts to resolve the problem with your Vokèra boiler and fails, you will not have to pay for services. And if it turns out that your boiler is beyond repair, you will be refunded for monies paid up to that point.
Book my service
Vokera Annual Boiler Services
Another incredibly important part of a boiler warranty is an annual service, which is critical to extending the life of a boiler.
Vokèra recommends that customers schedule annual services, which include a professional engineer's attention to the following:
Check the overall performance of your Vokèra boiler, including the flue and ventilation
Look at every component on the boiler for evidence of any water leaks
Examine the boiler for any parts that may be damaged or worn
Inspect and clean the burner and heat exchanger
Confirm there is satisfactory ignition, flame picture and stability
Assess the flame failure device
Check and adjust the burner pressure if needed
Review the operation of the boiler and its controls
Reset the pressure of the expansion vessel if needed
Analyze the flue gas combustion
As you can see from this extensive checklist, a boiler annual service requires a qualified heating engineer. Customers should never attempt to service their own units. The service must be done by a qualified professional who can carry out the inspection and repairs safely.
Book my service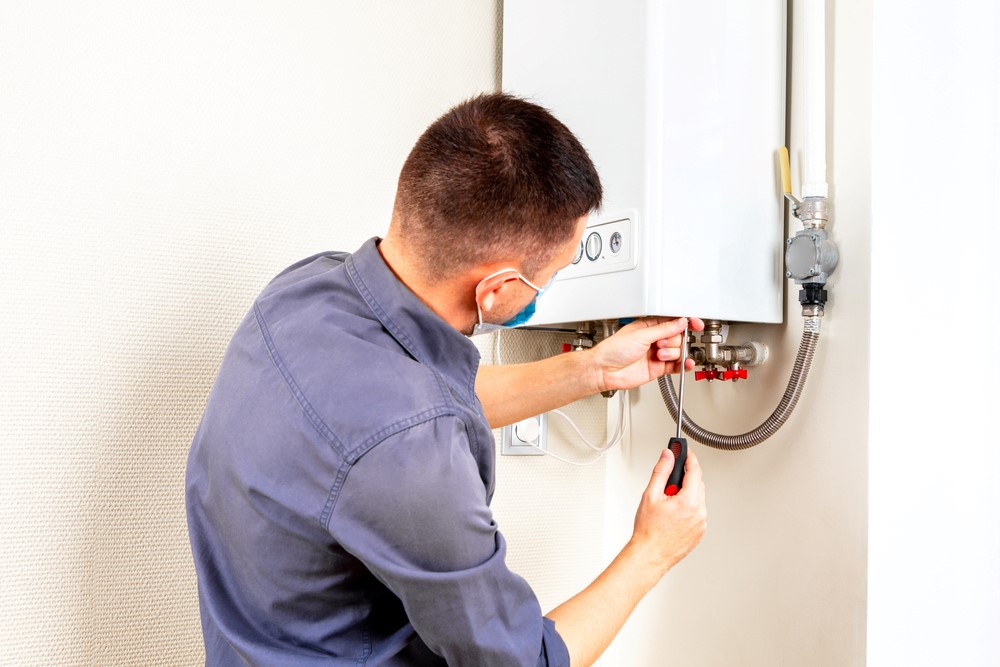 Vokera Boiler Service Costs (and Cost Savings)
You may be wondering about the costs associated with various boiler services and repairs, which are important to consider when you purchase one for your home. You will also want to familiarize yourself with the Vokèra warranty.
If you contact an engineer for a fixed repair on your boiler, you will likely pay between £90 and £120. There are price variations based upon where you live, the age and brand of the boiler, and the experience of the engineer performing the service.
Annual service plans for boilers would typically cost £100, which raises the concern for some cost-conscious customers that a fixed repair could cost less than a plan in some cases.
Still, an annual service plan offers peace of mind and possible savings in the long run, should your boiler end up beyond repair. If it does, check out the latest Vokera boiler prices here.
If you maintain your Vokèra boiler and ensure that it is serviced annual by professional boiler engineers, this product could last for 10 to 15 years. So servicing it via an annual service plan may extend the life of your Vokèra boiler, which would certainly cost less than replacing it.
Book my service
Vokera Boiler Efficiency and Your Bills
Another way a boiler service can save you money is with improved efficiency in your boiler.
A boiler running correctly and efficiently saves you money on your heating bills. This is another important reason to stay up-to-date with annual services and any needed repairs.
Taking the time to correct smaller issues before they escalate into larger ones saves you not only in repair costs but also in your heating bills.
Other Ways to Maintain Your Vokèra Boiler
In addition to staying on top of annual services and repairs, you can also aid the successful operation of your Vokèra boiler with a few proactive steps around your home.
Home and Pipe Insulation
If you keep your pipes and your home insulated, you will enjoy better performance from your boiler.
When cold temperatures cause pipes to freeze, the effects on the boiler can be problematic (or even disastrous). The frozen pipes create blockages that pressure or leak and in some cases a complete boiler breakdown.
Similarly, a poorly insulated home is just harder to heat, making it more difficult for your central heating system to work effectively. Proper insulation is key to the successful operation of your Vokèra boiler.
Pressure Checks
Even outside of professional Gas Safe engineer boiler repair services, homeowners can also occasionally spot-check the pressure on the Vokèra boiler.
Checking the pressure is simple enough. Your boiler has a pressure gauge, allowing you to see easily and quickly if there is a problem. The rule of thumb is if the needle is below 1, the pressure is too low. A needle above 2 tells you that the boiler pressure is too high.
In these instances, refer to your boiler manual for adjustment instructions. However, if you have any doubts or concerns about the adjustment, contact a qualified boiler service engineer.
Book my service