Faulty Diverter Valve On Boiler Causes & How To Fix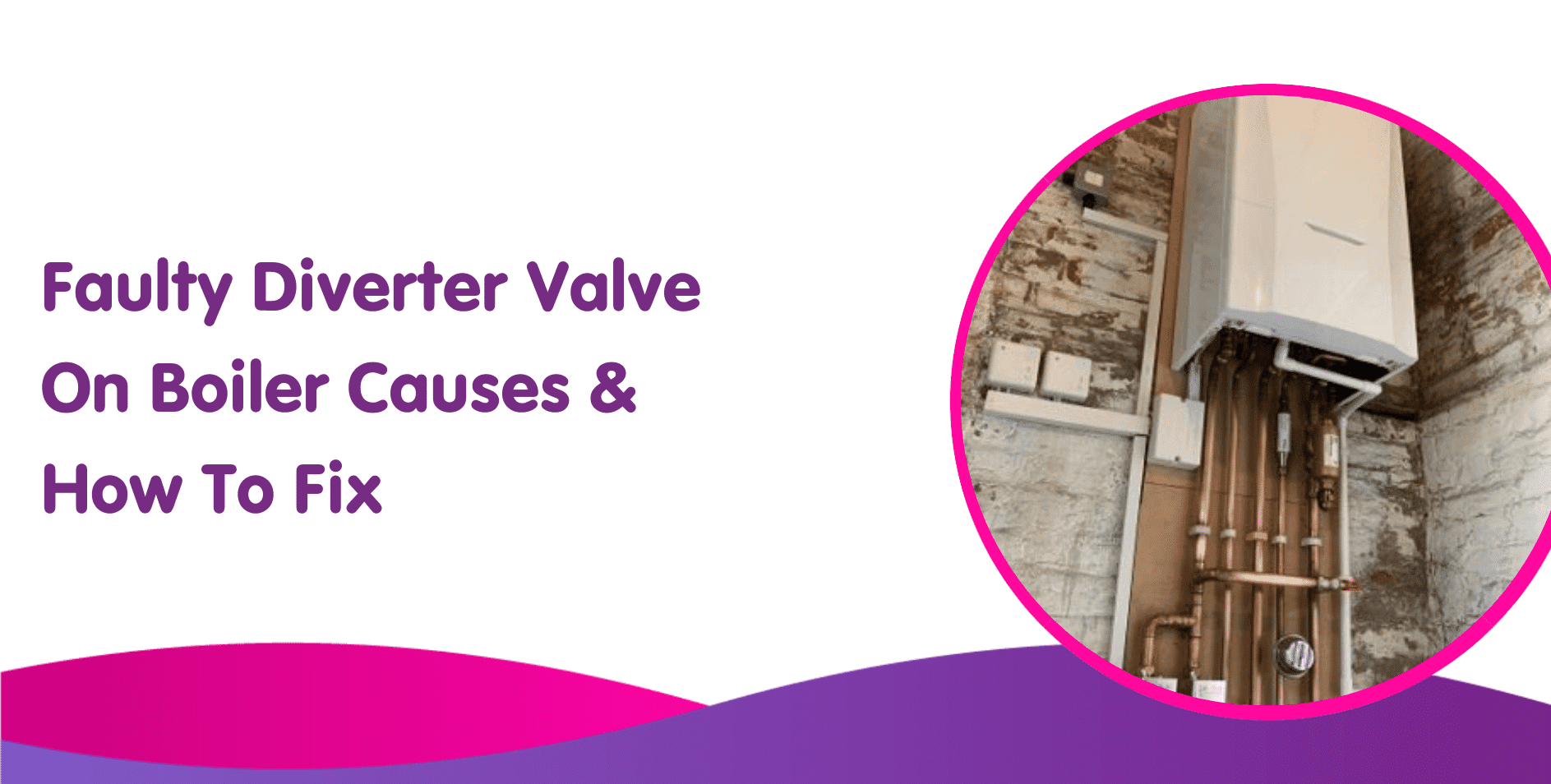 Faulty Diverter Valve On Boiler- What is it & How To Fix It?
A diverter valve boiler issue is a widespread issue with combi boilers that are older. Over time, the diverter valve wears out or breaks, causing havoc on your central heating system.
You should note that fixing a faulty diverter valve on a boiler might be an easy task, but it can also be expensive. They aren't cheap.
This guide will cover the common signs that something is wrong with the diverter valve, combi boilers' definitions, and their advantages. You will also get a sense of how much it costs to have a faulty diverter valve on the boiler repaired.
Old boiler starting to break? Why not consider a boiler replacement? It may be cheaper in the long run.
Get an online fixed price in 20 seconds:
What kind of fuel does your boiler use?
What Is a Diverter Valve?
A combi boiler's diverter valve closes and opens to control the water required to heat towel rails and radiators and domestic hot water. Combi boilers ensure the valve prioritises domestic water (water to showers and taps) over a home's heating system.
When you turn your tap on, the diverter valve closes the heating supply till the tap is off. Considering that a diverter valve moves, so many faults can result from a sticking valve. A diverter valve can be fixed, but if you have an old boiler, it may be the start of a long line of problems.
Find out how much does a new combi boiler cost now to see if you think a new A-rated boiler will be better in the long run.
What Is a Combi Boiler?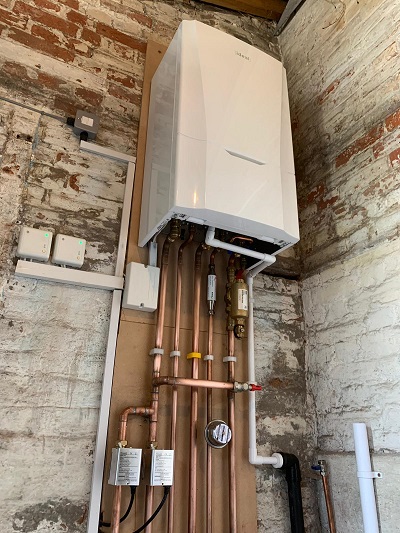 A combi boiler, or combination boiler, as it is traditionally known, is a boiler that amalgamates all the components of a central heating system into a compact unit. The combi boiler is a boiler that can offer both central heating and hot water.
Read more in our how does a combi boiler work guide here
How does a combi boiler work?
Combi boilers today utilise condensing energy to heat the system water. They do this by extracting latent heat from flue gases. When a home needs hot water or heating, a gas burner in the combi burner ignites.
The heat from that flame is transferred through the main heat exchanger to the primary circuit and directly to the radiators or hot water taps through a plate heat exchanger.
The majority of combi boilers made today also have a pre-heat system which enables the boiler to store a bit of water drawn from the boiler. The water is kept inside the boiler and stays at the desired temperature all day long, ready to be quickly sent to the hot water tap when necessary.
Disadvantages of a combi boiler
Requires good mains pressure
You should also note that since the combi boiler directly takes water from the mains, the water pressure can rapidly drop if numerous showers and taps are turned on simultaneously. This water pressure makes larger homes best suited to systems or regular boilers that get hot water from a hot water cylinder.
Not best-suited for large homes
A disadvantage of having a combi boiler is that how much hot water is available at any moment is limited by the boiler's size. This limitation means that the average combi boiler can only effectively supply hot water to one outlet or tap at a time.
While numerous homes are best suited to a combi boiler, bigger homes with various showers require hot water at a rate that even the best combi boiler cannot match. In these instances, a system boiler might be more appropriate, thanks to its mains pressure hot water supply and external hot water tank.
Advantages of a combi boiler
Combi boilers are preferred for various homes due to their numerous benefits. These benefits are:
Provides hot water when needed
A combi boiler is a great choice for a home as it can quickly heat water when needed. Compared to regular boilers and system boilers that heat and save a certain amount of water in advance, combi boilers only heat water when required. A combi boiler can theoretically provide a nonstop source of hot water.
Saves money
Buying a combi boiler is a lot cheaper than buying various system components. Installation is also cheaper as conventional systems require pumps, cylinders, tanks, etc.
Efficiency
A great advantage of combi boilers is their efficiency. Modern combi boilers have a flue gas heat recovery system that collects gas created during oil or gas burning and then uses it to heat water in the house. Such a design enables combi boilers to burn less fuel, achieving a 90% efficiency during the process. This efficiency, in turn, lowers the heating bills.
Compact size
A benefit of combi boilers is their size. Considering combi boilers do not require external tanks, you can control the whole system using one appliance, including hot water and heating.
Signs to Watch Out for with a Faulty Diverter Valve on Boiler
With all of that out of the way, let's highlight the symptoms of a malfunctioning diverter valve on the boiler.
If you have hot water but the heating isn't working
This symptom clearly shows a faulty diverter valve on the boiler. The diverter valve might be stuck on the opening for hot water. So while hot water might be a priority for you, the valve is stuck in a position that doesn't let the radiators warm up. You may have a noisy boiler too with all these issues which is obviously cause for concern.
The only way to get hot water is to leave the heating on
If the season is warmer and you turned off the heating, you can attempt to turn it on and let it heat up. After it is warm, you can check if you have hot water, and if the water temperature increases after turning the heating on, you have a faulty diverter valve on the boiler.
Lukewarm hot water
Lukewarm water in your showers and taps is one of the most prevalent signs of a broken diverter valve on the boiler. Considering that the boiler should deliver hot water, having a valve stuck lets the heat that should go to the shower and taps escape.
These can all lead to other issues such as a damaged heat exchanger which can be very expensive.
How to Fix a Faulty Diverter Valve on a Boiler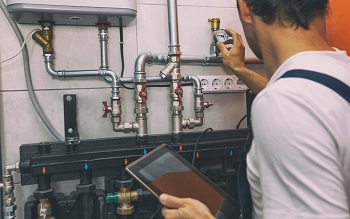 Note that you should never fix a boiler yourself. It is always best to hire a Gas Safe engineer. A Gas Safe registered engineer is better equipped to handle boiler faults and other common boiler problems.
The process begins with a check to make sure the problem is indeed a fault diverter valve on the boiler and not some other component.
Various other issues share symptoms with a faulty diverter valve on the boiler. For instance, if you are in a new home, or the issue is not new, it could simply be the valves are not open.
When an engineer conducts a fault check, the procedure will ensure that all the controls are functioning properly. If there is a problem, the entire diverter unit will have to be replaced by the engineer.
In most instances, you will only need to replace the diaphragm; however, you should note that the associated labour costs can make getting an entirely new unit more economical. If you just fix the diaphragm, you could end up calling the engineer back because the valve has begun to stick.
While the boiler is deconstructed, it can be worthwhile to have the engineer check all of the other components for wear. If nothing else is wrong, then only a diverter valve replacement is necessary.
Furthermore, you should never replace or repair a stuck or broken diverter valve on your own, as doing so could be dangerous.
It is always important to get an expert to give your boiler a once over. This process can help determine if a faulty diverter valve on the boiler is the problem. Most times, the valve just needs to be cleaned or re-fitted. If the issue turns out to be more serious, the engineer will need to replace the entire unit.
Having a boiler repair engineer handle this process can be great for you, as the engineer can inspect the boiler's other components. If there are signs of wear and tear on them and the boiler is still under warranty, a boiler repair engineer can replace them at no additional cost to you. However, if your boiler's warranty has expired and there are other significant issues with it, it might make financial sense to buy a new one.
When Replacing a Faulty Diverter Valve on Boiler Doesn't Make Sense
Boilers about ten years old are not as technologically advanced as brand new boilers. Moreover, most of them tend to have one issue or another with their diverter valves at their age. You will need a certified boiler repairman to check the boiler's components.
If the check discovers something majorly wrong with the combi boiler, it might be time to consider a new combi boiler. Gratefully, manufacturers of combi boilers tend to offer warranties that last five to ten years, so you shouldn't have any issues replacing or fixing a faulty diverter valve on a boiler within that period.
How Much Does it Cost to Fix a Faulty Diverter Valve on a Boiler?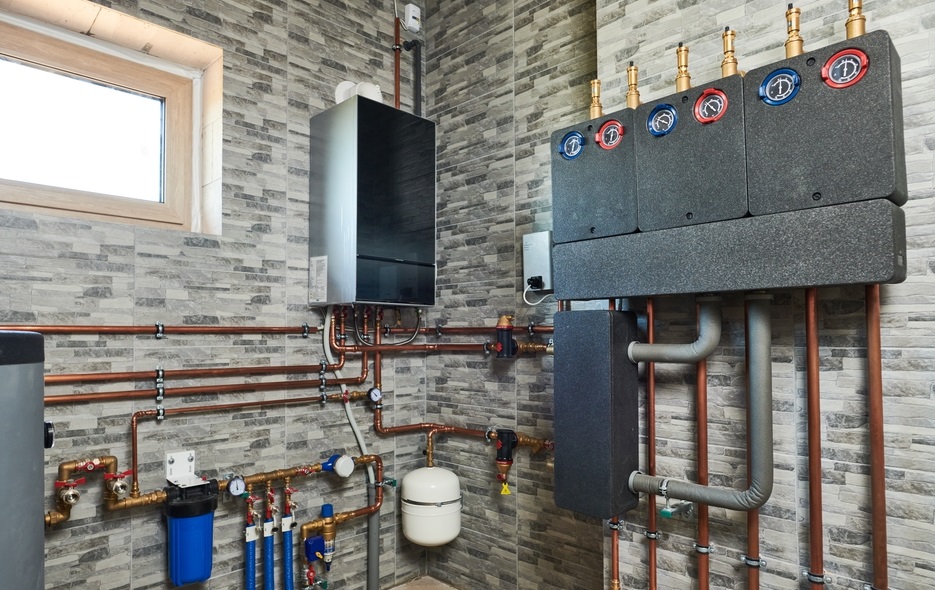 When replacing a faulty diverter valve on the boiler, it can cost anything from £250 to £350.
Nevertheless, a couple of factors affect the cost of fixing a faulty diverter valve on the boiler.
The first is the cost of the boiler diverter valve part. The diverter valve price can cost anything from £80 to £200. Should your boiler diverter valve cost about £120, you can expect to pay about £250 for both parts and labour of the repair.
You should also note that the cost of labour to fix a faulty diverter valve on a boiler can vary. Labour costs are typically charged by the hour, so being in a more affordable part of the nation can make about a £70 difference in the total repair costs compared to being in a metropolitan area like London.
You also need to consider how easy or difficult replacing a faulty diverter valve would be. The easier and quicker it is to replace it on the boiler, the less it will cost.
Conclusion
As you can see, a faulty diverter valve on a boiler is one of the most common issues homes with combi boilers face. Fixing this problem can be labour-intensive and expensive; in some instances, simply replacing the boiler might be the better financial choice.
Nevertheless, regardless of what decision you make, ensure that you enlist the services of a certified boiler repair engineer at all times.