Gas Boiler Installation Glasgow Costs & Fitting Prices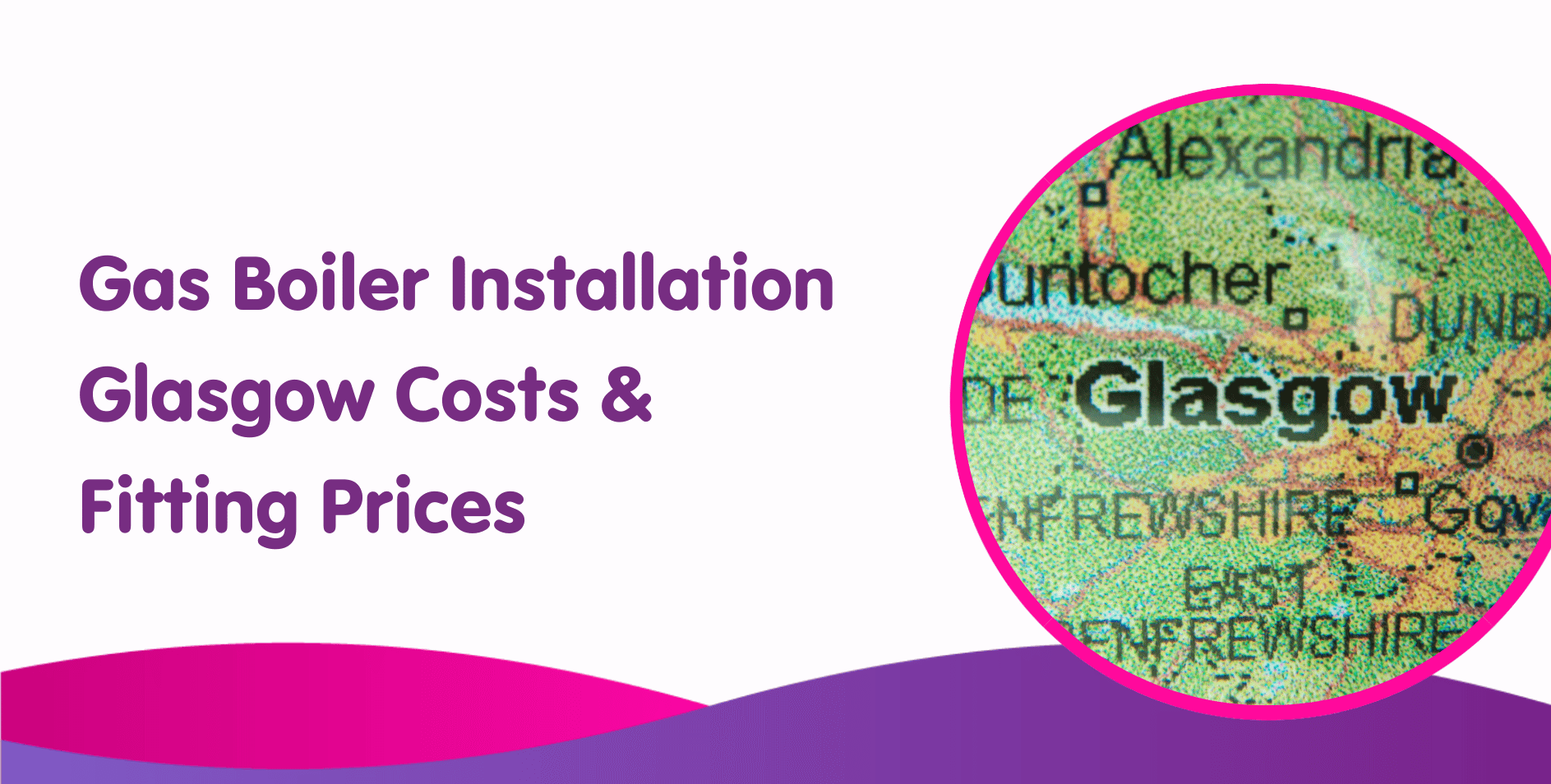 If you're considering a new boiler installation in Glasgow, it's essential to understand the cost implications associated with the process. Installing a new boiler replacement requires careful planning and budgeting to ensure a successful and cost-effective boiler replacement.
In this article, we will explore the factors that influence the cost of boiler installation in Glasgow and provide you with valuable insights to make informed decisions. From the initial purchase to the labour expenses of Glasgow heating engineers and potential additional costs, we will cover everything you need to know.
Get an online fixed price in 20 seconds:
What kind of fuel does your boiler use?
Factors Affecting Glasgow Boiler Installation Costs

If you want to get a fixed price for boiler installation and replacement services then click get a quote now with Boiler Central online. We compare prices for all boilers Glasgow including combi boilers, conventional boilers, and system boiler fitting.
All prices include next day fitting by one of our expert gas engineers in Glasgow if ordered before 2pm the day before.
Boiler Type and Size
The type and size of the boiler in Glasgow you choose have a significant impact on the overall installation cost. There are various types of central heating systems available, including new combi boilers, system boilers, and regular boilers.
A new combi boiler in Glasgow tends to be more affordable due to its compact design and simplified boiler installation process. However, with a range of modern boilers available, the specific requirements of your property and the central heating system need will determine the most suitable option.
Efficiency Rating
Natural gas boilers with higher energy efficiency ratings generally come at a higher initial cost. However, investing in an energy-efficient boiler can lead to long-term savings on energy bills.
It should be on the top of your list to consider the energy efficiency ratings when selecting a modern boiler. Higher ratings indicate greater efficiency, which translates to reduced energy consumption and lower operating costs.
Complexity of Installation
You must only use Gas Safe registered engineers when fitting a gas boiler in Glasgow, and the complexity of the boiler installation process affects the labour costs involved. Factors such as the location of the boiler, accessibility, and the need for additional structural modifications can increase the overall boiler installation cost.
A professional assessment of your property's hot water and central heating requirements by a Gas Safe heating engineer or reputable boiler company will help determine the complexity of the installation and associated costs.
Existing Central Heating System
If you already have a hot water and central heating system in place, the cost of boiler installation may be influenced by the compatibility and condition of the existing infrastructure.
Upgrading from an older boiler to a new boiler in Glasgow may require additional adjustments, pipework modifications and electrical upgrades, which can contribute to the overall cost. Converting a boiler to a different type is popular but costly, so it's essential to assess the compatibility of the new boiler with your existing system to determine if any modifications are necessary.
Additional Features and Upgrades
The inclusion of additional features and upgrades can also affect the cost of boiler installation. For example, if you opt for smart controls, thermostats, or advanced heating system components, the overall expenses will increase.
While these features in new boilers can enhance convenience and energy efficiency, it's even more important to weigh the benefits against the added costs or replacement boilers in Glasgow.
What Effects New Boiler Installation Costs in Glasgow
To gain a better understanding of the expenses involved in boiler installation prices, let's explore the key cost factors for new boilers Glasgow:
Cost of the Boiler Unit
The price of the boiler unit itself is a significant factor in determining the overall installation cost. The cost varies depending on the type, boiler brand, model, and size of the boiler. Researching and comparing prices from reputable suppliers and manufacturers can help you find the best value for all boiler replacements.
Labour Costs
Choosing a professional boiler fitter in Glasgow is highly recommended for ensuring the safe and efficient operation of your boiler. Labour costs typically account for a significant portion of the total installation expenses.
The complexity of the central heating installation process, the time required, and the qualifications of the installer can influence labour costs. It's advisable to obtain quotes from multiple installers and choose a reputable professional with experience in boiler installations.
Removal and Disposal of Old Boiler
If you're replacing an existing boiler, the cost of removing and disposing of the old unit should be considered. Before getting your boiler installed in Glasgow, disposal costs can vary depending on local regulations and the size of the boiler being replaced. It's essential to discuss this aspect with your boiler installer to determine if any additional charges apply.
Piping and Boiler Flue
Proper piping and boiler flue fitting are essential for the safe and efficient operation of your boiler. The complexity of the piping and boiler flue system required can impact the installation cost. Factors such as the length of piping whether you need a horizontal flue or vertical flue, the need for additional components, and any structural modifications needed will influence the price
Permits and Inspections
Obtaining the necessary permits and scheduling inspections are often requirements for boiler installations. Permit fees and inspection costs should be factored into the overall budget. If you live in Glasgow it is important to comply with local regulations to ensure a legal and safe installation.
System Upgrades and Modifications
In some cases, upgrading the heating system components or making modifications to the existing infrastructure is necessary. These upgrades can include adding or replacing radiators, installing new pipework, or upgrading electrical systems. The cost of these additional system modifications should be considered during the budgeting process.
Maintenance and Warranty
Regular maintenance is vital for the longevity and efficiency of your boiler. While not directly related to installation costs, it's important to factor in ongoing maintenance expenses when budgeting for a new boiler. Additionally, considering the warranty terms and coverage offered by the manufacturer will help protect your investment in the long run.
Tips for Cheap Boilers Glasgow & Installation Prices
While Glasgow boiler installation costs can vary, there are several strategies to help reduce the overall prices.
Compare Boiler Quotes
Obtain multiple boiler quotes from reputable installers in Glasgow and compare them to find the most competitive price without compromising on quality. Make sure to compare the top brands too such as Viessmann and Worcester Bosch boilers as well as ensure that the boiler quotes are detailed and include all the necessary parts, components and labour costs.
Consider the Long-Term Savings
When evaluating the cost of new boiler installations in Glasgow, it's important to consider the long-term savings that getting a more efficient and reliable boiler fitted can provide.
An inefficient boiler can run as low as 70% energy efficient, compared to new A-rated boilers which are over 90% energy efficient. Calculate the potential energy savings and compare them against the initial investment to determine the overall cost-effectiveness.
Utilise Available Incentives and Rebates
Check for any available incentives or rebates offered by local government or energy efficiency programs. These incentives can help offset some of the installation costs and make energy-efficient boilers more affordable.
Regular Maintenance and Proper Usage
Proper maintenance and usage of your boiler can prolong its lifespan and prevent costly repairs. Follow the manufacturer's guidelines for maintenance and ensure regular servicing by qualified professionals. Additionally, educate yourself on efficient boiler usage to avoid unnecessary energy waste.
Areas in Glasgow We Cover
We happen to cover a lot of areas in Glasgow, such as:

City Centre
West End
East End
Southside
North Glasgow
Merchant City
Finnieston
Partick
Dennistoun
Shawlands
Pollokshields
Govanhill
Hillhead
Byres Road
Maryhill
Bearsden
Anniesland
Cambuslang
Rutherglen
Giffnock
Conclusion
Boiler installation in Glasgow comes with various factors that influence the overall cost. Considering the type and size of the boiler, efficiency ratings, installation complexity, existing infrastructure, and additional features is essential for accurate budgeting.
Evaluating all the costs such as the boiler unit, labour, removal of old boilers, piping and venting, permits and inspections, system upgrades, and maintenance is just as important for a comprehensive understanding of the costs involved.
To reduce boiler installation costs, research and compare quotes, opt for energy-efficient boilers, consider long-term savings, use all the latest available incentives and rebates, and prioritise regular maintenance and proper usage. By following these strategies, you can make informed decisions and ensure a cost-effective and efficient boiler installation.
FAQs
How long does a combi boiler installation take?
The duration of a combi boiler installation can vary depending on several factors, including the complexity of the project and the size of the property. On average, the installation process can take between one to three days depending if you are replacing a combi boiler or converting to a combi boiler.
What is the average lifespan of a boiler?
The average lifespan of a new boiler is around 10 to 15 years. However, proper maintenance and regular servicing can extend its lifespan which includes an annual boiler service every year plus taking out boiler cover to ensure that any boiler repairs are completed by Gas Safe engineers only.
Can I install a boiler myself to save costs?
Boiler installation requires specialised knowledge and skills. It's highly recommended to hire a qualified professional for any central heating installation to ensure safety, efficiency, and compliance with regulations.
Are there financing options available for boiler installations?
Yes, there are financing options available for boiler installations. Some companies offer flexible payment plans or financing options to help manage the upfront costs, and here at Boiler Central you can get up to 3 years interest free credit!
What is the importance of choosing a reputable installer?
Choosing a reputable Gas Safe installer ensures that the installation is done correctly and up to industry standards. A qualified professional such as one on the Gas Safe register will have the expertise to assess your requirements, recommend suitable options, and ensure the safe and efficient operation of your boiler.