Glow-worm Energy Combi 35kW Gas Boiler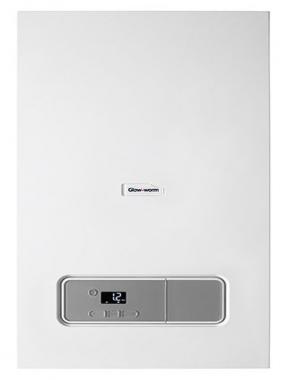 Typical Price (inc VAT)
£915
Typical Installation Cost (inc VAT)
£500 - £1000
Sundries (Filter, Flue, etc)
£300
Total Cost
£1,715 - £2,215
| | |
| --- | --- |
| Make | Glow-worm |
| Model | Energy Combi 35kW Gas Boiler |
| Is Condensing | Condensing |
| Efficiency Rating | 89.20% |
| Band Rating | B Rated |
| LPG Compatible | Yes |
| Standard Warranty | 7 Years |
| Central Heating Max. Output | 35kW |
| Mounting | Wall Mounted |
| Flow Rate | 14.4 l/min |
| Typical Price (Inc VAT) | £915 |
| Typical Installation Cost (Inc VAT) | £500 - £1000 |
| Sundries | £300 |
| Total Cost | £1,715 - £2,215 |
| ERP Rating | A Heat A Water |
| Hot Water Max Output | |
Product Description
Glow-worm has been designing boilers for over 80 years and is part of the Vaillant Group – Europe's second-largest heating firm. Not only are Glow-worm boilers affordable, but they also come with a fantastic reputation and pedigree.
The Glow-worm Energy 35kW Combi Gas Boiler is a great choice of boiler for medium to large-sized family homes. It has an ErP energy rating efficiency of 93%, which means it has a low energy consumption. This is something you are sure to notice when you check your energy bills, as the lower the energy consumption of a boiler, the lower your energy bills are likely to be.
It comes with an aluminium heat exchanger, high-efficiency Grundfos pump and a seven-year warranty. The unit is also compact, giving you plenty of options for where you position it in your house.
What is a combi boiler?
Combi boilers connect to the main water supply and heat both your hot water water and central heating. Unlike a system or regular boiler, a combi boiler doesn't need a hot water cylinder and/or cold water storage tank, which saves a lot of space. Another benefit is that they only fire up when you need them, making them much more energy-efficient and able to provide an unlimited supply of hot water whenever you need it.
What is Boiler Plus?
Implemented in 2018, this legislation is designed to maximise energy efficiency. It means that any new boilers installed after 2018 have to have a minimum ErP efficiency rating of 92% and combi boilers must also have one of 4 additional measures fitted. This includes:
Load compensation: the ability to moderate flow based on the room temperature
Weather compensation: the ability to moderate floe based on the outdoor temperature
Smart Control
Passive Glue Gas Heat Recovery Device
How long will it take to install?
This will depend on the type of boiler you currently have in your property. Replacing an old combi boiler with the Energy Combi 35kW will be a relatively quick process and should be completed within a day.
If you currently have a system or regular boiler, the installation time will take longer. This is because the old hot water cylinder and/or cold water storage tank will need removing and additional pipework will need to be fitted.
Can I change the location of my boiler?
There are lots of reasons for changing where your boiler is positioned, such as wanting to hide it out of view or to free up space in a room. It's not a problem to fit a new boiler in a different spot, but it will take slightly longer than simply swapping out the old one.
The further the boiler is being moved, the more work is involved. This is because additional pipework will need to be fitted, which can involve lifting up carpets and floorboards.
Is it suitable for my home?
The Glow-worm Energy Combi 35kW has a central heating output of 26.7kW, which will power up to 20 radiators. The domestic hot water flow rate of 16.5l/min is easily high enough to comfortably supply a house with two bathrooms.
What size is the Glow-worm Energy 35kW Combi Gas Boiler?
The dimensions of this boiler are H700xW390xD280. The Glow-worm Energy 35kW can be wall-mounted and the compact size of the unit allows it to be installed inside a kitchen cabinet.
What fuel supply does it need?
The Glow-worm Energy 35kW Combi Boiler runs off natural gas and needs to be connected to the main gas supply.
How much does the Glow-worm Energy 35kW Combi Gas Boiler cost?
This boiler retails for around £950 (inc VAT).
The cost to install the boiler will depend on what type of boiler you currently have in place. If you are replacing a combi boiler, and it is remaining in the same location, then it shouldn't involve too much work. Installation costs will typically be between £500 – £1,000.
Replacing a system or regular boiler will involve more work as the old hot water cylinder and/or cold water storage tank will need to be removed and new pipework will need fitting. Installation costs can range between £1,000 – £2,500 for this type of job.
What other options are available?
The Energy 35kW is one of the three models in the Glow-worm Energy range.
The Energy 25 kW is the smallest in terms of output and is more suitable for smaller sized homes with only one bathroom and fewer than nine radiators.
The Energy 30kW has a domestic hot water flow rate of 14.2 l/min and a maximum central heating output of 26.5kW, making it a good choice for houses with 3-4 bedrooms and up to two bathrooms.
Is this boiler a good purchase?
The Glow-worm Energy 35kW Combi Boiler is a very good boiler that won't break the bank. Its ErP energy efficiency of 93% is one of the highest on the market and its heating and hot water outputs will easily cater to the demands of a large family home. Its compact size and ability to be wall-mounted means it can hidden away in a cabinet or cupboard.
This boiler comes with 7-year parts and labour warranty, giving you peace of mind in case something happens to go wrong. Glow-worm is also an established brand, so replacement parts are easily available and affordable.
What are the key features?
The Glow-worm Energy Combi 35kW Gas Boiler is fitted with an automotive grade aluminium heat exchanger, with is designed to last longer, be easier to maintain and run more quietly.
One of the other key features is the Grundfos pump. It adapts to actual heating and hot water demand, which is not only better for the environment, but also lowers the running costs and saves you money.
The boiler is compact and can easily be housed inside a cupboard so it is out of view. Top and rear flue options also provide you with a greater choice of where to position it, as well as making it much easier for an engineer to install.
It has a modern LCD display, making it easy to read and change the settings in areas without much natural or artificial light.
How efficient is this boiler?
The Glow-worm Energy Combi 35kW boiler is one of the most energy-efficient boilers on the market. Its ErP rating of 93% ensures it is Boiler Plus compliant and places it in Band A for heating and hot water.
ErP stands for Energy-related Products and is the system used to classify how energy efficient an appliance is. The higher the rating, the lower the energy consumption – helping to reduce your carbon footprint and save you money on your energy bills. If you are replacing a boiler with a very low energy efficiency, the Energy Combi 35kW could save you hundreds of pounds each year.
What is the warranty period?
The Glow-worm Energy Combi 35kW boiler comes with a 7-year parts and labour warranty, with the option to extend it further when registered by an installer through Club Energy.
To register, you simply need to provide Glow-worm with your address, date of installation, the serial number and the Gas Safe registration number of the installer within 30 days of the boiler being fitted.
Does it need annual servicing?
If you take advantage of the 7-year warranty from Glow-worm, one of the requirements is to have your boiler serviced annually by a Gas Safe registered engineer.
As well as maintaining your warranty, an annual service will also help to keep your boiler running efficiently and spot any issues that need fixing before they turn into big problems. Boilers can suffer from a build-up of limescale, sludge and debris, which slowly block the system and cause the boiler to run less efficiently. It also puts extra wear and tear on the boiler and radiators and pipework. An engineer will be able to test your system to spot any signs of a problem and recommend how to fix it – before your boiler suffers a serious problem.
Can I connect it to a smart thermostat?
The Energy Combi 35kW can be connected to a range of smart thermostats, including Hive and Nest.
You also have the option of using it with Glow-worm's own smart thermostat called the MiGo, which you can use to manage your heating and hot water from a smartphone or tablet. The MiGo has an easy to use interface and can learn your routine to cut down your energy usage. It is also equipped with internet weather compensation which allows it to obtain the outside temperature without any need of a weather sensor and adjust the temperature inside your home accordingly.
"The engineer Hasan arrived on time, was very polite & helpful. A pleasure to have him done our boiler service."
"The lads were great got a big job done in 2 days put new boiler in loft the lads were very efficient and managed to tackle a number of problems that they came across with the gas pipe and would definitely be using Yorkshire
bolilers again when I move also Andrew Firth the sales agent was great and then rest of the team I spoke to one the phone.
Mr and Mrs Dass"
"Swift tidy service and friendly engineer thankyou"
"Arrived within timescale given. Gary was friendly, knowledgeable and efficient, thank you."
"Top lads cory and kieran very clean and tidy it's been a pleasure, very efficient with install of new boiler explained everything, very polite top job done lads, credit to themselves....thanks dave"
"Hasan was very polite knowledgeable and efficient. Telephoned to say when arriving and so helpful."
"First class boiler service. The engineer Gary was very polite, helpfully, and knowledgeable. Thank-you."
"Engineer was very pleasant and gave good advice."
Who are our fitters?
We use our own Gas Safe installers and the best installers the UK has to offer. Every single one is Gas Safe registered and has been thoroughly vetted.
Get a Fixed Price Now
Get a great price on a Which? Best Buy boiler online in minutes
Pick your install date | £0 Deposits | 0% Interest-FREE