Glow-worm Ultimate₃ 30kw Combi Gas Boiler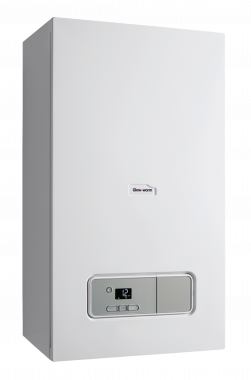 Total Cost
£1,505 - £2,005
| | |
| --- | --- |
| Manufacturer | Glow-worm |
| Boiler Model | Ultimate₃ 30kw Combi Gas Boiler |
| Condensing boiler? | Condensing |
| Energy Efficiency Rating | 94% |
| Energy Band | A Rated |
| LPG model/Conversion kit | Yes |
| Manufacturer Warranty | 5 Years |
| Heating Output | 30kW |
| Wall Mounted or Floor Standing | Wall Mounted |
| DHW Flow Rate | 12.4 l/min |
| Total Cost | £1,505 - £2,005 |
| ERP Rating | A Heat A Water |
| Hot Water Max Output | |
Glow-worm has been producing boilers since 1934, and for the past 20 years have been owned by the Vaillant Group – Europe's second-largest manufacturer of heating systems. As such, you can be safe in the knowledge that they know how to make a good boiler.
The Glow-worm Ultimate₃ 30kW Combi Gas Boiler is a strong performer and comes with a 5-year warranty. Its ErP efficiency of 94% is one of the highest on the market and will help to lower energy consumption and reduce your energy bills in the process.
It also has lots of nice features, such as an aluminium heat exchanger, Grundfos pump, and an in-built filling loop to enable you to easily top up the pressure without requiring the services of an engineer.
How do combi boilers work?
The best combi boilers connect to the mains water supply. Unlike system boilers or regular boilers, there is no requirement to fit a hot water cylinder and/or cold water storage tank, which gives you a lot more space in your property and makes the cost of the installation cheaper. As combi boilers only fire up when heating or hot water is needed, they are very energy efficient and able to provide a constant supply of hot water.
Get an online fixed price in 20 seconds:
What kind of fuel does your boiler use?
What does condensing mean?
Condensing boilers are designed to be more energy efficient; converting condensation into heat and recovering as much of the heat loss as possible. Before condensing boilers were introduced as much as 40% could be lost during this process, which is not only bad for your wallet, it's also bad for the planet.
The best boilers on the market now have an energy efficiency of 90%+, with the Glow-worm Ultimate₃ on top of the pile with its ErP efficiency of 94%.
How efficient is this boiler?
The Glow-worm Ultimate₃ 30kW Combi Gas Boiler is an A-rated boiler for heating and hot water, with an ErP efficiency of 94%
What is ErP?
ErP stands for Energy-related Products. It uses a rating system to rank how energy efficient a boiler is, with A being the highest and G the lowest. The higher the rating, the less fuel is wasted during the process of heating hot water or central heating.
This means a highly efficient boiler like the Glow-worm, has a low energy consumption and will likely save you money on your energy bills – it could be hundreds of pounds if you are upgrading from a low-efficiency model.
What is Boiler Plus?
Introduced in 2018, Boiler Plus is a piece of legislation designed to improve energy consumption in homes by maximising energy efficiency. It means that any gas boilers installed after 2018 must have a minimum ErP efficiency rating of 92% and need to have time and temperature controls.
Combi boilers must also include at least one of the following measures:
Load compensation: the ability to moderate flow based on the room temperature
Weather compensation: the ability to moderate floe based on the outdoor temperature
Smart Control
Passive Glue Gas Heat Recovery Device
The Ultimate₃ 30kW boiler is compatible with the MiGo thermostat, a personal heating assistant with an internet weather compensation. It can also be connected to a range of other smart thermostats.
How long will it take to install?
The time it takes to install the Glow-worm Ultimate₃ 30kW Combi Gas Boiler will depend on the type of boiler you currently have in place. Replacing a combi boiler with a combi is a relatively straightforward process and should only take between 4-6 hours.
Installing a combi boiler in a house that has no central heating system, or replacing a system or regular boiler, will take longer as there is more work required. Additional pipework often needs to be fitted and a hot water cylinder and/or cold water storage tank will need to be removed. Typically, this can take between 1-2 days.
Get an online fixed price in 20 seconds:
What kind of fuel does your boiler use?
Is it suitable for my home?
The Glow-worm Ultimate₃ 30kW Combi Gas Boiler has a maximum central heating output of 26.5kW – sufficient to power up to 20 radiators. The domestic hot water flow rate of 12.4l/min is high enough to provide water to a house with two bathrooms.
What size is the Glow-worm Energy Combi boiler?
The dimensions of this boiler are H740xW418xD300. The Glow-worm Ultimate₃ 30kW can be wall-mounted, and its compact size means it can be installed inside a kitchen cabinet or cupboard.
What fuel supply does it need?
The Glow-worm Ultimate₃ 30kW Combi Gas Boiler runs off natural gas and needs to be connected to a mains gas supply.
How much does the Glow-worm Energy 30kW Combi Gas Boiler cost?
This boiler retails for roughly £700 (inc VAT), plus additional fittings, such as the horizontal flue.
The cost to install the Ultimate3 will depend on what heating system you currently have in place at your property. Replacing an old combi boiler with the Glow-worm combi is usually a quick job and doesn't involve much work. We estimate the cost to be between £500 – £1,000.
Replacing a system or regular boiler will cost more as there is more work involved. An engineer will need to remove the hot water cylinder and/or cold water storage tank, as well as fit new pipework. Installation costs can range between £1,000 – £2,500 for this type of job.
What other options are available?
As well as the 30kW model, Glow-worm also sells a 35kW boiler in the Ultimate₃ range.
The 35kW model has the same maximum central heating output of 26.5kW, but a higher domestic hot water flow rate of 14.4l/min.
Is this boiler a good purchase?
The Glow-worm Ultimate₃ 30kW is an affordable and easy to use boiler that offers good performance. It has an ErP A rating for energy efficiency, meaning it can lower your energy consumption and save you money on your bills.
The heating and hot water outputs are ideal for a medium-large family-sized home and its compact size means it can be hidden away in a cupboard.
If you register the warranty through Club Energy you can also get an amazing 10-year warranty coverage for parts and labour.
Get an online fixed price in 20 seconds:
What kind of fuel does your boiler use?
What are the key features?
The Glow-worm Ultimate₃ 30kW comes equipped with a high efficiency modulating Grundfos pump, which adapts to heating and hot water demand to help lower costs. It also has an automotive-grade aluminium heat exchanger for improved performance and an easy to use filling loop for when you need to top the system pressure up.
The boiler can be wall-mounted and also has flexible flue options, providing you with more choice when it comes to where it is positioned in your home.
The modern LCD display is easy to read and bright enough to be able to change the settings in areas without much natural or artificial light.
What is the warranty period?
The Glow-worm Ultimate₃ 30kW boiler comes with a free 5 year parts and labour warranty, with the option to extend it up to 10 years if your Gas Safe registered engineer registers the installation with the Glow-worm Club Energy installer loyalty programme.
To register, you simply need to provide Glow-worm with your address, date of installation, the serial number and the Gas Safe registration number of the installer within 30 days of the boiler being fitted.
Does it need servicing?
All boilers should have an annual service by a Gas Safe registered engineer to ensure they are working efficiently and that there are no apparent faults or issues with performance. Your boiler can suffer from leaks and corrosion, obstructions, and a build-up of sludge and limescale, which leads to blockages and it running less efficiently.
At the annual service, an engineer will check the outside and inside of the boiler, investigate the pressure and listen to it firing up to make sure it is working correctly. The longer you have an issue with your boiler, the more wear and tear it will place on your system. This can lead to increased energy bills and parts suffering major damage, which then need replacing.
If you take advantage of Glow-worm's boiler warranty, then it is also a requirement to have an annual boiler service carried out by a Gas Safe engineer.
What are the thermostat options?
The Ultimate₃ 30kW Combi Boiler is compatible with a range of smart thermostats, such as Nest and Hive.
There are also a number of options from Glow-worm you can pair with the boiler. If you want something extremely simple and easy to use, then you can fit the wall-mounted climastat thermostat.
The MiGo personal heating assistant is a smart thermostat that can be controlled from a phone or tablet and learns your energy needs. It is equipped with internet weather compensation, which can calculate changes in the outdoor temperature without the need for an outside sensor.
Finally, the Cimapro RF Control is capable of weather and room compensation and allows you to programme all of your heating and hot water requirements.
Get an instant quote for your Ultimate₃ 30kw Combi Gas Boiler installation
Get an online fixed price in 20 seconds:
What kind of fuel does your boiler use?
"The engineer Hasan arrived on time, was very polite & helpful. A pleasure to have him done our boiler service."
"The lads were great got a big job done in 2 days put new boiler in loft the lads were very efficient and managed to tackle a number of problems that they came across with the gas pipe and would definitely be using Yorkshire
bolilers again when I move also Andrew Firth the sales agent was great and then rest of the team I spoke to one the phone.
Mr and Mrs Dass"
"Swift tidy service and friendly engineer thankyou"
"Arrived within timescale given. Gary was friendly, knowledgeable and efficient, thank you."
"Top lads cory and kieran very clean and tidy it's been a pleasure, very efficient with install of new boiler explained everything, very polite top job done lads, credit to themselves....thanks dave"
"Hasan was very polite knowledgeable and efficient. Telephoned to say when arriving and so helpful."
"First class boiler service. The engineer Gary was very polite, helpfully, and knowledgeable. Thank-you."
"Engineer was very pleasant and gave good advice."
Who are our fitters?
We use our own Gas Safe installers and the best installers the UK has to offer. Every single one is Gas Safe registered and has been thoroughly vetted.
Get my fixed price now
Get a great price on a Which? Best Buy boiler online in minutes