Biasi Boiler Reviews & Prices 2023 Guide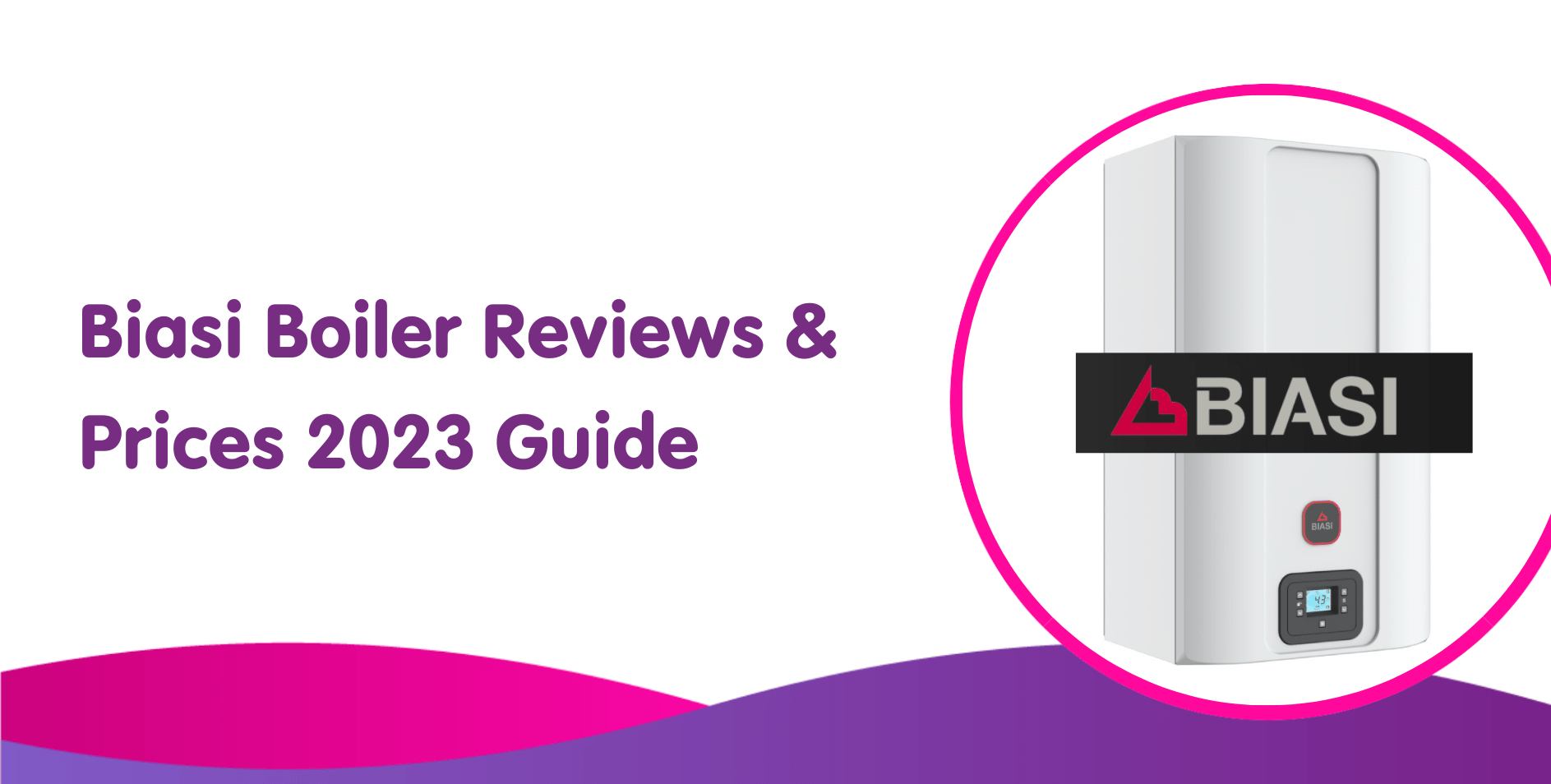 Welcome to our comprehensive Biasi Boiler Reviews & Prices 2023 Guide! In this guide, we aim to provide you with all the information you need to know about Biasi boilers, including the latest reviews and prices.
Whether you're looking for a combi boiler, regular or system boiler, you're sure to find the perfect match with Biasi. In this guide, we'll take a closer look at Biasi's most popular models, their features, and prices. Let's get started!
Get an online fixed price in 20 seconds:
What kind of fuel does your boiler use?
Who are Biasi?
Biasi UK Ltd was established in 1990 to market the group's goods throughout the United Kingdom, and it is now a prominent boiler manufacturer and supplier to the heating sector throughout the British Isles. Biasi delivers an unmatched one-stop-shop heating solution from its 64,000sqft facility in Walsall, Midlands.
With millions of new boilers installed across the UK every year, it can get competitive, so lets take a look at Biasi boiler prices.
Biasi Boiler Prices
Biasi Combi Boiler Prices
For homes searching for a high-performance and efficient heating solution, Biasi combi boilers are a popular option. Based on the boiler type, size, and features, Biasi combi boiler range costs from £800 to £2,500.
Combi boilers are perfect for smaller houses or flats since they combine heating and hot water into one space-saving equipment.
It's ever so important to take installation costs into account when selecting a Biasi combi boiler because they can raise the final cost of a new boiler by an additional £1,000 to £2,000.
Biasi System Boiler Prices
Biasi system boilers are often installed in bigger residences and are intended for use in closed heating systems. Biasi system boilers may cost anywhere between £1,000 and £2,500.
Homes with several bathrooms are a good fit for these type boilers since they can simultaneously heat several taps.
Biasi Regular Boiler Prices
Biasi regular boilers, also known as conventional boilers, are a traditional option for homes with a separate hot water cylinder. The prices of regular boilers from Biasi range from £800 to £1,500, depending on the model, size, and features.
Regular boilers are a suitable option for houses with higher hot water demands since they can deliver hot water continuously.
Biasi Combi Boilers
It's simple to understand why combi boilers are now the most common heating choice for houses in the UK. They are extremely efficient, easy to instal and maintain, and can deliver an endless hot water supply on demand.
The Biasi Combi Boiler Range is made up of three types of combi boilers: the Advance, the Advance Plus, and the Advance Plus 7. All three versions have outputs of 25kW, 30kW, and 35kW.
Read more about the best combi boiler here in our guide.
Biasi Advance Combi Boiler
Efficiency and dependability
Efficiency and dependability were the two main considerations in the design of the Advance combi boiler. This combi, although being small and powerful, can produce up to 13.3 litres of rapid hot water per minute. A high-quality, single-coil heat exchanger made of stainless steel that is both incredibly durable and effective has been created by Biasi. The single coil oval section prevents dirt and debris buildup by allowing the system water to circulate freely through the heat exchanger.
Perfect Old Boiler Replacement
This combi is therefore the ideal option for replacing an old boiler. With this series, ease of installation and use is obvious thanks to Biasi's addition of a visible pressure gauge, straightforward controls, and an optional switchable mechanical clock.
Smart Controls
Adding a variety of smart controls will allow you to further increase home comfort while lowering your gas bills. This Advance has built-in weather compensation; by adding a quick, low-cost temperature probe, you can enable the boiler to automatically respond to the outside temperature, providing you with a boost when you need it and saving you money when you don't. A 25KW, 30KW, and 35KW version of the Advance series is offered.
Warranty
In accordance with the terms and conditions outlined in our Biasi warranty section, the Advance series is backed by a 5-year warranty.
The Advance Plus 7 Combi Boiler
High-end technology
The Advance Plus 7 is from a line of intelligent gas boilers made by Biasi and is their most recent offering. All models come with cutting-edge quad processor technology, which greatly increases their reliability and performance. Since Biasi constantly places a premium on safety, every contemporary boiler has some sort of lock-out device in case the gas supply is compromised or faulty.
Safety lockout mode
With the Advance Plus, however, the boiler detects when this occurs and the gas supply resumes and automatically releases the safety lockout without the assistance of a person. To easily regulate the temps of your heating and hot water, Biasi have given this range a simple up/down setting. A 24 hour mechanical clock that fits neatly into the control pad on the front of the device is an optional and simple to use
Warranty
The Advance Plus Combi is covered by a 7-year warranty.
Biasi System boilers
A system boiler combines the greatest features of a combi boiler with a regular boiler. System boilers feature an in-built pump that allows them to respond rapidly and give hot water to several outputs at the same time.
Biasi's system boiler range has outputs from 16kW to 30kW.
The Advance Biasi System Boiler
Energy efficient
The Advance System Boiler by Biasi is an 89% efficient condensing boiler. How much energy is lost during the process of producing heat and hot water determines a boiler's efficiency rating. The boiler's efficiency increases with its energy rating. The A-Rated Advance System Boiler will help you reduce your carbon footprint and save money on your energy costs.
Compatible with a range of heating controls for increased efficiency and comfort
All Advance System Boilers are compatible with a range of heating controls, such as thermostats, room sensors, and programmable timers, which allow you to manage your heating system efficiently and effectively.
Warranty
A 5-year waranty is included with this boiler, giving you piece of mind in the unusual event that the boiler has a problem.
The Advance Plus 7 System by Biasi
Hot Water Cylinder
The Biasi Advance Plus 7 System is also equipped with a hot water cylinder, which provides a large storage capacity for hot water. This allows you to have a constant supply of hot water, even during periods of high demand. The cylinder is also well-insulated to help reduce heat loss and improve the efficiency of the system.
Easy to Install
In addition to these features, the Biasi Advance Plus 7 System is compact and easy to install, making it a great option for homes with limited space. It is also highly efficient, which can help to lower your energy bills and reduce your carbon footprint. The boiler is designed for quiet operation and features a digital control and display for convenient use.
Warranty
A 7-year warranty is included with the Advance Plus 7 Biasi System Boiler.
Biasi Regular boilers
A regular boiler will be helpful if you live in a home with many bathrooms and a high demand for hot water. You may run the kitchen tap and the shower at the same time without losing hot water to either one since they can supply hot water to numerous outlets simultaneously.
A regular boiler, the Biasi Advance OV comes in three sizes: 15kW, 18kW, and 24kW.
The Biasi Advance OV
Simple Installation
The Advance OV boiler family was created to replace widely used conventional open vented boilers, with an emphasis on efficiency and dependability while maintaining the characteristics that make installation simple. The Advance OV preserves a small footprint casing and the flexibility to be integrated into conventional fully pumped S and Y plan systems while being compact and powerful.
Single Coil Heat Exchanger
Similar to its combi and system family members, the Advance OV boiler has a single coil heat exchanger that is incredibly reliable and effective. In order to reduce dirt and debris buildup, the heat exchanger's single coil, oval portions enable system water to circulate freely through them. This makes the Advance the ideal option for replacing an outdated open vented boiler with a contemporary state-of-the-art boiler.
Built-In Weather Compensation
The Advance has built-in weather compensation; by adding a quick, low-cost temperature probe (optional), you can enable the boiler to automatically respond to changes in the outside temperature, providing you with a boost when you need it and saving you money when you don't.
Warranty
The Advance OV is equipped with a 5 year warranty.
Online Reviews for Biasi Boilers
Biasi Uk Ltd, have received generally positive reviews online, with many customers praising their efficiency, reliability, and affordability in the heating industry. Here are some examples of customer reviews:
"I've been using my Biasi boiler for over 5 years now and I've never had any problems with it. It heats my house efficiently and quickly and the hot water is always available when I need it." – Had her biasi boiler fitted 5 years ago.
"I was looking for a budget-friendly boiler and I stumbled upon Biasi. I'm so glad I did! The installation was easy and the boiler has been working like a charm ever since. Highly recommend!" – He had his existing boiler replaced with a Biasi Boiler
"Biasi boilers are excellent value for money. They are efficient, well-designed and affordable. I have a Biasi combi boiler in my home and it provides ample hot water for my family's needs." – He's happy with his investment of his Biasi boiler.
There are also several independent studies and surveys that have confirmed the high level of satisfaction among Biasi boiler owners. One such study found that over 90% of Biasi boiler owners would recommend the brand to others.
In conclusion, the online reviews for Biasi boilers are largely positive, with customers praising the boilers' efficiency, reliability, and affordability. These positive reviews are supported by independent studies and surveys, making Biasi boilers a popular choice among homeowners and businesses alike.
Biasi Boiler Warranty
The Biasi boiler warranty normally covers any flaws in the materials or workmanship for a period of five to ten years. It is necessary to have the boiler serviced annually by a registered engineer and to adhere to the manufacturer's advice for correct usage and maintenance in order to maintain the warranty's validity.
The warranty can be invalidated if you don't have the boiler serviced. It is advised to keep a record of any repairs and upkeep done to the boiler to assist make sure the warranty is still in effect.
Biasi Boiler Problems and Common Fault Codes
The following are some common problems and Biasi boiler fault codes:
Pressure drop: A quick drop in pressure may cause the boiler to turn off. This may be brought on by a system leak or a deficiency of water in the pressure gauge.
No hot water or heat: A problem with the pump, thermostat, or boiler itself may be to blame if the boiler isn't producing hot water or heat.
Faults with the ignition system, the fuel supply, or the thermocouple may be to blame for the boiler's failure to ignite.
Biasi boilers are fitted with electronic control systems that, in the case of a breakdown, can show fault codes. Some are:
E1 (low water pressure)
E2 (no ignition)
And E3 (problem with the heating system's flow sensor)
Biasi Boiler FAQs
Here are some common frequently asked questions about Biasi boilers:
What type of fuel does a Biasi boiler use?
Both oil-fired and gas-fired versions of Biasi boilers are offered.
How efficient are Biasi boilers?
Achieving efficiency of over 90%, Biasi boilers are built to be very efficient. The boiler's model and setup will determine its precise efficiency.
How do I know if my Biasi boiler needs servicing?
To make sure it is operating effectively and safely, you should have your Biasi boiler serviced every year by a licenced heating specialist. You should book an annual boiler service right away if you hear any strange noises or see a decline in performance.
Can I install a Biasi boiler myself?
Installing a boiler by Biasi yourself is not advised since this task should only be handled by a gas safe registered engineer who has received special training and certification in boiler installation.
What size Biasi boiler do I need for my home?
Your home's size and your heating needs will determine the size of Biasi boiler you need. You can find the right boiler size for your house with our free boiler quotes tool.
Where can I get a new biasi boiler?
You can get a new boiler from Biasi or any gas boiler replacement through us here at Boiler Central today