Gas Boiler Installation Liverpool Costs For Heating Engineers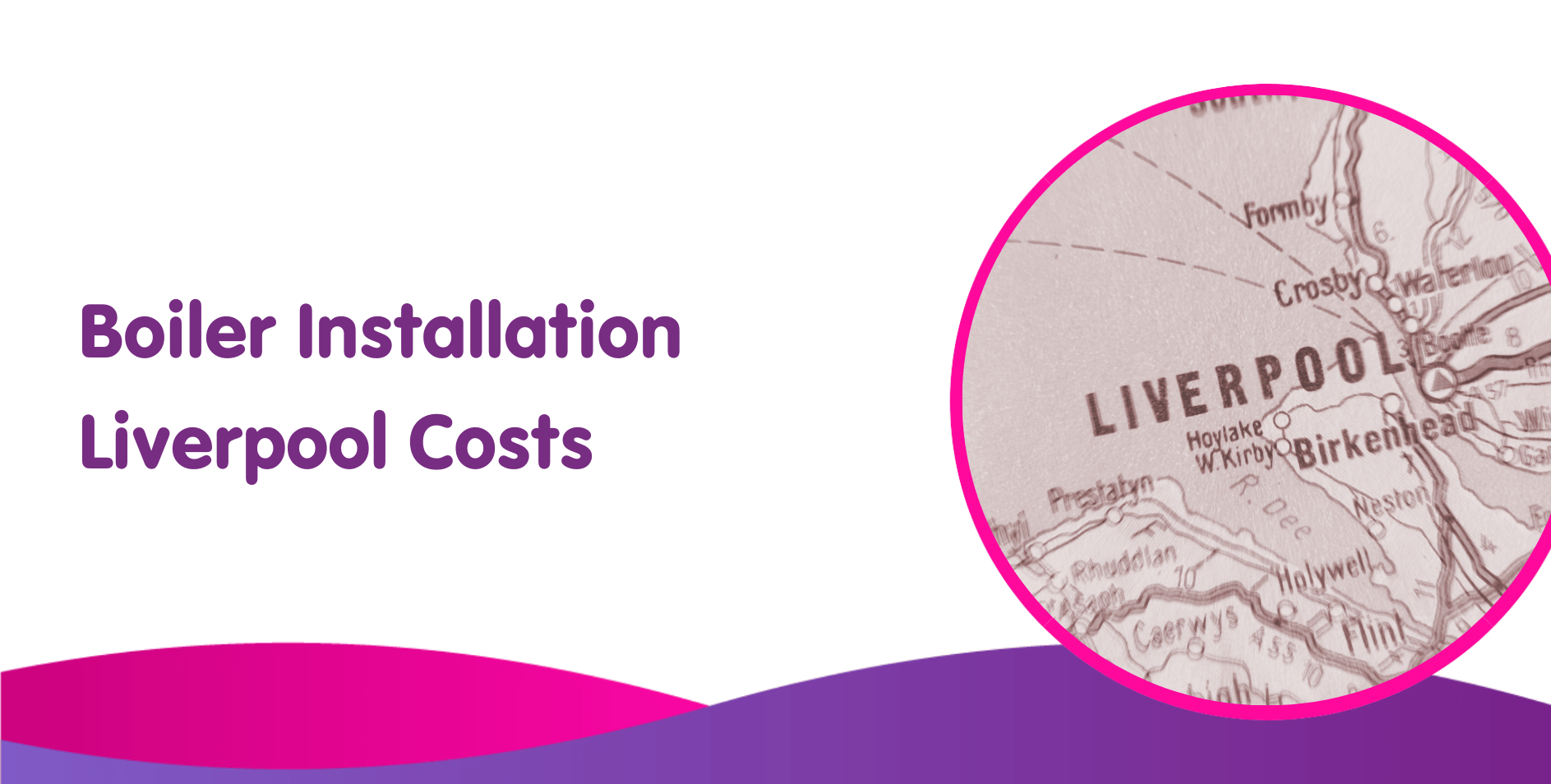 When it comes to ensuring a comfortable living environment, having a reliable and efficient boiler is essential. If you reside in Liverpool or are planning to move to the city, understanding Liverpool's new boiler installation costs and getting the best heating engineers should be high on your list of priorities.
In this article, we will delve into the factors that influence boiler installation costs in Liverpool and provide you with insights to help you make informed decisions to get the best central heating system installation at the best prices.
Click get a quote now to get a fixed price Liverpool boiler installation with no hidden costs fitted as soon as tomorrow. All boiler installations include fitting by fully qualified Gas Safe registered heating engineers.
Get an online fixed price in 20 seconds:
What kind of fuel does your boiler use?
Expert New Boiler Installation Liverpool Guide
As a fantastic northern town by the sea, it can get pretty cold outside all year round, therefore a well-functioning boiler and central heating system are vital for maintaining a comfortable and warm home in Liverpool, especially during the colder months.
It provides hot water for showers, baths, and household chores while also ensuring a cosy living space. If your boiler is old, inefficient, or unreliable, it may be time to consider a new boiler replacement in Liverpool.
Factors Affecting Liverpool Boiler Installation Costs
With a range of options available, it can seem confusing and with new boiler installation prices rising and falling due to the several factors influencing the cost of boiler installation in Liverpool.
Understanding these cost factors can help you budget accordingly and choose the right boiler for your needs and get the perfect boiler and heating system for your home.
Type of Boiler
There are various types of gas boilers available, including combi boilers, system boilers, and regular boilers. Each type has its own advantages and installation requirements, which can affect the overall cost.
The combi boiler installation is the most common type and a like for like replacement boiler is the cheapest option if you want to avoid expensive boiler repair costs.
Changing from a boiler with a hot water cylinder is also an option although a system boiler or conventional boiler conversion to a combi boiler installation will cost around £900 more on average, but can lower your heating bills over time.
Gas Boiler Size
The size of the gas boiler is determined by the heating demand of your property. Cheaper boilers with a lower output are suited to smaller properties, whereas larger properties typically require bigger boilers, resulting in higher installation costs.
Location
The location of the gas boiler installation can impact the overall cost therefore moving it to another room can mean the price increases drastically. If the installation requires significant modifications to the existing pipework or flue system, additional expenses may arise.
Additional Components
Gas boiler replacement is more than just a unit, it also included all the pipework and parts required to work. Depending on your specific requirements, additional components such as smart thermostats, radiator valves, a magnetic filter and water storage tanks may be necessary.
These extras can add to the overall boiler installation cost but will limit the cost of boiler repairs further down the line if they are upgraded.
Labour Costs
Choosing the best new boiler fitters for the job is just as important as choosing the right unit.
The cost of labour varies between boiler installers in Liverpool and nationwide, for example, a boiler installation in London will always cost more than elsewhere in the UK due to the higher hourly rates charged. It's advisable to obtain multiple quotes and compare them to ensure you're getting a fair price for any boiler installations.
Energy Efficiency
This is arguably one of the best reasons to get a new boiler installed, as opting for a highly energy-efficient boiler can result in long-term cost savings on your energy bills.
While energy-efficient boilers may have a higher upfront cost, these more energy efficient central heating systems can pay for themselves over time.
Warranty
Consider the warranty offered by the boiler manufacturer as well as any terms and conditions that need to be followed to. keep it valid, such as an annual boiler service by Gas Safe registered engineers. A longer warranty period provides peace of mind and may be worth the additional boiler costs.
When you get your boiler fitted, we always recommend setting up a service plan or taking out boiler cover which includes a free service every year.
Popular Boiler Brands in Liverpool
In Liverpool, you have access to a wide range of reputable boiler brands. Some popular choices include Worcester Bosch, Vaillant, Baxi, Ideal, and Viessmann. These combi boiler brands are known for their reliability, performance, and energy efficiency.
Getting Quotes from Boiler Installers
To ensure you receive competitive pricing for your boiler installation, it's recommended to obtain quotes from multiple installers. Compare their prices, expertise, and customer reviews to make an informed decision on any boiler installations in Liverpool.
Comparing Boiler Installation Costs
When comparing Liverpool boiler installation costs, choosing the right gas engineers is a must for your peace of mind to consider the quality of the installation, the reputation of the installer, and the long-term benefits of energy-efficient boiler replacements.
While it may be tempting to choose the cheapest option, quality and reliability should be the primary considerations, as the last thing anyone wants is a boiler breakdown in the middle of winter from a poor-quality boiler installation service
Finance For New Boiller in Liverpool
Boiler installation costs in Liverpool can vary depending on your budget and financial circumstances. If you're unable to cover the upfront costs, there are several boiler finance options available to help you manage the expense:
Personal Loans – You can apply for a personal loan from a bank or financial institution to cover the cost of the boiler installation. Compare interest rates and repayment terms to find the most suitable option for your needs.
Boiler Finance Plans – Some boiler manufacturers and installers offer financing plans that allow you to spread the cost of installation over a set period. These plans often come with competitive interest rates and flexible repayment options.
Government Grants and Schemes – In certain cases, you may be eligible for government grants or schemes aimed at promoting energy efficiency. These programs can provide financial assistance or incentives to help offset the cost of installing energy-efficient boilers.
Energy Company Funding – Some energy suppliers offer funding or discounts for customers who upgrade to energy-efficient boilers. Check with your energy provider to see if they have any available incentives or financing options.
Remember to carefully review the terms and conditions of any financing option before committing to ensure it aligns with your financial goals and capabilities.
Benefits of Professional Boiler Installation
While it may be tempting to attempt a DIY boiler installation to save money, it's strongly recommended to hire a professional installer. Here are some benefits of professional boiler installation:
Safety
Boilers involve complex systems and potentially hazardous connections. Professional installers have the expertise to ensure that everything is properly installed, reducing the risk of leaks, gas issues, or other safety hazards.
Compliance with Building Regulations
Professional installers are knowledgeable about local building codes and regulations. They will ensure that the installation meets all safety and legal requirements, giving you peace of mind.
Efficient Installation
Professionals have the experience and tools to complete the installation efficiently and correctly. They can also provide guidance on the most suitable boiler for your property and usage requirements.
Warranty Cover
Many boiler manufacturers require professional installation for their warranties to be valid. By hiring a professional installer, you can ensure that your warranty remains intact, providing protection and support in case of any issues.
Annual Boiler Service Liverpool & Repairs
Once your boiler is installed, regular maintenance and servicing are crucial for its longevity and efficient operation. Schedule annual servicing by a qualified engineer to keep your boiler in optimal condition and prevent any potential problems.
During servicing, the engineer will inspect and clean the components, check for leaks or gas issues, and ensure that the boiler is functioning at its best. Regular maintenance can prolong the lifespan of your boiler and help you avoid costly repairs in the future.
Areas in Liverpool We Cover

Here are some areas in Liverpool we cover:
Liverpool City Centre
Anfield
Everton
Kirkdale
Vauxhall
Bootle
Walton
Fazakerley
Croxteth
West Derby
Tuebrook
Toxteth
Dingle
Aigburth
Garston
Speke
Allerton
Wavertree
Childwall
Mossley Hill
Conclusion
Understanding boiler installation costs in Liverpool is essential for anyone considering replacing or installing a new boiler. By considering factors such as the type of boiler, size, location, additional components, labor costs, energy efficiency, and warranty, you can make informed decisions that align with your budget and requirements.
Remember to seek quotes from multiple installers, compare their offerings, and prioritize quality and reliability over the cheapest option. Professional installation and regular maintenance will ensure the safety, efficiency, and longevity of your boiler, providing you with comfort and peace of mind for years to come.
FAQs
How much does a boiler installation cost in Liverpool?
Boiler installation costs can vary depending on several factors, such as the type of boiler, size, location, and additional components. On average, a boiler installation in Liverpool costs between £2,000 to £4,000 or more.
What is the most energy-efficient type of boiler?
Combi boilers are often considered the most energy-efficient type of boiler as they provide both heating and hot water on demand. They eliminate the need for a separate water tank, making them more efficient and space-saving.
Are there any government grants available for boiler installation in Liverpool?
Yes, there are government grants and schemes available in Liverpool to promote energy efficiency. One such program is the Energy Company Obligation (ECO), which provides funding for households to install energy-efficient boilers.
Additionally, the Green Homes Grant scheme may offer financial assistance for eligible homeowners looking to upgrade their heating systems.
How long does a boiler installation typically take?
The duration of a combi boiler installation can vary depending on factors such as the complexity of the installation, the type of boiler, and any necessary modifications.
On average, a boiler installation in Liverpool can take anywhere from one to three days. However, it's best to consult with the installer for a more accurate timeline based on your specific requirements.
Should I consider a regular boiler service?
Absolutely! Regular boiler service maintenance and servicing are highly recommended to ensure the optimal performance and longevity of your boiler.
Annual servicing allows a qualified engineer to inspect, clean, and tune your boiler, addressing any potential issues and ensuring its efficiency and safety. Regular maintenance can help prevent unexpected breakdowns and extend the lifespan of your boiler
Make the most of your investment in a boiler installation in Liverpool by choosing a reputable installer, considering energy efficiency, and prioritizing regular maintenance. A reliable and efficient boiler system will provide you with comfort, hot water, and warmth for years to come.
Don't hesitate to explore financing options and government grants to make the process more affordable. Enjoy a cosy and comfortable home with a professionally installed and well-maintained boiler system