Boiler Installation Birmingham Costs and Gas Safe Registered Engineers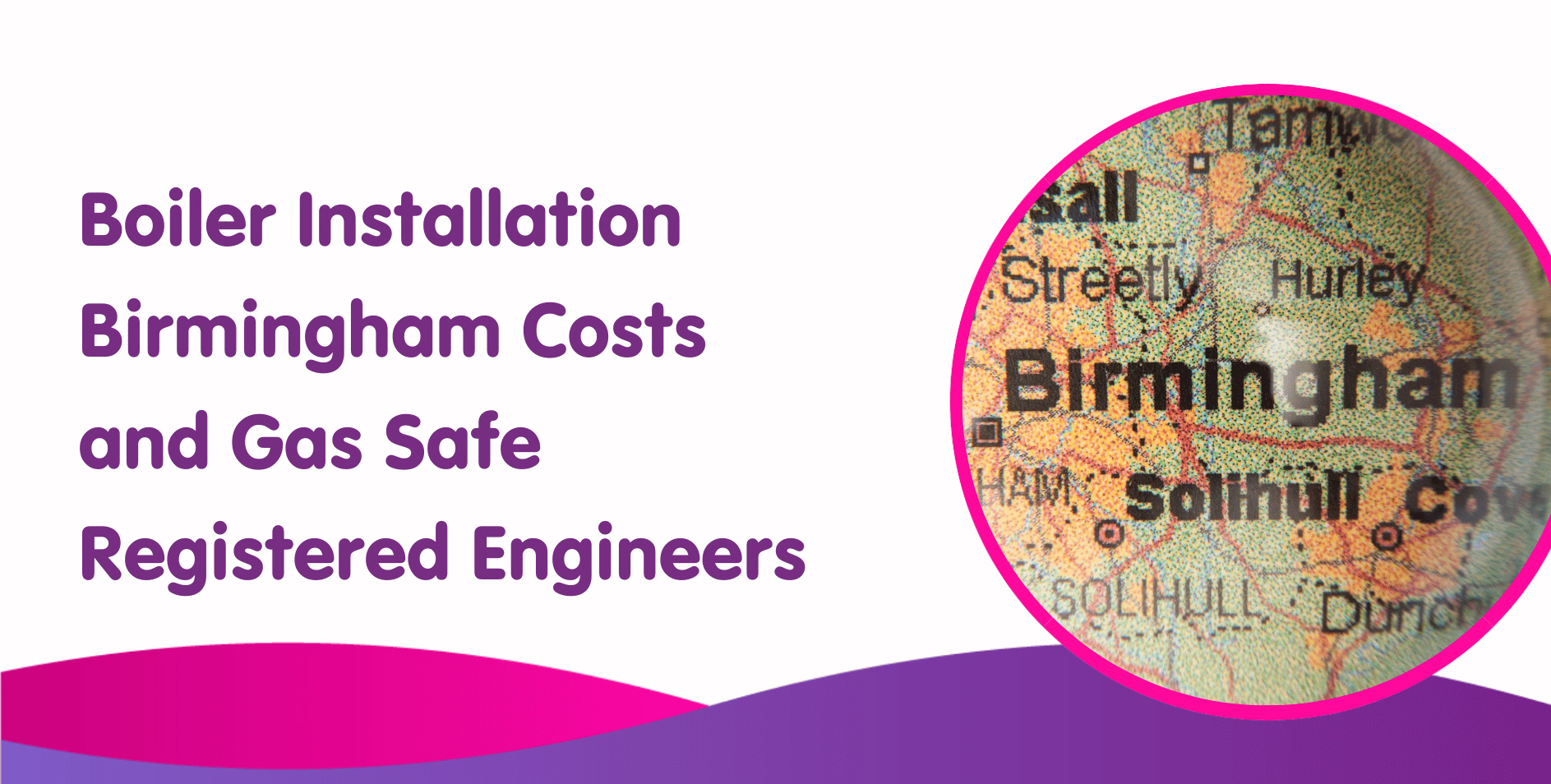 Are you in need of a new boiler in Birmingham? The process can be daunting, but fear not! We're here to guide you through every step, from understanding boiler installation costs to choosing the perfect boiler for your home.
In this comprehensive blog post, we'll provide invaluable insights into the world of boiler installation in Birmingham, ensuring you make an informed decision and enjoy the warmth and comfort of your home.
Get an online fixed price in 20 seconds:
What kind of fuel does your boiler use?
New Boilers Birmingham Short Summary
Get professional boiler installation services in Birmingham for competitive rates, safety assurances, and optimal performance.
Compare features of popular brands such as Worcester Bosch, Viessmann and Alpha to make an informed decision.
Maintain your new boiler with annual servicing and repairs from qualified professionals for improved efficiency & extended life.
Understanding Boiler Installation Costs in Birmingham

When considering a boiler installation in Birmingham, it's important to account for the various factors that can influence the overall cost of a new boiler. These factors include the type of boiler, its size, the complexity of the installation process, and labour costs.
With so many variables to consider, it's no wonder that the average boiler installation cost in Birmingham is approximately £2,000.
Factors Influencing Installation Costs
The primary factors influencing boiler installation costs are the type of boiler, the fuel source, and the size of the property. In the West Midlands, including Birmingham, the complexity of the installation process can also be determined by factors such as the type of boiler being installed and the fuel source.
It's essential to consult a professional Gas Safe engineer to help you choose the right boiler for your property and budget, ensuring you get the most value for your money.
Average Boiler Installation Prices
The average cost of a combi boiler installation in Birmingham is approximately £2,190. This price includes the cost of the boiler itself and the estimated labour fees. The installation cost for a Vitodens 100-W combi boiler, for example, typically falls within this average price range.
Keep in mind that these costs may vary depending on the output and other factors, so don't hesitate to consult a professional for a more accurate quote as a boiler installation in Leeds will cost much less than a new boiler installation in London or other southern areas.
Local Gas Safe Registered Engineer in Birmingham
Selecting a local Gas Safe registered engineer in Birmingham offers numerous advantages, such as familiarity with the region and local regulations.
By working with a certified, inspected, and reliable expert who is familiar with local regulations and safety protocols, you can be assured of tailored services and competitive rates.
Moreover, these engineers guarantee safety during boiler installation, ensuring that all safety features are in place and the boiler is installed correctly and securely.
In addition to their professional qualifications, local Gas Safe registered engineers adhere to safety standards and have a deep knowledge of the Birmingham area.
This means they can provide more efficient and secure services, knowing the unique challenges and requirements of the region. By choosing a local engineer, you can enjoy peace of mind knowing that your boiler installation is in the hands of a knowledgeable and experienced professional.
Professionalism and Safety
Hiring a professional Birmingham Gas Safe engineer for boiler installation ensures that the task is executed accurately and securely. These professionals possess the expertise and proficiency to install boilers accurately and guarantee that all safety measures are in place.
Failing to abide by safety standards and regulations during boiler installation can result in serious safety hazards, including gas leaks, fires, and explosions. Thus, it's ever more important to work with a professional who prioritises safety and adheres to the highest standards.
Familiarity with Birmingham Area
A local gas safe registered engineer's knowledge of the Birmingham area can provide customers with improved safety, cost-effectiveness, and adherence to best practices. Their familiarity with the region and local regulations ensures that your boiler installation will be completed according to the highest standards, reducing the likelihood of unexpected issues in the future.
By choosing an engineer who knows the unique requirements of Birmingham, you can rest assured that your boiler installation will be smooth and trouble-free.
Types of Boilers Available in Brimingham & Prices
When it comes to boiler types, there are three primary options to choose from: combi, system, and conventional boilers. The cost of each type can vary depending on the size, type, and associated installation costs, with combi boilers generally being the most cost-effective option.
In this section, we'll explore each type of boiler and their respective costs, helping you make an informed decision when selecting the perfect boiler for your home in Birmingham.
Combi Boilers
Combi boilers directly heat water from the mains, eliminating the need for a hot water storage cylinder or a cold water storage tank. These boilers are cost-effective, energy efficient, and provide hot water on demand. Additionally, they are renowned for their space-saving design and typically have a lifespan of 10-15 years.
The typical cost of installing a combi boiler is approximately £2,500. When converting from a regular boiler to a combi boiler, the process usually takes around two days.
Regular Boilers
Regular boilers, also known as heat-only boilers, are designed to provide hot water for central heating purposes but not for domestic use. These boilers require hot and cold water storage tanks and are best suited for larger homes with multiple bathrooms. Regular boilers offer a reliable source of hot water for central heating and are relatively straightforward to install and maintain.
The typical cost of installing a regular boiler is generally between £2,000 and £3,000.
System Boilers
System boilers consist of two main components – the boiler itself and the hot water storage cylinder. They are similar to regular boilers but come with additional units integrated into the boiler and provide high flow rates at mains pressure. System boilers offer greater efficiency than traditional boilers, as they do not require a cold water tank in the loft.
They provide hot water on demand, eliminating the need to wait for the hot water to be heated, and are simpler to install and maintain. On average, the installation cost of a system boiler is estimated to be between £2,000-£3,000.
Comparing Boiler Brands and Their Features
When choosing a boiler for your home in Birmingham, it's essential to consider the different brands and their features. Popular boiler brands include Worcester Bosch, Viessmann, Ideal, Vaillant, Baxi, Glow Worm, and Potterton.
In this section, we'll provide a comparison of popular boiler brands and their features, focusing on Worcester Bosch, Viessmann, and Alpha.
Worcester Bosch
Worcester Bosch boilers are renowned for their exceptional efficiency, minimal emissions, and whisper-quiet operation. They come with a selection of features, including weather compensation, smart controls, and a 10-year warranty.
These boilers have an excellent reputation, with a Trust Pilot rating of 4.8 and are one of the most in chosen for installation in Birmingham by Boiler Central customers. The cost of Worcester Bosch boilers varies depending on the model and size, typically ranging from £1,000 to £2,500.
Viessmann
Viessmann boilers are known for their high-end engineering, modern design, and superior performance. These boilers boast features such as high energy efficiency, stainless steel heat exchangers, Lambda Pro Combustion, ViCare Thermostat, LED Touch Screen, and Inox-Radial heat exchangers.
With proper maintenance, Viessmann boilers can have a lifespan of 15-20 years. The cost of Viessmann boilers can vary depending on the model and size, typically ranging from £1,500 to £3,000.
Alpha
Alpha boilers offer a range of features designed to maximise efficiency, reduce emissions, and provide quiet operation. Models such as the E-Tec Plus and E-Tec Hybrid offer features such as on-demand hot water and a stainless steel heat exchanger.
Alpha boilers are an affordable option, with prices typically ranging from £1,000 to £2,500. When purchased through Heatable, Alpha boilers come with a 10-year warranty, ensuring peace of mind for customers.
Timeline for New Boiler Installation In Birmingham
The timeline for new boiler installation in Birmingham can typically range from 1-3 days, depending on the complexity of the installation and the type of boiler. In certain cases, installations can be completed within a day if it is a straightforward replacement.
Here at Boiler Central, we are able to provide next day installation of a new boiler in Birmingham. Keep in mind that timelines may vary, so it's essential to consult with a professional Gas Safe engineer for a more accurate estimate.
Signs You Need a New Boiler In Birmingham
The expected life of a boiler is typically between 10-15 years. This is an average time frame. However, as boilers age, they may become prone to breakdowns and may no longer be covered by a guarantee. It is advisable to install a new boiler if components such as the PCB or heat exchanger require repair or replacement on an existing model.
Installing a new boiler in Birmingham can offer enhanced energy efficiency, reduced running costs, and improved safety through professional boiler installations. With a replacement boiler installed by experts, you can ensure optimal performance and longevity.
Inefficiency and Environmental Impact
An inefficient boiler can be detected by observing higher energy bills, uneven heating throughout the home, and the necessity for frequent repairs. Inefficient boilers can lead to increased energy costs and detrimental environmental effects. As a boiler gets older, its efficiency levels will decrease, resulting in increased running costs.
By recognising these signs and replacing your old boiler, you can ensure your home remains energy efficient and environmentally friendly.
Beyond Economical Repair
Beyond Economical Repair (BER) is a classification given to an old boiler where the cost of repairs is likely to exceed its replacement value. In such cases, it is more cost-effective to have a new boiler fitted rather than repairing the existing one.
By installing a new boiler, you can enjoy enhanced energy efficiency, reduced running costs, and enhanced safety, as well as a more reliable and consistent source of hot water and heating.
Financing Options for Boiler Installation in Birmingham
We understand that the cost of a new boiler can be a significant investment. That's why we offer a range of financing options for boiler installation in Birmingham, including interest-free credit and deferred payment plans. With 0% APR financing, you can pay for your boiler installation over a period of time without accruing any interest.
Additionally, zero deposit financing allows you to pay for your boiler installation in instalments without requiring a deposit initially. Monthly payment options are also available, providing flexibility and affordability for customers.
Central Heating and Smart Thermostat Integration
Integrating a smart thermostat with your central heating system offers enhanced temperature regulation, improved energy efficiency, and the ability to control it wirelessly via WiFi. By installing a smart thermostat, you can gain more control over your home heating, detect when you are at home, and create a personalised schedule tailored to your home heating and hectic lifestyle.
This advanced technology can help you save on energy bills and reduce your environmental footprint.
Birmingham Boiler Service and Repairs
Maintaining a new boiler on a regular basis is essential to ensure its optimal performance and prevent unexpected breakdowns. If you live in Birmingham a boiler must be serviced every year too as part of manufacturer's warranty.
Regular maintenance can extend the life of your boiler, increase its energy efficiency, and reduce energy costs.
In addition to boiler cover, here at Boiler Central we offer central heating cover and electrical items cover and services, providing comprehensive support for homeowners in Birmingham.
Annual Boiler Service
Regular boiler servicing is essential in order to maintain the boiler in optimal condition and ensure the home remains warm.
While there is no explicit recommended frequency for boiler servicing if outside of the warranty period, it is generally advised to have your boiler serviced annually by a professional Gas Safe engineer. This ensures safety, keeps the manufacturer's warranty validity, and can help prevent future issues.
Boiler Repairs
Should you experience any breakdowns or issues with your boiler, Birmingham Boiler Repairs provides a comprehensive selection of services to address your needs. Signs that repairs may be necessary include unusual noises, leaks, a slower-than-usual warm-up time, an increase in energy bills, and unpleasant odors.
Birmingham Boiler Repairs is qualified to service all major brands, including Worcester, Vaillant, Baxi, Ideal, and Ferroli, ensuring prompt and professional boiler repair assistance when you need it most.
Areas in Birmingham We Cover
Here is a list of areas in Birmingham we cover:

Acocks Green
Alum Rock
Aston
Balsall Heath
Bartley Green
Bearwood
Billesley
Birchfield
Boldmere
Bordesley
Bordesley Green
Bournbrook
Bournville
Brandwood
Bromford
Castle Vale
Cotteridge
Digbeth
Druids Heath
Duddeston
Edgbaston
Erdington
Falcon Lodge
Five Ways
Four Oaks
Frankley
Garretts Green
Glebe Farm
Gravelly Hill
Great Barr
Greet
Hall Green
Hamstead
Handsworth
Handsworth Wood
Harborne
Harts Green
Hawkesley
Hay Mills
Highgate
Hockley
Hodge Hill
Hollywood
Jewellery Quarter
Kents Moat
Kings Heath
Kings Norton
Kingstanding
Kitts Green
Ladywood
Lea Hall
Longbridge
Lozells
Mere Green
Minworth
Moseley
Nechells
Newtown
Northfield
Old Oscott
Over Green
Perry Barr
Perry Common
Queslett
Quinton
Reddicap Heath
Rednal
Ridgacre
Rubery
Saltley
Selly Oak
Selly Park
Shard End
Sheldon
Shenley Fields
Shenley Green
Short Heath
Small Heath
Smethwick
Soho
Solihull
South Yardley
Sparkbrook
Sparkhill
Stechford
Stirchley
Stockland Green
Sutton Coldfield
Tamworth
Tile Cross
Tyburn
Tyseley
Wake Green
Walker's Heath
Walmley
Ward End
Warstock
Washwood Heath
Weoley Castle
West Heath
Whitehouse Common
Winson Green
Witton
Woodcock Hill
Woodgate
Yardley
Yardley Wood
Summary
In conclusion, a boiler installation in Birmingham involves many factors to consider, from costs and financing options to choosing the right boiler type and brand for your home.
By working with a local Gas Safe registered engineer, you can ensure a professional and safe installation, as well as ongoing maintenance and support. With proper care and attention, your new boiler will provide you with efficient heating and hot water for many years to come.
Frequently Asked Questions
What does a new boiler installation include?
A new boiler installation will include connecting to pumps, pipes to radiators and water outlets, and your cold water mains supply. It might also involve connections to hot and cold water storage tanks.
The duration of the process will depend on the model you have chosen.
Are you allowed to install your own boiler?
Generally, it is not recommended to install a boiler on your own due to the risks and potential legal consequences involved. Boilers must be installed by a Gas Safe registered engineer who has the necessary qualifications, skills and experience required for a safe installation.
Any unqualified work may pose serious safety hazards, as well as face possible prosecution and fines.
Can I legally install my own gas boiler?
In conclusion, due to the safety risks associated with installing a gas boiler, it is recommended that you employ a professional for this task. Although you may be able to install an oil or electric boiler yourself, it may still be required to have a professional carry out certain elements of the job such as wiring up an electric boiler.
What are the regulations for the installing boiler?
When installing a boiler, building regulations must be followed in order to ensure your safety and the security of your property. This includes paying careful attention to the positioning of the flue, which should always be a minimum of 30cm away from any windows and doors, though this can increase with larger boilers.
The positioning of the flue is an important factor to consider when installing a boiler. It should be placed at least 30cm away from any windows and doors, though this distance may be greater for larger windows and doors.