Plumbing and Drainage Cover For UK Homes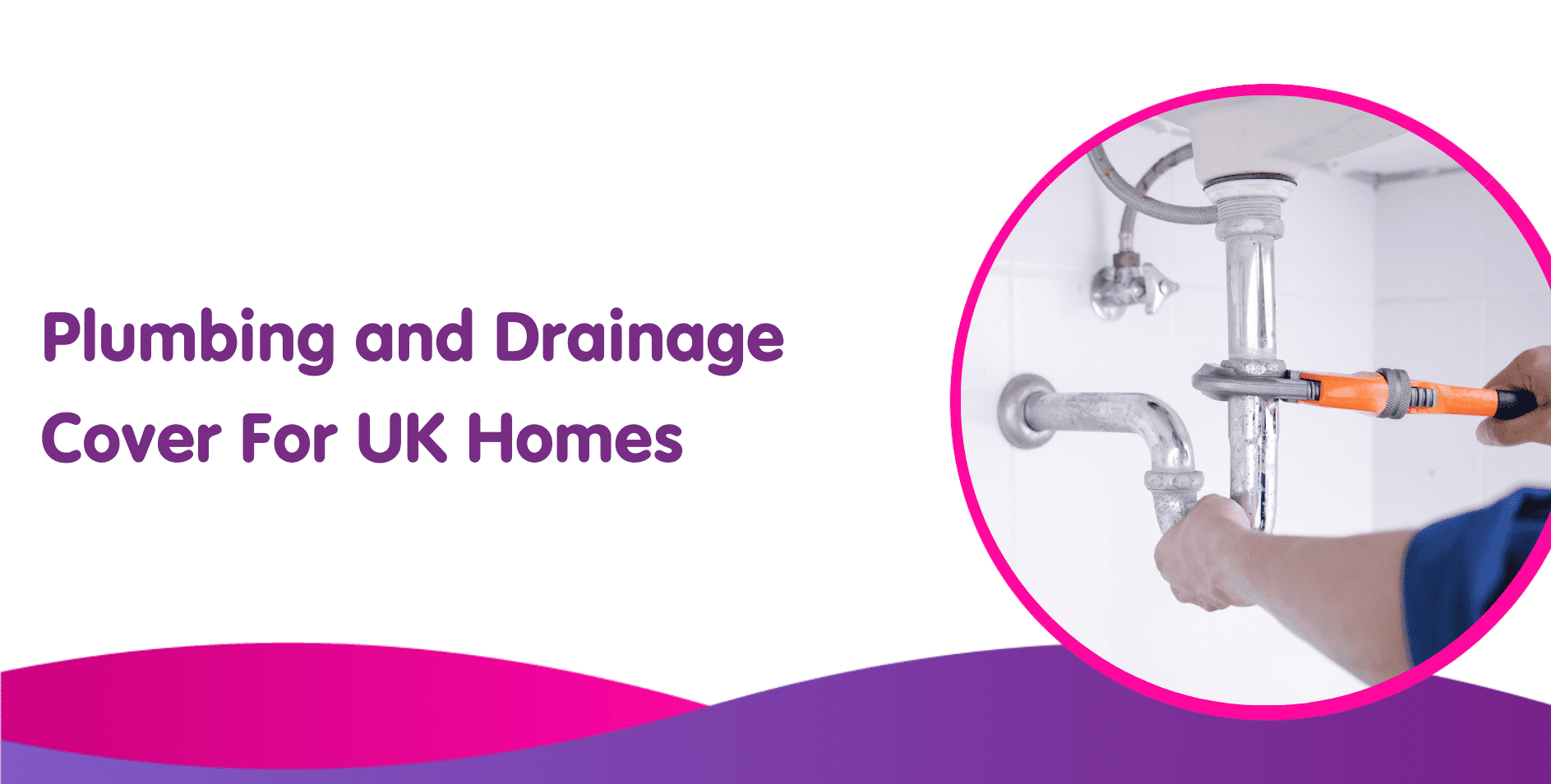 Plumbing and drainage cover – Why do you need it?
Burst pipes or blocked drains can be very frustrating and happen at the most inconvenient times. Worse, call-out fees and the cost of repairs can quickly add up. One way to mitigate this is by taking out a specialist policy for added reassurance.
But before you get insurance to cover potential water and drainage problems, it is important to understand what's included in the cover and what's not. You should also factor in your existing building insurance (if you have one) and determine whether it is worth getting additional plumbing and drainage cover.
Our in-depth guide explains everything you need to know to help you make a more informed decision, so keep reading.
Get Plumbing & Drainage Cover
What is a Plumbing and Drainage Cover?
Plumbing and drainage cover goes by a few different names, including home and emergency cover and drain plumbing cover. It is insurance covering different drain-related problems, such as blockages to your drains or damage to the drain. If you have boiler cover you can upgrade and get your plumbing and drainage included.
Typically, the insurance includes coverage for leaking pipes and blockages to a water supply. It also covers toilets and sinks.
As you may have already figured out, there are many insurance providers with various offers. Before you choose a provider, make sure to double-check the small prints to know the conditions of the policy. Check how many call-outs you can make annually, and know the limits of the insured plan.
Most importantly, you want to choose a provider that offers insured plans regulated by the UK's Financial Conduct Authority (FCA). Insured plans are backed or underwritten by an insurer.
Get Plumbing & Drainage Cover
Do I Need Plumbing and Drainage Cover?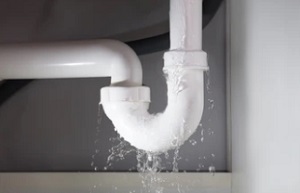 Drain cover does not apply to everyone, particularly tenants. If you are a tenant, your responsibility is to inform your landlord of any issues with the water supply, drains, boiler, and heating systems. The landlord or letting agency should get the problem fixed immediately in emergencies or in a timely fashion if it is not an emergency.
On the other hand, landlords and homeowners are often better off with boiler cover that includes drainage cover. In addition to reducing the overall cost of frequent repairs, having insurance can help you act fast and fix plumbing problems in your property.
However, if you already have building insurance for your property, it is best to check what's covered and the extent of coverage offered before adding an additional policy. If your existing building insurance doesn't offer sufficient cover, you can add drainage cover to your existing policy.
You might also opt for a standalone policy that's more compressive. Some insurers offer this option but keep in mind that they are usually more expensive than your regular insurance cover.
Get Plumbing & Drainage Cover
What's Covered in Plumbing and Drainage Insurance?
The levels of cover will depend on the home insurance company. Some insured plans are more comprehensive and expensive than others; however, basic cover typically includes insurance against blocked drains. It should also cover any disruption to the pipes supplying water into a property.
While comprehensive policies vary between home insurance companies, most comprehensive covers usually extend to repairing central heating or gas boilers. It is also common to cover drainage and plumbing repairs involving blocked toilets or sewers, as well as fixing mains services, such as water, electricity, and gas.
Other covers may also extend to removing wasp nests, rats, and other pest infestations that could affect your property. Some insured plans also cover damaged roof tiles and other roofing repairs.
We recommend thoroughly reading all the terms to understand what the policy will cover, even if it claims to be a comprehensive cover.
In addition to understanding what's included in a policy, choose only insurers that use certified plumbers and technicians. Check how many call-outs are available per year and the limits for claims. You also want to take note of the maximum number of claims the policy allows you to make per year.
Keep an eye out for an emergency helpline available around the clock so you can reach out and get emergency problems fixed as quickly as possible before they degenerate into something worse.
Get Plumbing & Drainage Cover
What's Not Covered in Plumbing and Drainage Insurance?
As you may have guessed, it is normal to expect certain exclusions, even in the most comprehensive covers, so it is crucial to check the terms of any home insurance policy.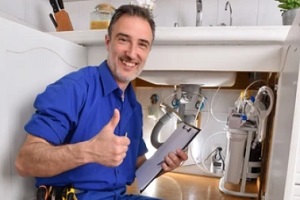 Incidental damages are not often covered. For example, if something in your home is damaged because of an overflowing drain or leaking pipe, many plumbing and drainage policies will only cover the repairs and call-out fees for the primary problem (the leaky pipe or broken drain). The cover may exclude other accidental damage caused by the primary issue.
Some policies do not cover day-to-day maintenance. Also, many drainage policies may exclude one or more of the following:
Old boilers: If your boiler is over ten years old, insurance may not cover it, especially if there is no evidence of annual boiler service. A new boiler may be the next necessary step.
Appliances not properly maintained: Some plumbing and drainage policies may exclude central heating systems and gas boilers not maintained according to the manufacturer's instructions or a gas safety certificate has not been granted.
Blocked guttering: Some policies do not cover clogged gutters that cause water to spill over and create problems like structural issues, foundation damage, and basement flooding.
Hard water scaling deposits: Hard water causes scaling, which can affect rubber seals, water heaters, pipes, and other water-using appliances. Unfortunately, not all home emergency policies cover this problem.
Pest infestations: Many plumbing and drainage policies exclude pest infestations, especially in gardens, sheds, and other outbuildings.
Get Plumbing & Drainage Cover
Is My Home Insurance Enough to Cover Plumbing and Drainage Problems?
Most building insurance policies cover some common drainage and plumbing problems. However, they may exclude many essential things you would need.
A good building insurance policy should cover damages caused by:
Explosion, storms, fire, and floods
Earthquakes and subsidence
Frozen or burst pipe
fallen trees, aerials or satellite dishes, and lampposts
Vehicle or aircraft collisions
Theft and vandalism
However, not every damage or loss mentioned is covered in some policies. For this reason, you should check your existing home insurance to see what's covered and what is excluded.
Is It Worth Getting a Plumbing and Drainage Cover?
Undoubtedly, taking out a policy can give you peace of mind knowing that you're covered if anything should go wrong.
Homeowners and landlords who do not have protection in place often spend more than they bargained for and incur expenses they can't account for.
As your property ages, plumbing and drainage issues continue to reoccur. It makes sense to have protection to handle these repairs, especially during emergencies. You will pay less for repairs and replacement parts in the long run.
However, a home emergency cover might not be necessary in all cases. Before you take out a policy as a landlord or homeowner, it is important to first check your current building insurance (if you already have one). You don't want to pay twice for insurance cover, so be sure of what your current policy covers and doesn't cover.
If your building insurance doesn't offer sufficient cover, the next thing to do is compare the additional insurance premium against the cost of carrying out the repairs yourself. Doing so will help you figure out whether or not it is worth taking out an additional policy for extra protection.
A standalone drainage policy might be more desirable if you want something more comprehensive. However, if you choose to go with this option, it is usually prudent to first compare costs. How much will your insurer charge to add extra cover to your existing policy? How much will a standalone policy cost?
By figuring out answers to these questions, you'll be in a better position to decide what's worth it and what's not.
Get Plumbing & Drainage Cover
Common Drainage Problems and Preventive Measures
Blocked drains are fairly common, especially in large households. Knowing how to fix a recurring drainage problem can be quite beneficial if you are thinking of taking out a specialist policy in addition to your building insurance cover.
Here are some of the most common drainage problems and how to avoid them:
Blockages Caused by Food Residue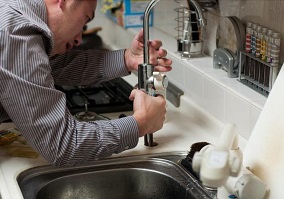 Discarding leftover food or washing oil into the sink can cause a blockage in your drain, especially during the colder months when the debris can quickly solidify and block the pipes.
While it is okay to do the dishes in the sink, it is best to scrape off leftover foods and rinse excess fat and oil into a bin before washing plates and pots.
Tree Root Intrusions
Cracks and fractures in your drains can attract tree roots since they can sense any source of water and nutrients. Tree roots can cause serious damage to your pipework, and this is one of those repairs that will require hiring a professional.
Blockages Caused by Baby Wipes
Unlike toilet paper, baby wipes (and all types of wipes, for that matter) don't break down in the water. Although manufacturers will often claim that the products are flushable, any experienced plumber will tell you that wipes are not flushable.
Discarding wipes in your toilet can lead to major plumbing problems in your septic tank and can even affect your community's sewer.
To prevent blockages caused by wipes:
Avoid flushing baby wipes down the toilet.
Discard wipes and other similar products properly in a waste bin.
Get Plumbing & Drainage Cover
Tips on How to Solve Plumbing Problems
Some minor plumbing issues do not require the attention of a tradesperson. You can fix them without going through the hassles of calling a professional.
Here are a few ways to fix many of the common plumbing and drainage issues:
1. Use Chemicals
If your basin, sink, or bath drain is clogged, pouring industrial chemicals down the plughole can dissolve and clear the debris. However, we recommend adopting a more environmentally-friendly approach by pouring a mixture of baking soda and water or vinegar and water down the clogged drain.
2. Dislodge Objects Using a Plunger
A plunger is an excellent tool for clearing up blockages in pipes and drains. The rubber suction cup creates a seal around the plughole in a sink or basin and dislodges objects in the drain using air and water pressure.
To make the plunger more effective, remember to fill your sink or bath basin with about two to three inches of water before using the tool. If there are other connecting pipes, block them for the time being to increase the pressure.
3. Work the Blockage Using Drain Rods
Drain rods are effective for removing blockages in pipes. These tools loosen debris and other forms of blockages in drains and pipes. Just feed the drain rods and work through the blockage.
Be careful not to break the rod inside the pipes or allow them to get stuck inside the drain pipes. It is usually best to call a tradesperson if you are unsure about using drain rods.
4. Hire a Professional
In some cases, you may not be able to access the problem with your plumbing, let alone fix it. At other times, the problem is too difficult to fix without the right tools and experience. In such cases, it is best to hire a professional to get the job done. Your insurer can take care of this if you have a cover.
Find the Most Suitable Home Emergency Policy
No matter your preference, finding the most suitable home emergency insurance cover is pretty straightforward through Compare Boiler Quotes.
Provide a few details about your home or rental property, and we'll help you compare the best deals from the top insurance providers in no time. Feel free to get in touch with us today.
Get Plumbing & Drainage Cover