Navien Boiler Reviews & Navien Combi Boiler Prices UK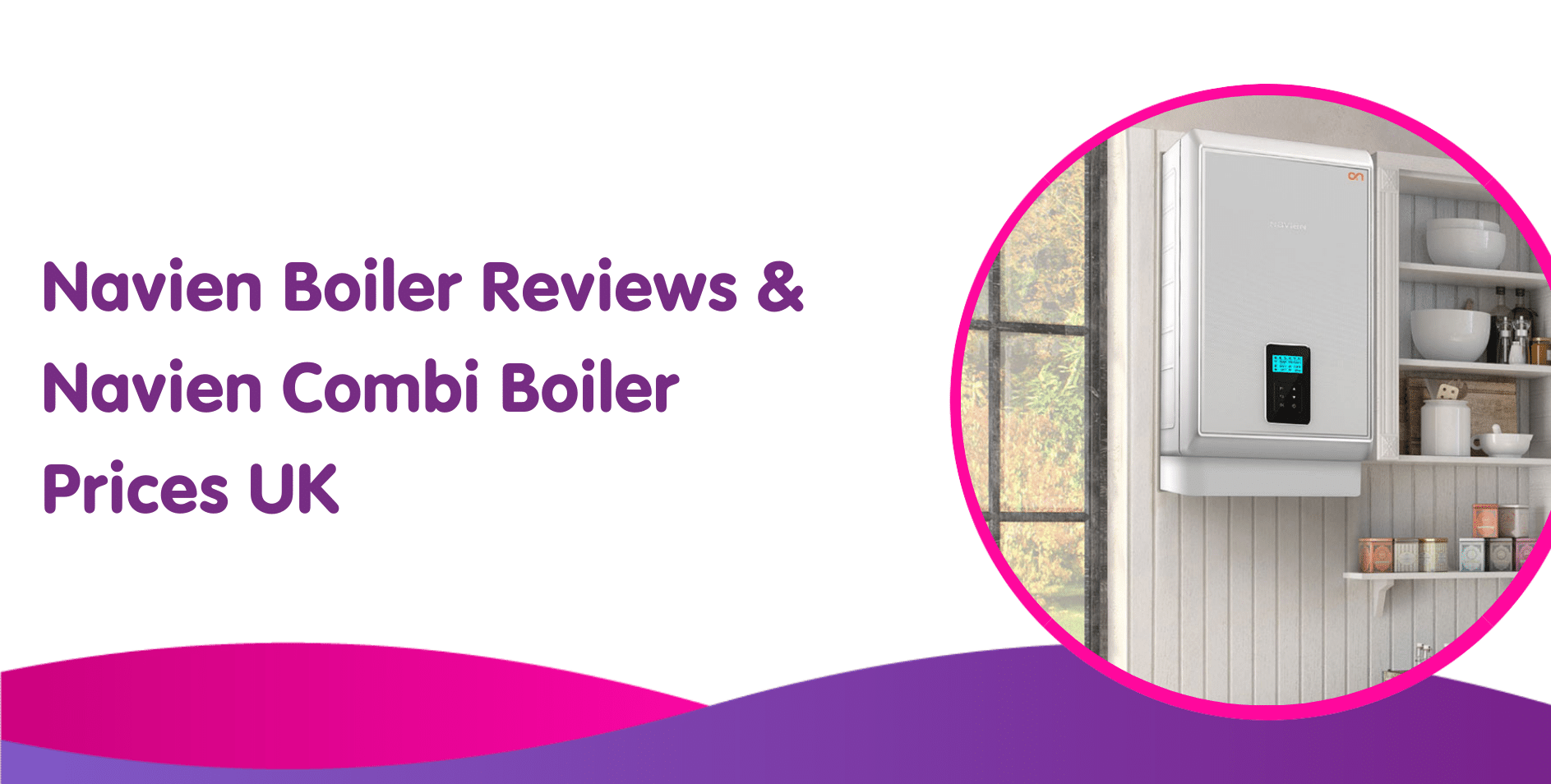 Navien boiler prices, reviews & costs for 2023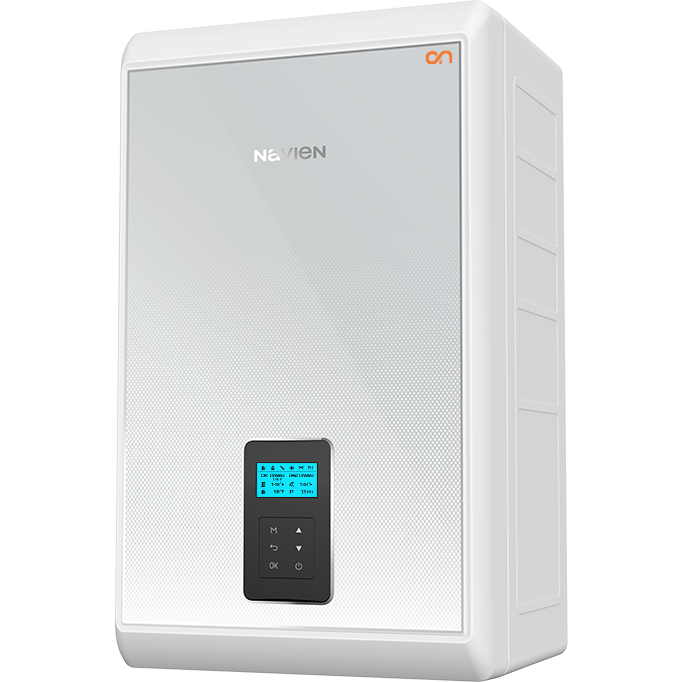 Navien boilers arrived in the UK for the first time in 2015 and they were the first condensing boiler company to be designed and manufactured in Asia by Navien.
KyunDong Navien is a Korean boiler brand that is a great budget boiler option for people looking for an excellent cheap boiler replacement!
Get a fixed price in 20 seconds here
They offer a variety of boilers, including system and combi boilers that can be used on both natural gas and oil-fired systems. Navien NCB 300 combi boilers are highly energy efficient and come with a good warranty that suggests that they are pretty reliable boilers.
Get an online fixed price in 20 seconds:
What kind of fuel does your boiler use?
What boilers does Navien manufacture?
If you are looking for influential, cost-effective, and CO2-efficient boilers, you are in the right place. Navien Boilers enjoy an excellent reputation in that area and have expanded its business fields to include zone control systems, ventilation systems, local network systems, and others to give its consumers an excellent and greener living environment.
Navien Inc makes every effort to build the world's most high efficiency and ecologically friendly products that positively affect the existing culture worldwide.
Their creation of green energy tools like the Stirling Engine m-CHP fuel cell and solar thermal systems makes their new technologies cutting-edge.
These fuel cell and solar-powered home heating systems generate power and are a potential game-changer in this niche. However, there are several models to choose from, and you may get confused about picking the best one.
Now the question is, which Navier boiler models and their features are good for you? We like the NHB Condensing Heating Boiler, but let's find out which is the best option for you with our Navien boiler reviews!
Navien combi boilers review
Navien's NCB Combi boilers can handle the heating and hot-water needs of larger homes. While most Combi boilers can only provide hot water for one tap or shower, Navien Combi boilers can power up to three showers simultaneously.
Thes cheap combi boilers are the perfect solution for anyone wanting a good boiler but keep both inital costs down and running costs too.
Why choose a Navien combi boiler?
The flue lengths available allow for installation almost anywhere on a property.
Rapid response to hot water demand
Easy-to-use touchscreen controls
High efficiency ratings up to 93%
Quiet operation
You'll also be able to enjoy all these benefits as standard. An optional outdoor sensor allows you to adjust the indoor heating temperature based on outside conditions.
Navien combi boiler prices
Combi boilers work well in properties with 5-20 radiators because they heat water on demand and not in a storage tank.
Luckily the Navien NCB combi boilers come in many outputs. This means that there is a model to suit most homes, regardless of whether they have high or low heating and hot water needs. The table below shows the full range of Navien Combi boiler prices including installation costs.
| | |
| --- | --- |
| Navien NCB 24kw | £1,700 |
| Navien NCB 28kw | £1,750 |
| Navien NCB 34kw | £1,800 |
| Navien NCB 40kw | £1,900 |
| Navien NCB 700 Combi boiler 54C | £0 |
| Navien NCB 500 Combi boiler 37C | £0 |
| Navien NCB 500 Combi boiler 41C | £0 |
| Navien NCB 300 Combi boiler 28C | £0 |
| Navien NCB 300 Combi boiler 37C | £0 |
| Navien NCB 300 Combi boiler 41C | £0 |
| Navien NCB-CE Combi boiler 24C | £0 |
| Navien NCB-CE Combi boiler 28C | £0 |
| Navien NCB-CE Combi boiler 34C | £0 |
| Navien NCB-CE Combi boiler 40C | £0 |
Compare Navien system boilers
The Navien boilers must be installed in a heating system that also includes a hot cylinder. This allows them to meet higher domestic hot water demands. There are many System boilers that can be used to heat your home.
The Energy Saving Trust endorses Navien System boilers as a reliable and efficient way to heat and water your home.
A Navien System boiler will make your home greener and lower your energy bills. Navien boilers can also be paired with solar thermal or other renewable heating systems for increased efficiency.
The Navien System boilers can be mounted on a wall and are compact and easy to install. This makes future servicing easier for heating engineers.
Navien system boiler prices
The Navien boilers must be installed in a heating system that also includes a hot cylinder. This allows them to meet higher domestic hot water demands. There are many System boilers that can be used to heat your home.
| | |
| --- | --- |
| Navien NCB-LHWE System boiler 20 | £0 |
| Navien NCB-LHWE System boiler 24 | £0 |
| Navien NCB-LHWE System boiler 28 | £0 |
| Navien NCB-LHWE System boiler 33 | £0 |
Best Navien Boilers
Best Value – NCB 300 28kw Condensing Combi Boiler
Best for Efficiency: NFB-H Series High-Efficiency Condensing Heating Boiler
Best Overall: NHB Condensing Heating Boiler
Best for Commercial Use: NFB-C Series Commercial Fire Tube Boilers
Best Value: Navien NCB 300 Combi Boiler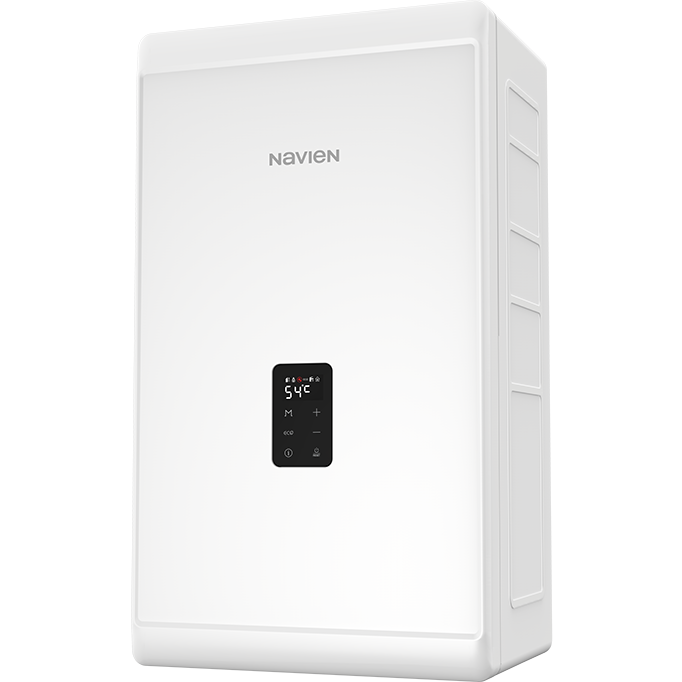 The Navien NCB combi boiler is a fantastic reliable and highly efficient gas combi boiler. Relatively new to the UK market this well made and smart looking boiler is set to take the UK market by storm.
With the NCB 300 combi boiler you can be sure you are not compromising on quality when it comes to specification and the cheap price.
Installation is quick and easy and this kitchen cupboard fit boiler is perfect for small to medium sized homes with up to 2 bathrooms. The best way to get a fixed price now for a Navien NCB 300 combi boiler is by using our online quote calculator.
Get an online fixed price in 20 seconds:
What kind of fuel does your boiler use?
Navien NCB 300 combi boiler features
Low running costs – 93% ErP A+ energy efficiency rating
Stainless steel heat exchanger for reliability and long life span
Manufacturer 5 year parts and labour warranty included
Smart thermostat compatible to control your boiler from anywhere
Long flue lengths
Hydrogen-ready (20% blend)
Unbeatable value for money
Navien NCB 300 Specification
| | |
| --- | --- |
| Navien NCB 300-28k | 28kw Combi Boiler |
| Modulation (max/min) | 6:1 |
| Heat output range @ 80/60°C | 24.0/4.2 |
| DHW | 28.0/4.3 |
| DHW output range | 28.0/4.3 |
| DHW flow rate @ 25°C temp. rise. | 16/min |
| DHW flow rate @ 30°C temp. rise. | 13l/min |
| DHW flow rate for kitchen @ 45°C temp. rise. | 9l/min |
Get an online fixed price in 20 seconds:
What kind of fuel does your boiler use?
Best for Efficiency: NFB-H Series High-Efficiency Condensing Heating Boiler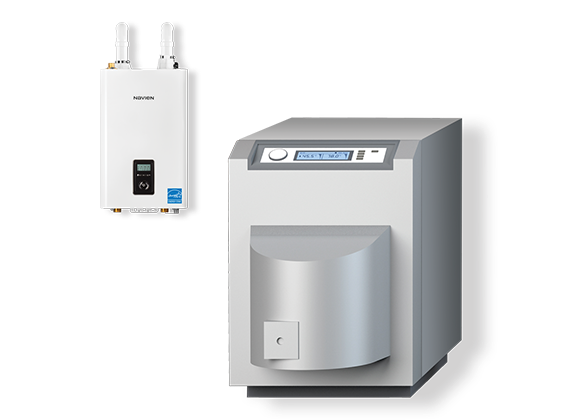 The NFB-H model sets the bar high for its competitors by offering a modern, space-saving wall-hung design heating boiler. It is substantially lighter than the conventional floor-standing boilers, so if you need a lightweight boiler, this model is for you.
In addition, the dual venturi design of this ideal boiler improves the turndown ratio and combustion control to give you a convenient experience every time.
Field gas convertibility is also simple because the NFB-H Series boilers embrace the orifice conversion kits for NG high altitude (5,400-10,100 ft.) and LP (up to 10,100 ft.). You save your hard-earned money and time since it allows reusing existing 12-inch gas lines converted into 24-inch in length for new boiler installation.
Since they are quiet-running boilers, you can make installations in or next to media rooms, leisure rooms, or other living spaces.
In addition, the intelligent gas flow management technology of the boiler offers a low aspect ratio, lowering energy waste and unnecessary boiler cycling. Navien's stainless steel heat exchanger uses robotic laser welding to provide a higher-quality product.
The "H" Stamped, ASME-Certified design significantly lessens high-stress point welding failures compared to other conventional boilers. In addition, its colourful text display and unique click wheel enhance usability so you can see all information entries vividly.
Moving on to Navien's control panel, we assure you that it is very straightforward. You can now connect three-zone pumps or valves, and a boiler pump, all of them can be integrated within the unit, thanks to Navien's revolutionary PCB design. Navien's NFB-H manifold kits are also compatible with hydronic space heating, another versatile option.
At Boiler Central we have taken care of the piping for you with these manifolds. The manifold kits fit all NFB-H models for quick and efficient installs. You are only required to get a perfectly sized pump, and you are all set to get a simple installation process.
With Navien's cascading technology, once a unit reaches the supply and return temperatures, it
starts fulfilling the needs for hydronic space heating. However, this boiler sequence will continue running until all units produce the required hydronic space heat at their maximum cascaded capacity.
Additionally, for longer life, the Navien cascade system evenly distributes the duty of each unit. Therefore, both direct and non-direct venting applications are approved for the NFB-H. All these features add to its environment-friendly and reliability claims. Last but not least, they offer you a remote control for NaviLink to connect it via Wi-Fi for more convenience.
Pros
Modern interface for simple navigation, with clear text display
3 zone valves or pumps with built-in powered connections for three zones
Remote control for NaviLink Wi-Fi is also available (optional).
Venting up to 8 boilers is customary.
A series of up to 16 boilers
Eco-friendly
Cons
Ideal only for smaller spaces
Use of non-renewable sources of energy
Yearly maintenance cost
Best Overall: NHB Condensing Boiler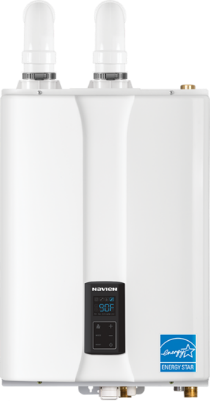 The latest innovation from Navien is their new NHB boiler series, proven a great addition to their boilers. All NHB boilers include Navien's cutting-edge burner system, an AFUE of 95% that leads the industry and turns down ratios of up to 15:1.
That means the NHB-150 model offers ease of installation with many zones while retaining excellent operational efficiencies. As a result, it has an enormous turndown ratio in the industry, offering you convenience and the best heating results at a low cost.
NHB provides an integrated control to adjust heat capacity, anti-cycle timer, turn down ratio timing, minimum burner time setting, and outdoor temperature reset curves, to name a few.
Navien's cascading technology determines the supply and returns temperatures. Therefore, the next unit is likely to meet the heating requirements of the hydronic space when a unit gets up to eighty per cent capacity.
The demand ratio and heating requirement would keep working till all units produce the hydronic space required to heat up to the maximum cascaded capacity.
In addition, this cascading system balances out the workload of each unit for extended life. So, you get a robust boiler system for years to come. The NHB has two certifications, one for single venting and one for two-pipe venting.
Applications requiring hydronic room heating work best with Navien's Manifold kits. You just need to get a perfect-sized pump like the above model.
Pros
Adjustable heat capacity
Great turndown ratio 15:1
Integrated control that offers various options
Easy to install
Hydronic system
Cons
Less flexible
High maintenance costs
Produces acidic waste
Best for Commercial Use: NFB-C Series Commercial Fire Tube Boilers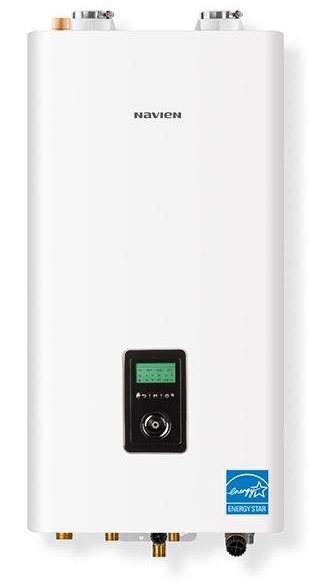 Looking for a cutting-edge heating system for your commercial needs? Navien's NFB-C offers highly efficient technology, making it the perfect choice. Robotics and automation are used in production to ensure quality control.
In addition, components are created and constructed in-house to ensure each unit has the same system compatibility, as opposed to the majority of competitors producing boilers otherwise.
The compact wall-hung design, simple-to-use controls, top or bottom piping connections, and adjustable venting choices reduce your installation costs. These boilers also reduce the operating expenses because of the sector's highest thermal efficiency, at ninety-seven per cent.
Cascading and shared venting are energy-star approved. In addition, they provide best-in-class technical assistance and training.
Other features include the best warranty in the sector, wall or floor installations, top and bottom piping connectors, and connection of BMS (Modbus, BACnet, and LonWorks), to name a few. Installations can be done at high altitudes up to 10,100 ft.
The latest robotic and automated technology is used internally to develop and construct. A high turndown ratio offered by the clever gas flow control system lowers energy loss and unnecessary boiler cycling while improving temperature control for domestic hot water.
Low-temperature exhaust gases let manufacturers use stainless steel, PVC, CPVC, polypropylene (rigid and flexible), and PVC venting, which speeds up installation and lowers costs. The system has a venting range of 150ft with 4inch venting or 60ft with 3inch venting.
A dual-venturi design improves turndown ratio and combustion management. Each NFB-C boiler has an orifice conversion kit for quick gas conversion from NG to LP and a heavy-duty input air filter that allows simple access for filter media change and cleaning.
You can enjoy the performance of the water column down to 3.5 inches for natural gas and 8inch for propane gas using a negative pressure limiting gas valve.
Setup, operation, and troubleshooting are all made simple and easy. The circuit board for the NFB-C contains them all. It includes a DHW priority zone as well.
Until the load is completely satisfied, this boiler sequencing will continue until the heating. For longer life, the Navien cascading mechanism also evenly distributes the number of operating hours for each boiler.
Pros
Less operating pressure
Efficient to meet rapid fluctuations
Automated systems to ensure quality
Suitable for homeowners
Cons
For industrial use only
Can hold pressure up to 20 bars
Navien Boiler Buyer's Guide
There are some variables to look at before purchasing the boiler to pick the best-suited one:
Climate
A boiler could be an excellent option for your home if you live in a chilly environment. However, if your area is warm, you might not require a central heating system. Instead, consider a heat pump in that situation since it can meet your mild heating and cooling needs.
Fuel Type
If heating oil costs are high, gas-powered boilers might be less expensive to run than oil-powered ones. The fuel type you select will, however, depend on what is offered where you live.
Sizing
Both the boiler's efficiency and size are critical. Undersized boilers won't operate well; big boilers will cost you a bit extra to heat your home. Hire a cooling and heating engineer who would pick the appropriate boiler type. Your home's foundation, insulation levels, wall thicknesses, air filtration, windows, and other factors are considered during the calculation.
Cooling
Boilers only supply heat, so if you want to air condition your home, you'll also need a cooling system.
FAQs
What is a condensing gas boiler?
A condensing gas boiler recovers waste heat from the flue gas released from the boiler's tail, raising the temperature of the boiler's incoming water and the boiler's thermal efficiency to 98% and higher.
What is the pressure of a steam boiler?
The standard steam pressures are 0.4, 0.7, 1.25, and 1.6 MPa. In addition, customized steam pressure is available if you need one.
How to ensure your boiler safety?
Always look for steam, water, air, and flue gas leaks from locations you suspect. For your boiler to operate safely and effectively, refer to the user manual especially if you see any Navien error codes. The panel needs to be cleaned frequently and stored away from your boiler in a neat and clean location.
How often do you need to replace your boiler?
The answer primarily lies in how much maintenance is performed as the boiler ages. Boilers can last 10 to 15 years, but they need the proper care.
What dangers do boilers pose?
Boilers operate near pressure vessels at high temperatures, putting their workers at risk for burns and explosions. Burning boiler fuel can result in fires, carbon monoxide poisoning, and other issues. In addition, boiler operators may come into contact with various boiler-related materials (fuel, water additives, etc.)
What causes the boiler to explode?
The most common cause of explosions is one or more boiler components that cannot withstand the pressure generated by the boiler.
On the other hand, firebox explosions typically occur after the burner's flames have been extinguished. Materials like coal, propane, natural gas, or oil fumes can accumulate in the combustion chamber over time, resulting in fire.
Conclusion
Despite having a minimal product line, Navien is one of the significant boilers manufacturers worldwide. Navien products are, in our opinion, decent deals to get due to their cost, high-quality components, and cutting-edge features, like eco-friendly and reliability (as well as a seven-year warranty).
Despite being a relative newcomer to the water heater industry, Navien products have swiftly become well-known, and it's easy to understand why.
A Navien boiler replacement is a safe investment to make for your heating requirements. You can rely on them for decades to come since they use robust materials for production.
Their tankless heater may be more expensive than their competitors, but when you consider the fuel efficiency, the cognitive technologies, and the company's commitment to reducing greenhouse emissions, buying a Navien tankless heater or boiler is an excellent choice in the long run.