Baxi Baxi 630 Combi Gas Boiler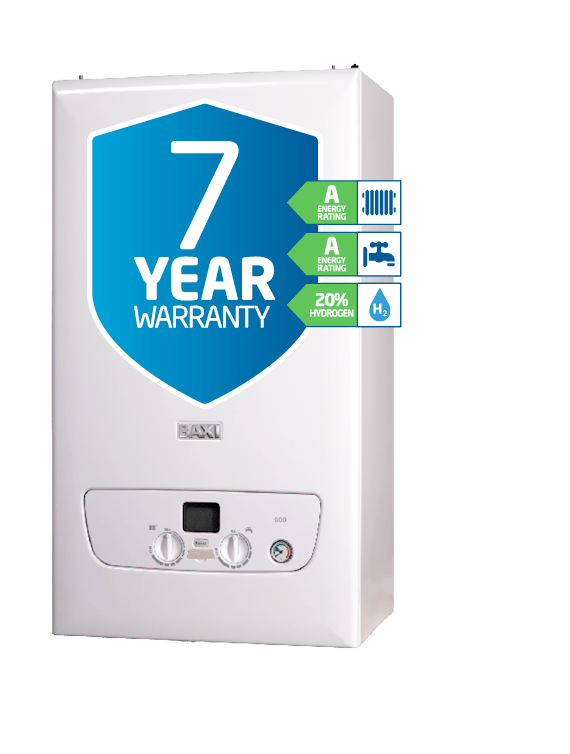 | | |
| --- | --- |
| Manufacturer | Baxi |
| Boiler Model | Baxi 630 Combi Gas Boiler |
| Condensing boiler? | Condensing |
| Energy Efficiency Rating | 93% |
| Energy Band | A Rated |
| LPG model/Conversion kit | Yes |
| Manufacturer Warranty | 7 years |
| Heating Output | 21.2 kW |
| Wall Mounted or Floor Standing | Wall Mounted |
| DHW Flow Rate | 12.2 l/min |
| Total Cost | £1,950 |
| ERP Rating | A rated |
| Hot Water Max Output | 30.9 kW |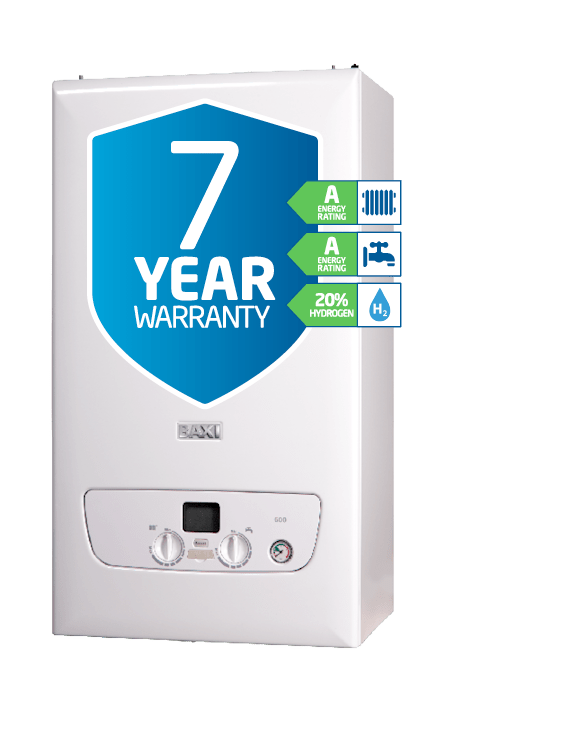 Baxi 630 combi boiler review & prices
The Baxi 630 condensing combi gas boiler is a great choice of boiler for small and medium-sized homes.
It is one of the most efficient boilers on the market with an energy efficiency rating of 93%. Unsurprisingly, the Baxi 630 has an ERP A rating for heating and hot water, meaning you are certain to notice the savings on your energy bills in comparison to a lower-rated boiler. It can also help to reduce your carbon footprint, especially if you are replacing an old and inefficient boiler.
Get an online fixed price in 20 seconds:
What kind of fuel does your boiler use?
How can I get the Baxi 630 combi boiler installed?
The Baxi 630 is a compact boiler with built-in pipes behind the unit and a centre flue. It can also be wall-mounted and is room sealed and fan assisted. All of these features make it relatively easy to install for an engineer, saving you both time and money.
How long will it take to install a Baxi 630?

This depends on the boiler you have in place currently. If you are switching your old combi boiler then it likely won't take more than a day. It will just be a case of removing the old boiler, adjusting any pipework or fittings and putting the new Baxi model in place.
If you are replacing a system or regular boiler then there will be more work involved. Removing a hot water cylinder or water storage tank will take time as the system will need to be drained and new pipework will need to be fitted. Often this will require lifting up carpets and floorboards. Replacing a system or regular boiler with a Baxi 630 could take up to three days.
Get an online fixed price in 20 seconds:
What kind of fuel does your boiler use?
Can I change my boiler's location?
The Baxi 630 is wall-mounted and can be installed inside a kitchen cupboard, in an airing cupboard or under your stairs. If you want to change the location of where your boiler is currently then this can be done but will take slightly longer and cost more.
If it's only being moved to the other side of the room then it will just be a case of lengthening the pipework, but if it needs moving to a new floor of your house then more materials and time will need to be spent. It might involve lifting up floorboards to access and fit the new pipework needed.
What fuel supply does the Baxi 630 combi need?
The Baxi 630 runs off natural gas and needs to be connected to the main gas supply. If you have LPG as your fuel supply then there is an LPG model available and you'll need to make sure that you specifically install that model for your home.
How do combi boilers work?
Combi boilers connect to the mains water supply. Unlike system or regular boilers, there is no requirement to fit a water tank or hot water cylinder, which frees up a lot of space and often makes the cost of the installation cheaper. Combi boilers are also very energy efficient as the boiler only fires up to heat hot water when you turn the tap on.
Is the Baxi 630 a condensing combi boiler?
Yes, the Baxi 630 is a condensing gas combi boiler. Condensing boilers were designed to be more energy efficient; converting condensation into heat and recovering as much of the heat loss as possible. Before condensing boilers were introduced as much as 40% could be lost during this process. The best boilers on the market now have an energy efficiency of 90%+, with the Baxi 630 right near the top of the pile with its efficiency of 93%.
Is the Baxi 630 suitable for my home?
The Baxi 630 has a central heating output of 21.2kW, perfectly suited to a 3 bedroom house with no more than 9 radiators installed. The maximum hot water output is 30.9kW and the flow rate is 12.2l/min, which will provide good water pressure for a house with no more than 2 bathrooms. If you need a higher flow rate, then why not check out the Baxi 836 combi boiler instead.
What size is the Baxi 630?
The Baxi 630 really does mean it when it describes itself as compact. With dimensions of H700xW390xD285 (mm) and weighing only 29.5kg, it is one of the smaller and lighter boilers on the market. For engineers this makes it much easier to position and fit, cutting down the amount of time the installation will take.
Get an online fixed price in 20 seconds:
What kind of fuel does your boiler use?
How much does the Baxi 630 combi boiler cost?
This boiler retails for roughly £950-£1,000 (inc VAT).
The cost of boiler installation will vary depending on what boiler you currently have in place and how much work is required to fit the new model. If you are replacing an old combi boiler then installation will typically cost between £500-£1,000. In terms of price, it's one of the best combi boilers to buy.
If you currently have a system or regular boiler or want to change the location of your boiler, then the installation costs will be higher. An engineer will need to drain the system, remove the hot water cylinder and cold water storage tank and fit new pipework. The cost for a full new boiler replacement could vary from £1,000 to £2,500.
What other options are available?
The Baxi 630 is one of three models in this range and sits in the middle of the three in terms of output size. This combi boiler range is also available with a heating output rating of 24kW and 36kW.
The Baxi 624 is suitable for smaller properties – typically flats, apartments and 2-3 bedroom houses – with fewer than 9 radiators. The Baxi 636 has a higher output of 36kW and can easily power up to 20 radiators – making it more suited to 4-5 bedroom houses.
Is The Baxi 630 easy to service?
The Baxi 630 has an internal component layout which has been designed to make it very easy to service. Baxi is also one of the biggest boiler manufacturers in the UK, so if you do happen to suffer a fault with a part, or the boiler breaks down, an engineer will easily be able to get their hands on a replacement part.
The Baxi 630 is also very easy to operate. It has an easy-fill permanent filling link which makes it nice and simple for you to top up the system if needed.
How good is the Baxi 630 combi boiler?
The Baxi 630 is a really good boiler. It has a very high energy efficiency and good heating and hot water outputs to meet the demands in your home. Its small size and weight make it easy to install anywhere on your property and the seven-year warranty gives you peace of mind in case you do suffer a fault or a boiler breakdown.
The price is also a major plus point, coming in at £200-300 cheaper than some of its competitors with similar features. If you don't mind spending a little more you may want to consider the 630's big brother the, Baxi 830.
Get an online fixed price in 20 seconds:
What kind of fuel does your boiler use?
What are the key features of the 630?
The Baxi 630 has a number of nice features. Unlike some other boiler manufacturers, Baxi uses brass manifolds as opposed to plastic, so they are much sturdier and less likely to crack under pressure. The built-in pipes behind facility within the boiler make it easy to fit and service, and it also has an easy-fill level which allows you to up the system very easily.
It also has OpenTherm technology allowing you to connect the boiler to many different makes and models of smart thermostat, including Baxi's own uSense smart thermostat. The uSense thermostat can be controlled by smartphone or tablet and features a boiler fault diagnosis.
Is the Baxi 630 a hydrogen ready combi boiler?
yes, the Baxi 630 is a hydrogen ready combi boiler up to 20% blend. This means that the boiler is capable of running on a mix of hydrogen and natural gas mixed together. It also means that it can be changed to run on 100% hydrogen fuel in the future. This is good news if you are worried about the gas boiler ban in 2025 as these types of boilers will avoid it.
How efficient is a Baxi 630 boiler?
The Baxi 630 is a very efficient boiler. Its efficiency rating of 93% is one of the highest available on the market and it is Energy Saving Trust endorsed. This means it is likely to cut your energy bills compared to your old boiler, potentially saving you hundreds of pounds a year.
It will also reduce your carbon footprint as it won't need to run as long in order to heat your hot water or central heating. The main benefit of a combi boiler is that it only fires up when you need hot water and switches off as soon as you are finished.
What is the warranty period for the Baxi 630?
The Baxi 630 comes with a seven-year parts and labour warranty, providing you with peace of mind that a part can be easily repaired or replaced if it does suffer a fault. You can also take comfort in the fact that the manufacturer believes in the reliability of their product by providing such a long warranty.
Does it need annual servicing?
If you take advantage of the Baxi 630's seven-year warranty then one of the conditions is to have the boiler serviced every year by a Gas Safe registered engineer. An annual service will also ensure your boiler is running smoothly and efficiently, potentially saving you money on your energy bills in the process.
Can I connect the Baxi 630 to a smart thermostat?
Yes. The Baxi 630 has OpenTherm technology meaning it can be connected to standard and smart heating controls, such as Hive and Nest. It is also compatible with Baxi's uSense smart room thermostat. A smart thermostat gives you the freedom to control your heating from your smartphone or tablet whether you are in the house or in a completely different location entirely!
Get an instant quote for your Baxi 630 Combi Gas Boiler installation
Get an online fixed price in 20 seconds:
What kind of fuel does your boiler use?
"The engineer Hasan arrived on time, was very polite & helpful. A pleasure to have him done our boiler service."
"The lads were great got a big job done in 2 days put new boiler in loft the lads were very efficient and managed to tackle a number of problems that they came across with the gas pipe and would definitely be using Yorkshire
bolilers again when I move also Andrew Firth the sales agent was great and then rest of the team I spoke to one the phone.
Mr and Mrs Dass"
"Swift tidy service and friendly engineer thankyou"
"Arrived within timescale given. Gary was friendly, knowledgeable and efficient, thank you."
"Top lads cory and kieran very clean and tidy it's been a pleasure, very efficient with install of new boiler explained everything, very polite top job done lads, credit to themselves....thanks dave"
"Hasan was very polite knowledgeable and efficient. Telephoned to say when arriving and so helpful."
"First class boiler service. The engineer Gary was very polite, helpfully, and knowledgeable. Thank-you."
"Engineer was very pleasant and gave good advice."
Who are our fitters?
We use our own Gas Safe installers and the best installers the UK has to offer. Every single one is Gas Safe registered and has been thoroughly vetted.
Get my fixed price now
Get a great price on a Which? Best Buy boiler online in minutes