Heatline Heatline Capriz2 24kW Combi Gas Boiler
Total Cost
£1,278 - £1,778
| | |
| --- | --- |
| Manufacturer | Heatline |
| Boiler Model | Heatline Capriz2 24kW Combi Gas Boiler |
| Condensing boiler? | Condensing |
| Energy Efficiency Rating | 89.30% |
| Energy Band | A Rating |
| LPG model/Conversion kit | No |
| Manufacturer Warranty | 2 Years |
| Heating Output | 18.4 kW |
| Wall Mounted or Floor Standing | Wall Mounted |
| DHW Flow Rate | 10 l/min |
| Total Cost | £1,278 - £1,778 |
| ERP Rating | A Heat A Water |
| Hot Water Max Output | 24 kW |
Finding an affordable boiler that will continue to work after the warranty has expired may appear impossible, but Heatline claims to have a solution – the Capriz2 24 Combi Boiler. We examined this boiler and have provided all of the information you require below – check it out today!
The Heatline Capriz2 is a highly efficient condensing combination boiler and comes with a 24-hour easy-to-use analogue timer it is also available in 24kW and 28kW outputs.
The Heatline Capriz2 is an ErP A-rated boiler with an efficiency rating of 89.3% according to the 2009 SEDBUK. This lightweight, simple-to-install boiler is an excellent choice for those looking for a no-nonsense, low-cost combi solution, and it comes with a two-year manufacturer parts and labour warranty for the best protection.
Get an online fixed price in 20 seconds:
What kind of fuel does your boiler use?
Heatline Capriz2 24kW – Important Information
It is a Combi Boiler
10016127 is the model number.
18.4 kW is the maximum heating output.
24 kW – Maximum Hot Water Output
10 litres per minute is the maximum flow rate.
Efficiency rating of 89.3% which is an A-rating
Benefits and Features
Excellent performance from a high-quality automotive-grade aluminium heat exchanger.
this heat exchanger is made of high-quality aluminium and provides the best results when heating water.
Compact and lightweight design allows for simple installation.
Dimensions of 74 by 41.8 by 30 cm, this boiler should fit into most homes and can even be installed inside a kitchen cupboard space for a clean finish.
High effectiveness, A boiler that has been rated for ErP energy labelling to reduce energy bills.
As an A-rated boiler, the Capriz2 24kW model will provide excellent heat most efficiently. Because this is a new boiler, you can be confident that you are getting one of the best and most efficient models on the market right now.
Grundfos modulating pump for lower energy consumption
It was a wise choice to use a Grundfos pump because it can lower the amount of energy required to run the boiler, provides a low-maintenance solution, and operates quietly once it is set up.
Easy-to-use controls – digital diagnostic display Factory-installed analogue timer
Frost protection built-in
Warranty on parts and labour for two years
What is the size of the Heatline Capriz2 24kw?
It's compact with 740 by 418x by 300mm (Height x Width x Depth) dimensions and its 33.3kg weight enables a covert and adaptable installation.
Heatline's Warranties Offer
Whether the boiler is covered by a warranty or not is one of the most crucial things you should look into before purchasing a new boiler. Most boiler companies provide warranties ranging from one to ten years, and those that don't ought to be avoided.
A two-year warranty covering both parts and labour are included with the Heatline Capriz2 24 kW. There is no getting around the fact that it is closer to the lower end of warranty periods, but you can fix this by signing up for a service plan, which will keep your unit covered as long as you keep paying for it.
How powerful is the Heatline Capriz2 24kW?
The Capriz2 is a high-efficiency boiler, as evidenced by its ErP A rating and 89.3% efficiency rating (SEDBUK 2009).
Is the output rating appropriate for my home?
This model is well suited to homes with around 10 radiators and a single bathroom, as it has a central heating output of 18.4 kW and a domestic hot water output of 24 kW.
Are there any other Heatline Capriz2 models available?
Another combi boiler in the Heatline Capriz2 range has a central heating output of 24.7 kW and a domestic hot water output of 28 kW. – check out the Heatline Capriz2 28kw here.
Is the Heatline Capriz2 24kW LPG Compatible?
Neither of the Capriz2 range's two models runs on LPG; instead, they use natural gas. Please be aware that if the appliance needs to be converted, the installer will need to be certified by Gas Safe Register to install LPG appliances.
Get an online fixed price in 20 seconds:
What kind of fuel does your boiler use?
FAQS
How can I tell if the price I'm paying for my boiler is a good one?
Here's how to get the best prices online now.
Use our free tool by clicking here.
Get a fixed-price boiler quote online, then schedule installation.
When you realise that we offer the lowest boiler quotes, but you're not quite ready, get in touch with us.
Call us right away at 0808 156 3888 and provide us with your like-for-like quote if we aren't.
Can I Install Myself the Heatline Capriz2 24kW?
You might be tempted to try installing your new boiler yourself if the money is tight, but this is not a recommended course of action. Only Gas Safe Registered engineers who have completed additional training to be able to provide installation and repair services should ever install boilers.
You can check the register online if you are concerned that the installer you've found isn't registered with Gas Safe. For the sake of your health and safety as well as the potential loss of your boiler warranty and high repair costs, you must make sure they are properly qualified.
How frequently should my boiler be serviced?
Never undervalue the value of regular boiler maintenance, which keeps your central heating system operating smoothly and effectively all year long.
With an annual boiler service, you can rest easy knowing that your house will stay warm during the chilly winter months and that you'll be much less likely to find yourself without hot water or in the cold. Find out the best way to book and pay for a gas boiler service here.
Get an online fixed price in 20 seconds:
What kind of fuel does your boiler use?
Similar models
Capriz2 28kW Combi Gas Boiler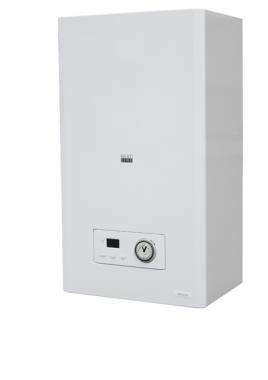 Total Cost
£1,306 - £1,806
"The engineer Hasan arrived on time, was very polite & helpful. A pleasure to have him done our boiler service."
"The lads were great got a big job done in 2 days put new boiler in loft the lads were very efficient and managed to tackle a number of problems that they came across with the gas pipe and would definitely be using Yorkshire
bolilers again when I move also Andrew Firth the sales agent was great and then rest of the team I spoke to one the phone.
Mr and Mrs Dass"
"Swift tidy service and friendly engineer thankyou"
"Arrived within timescale given. Gary was friendly, knowledgeable and efficient, thank you."
"Top lads cory and kieran very clean and tidy it's been a pleasure, very efficient with install of new boiler explained everything, very polite top job done lads, credit to themselves....thanks dave"
"Hasan was very polite knowledgeable and efficient. Telephoned to say when arriving and so helpful."
"First class boiler service. The engineer Gary was very polite, helpfully, and knowledgeable. Thank-you."
"Engineer was very pleasant and gave good advice."
Who are our fitters?
We use our own Gas Safe installers and the best installers the UK has to offer. Every single one is Gas Safe registered and has been thoroughly vetted.
Get a Fixed Price Now
Get a great price on a Which? Best Buy boiler online in minutes