Heatline Capriz2 28kW Combi Gas Boiler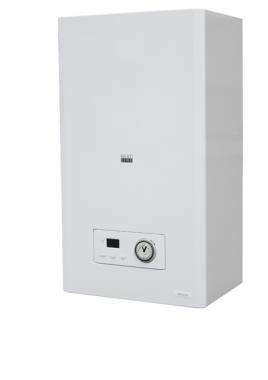 Total Cost
£1,306 - £1,806
| | |
| --- | --- |
| Manufacturer | Heatline |
| Boiler Model | Capriz2 28kW Combi Gas Boiler |
| Condensing boiler? | Condensing |
| Energy Efficiency Rating | 89.30% |
| Energy Band | A Rating |
| LPG model/Conversion kit | No |
| Manufacturer Warranty | 2 Years |
| Heating Output | 24.7 kW |
| Wall Mounted or Floor Standing | Wall Mounted |
| DHW Flow Rate | 11.7 l/min |
| Total Cost | £1,306 - £1,806 |
| ERP Rating | A Heat A Water |
| Hot Water Max Output | 28 kW |
The Heatline Capriz2 high-efficiency condensing combination boiler is available in 24kW and 28kW outputs and includes a 24-hour easy-to-use analogue timer. The Heatline Capriz2 is an ERP A-rated boiler with a SEDBUK 2009 efficiency rating of 89.3%. This lightweight, easy-to-install boiler is an excellent choice for those looking for a no-nonsense, value-for-money boiler, that is also a powerful and cheap money combi solution.
Get an online fixed price in 20 seconds:
What kind of fuel does your boiler use?
Benefits and Features
Excellent performance from a high-quality automotive-grade aluminium heat exchanger.
Compact and lightweight design allows for simple installation.
High effectiveness, a boiler that has been rated for ErP energy labelling in order to reduce energy bills.
Grundfos modulating pump for reduced energy consumption
User-friendly controls – digital diagnostic display
Built-in analogue timer Frost protection
two-year parts and labour warranty.
What is the efficiency of the Heatline Capriz2 28kw?
The Capriz2 28 has a heat efficiency rating of ErP A and a seasonal efficiency rating of 89.3%. (SEDBUK 2009). Because of its efficiency, this boiler may be able to help you save money on your energy bills.
Is the output rating appropriate for my home?
The Capriz2 28 is well suited to homes with around 15 radiators, a bathroom, and an en suite, as it has a central heating output of 24.7 kW and a domestic hot water output of 28 kW.
Are there any other Heatline Capriz2 models available?
A Heatline Capriz2 condensing combination boiler is obtainable with a 24kW output rating. A combi boiler with a 24 kW output rating is best suited to smaller homes with a single bathroom and around 10 radiators. Larger homes may benefit from a higher-output combi boiler or a different boiler type entirely – check out the details on a Capriz2 24kW Combi Gas Boiler.
How long does the Heatline Capriz2 28kw warranty last?
For added peace of mind, the Heatline Capriz2 comes standard with two-year parts and labour warranty.
What are the main characteristics of Heatline Capriz2 combi boilers?
The Capriz2 28 has an aluminium heat exchanger for increased reliability, a Grundfos pump, simple heating controls, and built-in boiler frost protection to keep units installed in garages and lofts from freezing.
What is the size of the Capriz2?
The Capriz2 boiler is small and lightweight, measuring 740x418x300mm (HxWxD) and weighing only 33.3kg, not sure what size boiler you need to meet your home's hot water and central heating demands. Fill out our quick quote form below.
Does the Heatline Capriz2 28kW cost a lot?
The Heatline Capriz2 28kW model is one of two reasonably priced boilers from the Heatline brand, as was previously mentioned. The 28kW model costs between £430 and £540, which has many boiler experts baffled because it is so inexpensive for a product made of high-quality components.
However, it is important to keep in mind that you will also need to pay for installation on top of the boiler's purchase price, and this fee can vary greatly based on your location, your installation requirements, and the fee structure of the installation service you select. To avoid paying more than necessary for installation services, it's a good idea to compare prices.
Pay monthly for your Heatline Capriz2 28kW with finance
If you are concerned about how much new boiler costs and do not have enough money to purchase it, we have a number of financing options available at Boiler Central and as an online boiler installation company.
If you're thinking "I can't afford a boiler" we made a page, that surely helps you during these difficult times.
Get an online fixed price in 20 seconds:
What kind of fuel does your boiler use?
FAQS
Is the Capriz2 LPG compatible?
No, the Capriz2 is not LPG compatible, it runs on natural gas. Please keep in mind that if the appliance requires conversion, the installer must be qualified by Gas Safe Register to install LPG appliances in order to complete the installation.
What exactly is the Capriz2?
The Capriz2 28kw combi boiler is a condensing boiler. This means that when you turn on the water, it heats it. Because the boiler is connected directly to the water mains, it does not require a water storage tank or a cylinder.
When did the Capriz2 28kw boiler go into production?
This boiler was first produced in 2015 and is still in use.
My Heatline Capriz2 28kw boiler has a fault and I need some help.
If your boiler is serviced annually, it should last for several years, but faults can occur on occasion. In many cases, faults are only temporary, and if the boiler is reset, it will resume normal operation. You can reset the Capriz2 by gently pressing the reset button for a few seconds. The reset button is located in the top left corner of the digital display.
Get an online fixed price in 20 seconds:
What kind of fuel does your boiler use?
Similar models
Heatline Capriz2 24kW Combi Gas Boiler
Total Cost
£1,278 - £1,778
"The engineer Hasan arrived on time, was very polite & helpful. A pleasure to have him done our boiler service."
"The lads were great got a big job done in 2 days put new boiler in loft the lads were very efficient and managed to tackle a number of problems that they came across with the gas pipe and would definitely be using Yorkshire
bolilers again when I move also Andrew Firth the sales agent was great and then rest of the team I spoke to one the phone.
Mr and Mrs Dass"
"Swift tidy service and friendly engineer thankyou"
"Arrived within timescale given. Gary was friendly, knowledgeable and efficient, thank you."
"Top lads cory and kieran very clean and tidy it's been a pleasure, very efficient with install of new boiler explained everything, very polite top job done lads, credit to themselves....thanks dave"
"Hasan was very polite knowledgeable and efficient. Telephoned to say when arriving and so helpful."
"First class boiler service. The engineer Gary was very polite, helpfully, and knowledgeable. Thank-you."
"Engineer was very pleasant and gave good advice."
Who are our fitters?
We use our own Gas Safe installers and the best installers the UK has to offer. Every single one is Gas Safe registered and has been thoroughly vetted.
Get a Fixed Price Now
Get a great price on a Which? Best Buy boiler online in minutes