Worcester Bosch Greenstar 29CDi Classic combi boiler Review
Table of Contents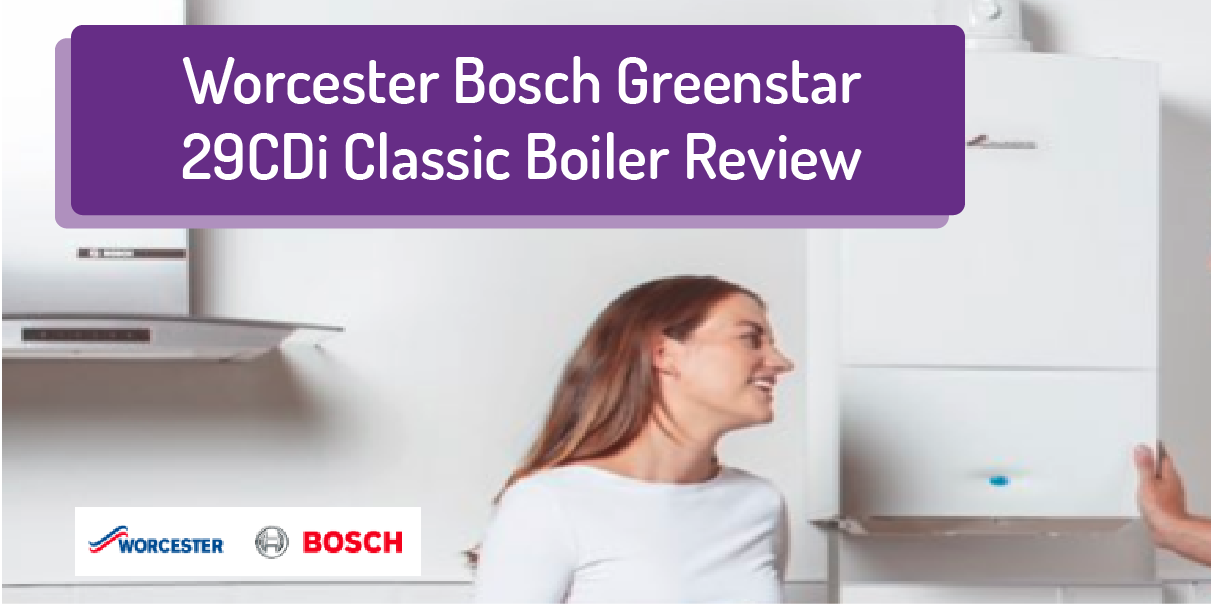 Worcester Bosch Greenstar 29CDi Classic combi boiler Review
The Worcester Bosch boiler is one of the most essential parts of your home. Without one, you'd be unable to have access to heating and hot water for your home.
As such, it's a sizeable investment – and one that demands lots of your attention.
So, make sure you pick the perfect boiler for your home!
This brings us nicely onto today's Worcester Bosch Greenstar 29CDi Classic combi boiler review.
We've recently been making our way through the entire Greenstar range from Worcester Bosch, reviewing all of the combi boilers available.
This is a company that's known for maintaining very high-performance standards – as well as producing a very reliable heating system.
With that in mind, let's take a look at the Greenstar 29CDi classic boiler and see what's what:
At A Glance: The Worcester Bosch Greenstar 29CDi Classic Combi Boiler
The Greenstar 29CDi classic has plenty of features that might make it the best boiler for your family.
First of all, we have to look at the performance stats. You get a healthy 30kW central heating output, following by a 29kW hot water output.
Alongside this, there's a water flow rate of 11 litres a minute – which is above average. ?
What does all of this mean?
Well, the central heating power means you can comfortably provide energy to up to 15 radiators in the same property.
As for the flow rate, it means you can supply more than one bathroom with hot water at the same time.
Therefore, this boiler is suitable for a typical family sized property home with about 2-3 bedrooms and 1 or 2 bathrooms.
However, we must point out the size; it's a pretty big combi boiler. Check out the size section of this review down below to get the exact measurements and figure out whether or not this boiler will fit in your home.
Energy Efficiency
There are two things to look at when checking how efficient a boiler is:
The first is the energy efficiency percentage – and the Worcester Bosch Greenstar 29CDi boasts 91.1% here.
That's slightly lower than the other products in the Greenstar range as they're usually at 92%.
The second thing to look at is the ErP rating – which you'll see on product labels everywhere. Here, the 29CDi has an A rating.
Consequently, we can safely say that this is a very efficient combi boiler. If your current boiler has worse ratings than these, then you'll save so much money with the Greenstar 29CDi.
The more efficient your boiler is, the more money you save on energy bills. Plus, you're helping the environment by minimising energy usage, which reduces carbon emissions.
Usability
One of the things we love about the Worcester Bosch Greenstar 29CDi Classic combi boiler is that it can be connected to digital or smart controllers.
You can literally connect it to any of the fantastic smart thermostats out there today.
Worcester Bosch has two different smart devices that you can use. One is called Wave – and it's developed by Worcester. The other is Bosch EasyControl – developed, obviously, by Bosch.
Both of these devices link up to your boiler and let you control so many different settings via an app.
You can get your phone out and choose the precise temperature in your home – or select which rooms you want to receive heating.?
You can even set a schedule, so your heating will turn on at specific times. It gives you a much higher degree of control than ever before.
As a result, smart thermostats let you manage your energy usage more effectively.
You can see how much energy you've used, and some thermostats even explain this to you in terms of how much money it costs.
Of course, the Greenstar 29CDi is also compatible with other smart meters and thermostats – like Hive and Nest.
You don't technically have to use a smart device with your boiler, but it will make it easier to use.
The Worcester Bosch Greenstar 29CDi Classic combi boiler does still have manual controls, as well.
These are your typical boiler controls, hidden under a flap that can be pulled down.
You'll see knobs that change the temperature and set schedules, and there are also special modes you can switch to as well.
There's an 'eco-mode' setting for more energy efficiency, a 'holiday mode' that turns you heating off while you're away, and more!
Warranty
As with pretty much every boiler on the market, the Worcester Bosch Greenstar 29CDi has a standard 5-year warranty straight out of the box.
If you want some extra coverage, you can pay an extra fee and double the warranty duration.
This will ensure that when buying a boiler and taking out boiler cover you will have worcester accredited installer on hand if needed.
This isn't essential as the initial warranty is free, but it could be worth it just to give yourself some extra security in case there's a defect after 6 or 7 years.
Size
This is what a lot of people are concerned about. The bad news is that this isn't a compact boiler. The 29CDi is 760x440x360mm in size. You can put your tape measure away, we'll save you the time and tell you that it is too big for the majority of kitchen cabinets.
So, you'll have to see if you can accommodate a boiler of this size in your home and make sure it has correct boiler installation.
If you can't, but want something with similar specs, then look at the Worcester Bosch Greenstar 32CDi Compact combi boiler.
It has slightly lower performance stats, but will still work for a typical family home with 3 bedrooms and up to 15 radiators. Plus, it's small enough to fit in a kitchen cupboard.
Our Verdict
To conclude this Worcester Bosch Greenstar 29CDi Classic combi boiler review, we'll start by saying how reliable and innovative this gas safe boiler is.
Yes, it's a little on the large side, but you get plenty of power and litres per minute with that size.
If your home has up to 15 radiators and a couple of bathrooms, then this might be the perfect boiler for you. As long as you have space in your home to install it, then there are few better.
For those of you with smaller homes, it could be more cost-effective to get something like the Greenstar 25CDi as it offers less power, but at a lower price.
Or, if you need more power and heating ability, then there's the 34CDi Classic that can heat up to 20 radiators.